WHEN is an R-series Valiant not an R-series Valiant? When it's got two doors and a Plymouth badge, that's when. You're looking at an American-built 1961 Plymouth V200 Coupe, and there's no need to feel you're out of the loop if you've never seen one before.
The model predates the 1962 arrival of the locally assembled RV1 (R-series) Valiant sedan, and although it bears more than a passing resemblance to its Aussie brethren, the owner and builder of this fine example, Tom Howard, reckons his is one of only about a dozen V200s in Australia. Originally equipped with a 170ci slanter, Tom's Plymouth now runs a mild 273ci V8, and there's a good chance that it's the only V8 V200 down under.
A dyed-in-the-wool Mopar man, Tom knew the rarity of the V200 as soon as he clapped his peepers on it, but it took two years of determined stalking and coercing before he was finally able to talk the owner into a reluctant sale. "When I first spotted it I was building my S-series and the owner told me his car wasn't for sale," recalled Tom. "He was renovating his house at the time and using the Plymouth to tow a big dual-axle trailer, but I kept checking back with him and eventually I caught him at a weak moment. The motor in his excavator had packed in and he needed money to repair it, so I was able to talk the Plymouth out of him."
He drove it for about 100 clicks before deciding to pull it off the road for a comprehensive rebuild, ripping it to bits in the shed with the assistance of his kids Sam and Kim, who were 11 and 13 at the time and keen as mustard to lend a hand. Once stripped to a bare shell, the Plymouth went onto a rotisserie where it was blasted back to the metal from top to bottom and etch-primed, ready for repairs.
"The blasting uncovered some rust and a few prior repairs that were a bit dodgy, so there was a fair bit involved," said Tom. "I took it to a fellow member of the R & S Series Valiant Car Club who plated rust in the floor, boot and rear wheel well. He got all the panels pressed up perfectly – there's no way you could ever tell it wasn't factory sheetmetal."
As is often the case, the most difficult part of the build was deliberating over the paint colour. "I think I jagged it in the end – the first time I saw it painted I got a bit of a woody," grinned Tom. The hue of choice is a custom-mixed yellow over Snow Crest white, laid on beautifully by W&W Custom Truck Painters.
Being a spanner man by trade with his own workshop in Rockingham, WA, the mechanical aspects of the project were well within Tom's comfort zone. He handled the lot from the engine rebuild to the assembly process, with Sam and Kim pitching in again. "I wanted to put the V8 in it for something a little bit different. It's fairly stock for reliability and driveability – there's no point having a filthy big cam so it's a pain in the arse to drive. It's just got a little cam so that it sounds nice through the twin system," he told us.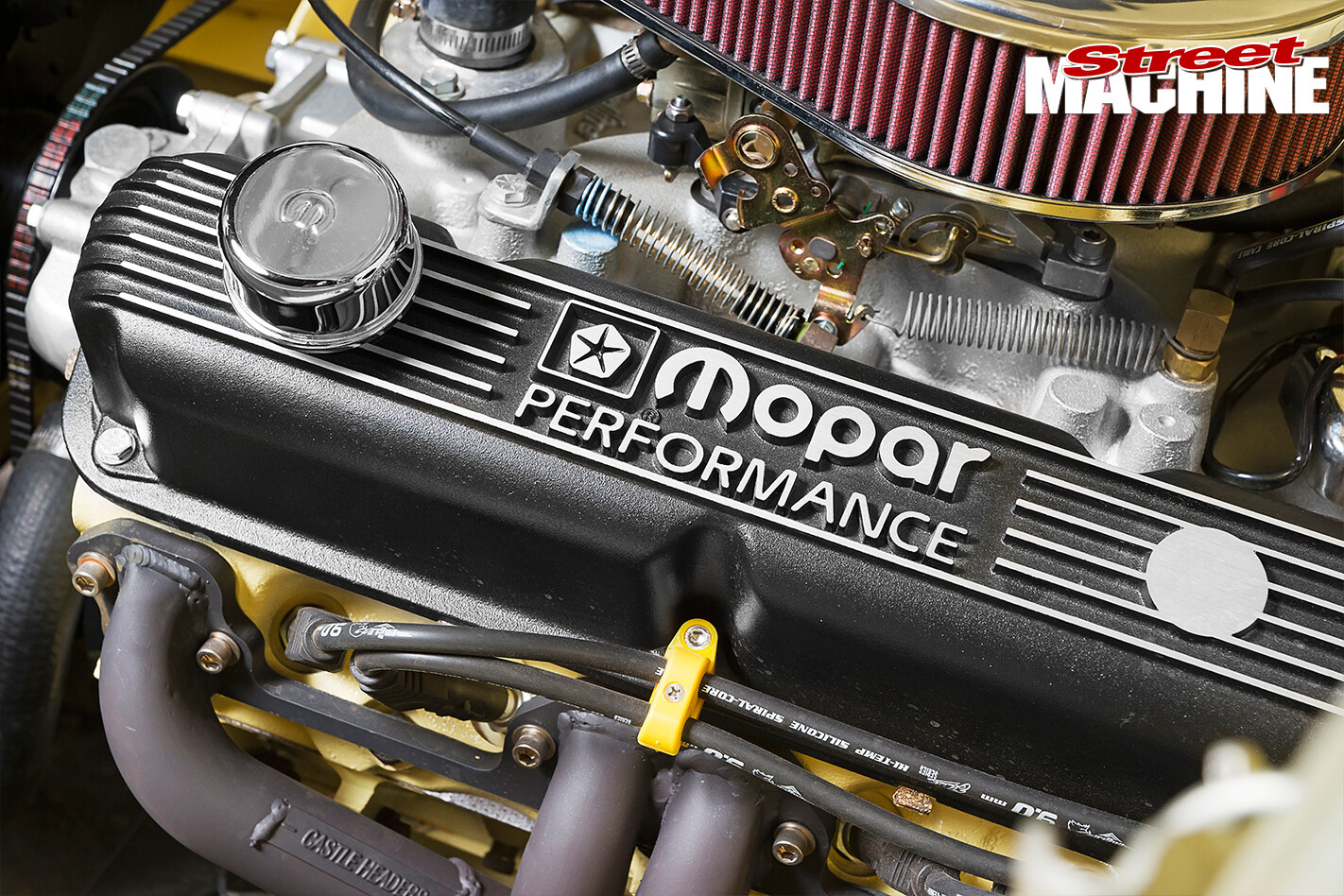 The engine conversion itself was a walk in the park compared to most, and was done using factory Valiant parts. The front engine mounts, radiator and sump out of a 273ci V8-powered VC Val were used, and the engine slid straight into the Plymouth's bay. But because Tom wanted to stay with the factory-style push-button shifter, the transmission presented a few difficulties. The only suitable auto that would talk to both the push-button shifter and the 273ci V8 was out of a Dodge Phoenix, which meant the crossmember had to be modified. A set of off-the-shelf ceramic-coated block-hugger headers is the only aftermarket part used in the conversion.
The interior fit-out also relies heavily on Chrysler-issue hardware, but with a bit of a twist. The split-fold front seat folds forward to allow rear passenger access, and as such it's a unique feature of the V200 and just had to remain. Like the rest of the cabin though, it's trimmed in suede and leather in a custom pattern. The factory steering wheel, dashboard and instrument cluster exude period class, and it was all restored to better-than-new condition.
So, what's the significance of the number plates? "I dunno, it's pretty hard to find something original these days. You've gotta try and be different I guess, that's why I muck around with Valiants! People ask why I didn't do a Chev or something, but they're all the same. All the parts come in a box from the States – you don't really have to do anything."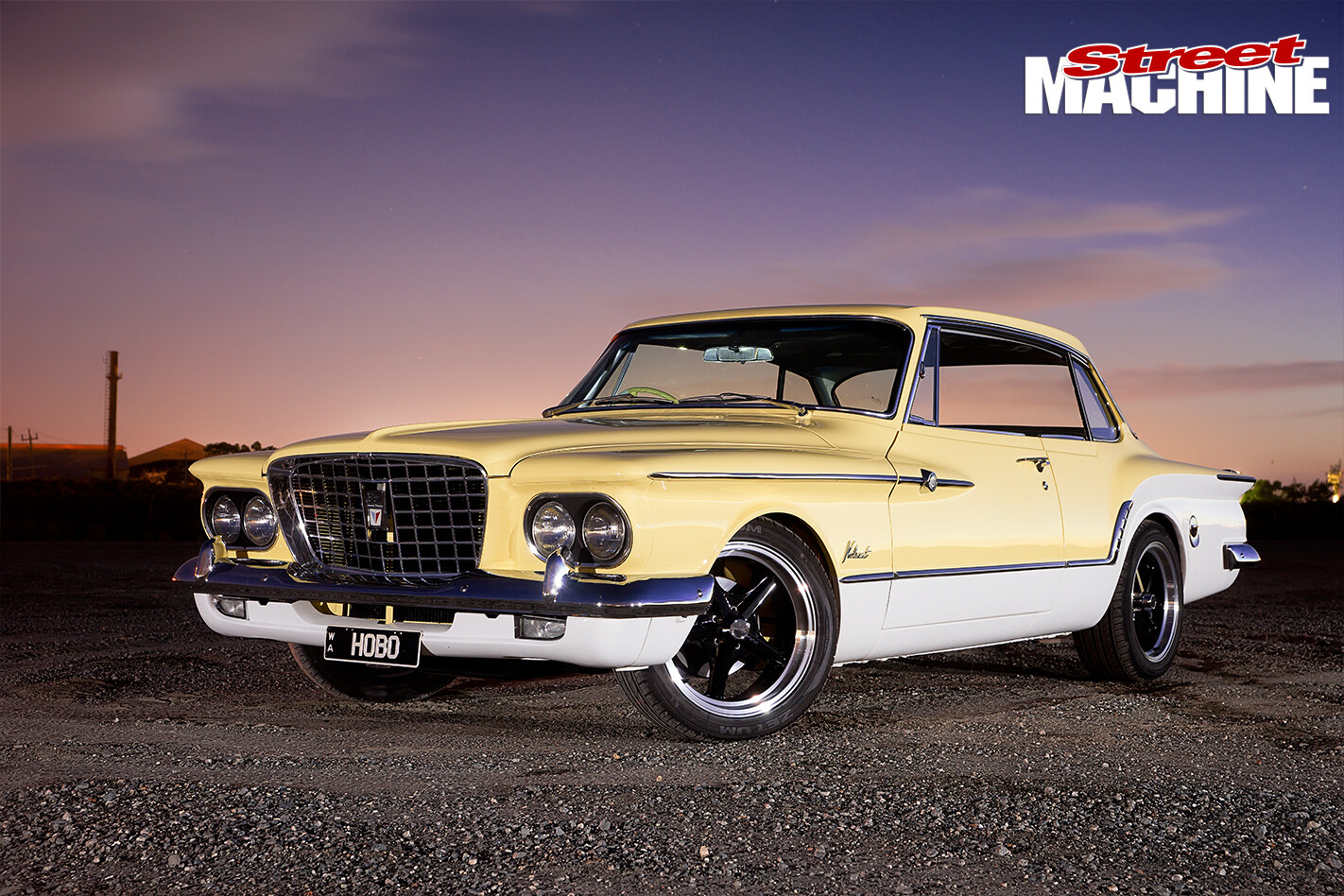 Slammed over a set of 17inch Showwheels Thrashstars, Tom's award-winning V200 stands out
The Plymouth is nothing if not unique, and since completion it's collected a heap of accolades including Best V8 Engine Bay and Best Modified Import at the 2012 R & S Nationals, Best Q/R/S, Best '47-'62 Chrysler, Best Trim, Best Paint, Best Modified and Top 4 USA at the 2013 All Chrysler Day. It might cop disc rear brakes and drop spindles soon, but for now Tom's focus has swung to his latest toy: a barn-find VC Regal. "When I found it, it'd been in a shed for 26 years," he said. "I've got it running, I've just got to do all the brakes and that kind of stuff. After that I might do an A-body Chrysler. I've got plenty of spares lying around!" Looks like it's Mopar or no car for Tom!