How do you make a furious Plymouth Barracuda even angrier? Stick a blown Hemi in it!
This article on Darrin's 'Cuda was originally published in the July 2016 issue of Street Machine
IF YOU were to picture the ultimate street Mopar, surely it would look something like this. From its factory Jamaican Blue coat to the stroked and blown Hemi monster within, this mental Plymouth Barracuda is both serious and subtle at the same time.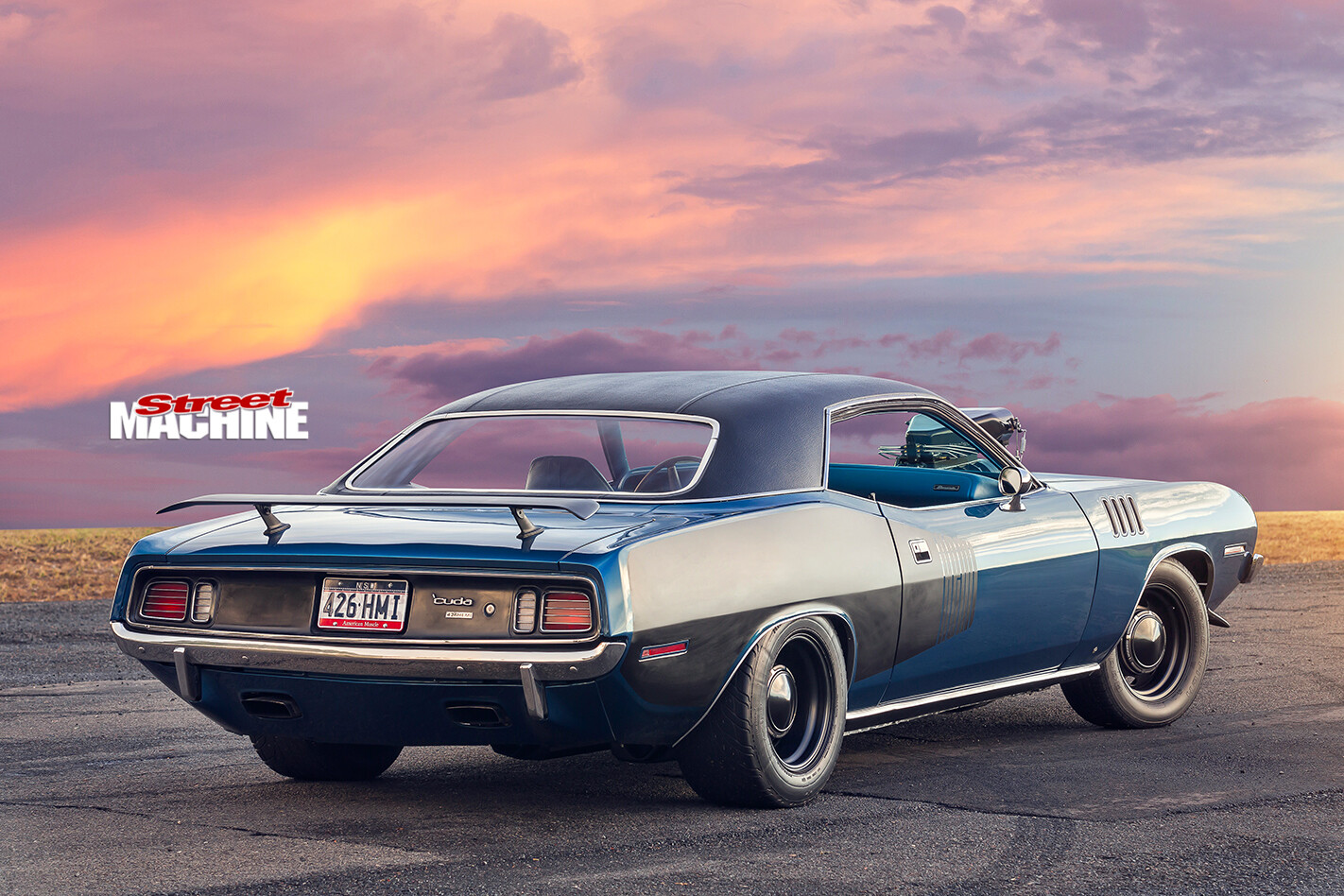 The '71 'Cuda in question belongs to Darrin Stokes. He had wanted to own one nearly all his life, and first set eyes on this example about 15 years ago when it was for sale locally. "I wanted it, but I didn't have the cash at the time," he says. "But I knew one day it would be mine."
Just like the fish it's aptly named after, this Barracuda is a fearsome-looking thing, right down to the 'gills' on its flanks. The '71 model uniquely has four headlights, which people tend to either love or hate, but many consider it to be the best of the breed.
When Darrin finally got his hands on the 'Cuda it was a low-mileage (31,000), matching-numbers car with a factory 383 big-block. It had been sitting in a car collection in the USA for many years, hence the minimal miles. But given Darrin's previous ride was a blown big-block Pontiac GTO, it didn't take long for him to get bored with the lack of performance. Out came the original driveline, to be replaced by a 472ci Hemi!
The disassembled long motor was sourced through a mate and dropped off to Paul Sant at ProFlo Performance. Paul ported the heads, added a solid-roller camshaft and then assembled it. But Darrin's dream was for a blown Hemi, so a black anodised TBS 8/71 blower kit was slapped on top.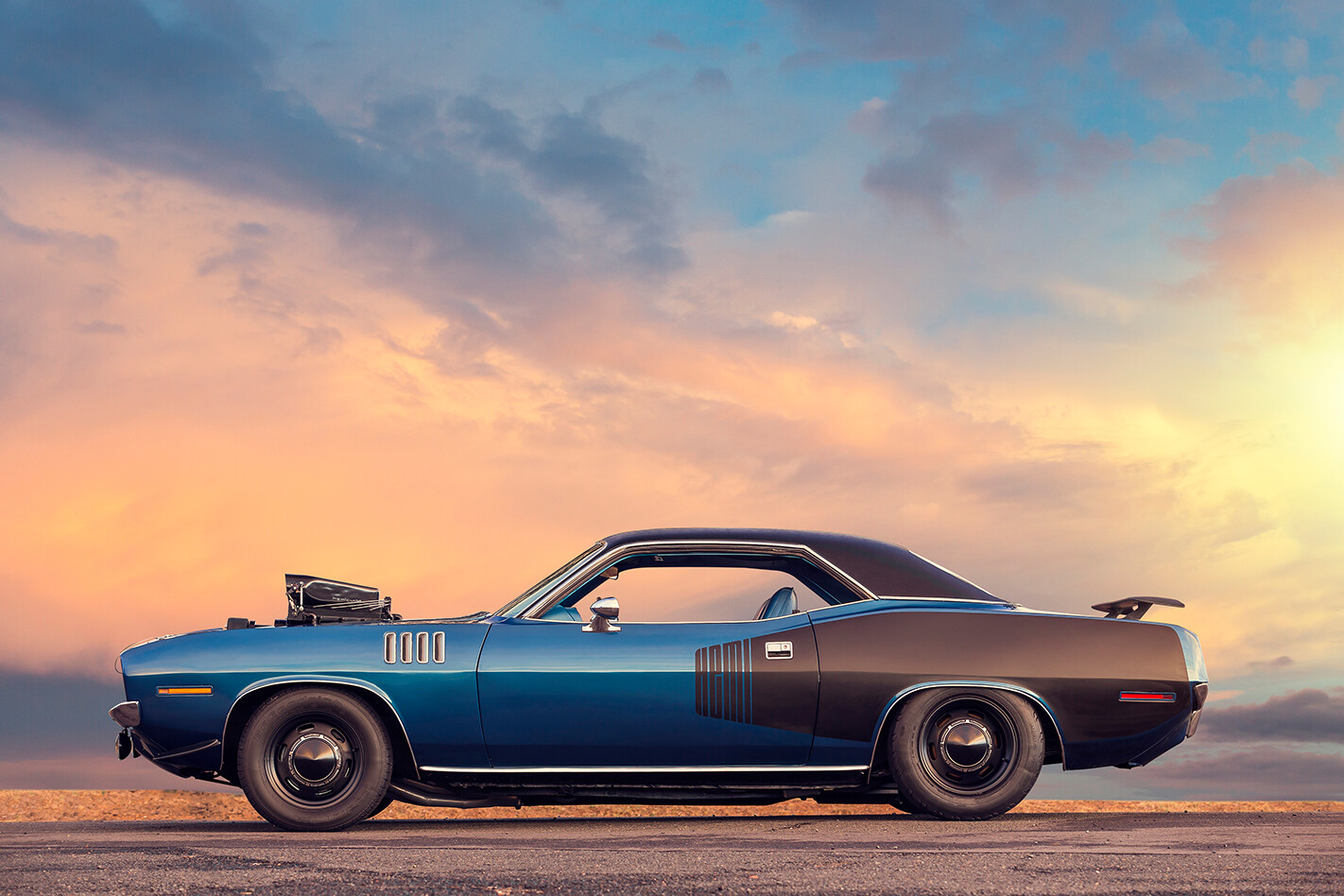 Darrin wanted the car to be a tough but reliable streeter, so the decision was made to go with EFI. This was achieved with an Enderle Bird Catcher hat that hides eight injectors. The ECU of choice was a Haltech Platinum tuned by Adam at JEM. The big Hemi easily pumps out 687rwhp and 1150lb-ft on just 12psi boost, and runs on a steady diet of pump E85, supplied from a boot-mounted fuel cell via a pair of Holley EFI pumps.
Also housed in the boot is the Peterson dry sump tank, which is a godsend when it comes to keeping the engine alive, given that Darrin loves to take the 'Cuda powerskidding!
Not wanting to chop the car up in any way, Darrin sourced some bolt-in Schumacher engine mounts that allowed the Hemi to slot right in, along with the TTI headers and twin exhaust system. The rebuilt reverse-pattern Torqueflite 727 bolted straight back in using the factory trans mount, too. It can handle up to 1200hp and runs a TCI converter. Keeping with the all-Mopar drivetrain, a Dana 60 differential was ordered and bolted into place and is supported by new lowered leaf springs. It runs 40-spline axles and a Strange centre, to help it cope with the monstrous torque and horsepower the Hemi throws at it. The 12-inch-wide Mickey Thompson rubber stands no chance when Darrin hits the go pedal!
As the 'Cuda runs an all-Chrysler factory powertrain, the Hemi conversion didn't require engineering approval. The 8/71 blower and hat are the only items that are supposed to be signed off on, but given they aren't towering too far out of the engine bay, Darrin hasn't had any problems with the boys in blue or local vehicle inspectors. "I'm not even worried if I get done for the blower," he says. "I'll just take it off, put a carby on, get it passed and then back on goes the blower."
Keeping the blown Hemi cool in all kinds of traffic and weather is a custom-built alloy radiator with thermo fans by Shaun's Custom Alloy. "I can run it all day in the heat and she never gets hot," Darrin says.
The 'Cuda has started to amass a few trophies, from events like Chryslers On The Murray, Bathurst Autofest, and local car shows. Darrin's mates give him a ribbing about it, nicknaming him The Trophy Hunter!
But now the 'Cuda is completed, Darrin's looking forward to the next project. "I have just bought a '69 RT Dodge Charger that was a barn find," he says. "It's a factory black car with black vinyl roof and red trim. It has the original 440ci in there too."
So will it cop a blown big-block, too? "Nah, the Charger will be a concours restoration," he says. Well, if he gets bored of working on the Charger, he can switch back to working on his son's '70 Hemi 'Cuda. Yep, the Mopar tradition runs deep in the Stokes household.
As for his own blown 'Cuda, Darrin's already put another 10,000 miles on it, and plans drive the wheels off it at Summernats 30.