A '67 Mustang from the Sunshine State packing twin turbo muscle
This article was originally published in the July 2011 issue of Street Machine.
Steve Pennell is one bloke not afraid of angry cars. Regular SM readers may remember his naturally aspirated HT Monaro from November '07 but since then things have changed a bit.
The persuasive powers of forced induction and one of the Blue Oval's most famous designs planted an idea in Steve's subconscious which has spawned this evil pony from hell.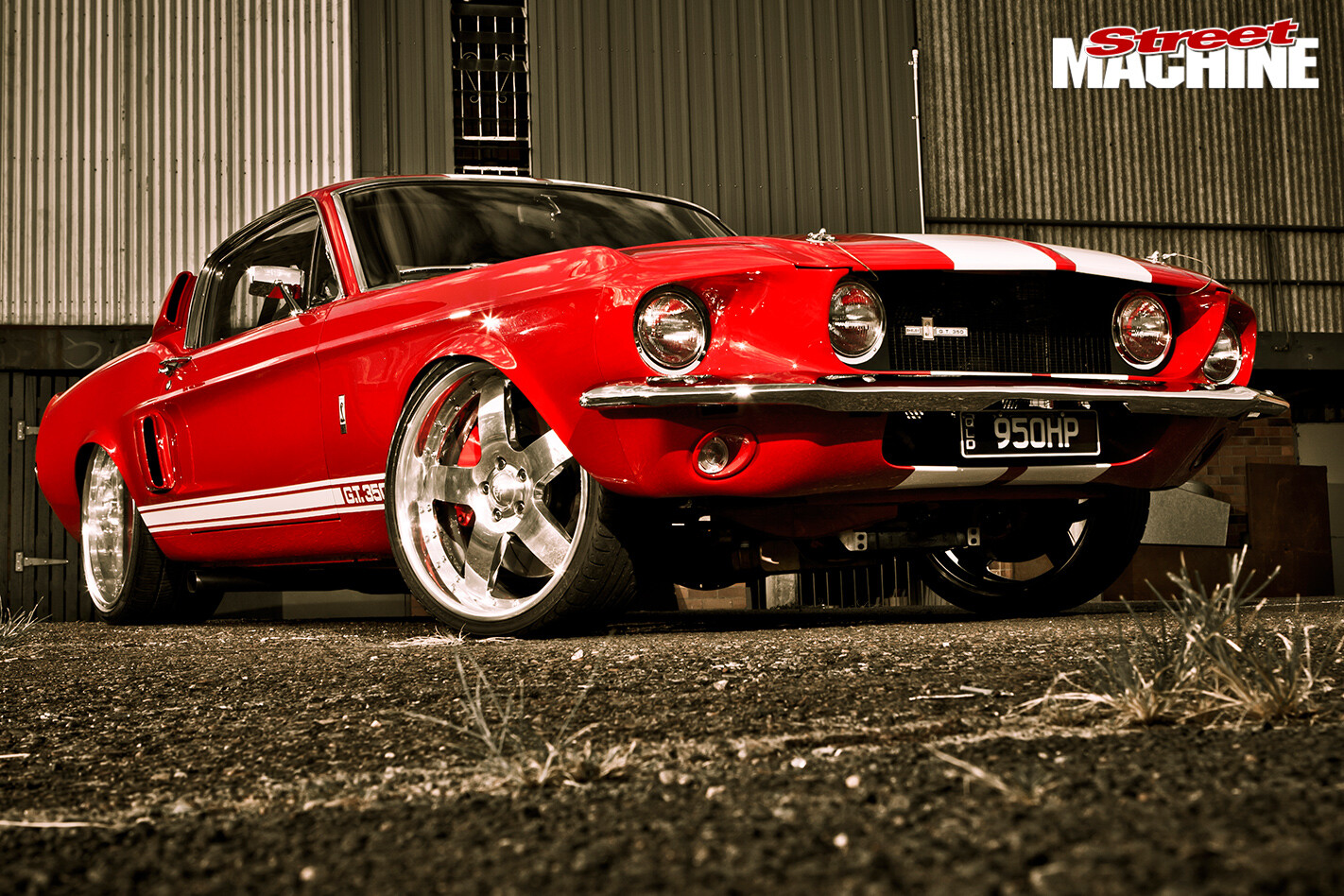 "I think turbos are the future. The Mustang is quiet; you can drive it in traffic but it makes 1000hp. Why wouldn't you go turboed?"
You may disagree with Steve on this point but you have to give him credit for creating the ultimate track car for the road.
"Everything I have put on the car is top of the line so it could be driven as hard as possible on the track, reliably," he says. It's an idea he also pursued in his manic Monaro, which ran a best of 10.45@127mph on pump fuel.
Strength and usability were the key points Steve wanted this time around, not being keen to repeat his experience with the aspirated Monaro's hectic maintenance regime.
"You have to run the Monaro on the ragged edge to make the power you want and it's a pig to drive on the street; with the Mustang the power is effortless," he says.
Explaining the switch to the Blue Oval and turbos, Steve says his sympathies are geared towards performance and style, not badges. "I wanted a '65-'66 Mustang but was talked into the '67 fastback by Marty White [of John White Race Engines] because he knew all about the '67 — how to set them up — 'cos he had a twin-turbo '67 that's well-known around Brisbane.
"After a drive in that, I had to have a turbo Mustang. And who doesn't like that shape?"
So he sourced a "good condition" '67 that'd been converted to RHD and sent it to James Horan at Full Race Fabrication in Narangba, Qld. Who discovered all was not as it seemed underneath, and spent 12 months working the Mustang into the shape it is now.
BOOT: A trio of Bosch 044 pumps (and a Magnafuel 275 for the surge tank) supply premium unleaded to the 72lb injectors. It'll soon be running on E85
"When James went to add chassis connectors to join the front and rear chassis, he realised the back had been cut and shut before, so he put a whole new back end on and ran a new chassis from the rear of the front chassis to the back of the car."
While he was at it he fabricated a new floor, firewall and transmission tunnel to smooth the look as well as create space for the drivetrain combo Steve had in mind.
"We used the outer shell of a Mustang but everything else is fully fabricated, so we pretty much made a new car," Steve says.
While this was going on he started sourcing all the Shelby add-ons to make it look the part, crafting some of the unobtainable parts himself. "I hand-brushed the aluminium on the dash to make it look as authentic as possible because you can only buy LHD facias for them; no-one does a RHD Shelby kit."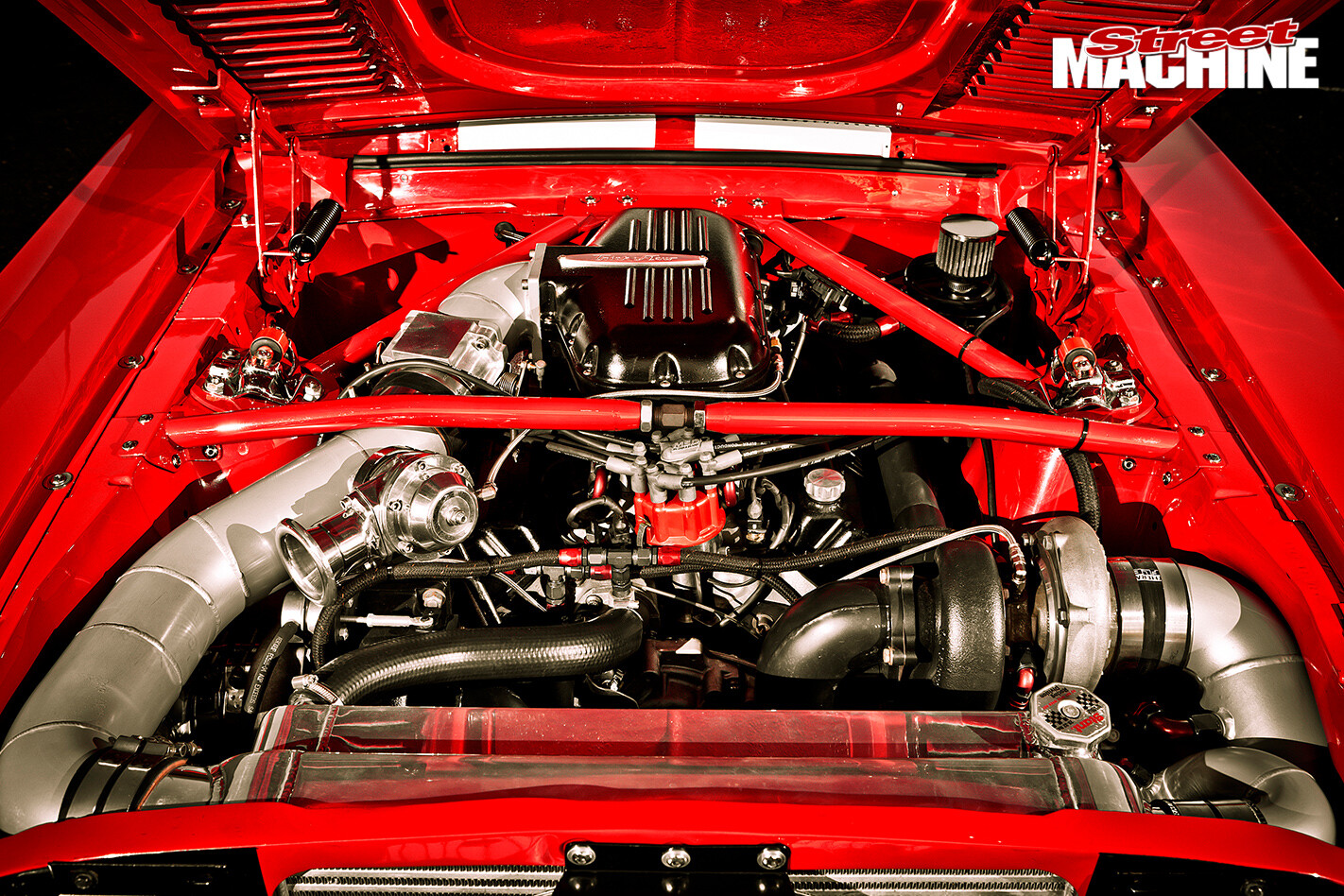 ENGINE: Twin-turbo 363 delivers 800+hp but Steve wants four figures after a tune. Key ingredients are the 8.1:1 compression and twin GT3582 Garrett huffers pouring boost through the Trick Flow heads
Since it's a tribute to the Shelby GT350 rather than the real thing, he felt free to experiment around the original design.
The monstrous Showwheels Wide Spokes — 20in fronts and 22s on the rear — attract most attention and make it look more like a Hot Wheels model than a real car.
"I originally wanted 18s at the front and 20s at the back but James sent me a pic of these wheels and I had to have them," Steve says. "So the wheels I'd waited months for got sold straight away and I ordered the 22s."
After James had worked his magic with the body, Brett Baker at Toowong Smash Repairs rolled the arches to accommodate the big wheels and did all the prep, including the install of the fibreglass Shelby body kit which he says was "a bit of a nightmare" to fit, before laying down the Volkswagen Volcano Red.
INTERIOR: The modern classic theme continues on the inside with FIA-approved Cobra race seats, rollcage, five-point harnesses, Wilwood pedals, wood-rim Shelby steering wheel and Auto Meter gauges. Brushed aluminium is by Steve
Under the bonnet, Martin White called upon his considerable talents to create the twin-
turbo Windsor that mates to a Jerico Road Race five-speed 'box before power is deployed to that fat rear end via a custom nine-inch.
The engine features an Eagle crank, Manley H-beam rods topped by Wiseco pistons in a Dart block wearing Trick Flow R-series heads, with a MoTeC M48 brain conducting the show.
Strapped onto an engine dyno just after completion, the Dart made 800hp at 6000rpm with only 6lb of boost from the twin huffers, on a very basic tune.
For outsiders, the 950HP numberplates might look like a boast but the seriousness of the rollcage, wheels and general demeanour of the car shout aggression and ability that would convince even the most hardened sceptic that this is more than a Sunday cruiser. This is a car that can clear lanes quickly.
Steve's aim was to create a lean track car that'd work on the road and scare passengers shitless around Lakeside or Queensland Raceway. Mission accomplished.