SYDNEY racer John Kerr added his first gold Christmas tree to his trophy collection on the weekend, defeating a large field at the ANDRA Finals at Adelaide International Raceway. Not only that, but he won the NSW Divisional Championships for the second year running. John was driving his '64 Mercury Comet Caliente, which is a regular in both nostalgia drag competition and at the Street Machine Summernats. John and the Comet are also two-time veterans of Street Machine Drag Challenge, nabbing the runner-up spot in Dial Your Own last year.
Besides the torture test of Drag Challenge, the Comet has done more than its fair share of road miles. "I've driven from Sydney to Adelaide, Queensland and Melbourne a heap of times," John says. "It's got stone chips all over it and the seat's a bit torn from all the use it's had." So there is no doubt that the Comet is a gun bracket racer, and a quick one too, with a best time of 10.77 seconds over the quarter-mile.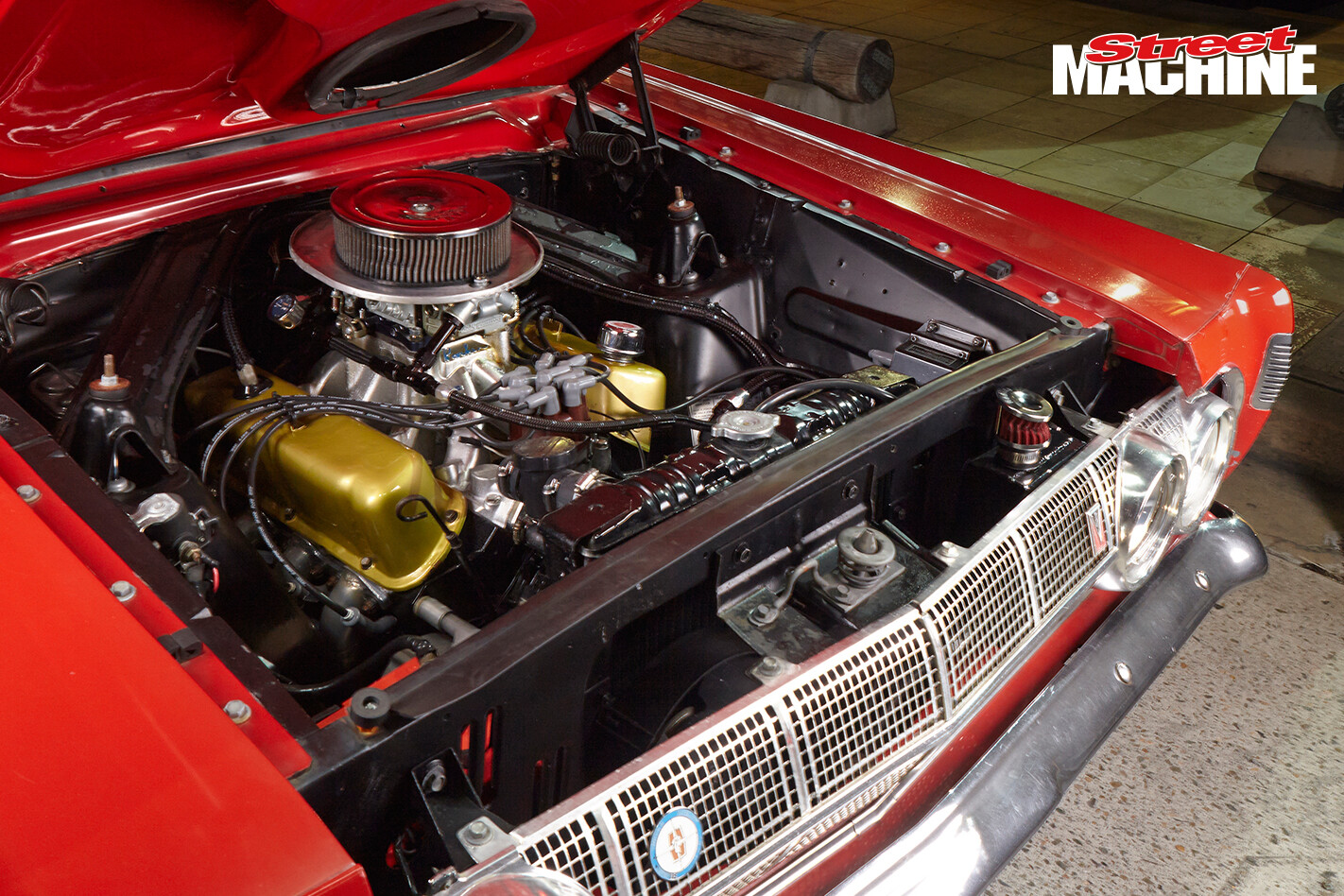 The car runs a Dart 302 block stroked to 364ci with alloy heads and a 950 Holley. John made the headers and built the C4 transmission himself, and the nine-inch rear end sports 31-spline axles, a Detroit Locker, and 4.11:1 gears. "These cars all came with a 289, C4 and nine-inch, so it's all pretty standard, really," John says.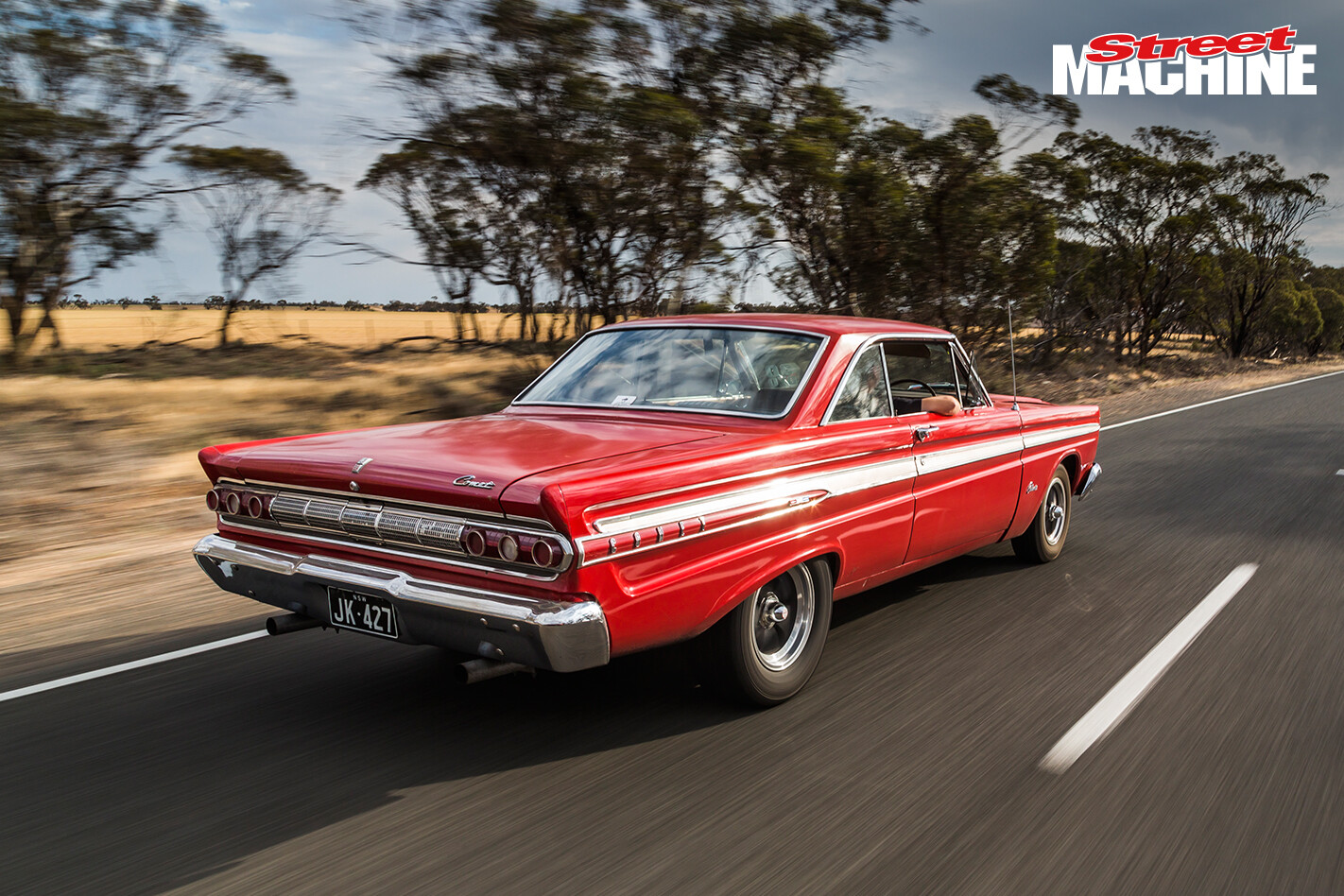 So while the Comet has genuine street car credentials in spades, driving it long distances to events not only results in wear and tear, but sucks down the fuel too, the tall diff gears translating to 5000rpm at the legal limit.
This led John to consider building a tow vehicle for the Comet. The plan was to try and find a '64 model to match the car, but when that initially proved difficult he bought a '67 F700 that was being used as a brick truck. As luck would have it, a '64 popped up online shortly after, so he snapped that up and stuck the '67 in storage. "They were waiting for me to go to the Christmas party at work, but I kept putting bids on the truck. Once [the auction] was over I said: 'Okay we can leave now, I've won it,'" John says with a laugh.
Complete and drivable, the long wheelbase F700 was a great starting point. Under the bonnet someone had replaced the original Y-block with a 351 Cleveland, but John reckons that was never going to stay.
Another item to hit the bin was the dodgy looking tray, which John attacked with an angle grinder. "There was nowhere to store it, and no way to get it off, so I just cut it up," he says. The cab wasn't great either, with a serious rust hole in the roof and various dents, but he eventually found a better cab down near Canberra from a tipper that had rolled. Luckily the load had protected the cab from damage during the rollover, so he hauled the cab home along with most of the reconditioned front end.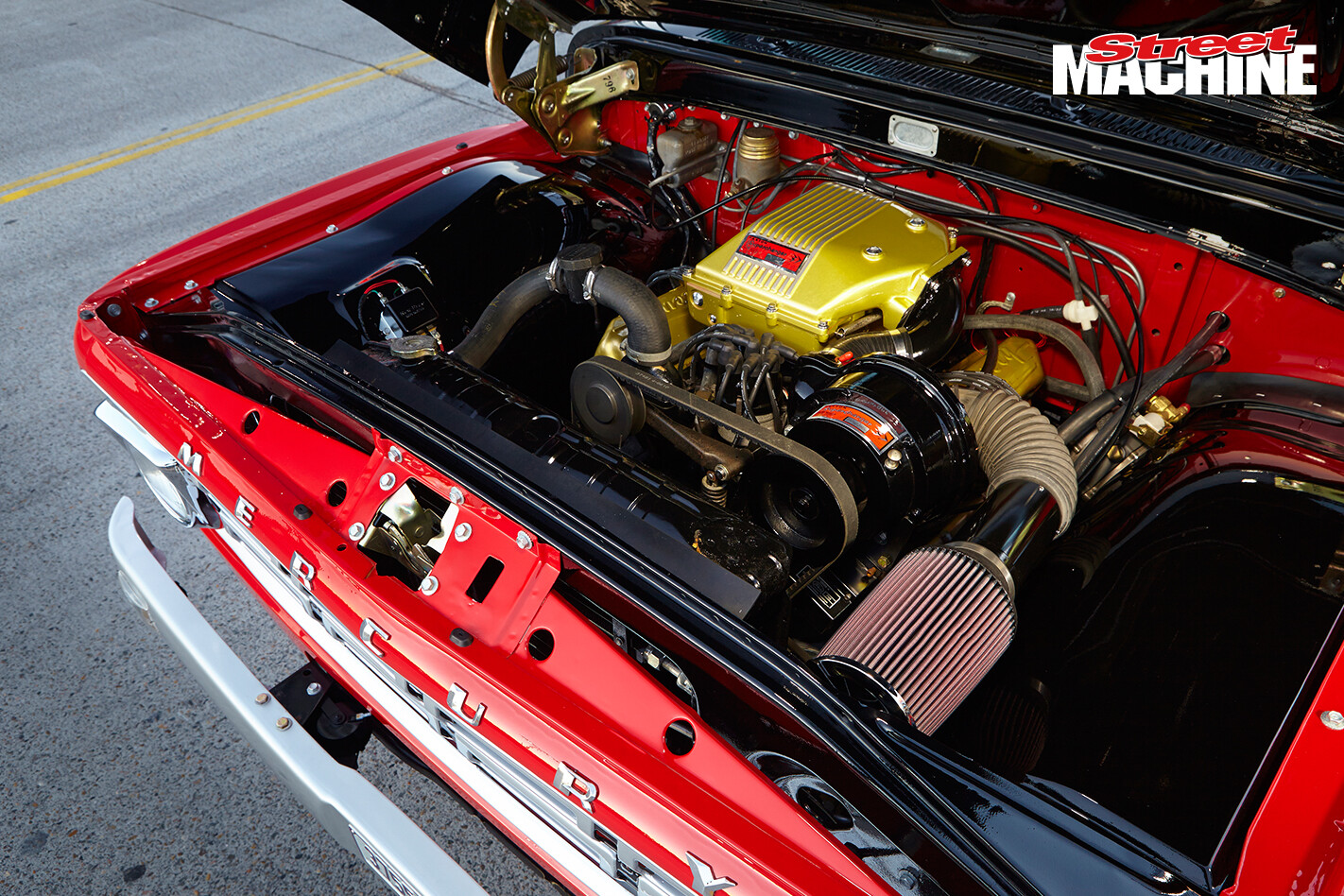 John's mate Ben Pike was a great source of parts, too. "He was building a '63 F700; a prime mover," John says. "His had a pretty rough body so he went all the way to Lake Cargelligo to pick up a mostly complete truck, except the chassis was cut off behind the cab." Besides the good cab, John's truck also came with a 361 FT motor. "Basically they're like a 390 FE motor," he says, "But built for trucks. The 361 FT never came out in cars."
Trouble was, when Ben was sold the truck he was told it was a 460 big-block and that was one of the major buying points. So he sold the 361 to John and eventually gave him the cab, along with a whole bunch of panels, when he abandoned the project later on. "If Ben didn't give me all that stuff, I'd probably still be building it," John says. "Using better parts meant I didn't have to spend time on them."
Using his dad's backyard, which handily backs on to his own block, John stripped the original truck down to the chassis rails, leaving only the original two-speed Eaton diff housing in place. The cabin was mounted on a dolly and stripped back in John's shed. "I built the cab and all the other panels at my place, and the chassis at Dad's place," he says.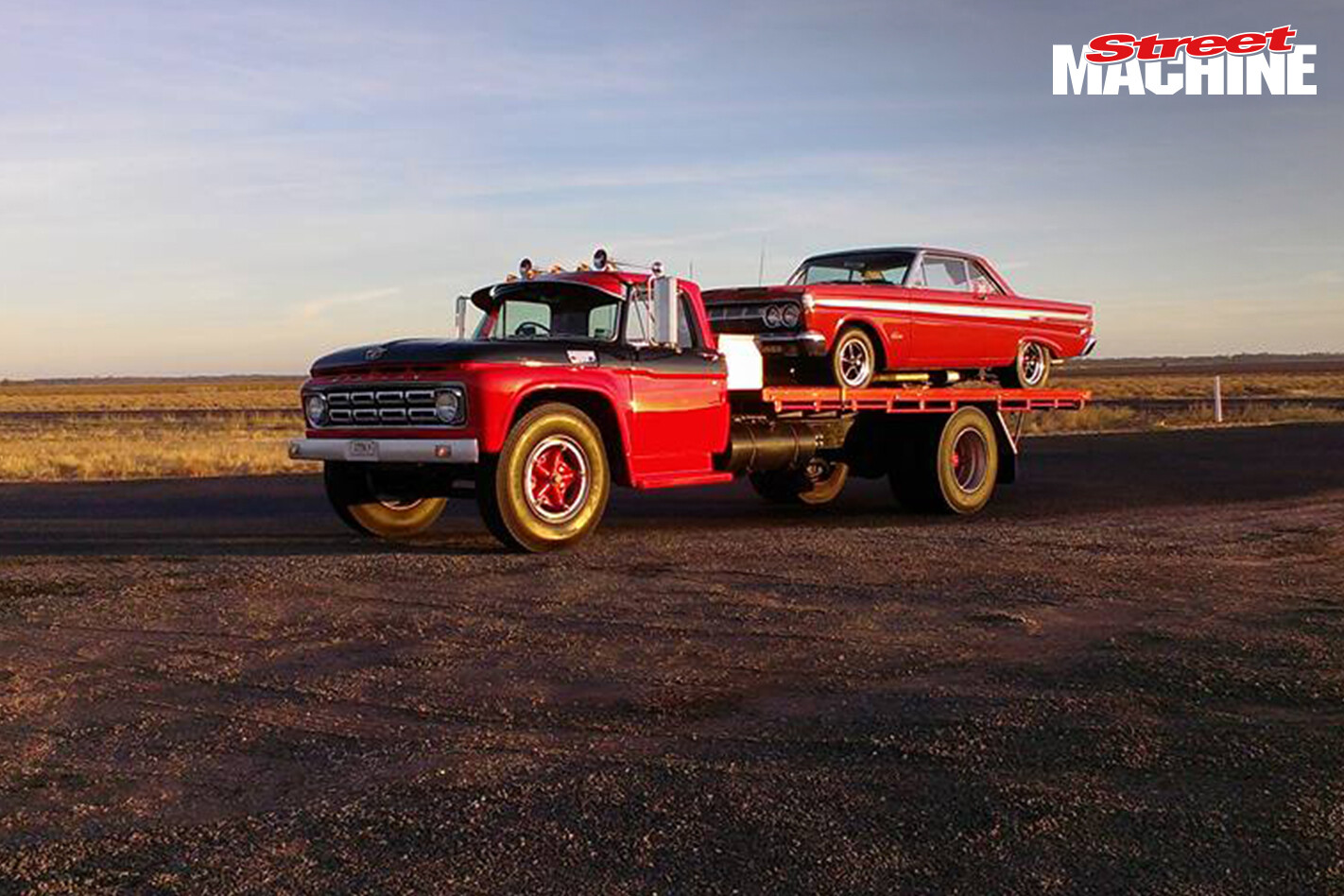 The chassis was wire brushed back to bare metal over a three-day period, while the smaller components were stripped back in a sand-blasting cabinet. Every nut and bolt was zinc plated and John reckons he's got enough left to do another truck. "I took every nut and bolt I had to the platers; there was probably enough to do three trucks." The chassis and suspension were all coated in KBS rust seal and the cab, doors and guards were painted in two-pack at John's place. "I just did it in the backyard," he says. "The cab was done in the shed and the rest were all done hanging off the clothesline."
Even though the engine looked to be in top condition, John pulled it down and rebuilt it anyway. "In the truck engines they had a 330, 361 and a 391, but from what I've been told the pick of the bunch was the 361," he reckons. "It's got a steel crank and a different block casting plus sodium-filled valves and cobalt valve seats. Being for a truck they made them really heavy duty. They went over the top. They've got half-inch valve stems!"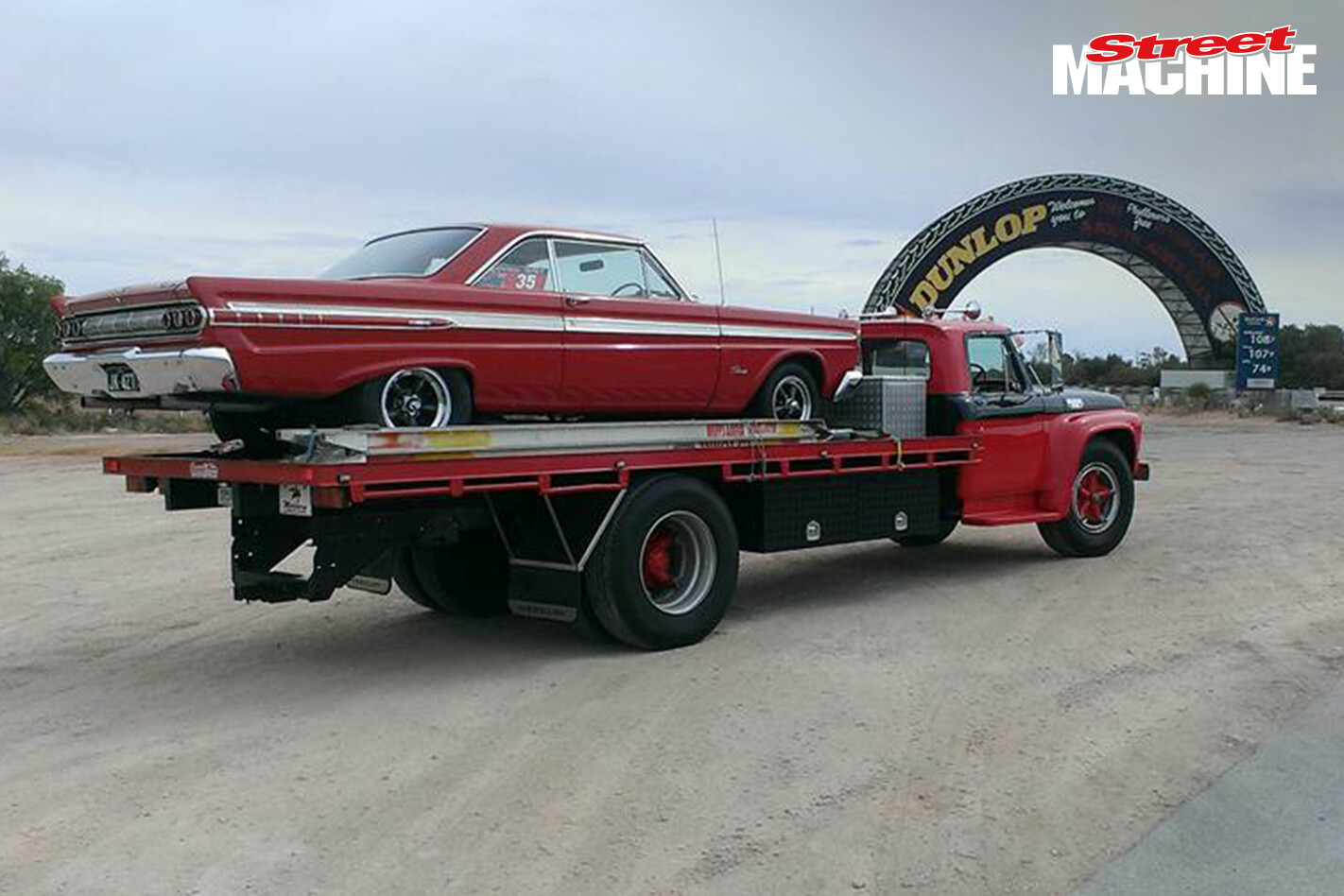 Initially John planned to change the cylinder heads and a few other bits for more grunt, but elected to rebuild it as stock. Extra horsepower wasn't too hard to find. Through the magic of the internet John found himself a new old-stock Paxton blower kit from a guy whose dad used to own a Studebaker dealership. "It was brand new," John says. "I've still got the box and it's got a 1964 newspaper in it."
It wasn't unheard of for Fords and Studebakers to leave car yards with dealer-fitted Paxton blowers back in the late-50s and early-60s, and Johnny's truck certainly looks the part with the 50s-style kit. As he says, "Paxton was offered as an option on Fords and Mercurys from the dealer. So there's no reason why you couldn't have walked into a dealership and said I'll have one of those. That's not to say that anyone did actually buy one for their truck, but it was possible." To mate the cab and chassis together John had the chassis towed around to his place for final assembly.
Rather than put the truck together as a Ford, John has rebadged it as a Mercury M700, which is basically all that Mercury did back in Canada when they made them. "They never had a Ford and a Mercury dealer in the same towns, so they sold Fords with Mercury badges and Mercurys with Ford badges," John says. Most of the badges, brightwork and gauges are NOS parts sourced from the US, and he even fitted a new cardboard headliner in the cab. For the ultimate in driver comfort, though, John has gone nuts with the Dynamat. "It's got two boxes of Dynamat in it," he says. "That stuff's unreal. I covered every square inch of that cab, even under the dashboard and inside the doors."
Which means it doesn't sound like you're driving around in a 44-gallon drum, and it keeps the engine heat at bay, too. John rates the comfort factor pretty high even on long trips thanks to a bit of extra padding in the retrimmed bench. "It accelerates like a car," he reckons. "On the freeway you're pushing cars along. The only thing that slows you down a bit is the crash box." John's already done a few long trips with the big 'muscle truck', including a run down to Yass for Haulin' The Hume and carrying the Comet up to Willowbank for the Winternationals.
John's pretty happy with the result. He's done everything bar trimming the seat himself, so the cost of the build has been amazingly low, and it looks cool as heck. "It does look pretty neat," he agrees. "It looks like the whole set-up is out of '64. It looks like something a race team would have done back in the day."