This story was originally published in Hot Rod 13 magazine
IT'S not every day a feature car owner hands you a tech sheet with the word, 'burnt' next to 'Condition when started:' However Peter Fitzpatrick wasn't kidding around. His bitchin', black '34 coupe had a tragic past life. Originally built by, Gary Reid, the Orion Silver three-window was a show-winning stunner debuted at Summernats 24. Unfortunately, it was severely damaged after a fire broke out in the engine bay – the rod was virtually a write-off.
After all the work that had gone into building the car, Gary was shattered. "Speaking with him I could tell he didn't have it in him to give it the ground up rebuild it needed," says Pete. "I'd not long finished the FC [Trilogy] and wanted to build something to have a bit of fun in. But I'm getting old, I wanted something easy to build this time – like a hot rod. I wasn't specifically looking for a '34 but when Gary offered me the damaged coupe for a price I couldn't refuse, well, I couldn't refuse."
The fire destroyed the firewall, cowl, windshield area and everything forward of there. The door was also damaged where the fireys jimmied it open to douse the interior – which, of course, killed most of the interior. After a complete tear down, first priority was to get the body attended to. Being a Deuce Customs 'plastic' (as Pete calls it) repro, he was able to source new replacement sections – along with new plastic guards and grille shell. To which he added a reproduction Rootlieb louvered steel hood.
While it was apart, Pete decided to add a wind-out front screen. To hinge the brass windscreen surround he had made, the internal fibreglass had to be ground back so that sturdy brackets could be welded to the steel inner structure. Fitting it up and making it all work flawlessly took over 100 hours.
For the major fibreglass repair work, the three-window was hauled from the Fitzy's base in the nation's capital, up to the Hillier Brothers at Tenterfield. Troy and Clayton Hillier are magic with fibreglass, with a number of their stunning hearses featuring fibreglass panels. "Not only are they shit hot with fibreglass," says Pete, "they understand cars. If you took it to a boat builder, they'd fuck it all up on ya." And they're quick, Pete arrived on Thursday and was back on the road, Monday – with all the repairs completed.
Plastic cars are notorious for being all over the place. So preparing the car for paint took considerable time, much of which went into finessing the panels into shape, as well as fine tuning panel fit and all the gaps. Mods included squaring up the guards so they sat the same, then rounding the wheel arches to hug the tyres better. At the back, 150mm was trimmed off the trailing edged of each guard, which were then rounded and blended back into the similarly trimmed beaver panel. Simple stuff but it tidies up the '34's rear quite nicely.
Steve Polglase (a mate of Fitzy's son, Aaron) was responsible for most of the body massaging. Once finished, it was shipped off to Trevor Davis in Melbourne for the paint maestro to work his magic. Trevor took care of final prep and laying on that glorious HOK black.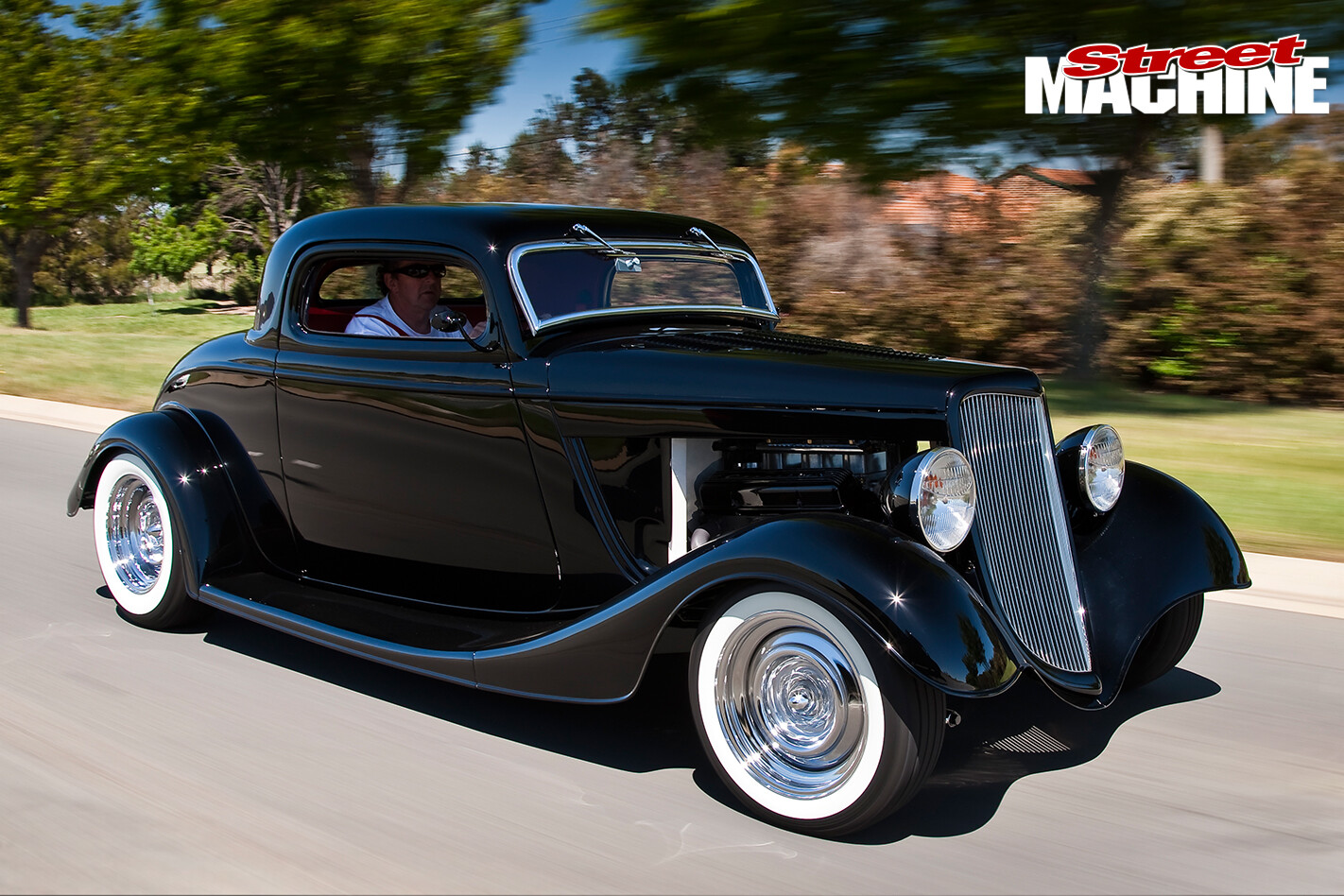 While the body was in the paint shop, attention turned to the chassis. While somewhat singed, fortunately the Chassis by Heath wasn't heat affected. It features one of Heath's double A-arm front ends and a triangulated four-bar rear. One of Pete's major goals for the rebuild was to de-bling the rod. "I wanted it to be new/old-school," says Pete, "I wanted it to look traditional but be reliable. I wanted to be able to take it out for a drive and not have to worry about shit falling off before I got home."
To give it the traditional look, a lot of the billet got tossed. With much of the remainder getting painted – like the billet steering column for example. So after stripping, cleaning and blasting all the suspension, (along with the chassis and driveline), Pete and mate JJ painted it all the same HOK black as the exterior.
"Most hot rods ride like shit," says Peter, "they use crap springs that are usually all wrong. I didn't want that." To address the handling issues, Fitzy fabricated front and rear swaybars, then with the help of Mike Davidson from Lovells, spent hours studying the Lovells spring and shock catalogue for new coil-overs. The '34 had to sit just right, while still providing sweet ride quality. "I had to choose well," says Fitzy, "as they were disassembled and painted. So there was no returning them. I'm glad I went to the effort, as it steers and drives really nice."
Gary had spared no expense on the original build. So naturally its 454-cube, SB Chev (based around a Motown block) was a good bit of gear. Pete set it up on the engine stand at Fitzpatrick Speed Works and tore it apart and reco'd everything. "While it was apart, I added a lumpy camshaft," says Pete. "After all a proper hot rod has to sound right." Pete's other big change was the addition of triple Rochester carburettors. They're the big-bore, 2G units, for a total of 1080cfm. "I had an old, retired guy in Texas set them up for me," recalls Pete. "I could tell he knew his stuff when he asked me the altitude of where I lived." He also asked me 'God damn, why would you want such a big engine in such a little car?' Because I can," replied Pete – Sheesh, Mr Rochester wizz, did you really need to ask?
Fitzy's handiwork didn't stop at assembling the engine, "I didn't like any of the headers available, so I made my own. I originally considered two-inch primaries but decide they were too big, so I settled on 1 7/8." He also fabricated the rest of the three-inch system that runs up over the diff.
Hugo's screwed together one of their burly Powerglides to go on the back of the hulking little-block, which sends the neddies back to a 9-inch third member. All the running gear is as bullet-proof as you can make it – big tailshaft, big unis even the Strange Tru-Trac nine-inch sports an aluminium pinion support. Just as well, as Fitzy's not exactly shy when it comes to putting the boot in. Sideways is not always a bad way – which happens a lot given the '34's skinny tyres.
Yep, Pete ditched the big billets and low-profile fatties for a set of 15-inch Showwheels chromies. "I love 'em," says Pete, "you can get 'em up to 10 inches wide in any offset you like." He wrapped them in BFG whitewalls.
With the body and chassis reunited, it was over to Classic Car Upholstery at Cooma who stitched and installed the blood red leather tuck 'n' roll interior. Black duco, bright red interior – a classic combo that will never go out of fashion.
Rounding out the interior is a false transmission tunnel to hide all the wiring, the aforementioned painted billet column topped with an old-school Grant wheel, Moon original-style gauges with the tacho mounted on the column – just like the old days and a Lokar shifter that Pete messed about with to make work better. Fitzy stands 5 foot 10 inches tall, however the stretched cabin combined with the Easy-Glide seat gives him plenty of leg room.
In keeping with the '34's new/old-school character there's no a/c: "Drop the side windows and turn the knob on the dash multiple times [the one that flips the windscreen out] for flow-through ventilation," says Pete. The central locking and power windows are a couple of the coupe's meagre high-tech concessions – another is out in the engine bay, in the form of a trick, fully programmable ICE ignition system.
While never built to be a trophy magnet, the black coupe has far from embarrassed itself at MotorEx, Summernats or Victorian Hot Rod show – it's even qualified for Meguiar's Superstars! Pete would like to thank everyone involved, "Justin and Fang from Detail FX who are always happy to run the buff over it. And especially my understanding wife, Michelle and my two boys Dan and Aaron, who were always around to lend a hand and give advice even when I didn't need it."