Young gun P-plater Mason Cahill proves that 'restrictions' isn't always a dirty word with the build of his Hemi six-powered Ford Model T Roadster
This article on Mason's T-bucket was originally published in the December 2016 issue of Street Machine
NOTHING sours young automotive dreams like restrictions – whether on your wallet, on your skills or from the law. The first two can be overcome with plenty of hard work and a willingness to learn, but the third can be tougher to negotiate, especially when you're looking to keep your nose clean with the powers that be.
Nineteen-year-old Mason Cahill was at this exact crossroads a couple of years ago when he set out to build a hot rod but knew he had to traverse the three-year ravine that is P-plate licence restrictions.
That said, building a hot rod – as opposed to a post-'48 street machine – offers up many advantages for a budding car builder. You get legally compliant, in-yer-face benefits such as exposed engines, a greater spread of possible wheel and tyre sizes, and a more sensible approach to emission and driveline combinations. Sure, you are still restricted to six engine cylinders and the need to jump through various engineering hoops for registration, but once that's all done and dusted you'll be cruising the streets in a personalised ride that offers plenty of grunt and scope for changes down the track.
"I grew up around hot rods so I always wanted one," Mason says. "I wasn't prepared to wait until I had an open licence, so I built a Model T roadster on my terms and to my tastes that could still be driven on my Ps. If I had to go with a six-cylinder, then I figured I'd employ the ways and means act grunt-wise. The best place to start was a six widely regarded as the biggest and most powerful: a 265-cube Chrysler Hemi."
But before one of Chrysler's finest could be slotted in, a suitable chassis had to be sorted. Fortunately, as a third-generation Queensland rodder, Mason had plenty of help close at hand; his dad Darren has a number of cool rods to his credit and is an avid nostalgia racer, while his granddad Rod was one of the pioneers of the sport in its formative years.
So the Cahill men got busy, fabricating a chassis for the roadster from 75x50mm RHS rails, to which they suspended a Super Bell four-inch-drop I-beam front axle and transverse leaf assembly. Pete & Jake's front shocks were chosen and a Suzuki Sierra steering box had its internals reversed to allow fitment and operation from above the chassis rail. A standard-width Jag XJ12 diff running a 3.3-geared LSD centre rounds out the rear suspension, using a single pair of TCI coil-over shocks in lieu of the heavyweight Jag's twin pairs.
Brakes consist of XC Falcon front discs squeezed by VR Commodore calipers, with stock Jag discs at the rear, all activated by a KA Laser master cylinder.
American Racing Salt Flat rims in 15×5 and 17×8 sizes were chosen for their period appearance and shod with Nankang 185/65 and 275/55 rubber.
Chrysler Australia's big Hemi six was introduced 46 years ago as a 245-cuber in the VG Valiant range. Its reputation as a V8-beater on the track, strip and street is the stuff of legend, so Mason knew he was on to a good thing.
He bought a trio of 265s from an ex-speedway racer, and the best block was then stretched 40thou and filled with forged flat-top SRP pistons, SRP H-beam rods and a knife-edged, balanced cast crank. The factory cylinder head remains essentially stock; blessed with decent-sized valves and healthy ports in standard shape, the head was deemed fit for purpose. "The donor engines came with a beautifully ported and finished head, but we cc'd it and found I'd be running about 14:1 compression, which was probably a bit much for street use," Mason laughs.
Hemis and Webers go together like Forrest and Jenny, so Mason sourced a Redline intake and triple 45mm sidedraught carbs, both for performance bonuses and visual impact, and you have to agree they suit the build style and balance the proportions of the T perfectly.
A generic eBay radiator keeps the stout six cool, while a modified distributor and MSD goodies sort the spark.
A BorgWarner 35 automatic is regularly scoffed at in Valiant and performance circles – Trimatics used to be too, remember – but are more than capable of handling a tough street Hemi when built correctly; Casey Mortensen of White Lightning Speed Shop sorted the rebuild, fronting the fresh trans with a 2800 stall from The Converter Shop.
With the chassis and running gear locked down, it was time to turn attentions to the body and interior. The 'glass T shell was a spare for the old Altered Intentions dragster, and retains its narrow width, but was chanelled an inch at the front to induce some subtle rake into the side profile of Mason's build. A turtle deck rear assembly stamps the T's roadster identity, as opposed to the more common 'bucket' configuration.
Darren laid down the Camouflage Green paint in line with Mason's WWII build inspirations, before the DuVall-style front screen and period lamps were fitted. "I met a guy at the Toowoomba Swap who was selling a heap of NOS WWII aircraft gear, including lamps and switches," Mason says. "It was a jackpot find really due to the theme I had in mind, and was easily adapted for automotive use."
Custom seat bases were fabricated to sit as low as possible for maximum driver and passenger comfort before being trimmed in tan leather by Mason's mum Deb. A Limeworks steering wheel and brass-rimmed Classic Instruments gauges were selected, with a B&M Pro Stick rounding out the driver controls.
With hard work, family help and some clever wheeling and dealing, Mason has built a hot rod he can be proud of on the street or at the strip – he fits a bolt-in 'cage and semi-slicks for the drags, and the T has run a 12.74@104mph best, with more to come.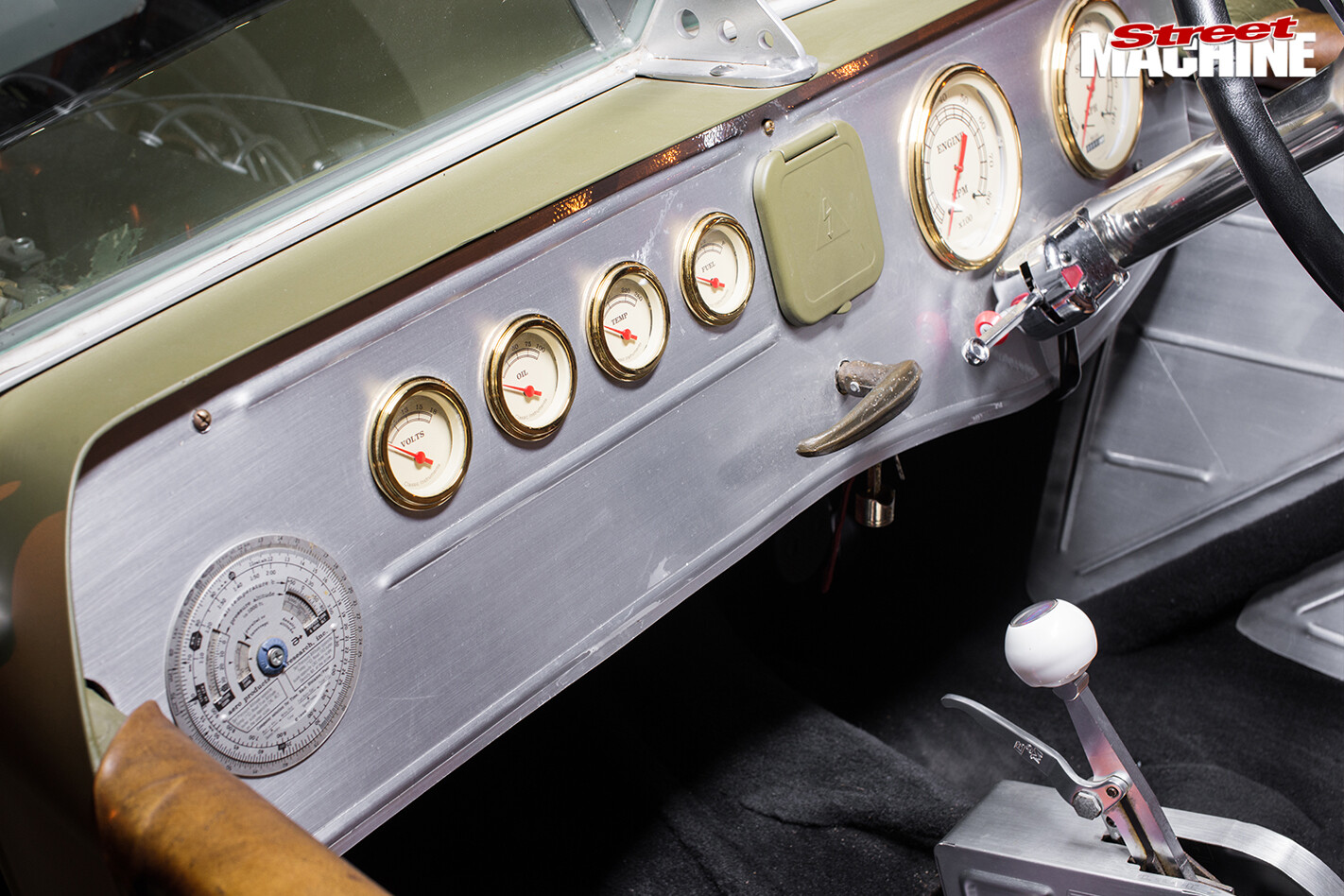 A brace of Classic Instruments gauges and WWII aircraft switches and detailing lock down Mason's theme for the build
"Apprentice mechanic wages are pretty restrictive when it comes to drag racing, but I do want to get some head work done to make better use of the cam specs and Webers," Mason says.
In the meantime, the T sees heaps of street use and has placed in the Top 10 at both the Valla and Yamba rod runs, along with a Lucky 7 berth at Garterbelts & Gasoline 2015.
And as with any ardent hot rodder, Mason has something else in the pipeline already, but you'll have to wait for that one, as will I. Yep, it's a secret project all right; not even yours truly could extract any details from him!