Tim Nelson loves tough Fords, and his latest build, a 393-cube 1973 XA Falcon coupe, is as tough as they come.
This article on Tim'sXA Falcon coupe was originally published in the August 2016 issue of Street Machine
UNVEILED at the recent WA Hot Rod & Street Machine Spectacular, Tim Nelson's naturally aspirated XA Falcon hardtop packs some serious punch. The West Australian has the hard-hitting Calypso Green coupe all set to go toe-to-toe with the country's biggest and baddest burnout competitors.
Purchased five years ago as a retired drag car, the big coupe was in average condition at best. "I sent it to a workshop in Perth to have some work done to it, and for whatever reason it was left out in the weather for two months," Tim explains. "The C-pillars started bubbling under the paint, so I pulled the pin and dragged the shell over to see Greg Hogan at Stripped Bare Diamond Blast. We discovered that the coupe had taken a big hit in the rear at some stage, and both rear quarters had received a 'quick fix' to get it back on the track."
Once the XA was back home, Tim reassessed the situation and came up with a plan. "Slapping it all back together to hit the burnout pad was not really an option anymore," he says. "I decided to get serious with it, and right a few wrongs in the process. The 10-point rollcage in it was a bit average, and wasn't fully welded in some areas. I had Adam Spiteri from Cronic Customs re-weld it, and add gussets and bracing so that it could be ANDRA-certified." While it was there Adam also fabricated a front and rear tailshaft loop, and mounted a pair of Kirkey race seats.
Tim then took the Falcon to the workshop of a 'family friend' to have the panel and paint taken care of. Unfortunately that didn't work out too well.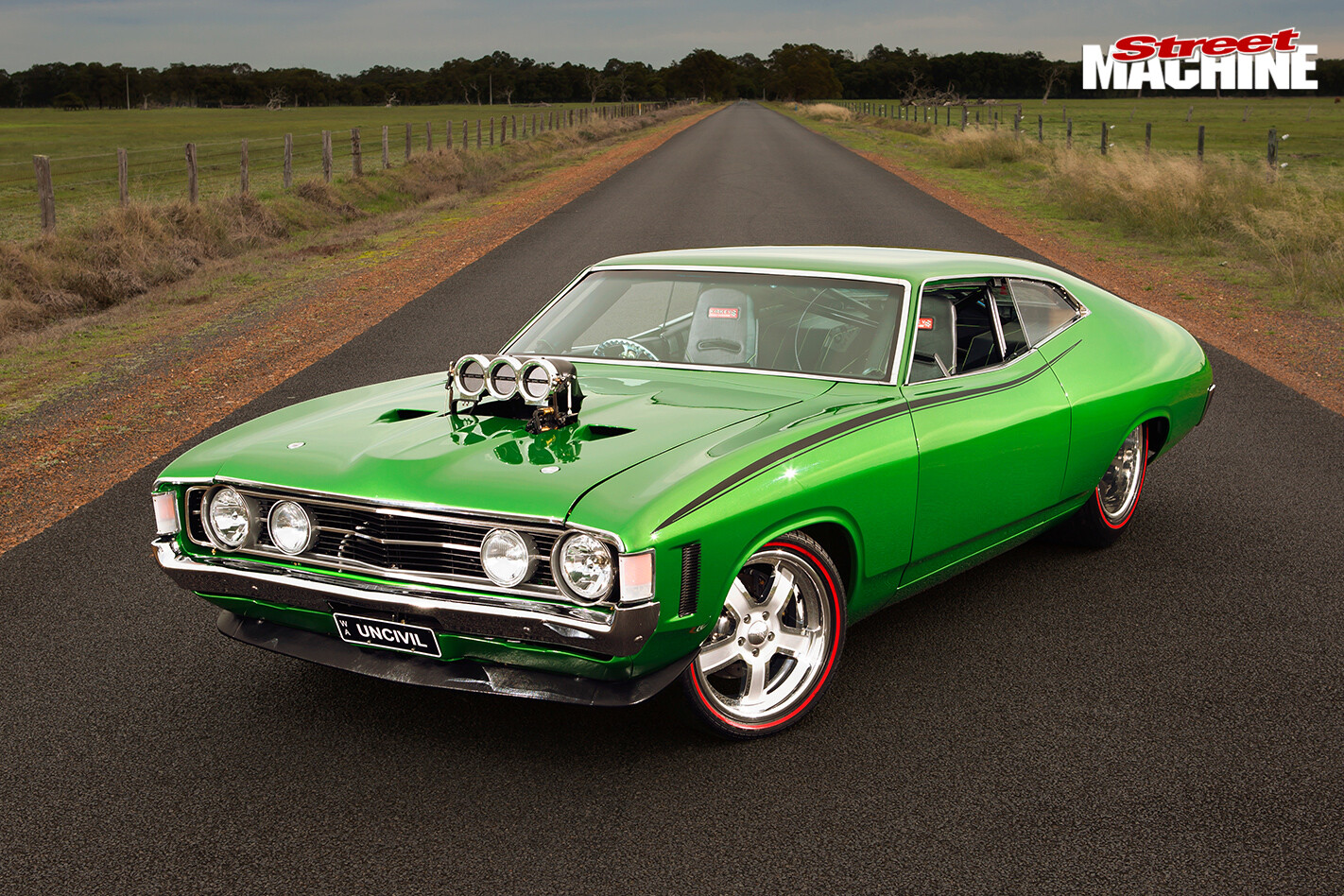 In the meantime, Tim had purchased another XA – a sedan this time, from Chad Atkinson in Mt Barker. The two of them struck up a conversation, and soon after, the coupe was en route to Silver Aces, Chad's fabrication, restoration and customisation workshop. Chad was far better equipped to deal with the panelwork than the 'family friend', and set about straightening everything, spending a lot of time re-working the damage to the rear. Chad also smoothed the wiper panel and plenum cover, recessed the firewall and deleted the rear-quarter lights. In the interests of saving weight, a fibreglass bonnet, doors and boot were fitted and massaged to suit. Lastly, the bumpers and panel gaps were tweaked before the car was coated in that beautiful Calypso Green paint.
For Tim, that particular hue was an obvious choice. "It needed to be bright so that it stood out, and an easy colour to repair in case of damage," he says. "It's also the same colour as my dream car – an XA GTHO Phase IV!"
While the XA was getting prettied up, Tim worked on the mechanical side of things from his workshop Full Torque Performance. You might be expecting to see a blower under that Big & Ugly injector hat, but you won't find one. "I wanted something different to what's being built at the moment, so I figured, why go blown when everyone is doing that?" Tim reasons. "I want to shake up the burnout scene in the N/A class, and I reckon I can do it with this mechanically injected combo.
The 393ci Cleveland is filled with an Eagle crank, Scat rods and Probe forged pistons. A set of AFD 4V alloy heads are bolted onto the block, with a modified Weiand tunnel-ram and Big & Ugly mechanical injector hat fuelling the fires below. An MSD 8AL ignition system takes care of the spark, while a Holley fuel pump lifts methanol from the rear tank to the front tank, where an Enderle unit feeds the injector hat. A Moroso four-stage dry-sump oil pump ensures the hard-hitting Clevo stays well-lubricated under the harshest of conditions. A set of modified Pacemaker 17/8-inch headers expel the hot gasses through a pair of mandrel-bent three-inch pipes with twin Lukey sports mufflers. While the engine hasn't been on the dyno, it's been tested and tuned on the street (ahem), with Tim estimating 700hp at the motor.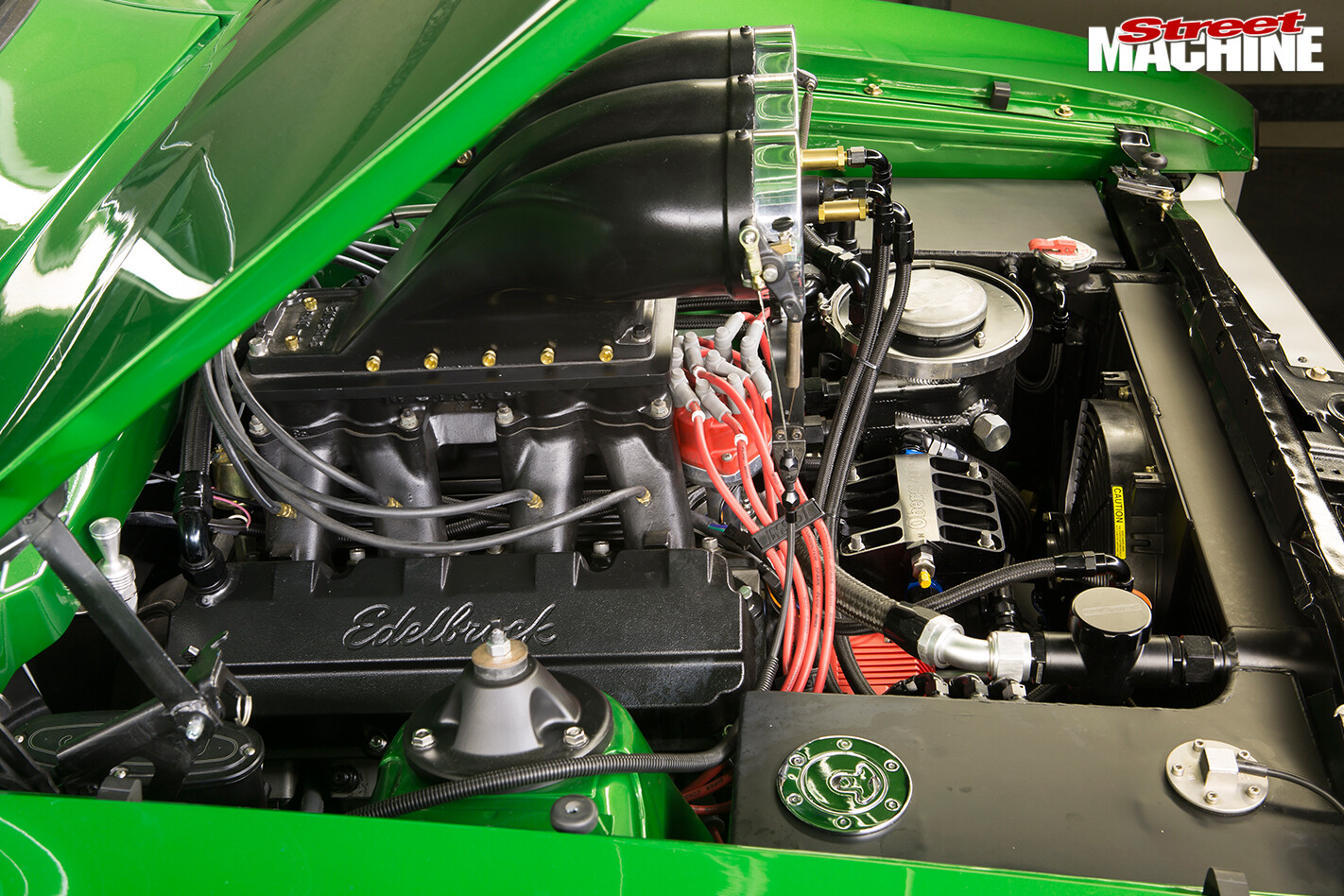 A Transmission Specialties Powerglide was sourced from the US and sent over, along with a 4500rpm converter. Phil Purser from Final Drive modified the existing nine-inch diff housing, straightening and shortening it, before adding Strange axles, a full spool and a 3.25:1 gearset.
Once the coupe was back home with its fresh paint, Tim set about fitting the driveline and taking care of the fiddly stuff. Nelg from Nelg's Ali Mods fabricated the tanks in the engine bay, and he also modified the Aussie Desert Cooler radiator and reworked the gauge cluster in the dash. Tim then rewired the entire car using a Painless wiring kit. He included a GPS speedo, a rear shut-off and isolator and made sure all of the standard exterior lights worked as they should.
Pulling up the big coupe are Wilwood discs with four-piston calipers on each corner, with a 11/8-inch Wilwood master cylinder supplying the brake-line pressure, sans booster. The rear brakes were installed with quick-release fittings, so they can be removed for skids then easily reinstalled without having to bleed the system. "It will just make it easier to go for a bottle-o run after I've done a skid!" Tim laughs.
The coupe is set up with Lovells springs and 90/10 shocks on the front, while Spax coil-overs control the ladder bar set-up out the back. Though the car came with the latter already in place, Tim modified and strengthened it to suit the abuse it will no doubt have to deal with.
Now for those wheels – if you haven't noticed them yet, you'd better get your eyes checked. They are monstrous! "I originally wanted rear wheels the same size as those of my good mate Mark 'Happy' Williams, so I called Adam at Cronic Customs and ordered a set of 18×15 rims," Tim explains. "Adam asked me to confirm the dimensions, so I got the tape measure out after a few beers and realised I could easily go bigger. I had a look on the Mickey Thompson website and they make a 20×22 tyre, so I decided then and there that I had to have a wheel to suit!"
Adam got the ball rolling, and after a few months of back and forth a brand new set of Showwheels Flow rims turned up. The rears are massive 20x18s, with the lip measuring about 13.5 inches deep, or as Tim prefers, "about as deep as a King Brown is tall!" The front wheels are a little more sensible, measuring in at 18×7 and wearing 235/40 rubber.
Tim decked out the coupe's interior with a heap of aluminium panels to save weight. The trans tunnel is completely removable, as are the sheets covering the rear end for ease of maintenance. Andy from Mandurah Canvas took care of the trim, with instructions to cover everything in black vinyl with green stitching. A fire suppression system has also been fitted, with the bottles hiding behind the seats. Tim has plumbed a circuit into the engine bay and the transmission tunnel so he can take care of any unwanted flamage quickly. Another bottle will be installed for a rear end circuit before the car sees the pad in competition.
So what does Tim have in store for the big Falcon? Short answer: everything! "My ultimate goal is to run an eight at the Perth Motorplex, then bolt on a set of skid wheels and smoke out the Snakepit," he says. He's also already snapped up entrant number 27 for Summernats 30. "I want the coupe to be sitting pretty on Tuff Street, so I entered as soon as the entries opened. I'll hit up the pad, and I even installed cup holders so my passengers can drink slushies on the cruise route!"