Classic 70s British metal gets a heart transplant from Uncle Sam to make an eight-second pocket rocket
This article on George's Capri was originally published in the May 2015 issue of Street Machine
IDLE hands are the devil's plaything, or so the saying goes. It certainly applies when you combine a bored petrolhead and eBay! George Chalikouras was searching for 'drag car' on said auction site one day, just to "waste some time", and he wound up the proud owner of this '71 Capri.
It didn't look anything it does now though. The early-70s Pommy coupe sported a "very early-90s" bright aqua paintjob, and had no engine or trans to speak of. On the plus side, it was legally registered as a V8, and thanks to some big tyres out back, George could see the potential for a tough street car. So his mind turned to what sort of engine he could cram into that tight little space up front.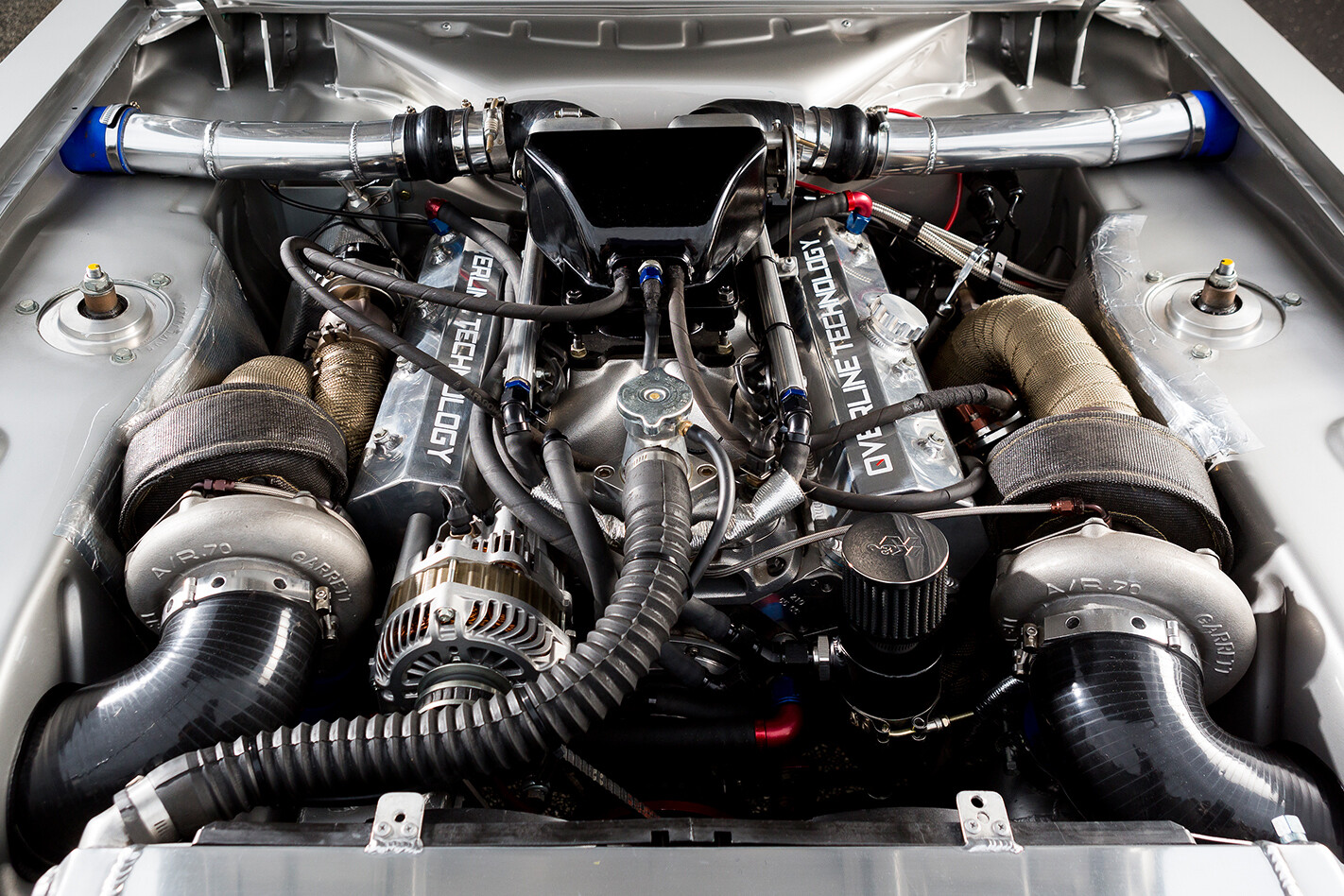 He didn't plump for the traditional Windsor or Cleveland V8 though. Nope, there's a Chevy small-block in the engine bay of this Capri, with no less than two Garrett GT35 turbos hanging off the sides.
It's fair to say George has a thing for turbos. His previous 'fun' car was a TD Cortina running a 4.1 turbo. And long before that he played with an XE Falcon and a Sigma – both running turbo Gas Research induction. Other late-model Fords followed, all turbo-powered.
Despite the fact that the Capri was set up for a V8, George's first idea was to stick a big Ford six in there. "After getting the car home, I had plans of installing the 4.1 turbo engine from my Cortina into it," he says. "But a quick check with the measuring tape indicated that I would need to do some major surgery on the firewall to make it fit. Plus the boss [that is, George's wife] just realised that my new mid-life crisis didn't have an engine, so the pressure was on to get it rolling."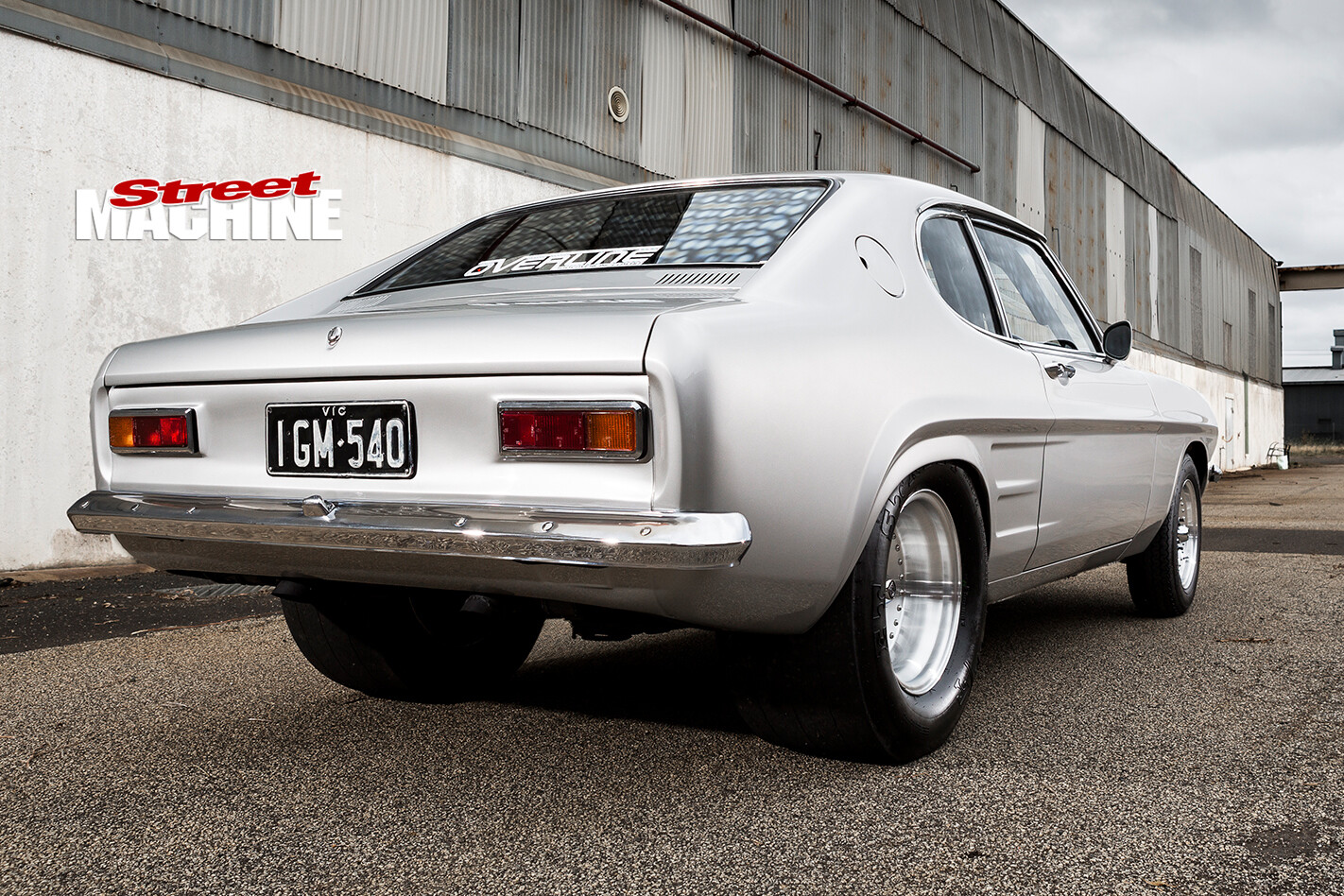 Some more eBay magic located a Chevy and Powerglide combo that "needed some serious attention". George called on Zoran from Competition Engines to give it all a quick freshen-up.
"Within three weeks of purchase, the Capri was on the road, and I thought I would be happy," George says. "But it wasn't fuel-injected and it was way too noisy." Despite running a 10.9@124mph at his next Calder outing, George yearned for something more high-tech.
Within another two weeks, George had added EFI to the Capri, and a return to the track resulted in a 10.6@127mph, but he still wasn't happy.
"I only drove it three times on the road before accepting that naturally aspirated is not for me; way too noisy and not enough go!"
So it was back to Competition Engines, where George gave Zoran the nod to build a strong, low-comp engine capable of producing 1000hp.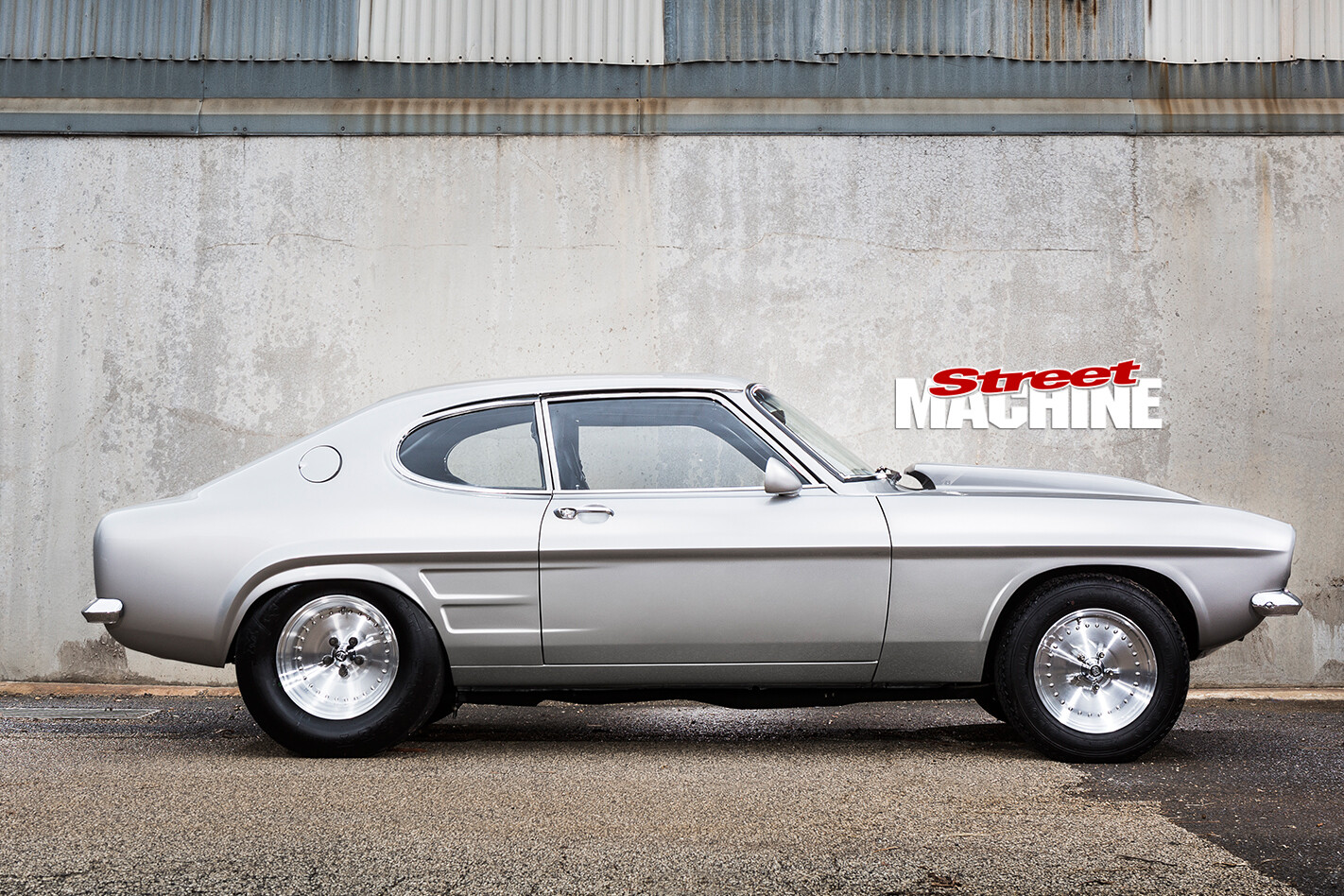 With the engine out, it was the perfect time to give the body some attention.
"The colour was still irritating me and this was a good opportunity to change it," George says. Fortunately, he has family and friends that work in the car resto business. George wrangled himself a two-week respray; all he had to do was supply the paint. Arctic Silver was his choice, and it was sprayed by Alex from AM Profinish after Jim Spilios did the prep work.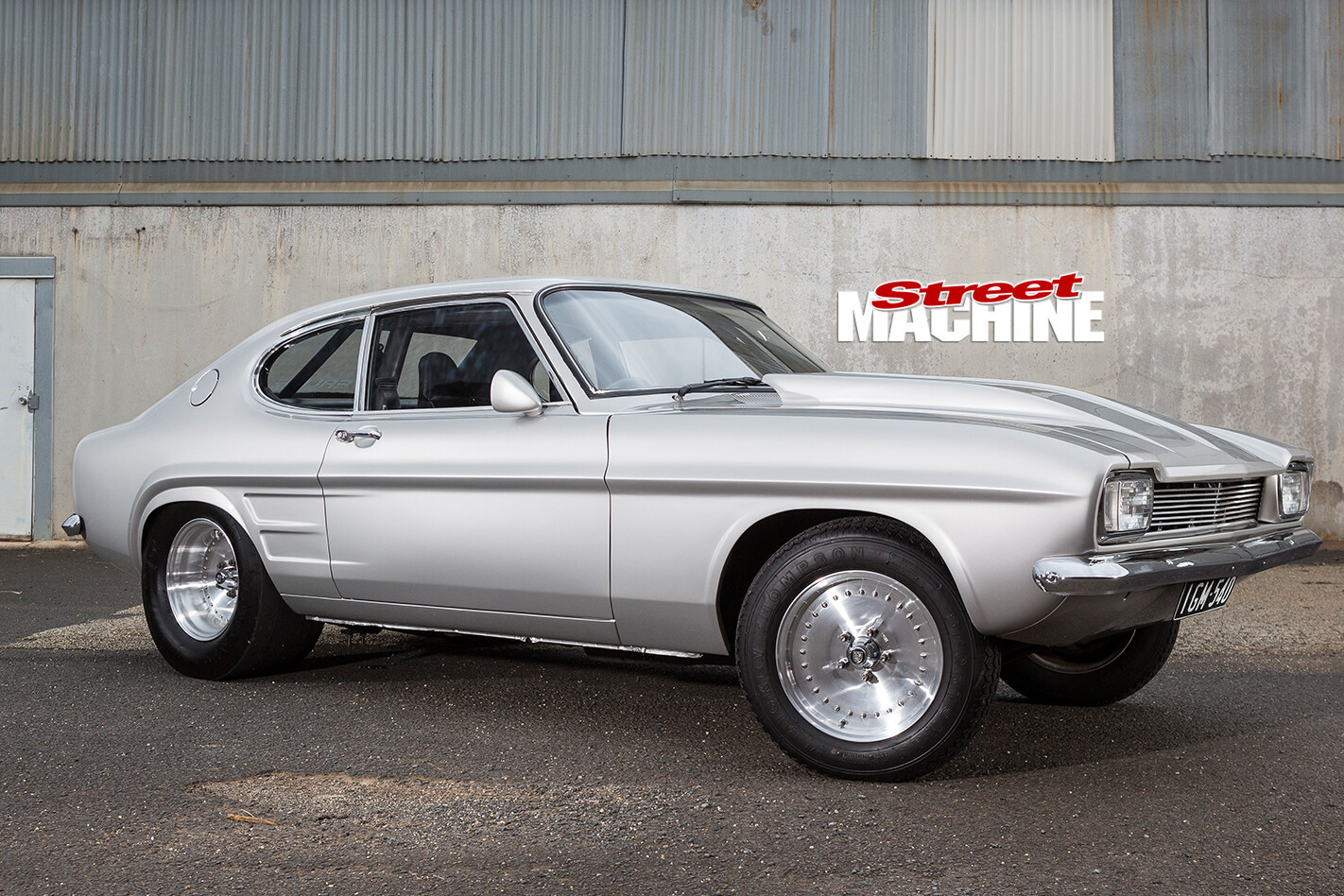 Initially George hoped to shoehorn that big engine in with no visible body mods, but it wasn't to be. The car now runs a three-inch reverse scoop, "just to release some heat", but he's managed to keep the intercoolers hidden. "I would not accept a visible intercooler in the front of the car," he says. "Water-to-air was the only option, but I could not risk putting another radiator in front of the engine radiator, in case of overheating."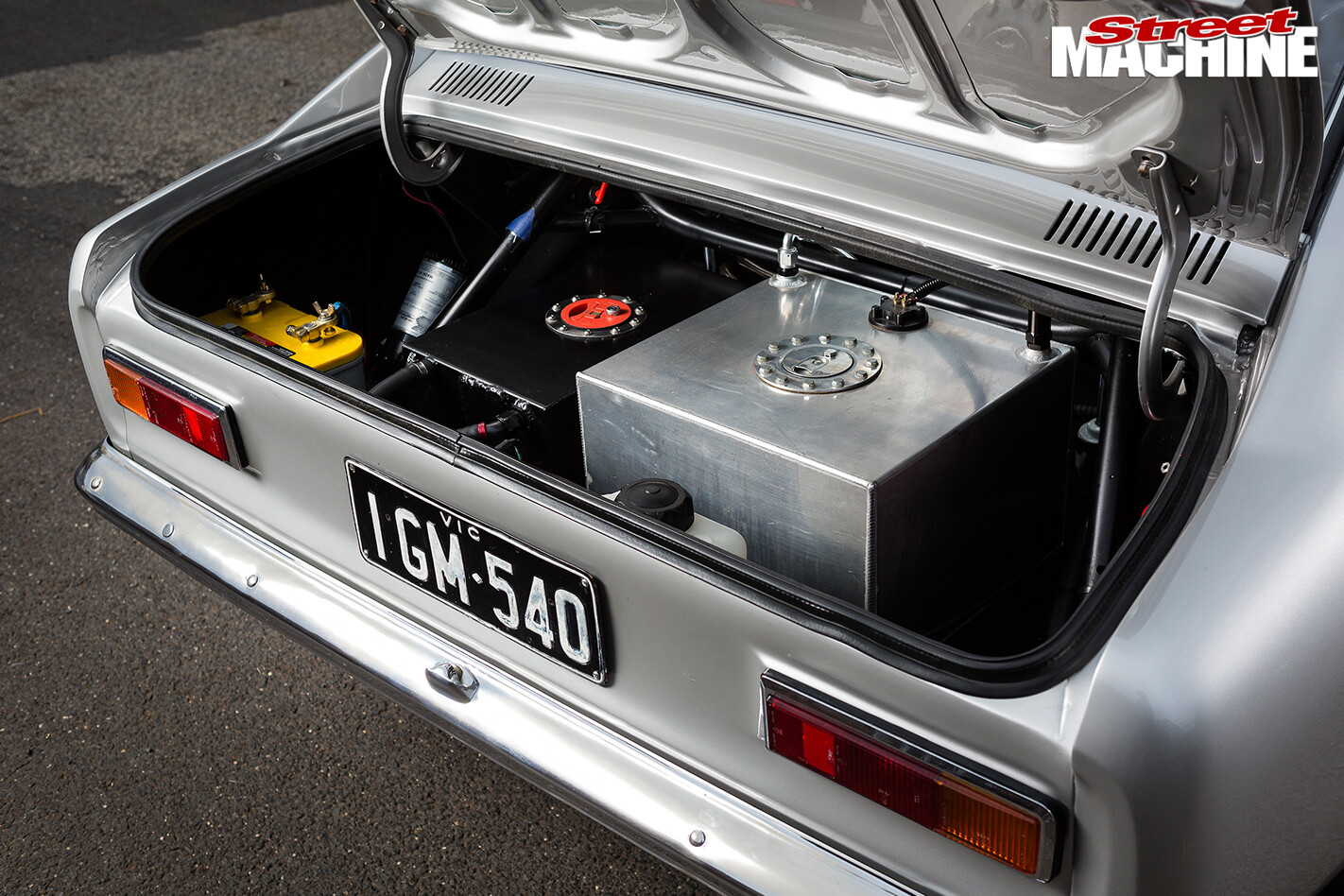 George's solution involved a pair of PWR water-to-air intercoolers, one located in each front guard. They're fed by a 15-litre boot-mounted water tank, and there's a couple of cooling radiators, complete with thermo fans, installed behind each rear wheelwell.
As a qualified electronics engineer, George is a dab hand when it comes to technology. Which is just as well, because he had to spend a lot of time sourcing an alternator that could deliver enough electrical load at idle and also handle the high rpm. After several failed combos, he eventually settled on a late-model Commodore item. For most of us this would be where the problems started. Not George though – he made his own control box that he can set from within the car with variable voltage.
Speaking of technology, this car has it in spades. As a part-owner of Overline Technologies, George has access to a plethora of whiz-bang gadgetry and he's made good use of it on this build. The real trickery is almost hidden from view though. "I wanted the dash to retain a factory look without too many aftermarket gauges," George says.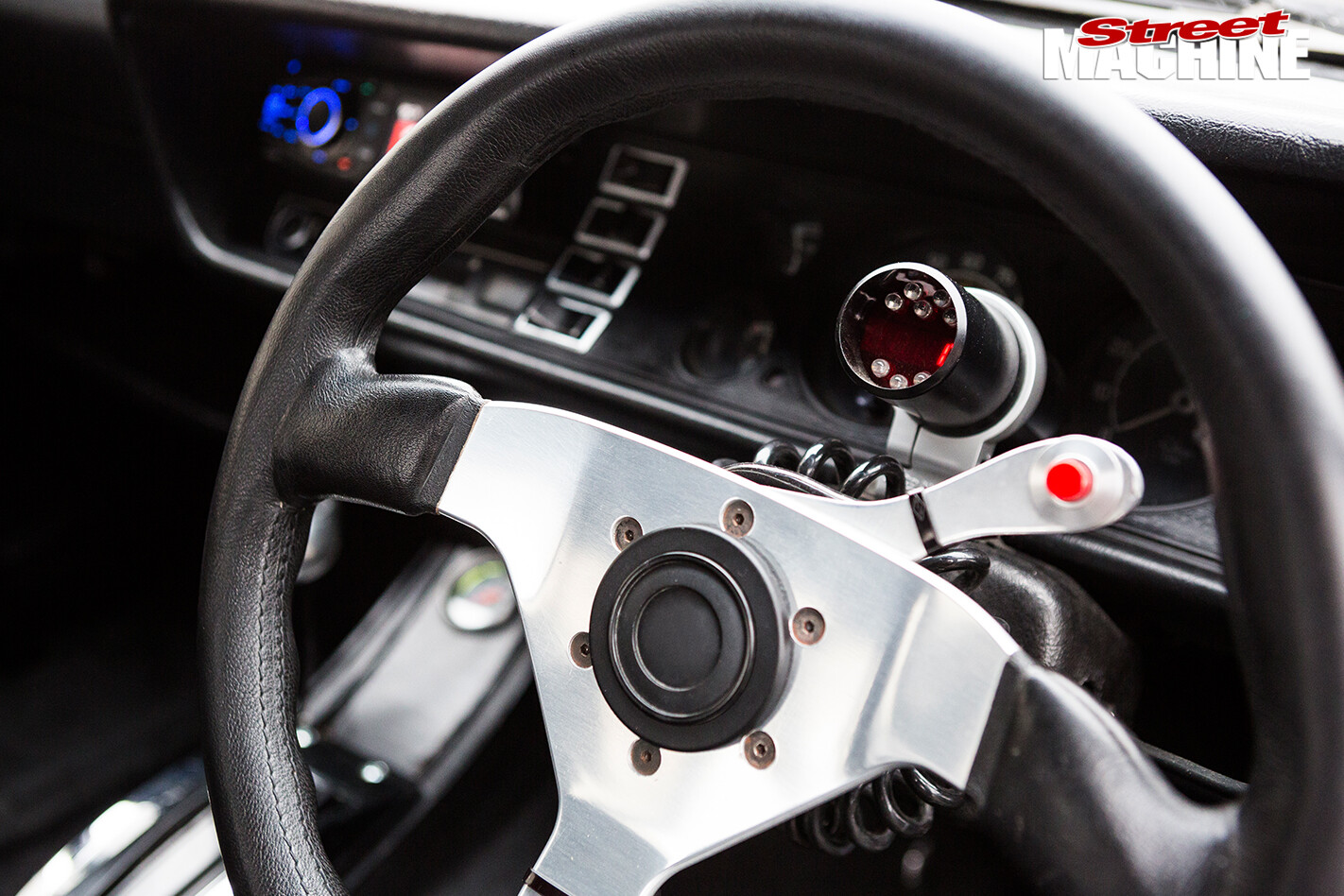 Although it looks original, the speedo has been converted to electronic. In addition, the Haltech ECU has been set up to drive the factory temperature gauge, and Overline also supplied a video converter that shows the air/fuel ratio on the stereo display. But it doesn't stop there: "The factory heater controls have been converted to electronic slide resistors that allow on-the-fly boost adjustments via the Haltech," George reveals, "and the intercooler fans and pumps are controlled by the factory buttons next to the radio."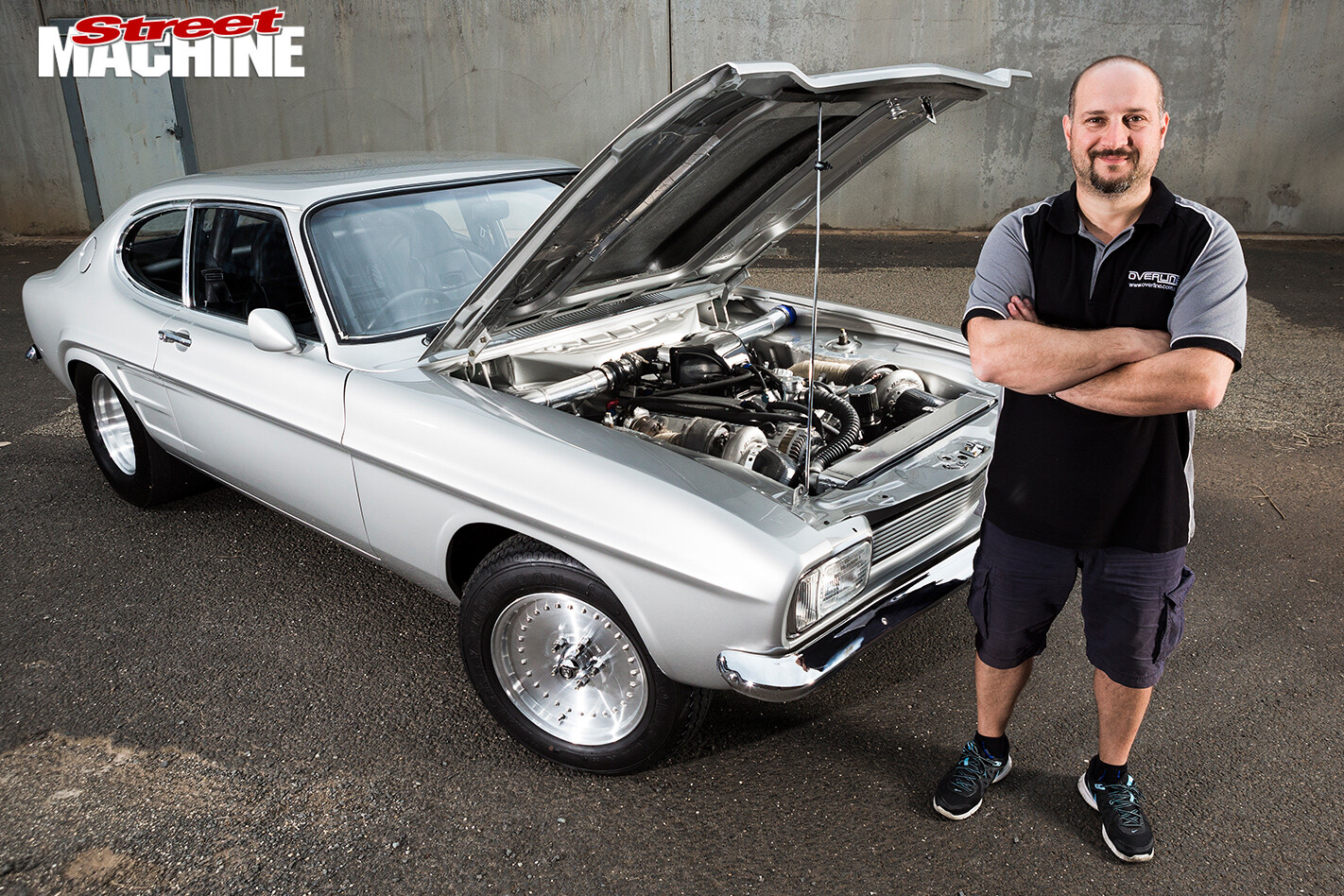 So how quick is it now? Despite being on the road for nearly four years in its current configuration, the Capri has only hit the strip three times. "The first time at Heathcote with no intercoolers I ran a 9.5@152mph on 10psi," George says. "At the recent King Of The Street meeting I ran 8.7@162mph on radials with full exhaust."
Based on that form, George thinks the Capri has the potential to run low eights. Care to argue?
See more of George's Capri in this video from our YouTube channel: