Scott Sharpe traded surf-side cruising for black-top bruising with the build of his big-cube VG Valiant Safari wagon
This article on Scott's VG Safari wagon was originally published in the May 2016 issue of Street Machine
THE humble station wagon has been on the fringe of the street machine movement for many years. Once snubbed as the poor man's choice back in the panel-vanning heyday, their stock has gradually risen, with a few memorable builds now entrenched in Aussie hot car folklore. In recent times the wagon has become a super-cool alternative to the more traditional – and nowadays more expensive – coupe and sedan body styles.
And why not? Wagons combine maximum seating capacity with cubic Esky space, don't pack too many extra pounds if 'go' is your thing, and are a more individual choice if you're keen to stand out from the crowd.
Gold Coast local Scott Sharpe is all for the latter, and was looking for something different after a decade-long break from hotties. "I found the wagon online back in 2010," he explains. "It was already a big-block car but had succumbed to the bad combo of too many owners and not enough maintenance, so was pretty tired. I pulled the whole thing apart and started again."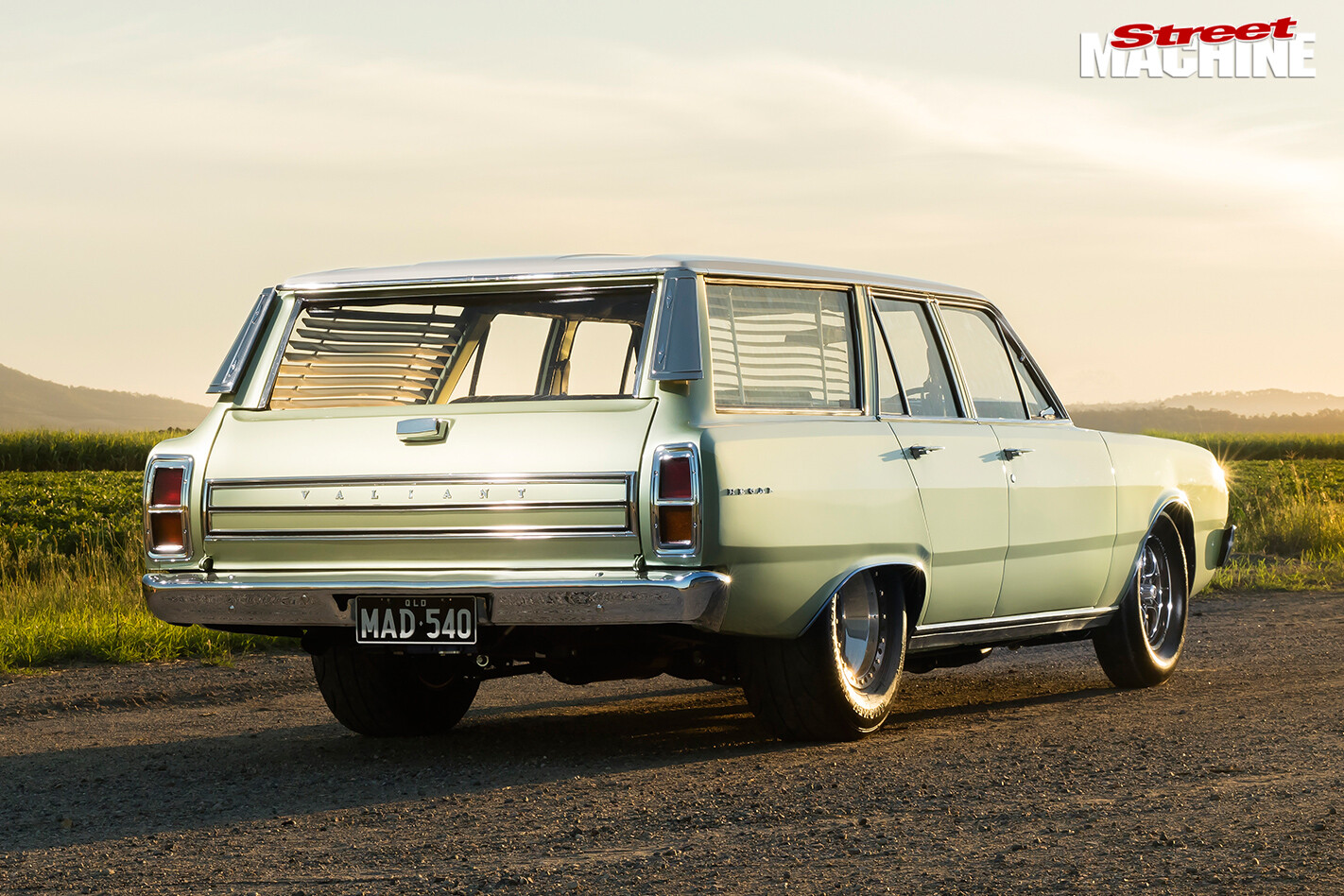 With beautiful sandy beaches at his doorstep, you'd imagine a surfin' safari-inspired build would be the go – maybe sporting an extra strap or two to hold the boards down with 440 power – but Scott chose to steer clear of that well-trodden path and focus more on tough street.
"The only thing left from the original driveline is the tailshaft loop," he laughs. "It was all sold off when the 'mild' plan went out the window and the whole snowball effect took hold."
Emails to Hughes Racing in the States regarding a cylinder head purchase soon evolved into a complete engine combo, and before you could say 'strong Aussie dollar', an all-aluminium 540-cuber was heading Scott's way. The Indy Maxx Wedge block is of the taller-deck RB variety and runs an Eagle 4.25-inch stroker crank pumping Scat rods and Diamond pistons.
Hughes sorted the valvetrain with one of its own hydraulic-roller cam/lifter/pushrod/valve spring packages, for a sensible balance of performance and compatibility. Indy valves keep that concept alive, housed in Indy EZ alloy heads topped with a single-plane intake, again by Indy.
A Pro Systems SV1 monster one-barrel carb is fed 98 PULP via a Magna Fuel ProStar 500 pump and custom fuel tank. Modified TTI two-inch primary headers weave their way rearward to a twin 3.5-inch exhaust running Hurricane mufflers.
Local gurus PWR supplied the aluminium radiator, which keeps a lid on summertime cruising with twin AU fans and a Meziere electric water pump. The ignition comprises an MSD 6AL2 unit with matching Pro Billet dizzy and Blaster coil, used in conjunction with ICE 9mm leads.
A Hughes dyno-proven 720hp@6000rpm is more than ample for Scott's needs, with a healthy 696lb-ft of torque peaking at 4600rpm.
This newfound grunt meant the remaining driveline couldn't be ignored, so Scott had Rick Allison from A&A Transmission piece together a race-ready 727 Torqueflite fronted with an A&A 3800rpm stall converter. The full-manual, reverse-pattern gear selection is chosen by way of a B&M Pro Ratchet shifter.
A Strange nine-inch housing packs an Eaton Truetrac centre with 3.5 gears and 35-spline Dutchman axles, all ably handled by Mark at Aussie Diffs.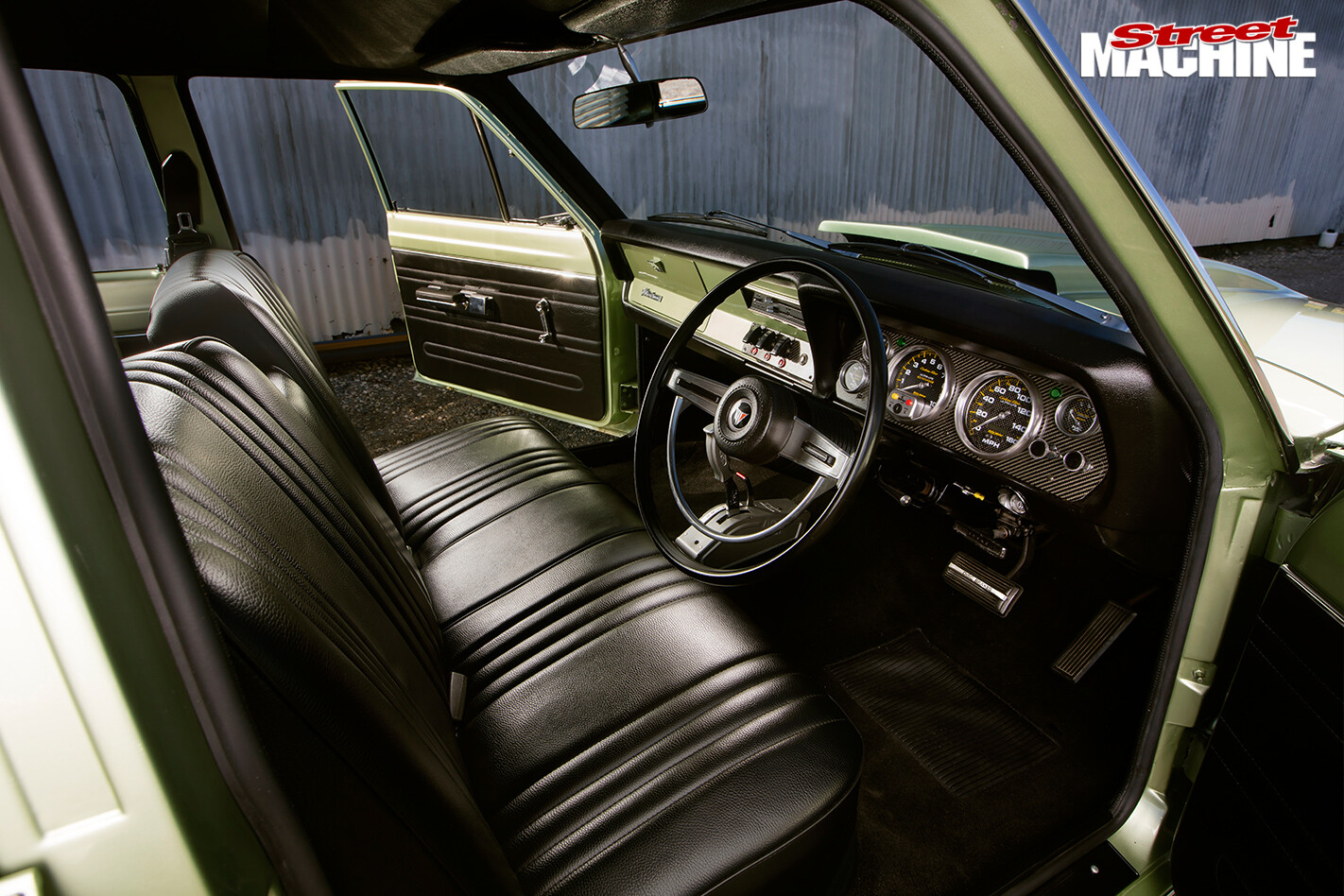 Scott decided early on to do away with the stock torsion-bar front end, ordering an aftermarket independent coil-over set-up as part of his consignment from the US. "The importer lost it, which set the build back a good six months while I chased him for the money," he says. "The old front end was long gone, so I had no choice but to persevere with my original plan. It was about that time that a mate, Frank, was sourcing a coil-over-style front end for his Charger from HDK Suspension in Ohio. Denny from HDK had Frank's Aussie specs on file, so doubled up to piece one together for me. It was a blessing in disguise really, as it is a far superior design to the one I originally bought."
The old K-frame made way for the HDK chrome-moly crossmember, which mounts cro-mo upper and lower control arms tied together with QA1 coil-over shock absorbers. A Flaming River rack-and-pinion steering conversion brings the old Valiant technology forward a few decades, and connects to a factory column topped with the original Regal soft-grip wheel.
The aforementioned nine-inch resides in fresh surroundings, with a full complement of Gazzard Bros underpinnings helping make better use of the newfound grunt. "I spoke with Scott Cortina and sent the car to them for a rear-end makeover," Scott says. "The lads swapped out the factory rear leaf packs for a split mono-leaf set-up that works in conjunction with custom front spring hangers and spring sliders, custom shocks and a Big Boy anti-roll bar. Scotty, Paul and their 'Valiant tech support' guy, Dale, went above and beyond for me; the car felt like it had 200hp more when I got it back, as it actually gets power to the ground!"
A Wilwood master cylinder activates Wilwood discs and calipers up front, matched to Falcon rear disc assemblies. Weld Magnums of 3.5 and 9in widths are shod with Hoosier 28×4.5 front-runners and 275/60 M/T ET Street Radials respectively.
Scott applied his daytime sheet-metal fabrication skills to the cargo area by removing the spare wheel recess and reworking the previous mini-tubs to a far neater standard. The all-steel body was in pretty good nick when purchased, so needed only minor repairs and the addition of the 'glass reverse-cowl before being resprayed in the same Gecko Green hue from the VW Golf charts. The roof was finished in contrasting white tinter to retain its Regal lineage.
The original brown interior was never going to cut it, so fresh black vinyl and carpet was stitched in by B&K Auto Trimmers. Scott whipped up the neat carbonfibre switch panel and gauge fascia, which houses similarly finished Auto Meter gauges to keep a careful eye on what's happening up front.
"The wagon is pretty sedate to drive and happily idles along," he says. "It's even surprisingly quiet – until you nail it! The engine's a real torque monster but is super low-maintenance, so it is really the best of all worlds."
With a few teething troubles sorted, Scott is keen to clock up more street miles before stretching the Val's legs at Mopar track days and likely strip action. "I've learnt more about electrolysis than any one person should ever have to," he laughs. "The different aluminium properties between the radiator, heads and block have been a mission to conquer, but I think we have it sorted now.
"It fought me the whole way, but I love this thing, and get such a kick out of driving it – I might even slip down the beach
in it, too!"