Savage on the street, devil on the drag strip and corner-carver at the circuit – Garry Brown sews up a trifecta with his road-going Dodge Dart Racer
This article was originally published in the April 2016 issue of Street Machine
GARRY Brown isn't a man to do things by halves. His car-building resume reads like a who's who of high-performance drag and roundie racing. So when it came time to build a new street car, it wasn't likely to be anything too subtle. As the proprietor of Brownie's Race Engines in the Gold Coast's Scenic Rim, Garry has been part of South East Queensland's race culture since crewing as a young teen in the late 60s.
"I was an avid drag racer during the Surfers years," Garry says, "and later I switched to speedway and circuit racing where I won my fair share in saloon cars, Appendix J, and its later Group N classification."
When Garry decided to tackle the Australian Trans-Am Series, he figured it was time to step away from the usual Chevy and Ford choices and throw a Mopar into the mix. "I bought this '68 Dodge Dart with the intention of making it a full-time racecar," he says. "But as the build progressed and my priorities began to change, I figured I'd try to have my cake and eat it too – I wanted a street-registered 'race' car that could be driven and enjoyed whenever I felt the need but could be a competitive track car with just a few minor tweaks."
The build kicked off in 2010 when Garry found a suitable donor car at nearby Mount Tamborine. "It was a factory V8 Dart in original condition, and although there were plenty of dents and scrapes, the body was virtually rust-free."
Not that bodywork is much of a challenge for this jack-of-all-trades, and it wasn't long before Garry had stripped the Dart and put a plan into action. "I was keen to slice the roof to improve its aerodynamics and racecar stance," he says. "So I pie-cut the front and rear pillars and laid the screens in to the equivalent of a two-inch chop. The roof was then shortened to suit and the metalwork massaged to keep the proportions right."
The transmission tunnel was raised two inches to improve ground clearance, while the suspension towers front and rear were extended to enable the fitment of NASCAR-spec 24-inch shock absorbers. An extensive race-spec, multi-point rollcage was fitted, which ties to both the front and rear suspension points, but it was toned back when street registration became part of the equation.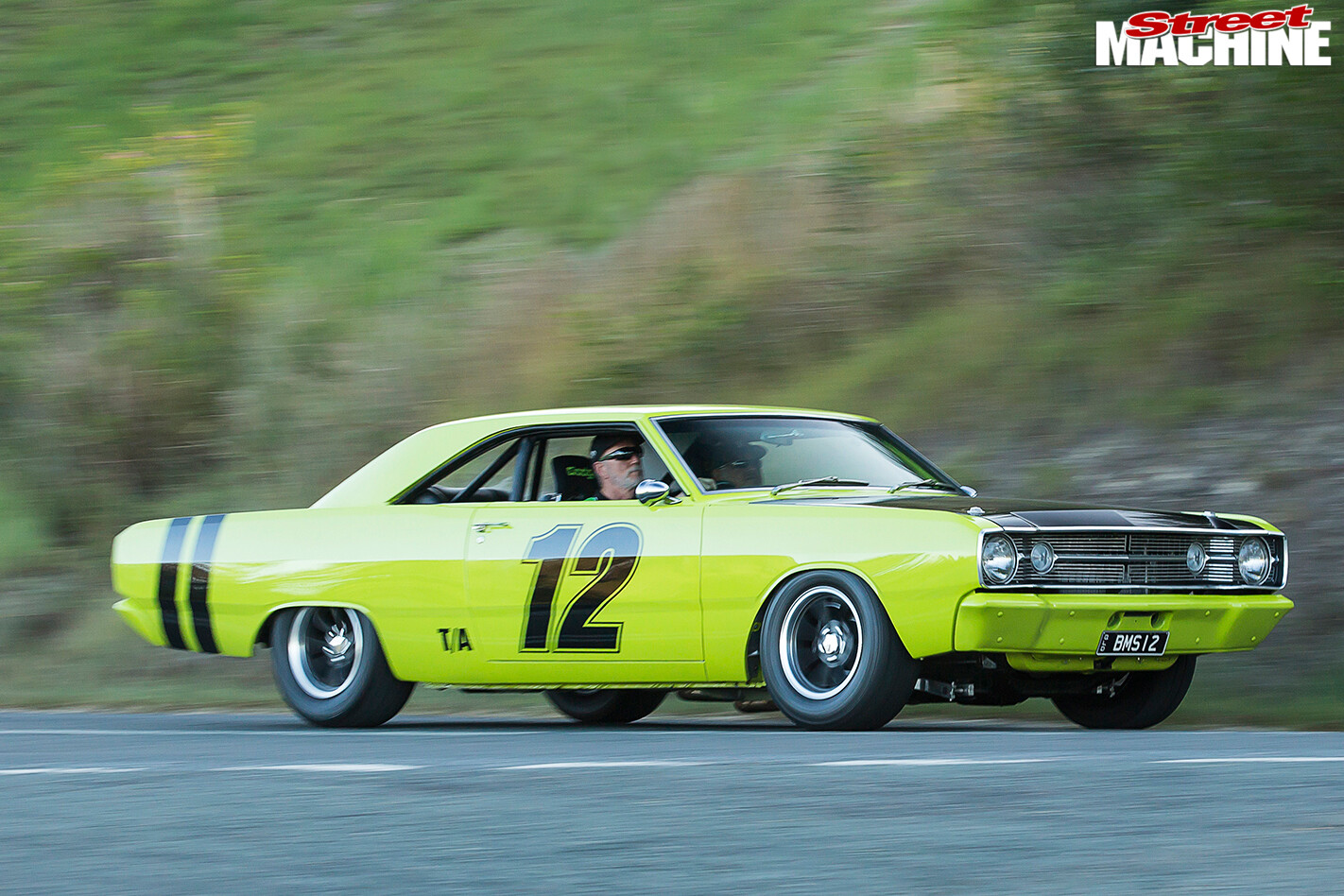 With the bodywork and modifications finished and the last mock-up completed, Garry stripped the car down so it could be coated in an appropriate muscle-car hue. "I originally wanted Mopar Sublime but it was just too yellow," he says. "I like GM-H Barbados Green as well, so went with a custom mix that put me somewhere in the middle." Garry painted the car in his own quick-change spray booth, adding some bumblebee stripes and race numbers in black and a matching black bonnet.
When it came to the Dart's powerplant, Garry was keen to push the boundaries and experiment with different ideas in the chase for maximum driveability. The Dart's screaming small-block is based around an early thick-cast 360 iron block, housing a stock-stroke Scat steel crank and Scat H-beam conrods. SRP 11:1 pistons ensure the donk is 98-friendly, and a Peterson NASCAR-spec five-stage oil pump feeds from a boot-mounted dry sump. A modified standard sump seals the bottom end.
But it's the top end where Garry has really gone to town, employing a number of different tricks to maximise bang-for-buck. Edelbrock alloy heads have been extensively modified to offset the pushrod tubes and rocker gear by 3/8in, allowing for massive port work and a customised Edelbrock Super Victor intake topped with a 950 Holley Ultra HP carb. The valvetrain consists of a Crow solid-roller cam and Comp roller lifters actioning Jet pushrods, along with Iskenderian springs and Ferrea valves via modified Hughes rockers. A custom spraybar assembly is plumbed to the oil feed to maximise valvetrain lubrication.
Garry fabricated the complete exhaust system from scratch, including the 17/8in primary headers and twin three-inch stainless system; even the mufflers are owner-built. An alloy crossflow radiator keeps the cooling in check, while an MSD 6AL ignition provides ample spark for road or race.
A TKO 600 five-speed now replaces the original Jerico dogbox, and is fronted by a Direct Clutch Services custom dual 7.25in-paddle clutch and automatic flexplate for starter duties. A Hurst scattershield and shifter round out the gearbox specs. From there, a 'largest that will fit' tailshaft turns back to a Dana 44 diff running a 30-spline Detroit Locker centre and 3.9 gears.
A build with roundie-rounds in mind needs to sport some serious underpinnings. Garry has spent plenty of time reviewing his own experience and researching on the 'net to lock down an appropriate combination. "Torsion-bar front suspension can be a mixed bag when it comes to heavy cornering, but I think I've dialled in a spec that will work," he says. Garry's gone for 1.055in torsion bars in conjunction with strengthened lower control arms and modified uppers, with adjustable heim-joint radius rods and a forearm-sized swaybar to lock down the front end.
The rear retains a leaf-spring configuration that has been upgraded with anti-wrap spring packs, a similarly sized rear swaybar and Watt's linkage conversion. Shocks all 'round are 24in Bilstein Road Course items that mount via the aforementioned modified suspension towers and tie to the rollcage front and rear. Steering is a Valiant recirculating ball system that uses a quick-ratio 16:1 steering box from an E49 Charger.
Naturally, the brakes have also been treated to a massive upgrade using a complete Tilton pedal box and master cylinder assembly with adjustable bias and pedal ratio. Land Cruiser four-spot calipers clamp 12in ventilated discs at the front, with four-spot Volvo calipers on similarly specced rotors on the rear. For hard-charging action, the brakes are cooled via ducted air sourced from the front bumper bar and boot areas of the Dodge.
Black vinyl and carbonfibre highlights have been used for the interior, neatly formed and trimmed around the rollcage and other race inclusions by Benny Morris of BC Trimming. Front seats are carbonfibre race buckets, and the factory Dodge rear seat is nothing more than a space-filler due to the strict two-seater occupancy made necessary by the 'cage. Williams harnesses have been fitted, along with a number of Stewart Warner gauges to help Garry monitor the vitals. A custom-made column and quick-release SAAS wheel wear both the road and race hats with ease.
"The 360 made 624hp on the engine dyno and feels strong," Garry says. "Although the spec is not really suitable for drag racing torque-wise, I'll be sure to hit the strip anyway. But that level of horsepower for something you can hammer through a corner is a different bag of fun altogether! I just want to drive the balls off it, however and whenever possible."