First Al Burgers found the car responsible for his initial drag-racing epiphany more than 50 years ago. Then he went buckwild on it
This article on Burgo's Plymouth was originally published in the June 2014 issue of Street Machine
SYDNEY-based hot rodder Al Burgers reckons he's built about 15 serious cars in his career, including a bunch of rods, a salt racer and a '59 El Camino that was a star of the Wild Bunch era of drag racing. But his latest creation, Green Fing – a '64 Plymouth built in the style of a US Factory Experimental racer – is his wildest yet.
Burgo's first sight of a drag strip was at the Dragsfest meeting at Castlereagh in 1966. Like so many others, it welded him to the notion of wild cars and adrenaline rushes. It was there he saw the cars that would inspire him to build Green Fing nearly 50 years later, namely the pair of '63 and '64 Plymouths imported into the country by Ash Marshall and known as the Ramchargers. Both packed 426 Max Wedge engines, aluminium panels and various other features that left them light years ahead of any sedan in Australia at the time. The '64 in particular remained a burning image in Burgo's mind until 2009.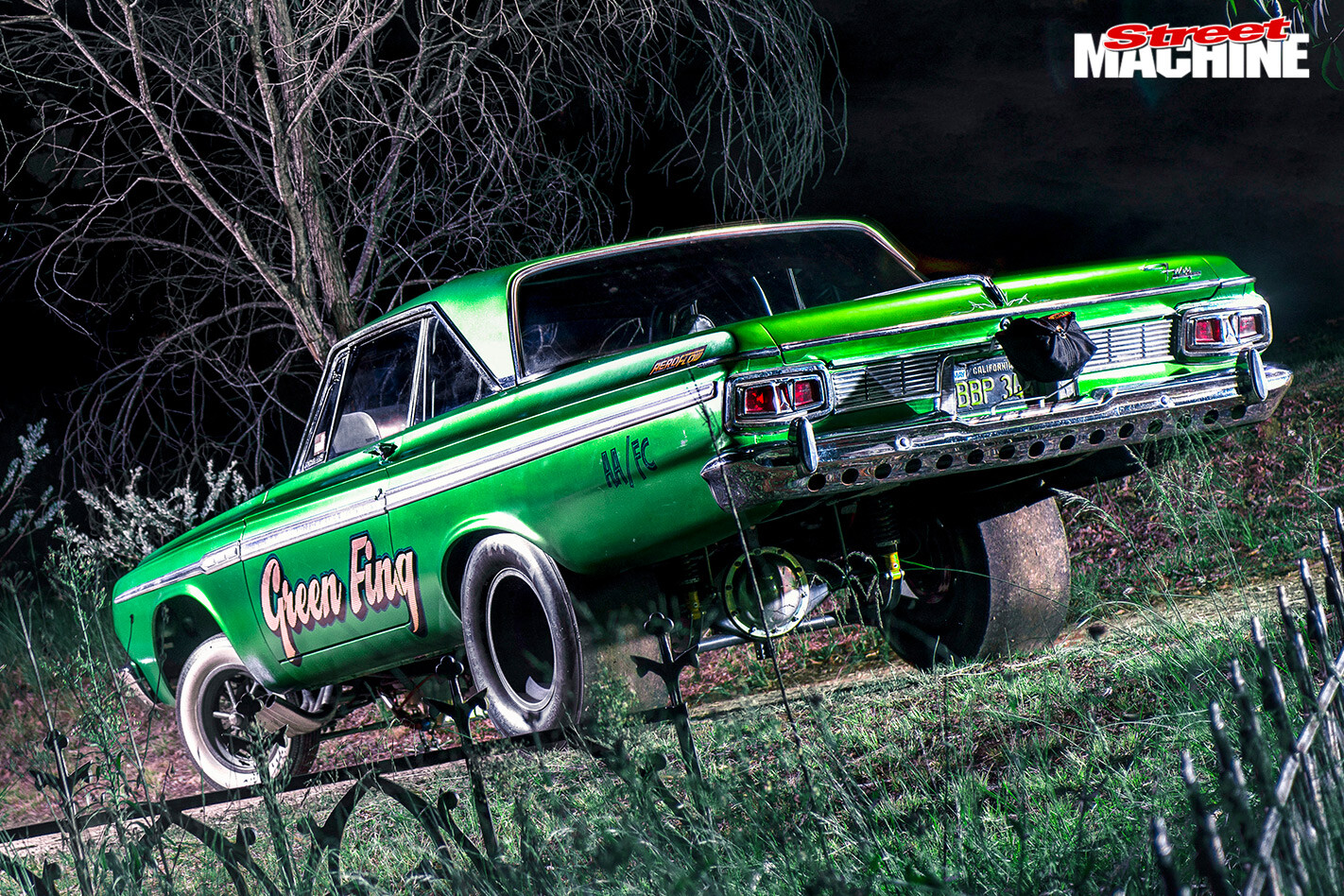 "At the Richmond swap I saw this '64 Plymouth for sale," he recalls. "I couldn't believe it. I dragged my wife Heather down to look at it and said this was my dream car, even though this was a pillarless version – a Fury rather than a Belvedere. I knew the owner, and he wanted $17,000 for it. I had to have it, but I couldn't afford it. I had just finished my blown '30 coupe and started racing it.
"Then we smashed the coupe up racing at Ballarat, and coming home that weekend, with arms so sore I couldn't drive, I said: 'You know, I'd really like to get that Plymouth.' Everyone else said to me: 'You must have hit your head pretty hard,' but Charlie said: 'If I was you I'd just go and get it.'"
'Charlie' is Al's best mate, Charlie Falzon, and his input is a recurring theme throughout this story.
"When I got home I rang up about it, and the owner offered to strip it out and sell me the roller for $9000," Burgo continues. "Then everything came in. My tax return arrived, we sold the coupe's chassis and another old body that I had and I managed to get the money together to buy it. It was like winning Lotto."
It was at this stage that Burgo's plans for the car began to radically diverge from the Plymouth of his dreams – that car he'd seen so often in the 1960s. Gone was the notion of a replica factory-tricked street car; now he wanted to create a Factory Experimental (A/FX) weapon.
Factory Experimental was the name given to a radical breed of US factory-backed race cars – initially production sedans – fitted with blown nitro-burning engines. With their jacked-up suspensions to fit the necessary large slicks under the rear end, and straight tube front axles to allow them to track safely at high speeds, then with altered wheelbases for improved traction, these were the ancestors of today's Funny Cars.
Burgo just knew that his Plymouth had to have a straight tube axle too, so he made one from 2in x ¼in-wall moly tube, hung off a set of Al-Ko trailer springs and shackles. And of course he could move the wheelbase around – as suggested by Charlie – but a nitro Hemi engine? Who could afford that?
However he did have the blown small-block Chev, Powerglide and diff that had powered his Model A coupe, and a set of super-rare American racing rims.
"I moved the diff forward about 18 inches," Burgo says. "Some of the original US cars were moved 20 inches, but I think that's too much. I didn't move the front axle, as I don't like that. It left me with a wheelbase the same as the coupe: 105 inches. The rear end out of the coupe fit right under the wheel-wells. All we had to do was straighten it out because it was all bent.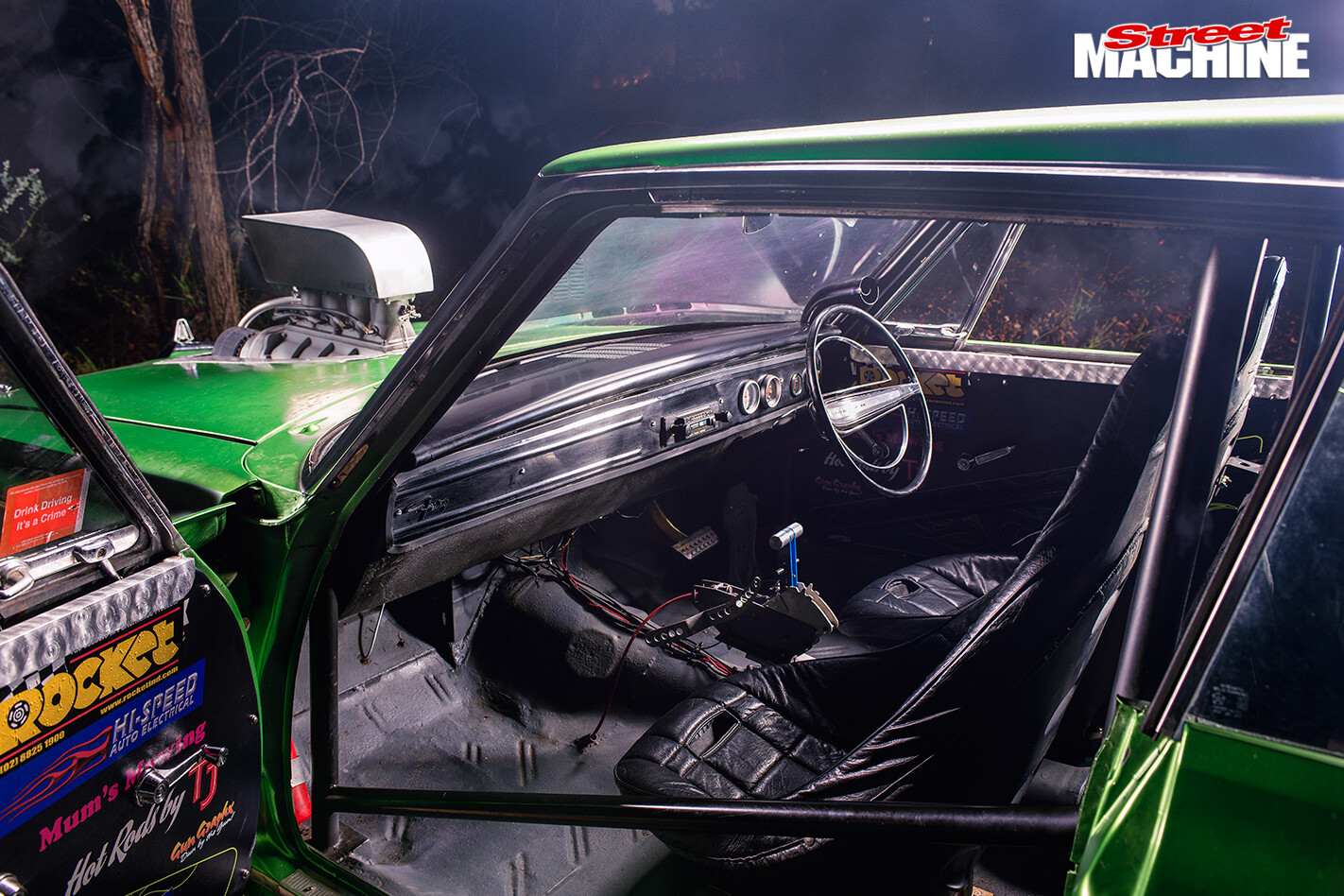 "I didn't want to put a rollcage in it initially, because then it would be a race car, and that's when stuff starts to get serious. I'm nearly ready to retire, you know; I don't need that sort of serious stuff in my life anymore."
The car was taken back to bare metal and a $600 basic green paint job applied. Despite his initial reluctance, he had mate JB put a beautiful rollcage in it. "Sometimes," says Burgo, "I've got my head up my arse."
The car's first public appearance was at the 2010 Rocket Open Day, where it won the People's Choice award.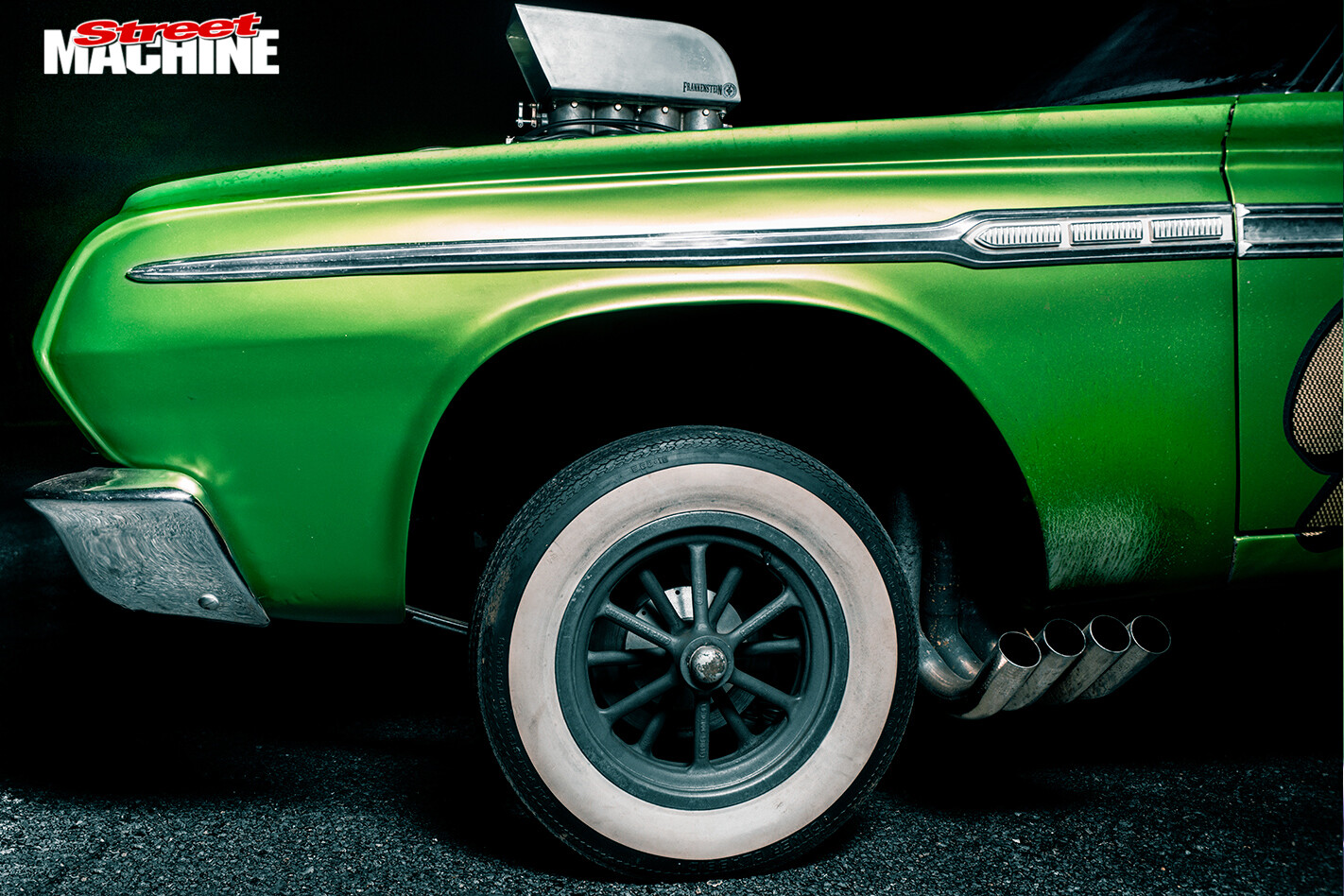 "Look at that trophy," Burgo boasts, pointing across his lounge room. "I'd put that in bed with me, if it didn't cut my arms."
Then he took it to the Mopar Rumble Day at Sydney Dragway two days later, made a test pass and ran a cautious 11.8 and then a half-track 11.0 – the limit of his street-licence capacities. At the following meeting the engine locked up a conrod and he pushed it down the backyard for two years while he got some cash together to buy a Hemi.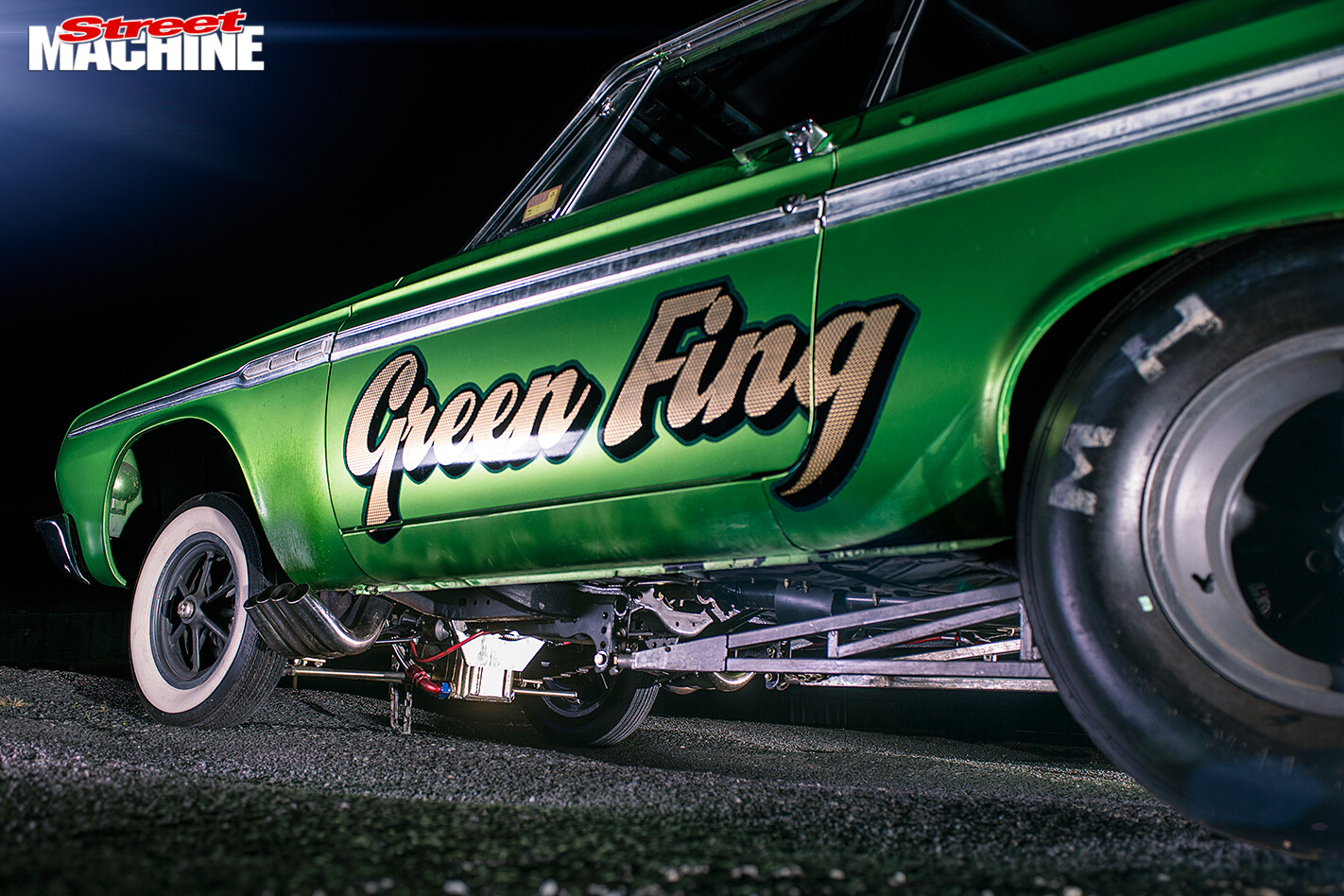 Initially he went looking for a carburetted engine, but then he figured, why not go the whole hog? A block, purchased from Santo Rapisarda, started things off. The billet heads came from Dave McGraw, Graeme Cowin supplied a Sig Erson cam and lifters, Ben Gatt offered some more bits, and the 6/71 blower came from Wayne and Dave Newby.
That Hemi block was actually known as Frankenstein, because it had so many stitches and repairs. But Burgo was unsure about nitro motors and wanted someone to help him, so he found Sydney Top Alcohol racer and Top Fuel tuner Aaron Hambridge, who bolted the motor together and offered to tune it when it was back in the car.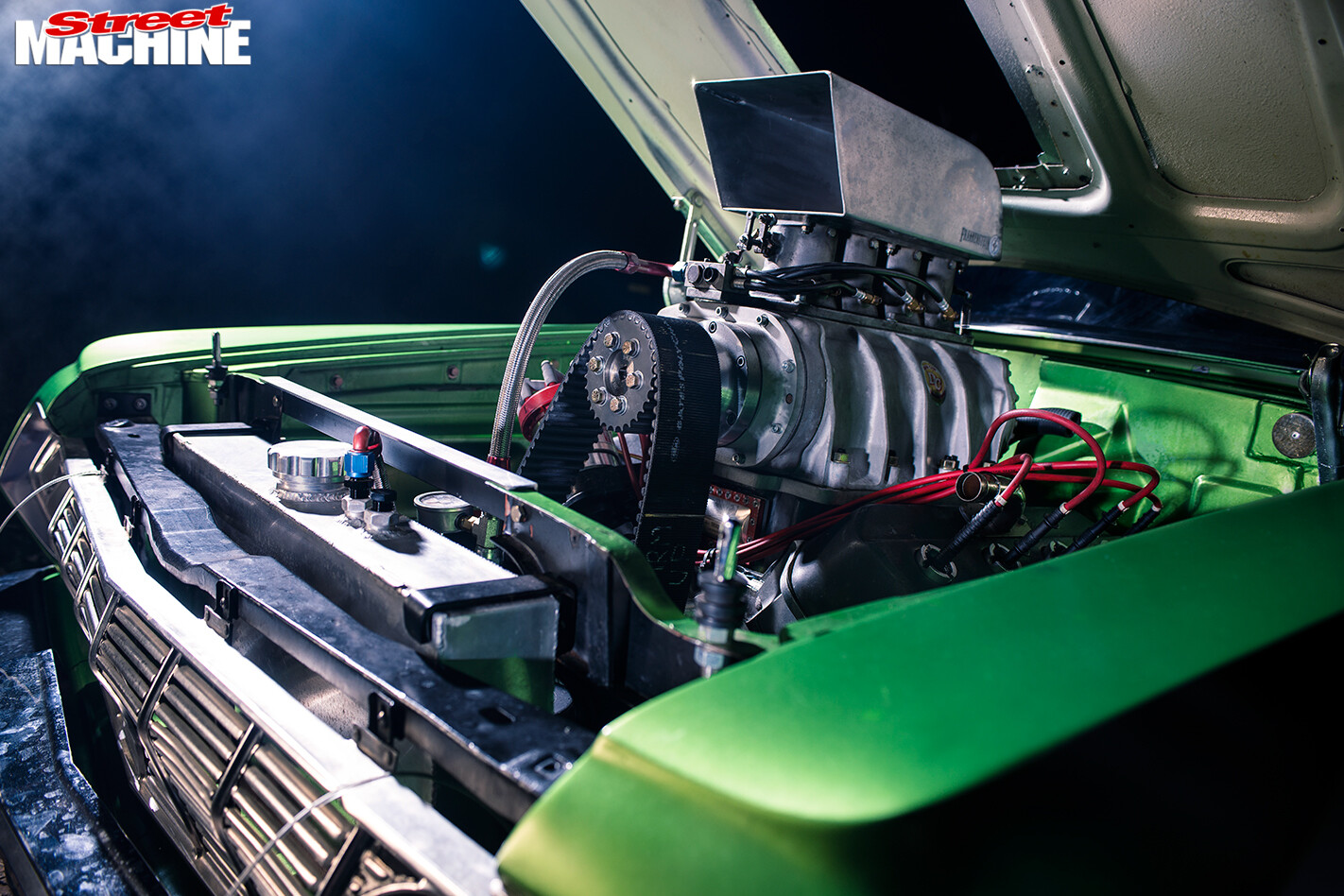 When they started that motor, Burgo's quiet suburb stopped. The fish in the fish tank went still and then began floating upside down. This thing was loud!
Next stop was cacklefest duties at the 2013 Rocket Open Day and the ANFA Pioneer Awards.
"I couldn't sleep for three days beforehand," Al admits. "My head was that big. And people were all over me. Jim Walton – he's a god – said: 'Man, that's the loudest car I've ever heard.' A guy who said he was the starter at Calder and Adelaide said he'd stood between two Funny Cars but mine was the loudest car he'd ever heard. So did Ben Gatt."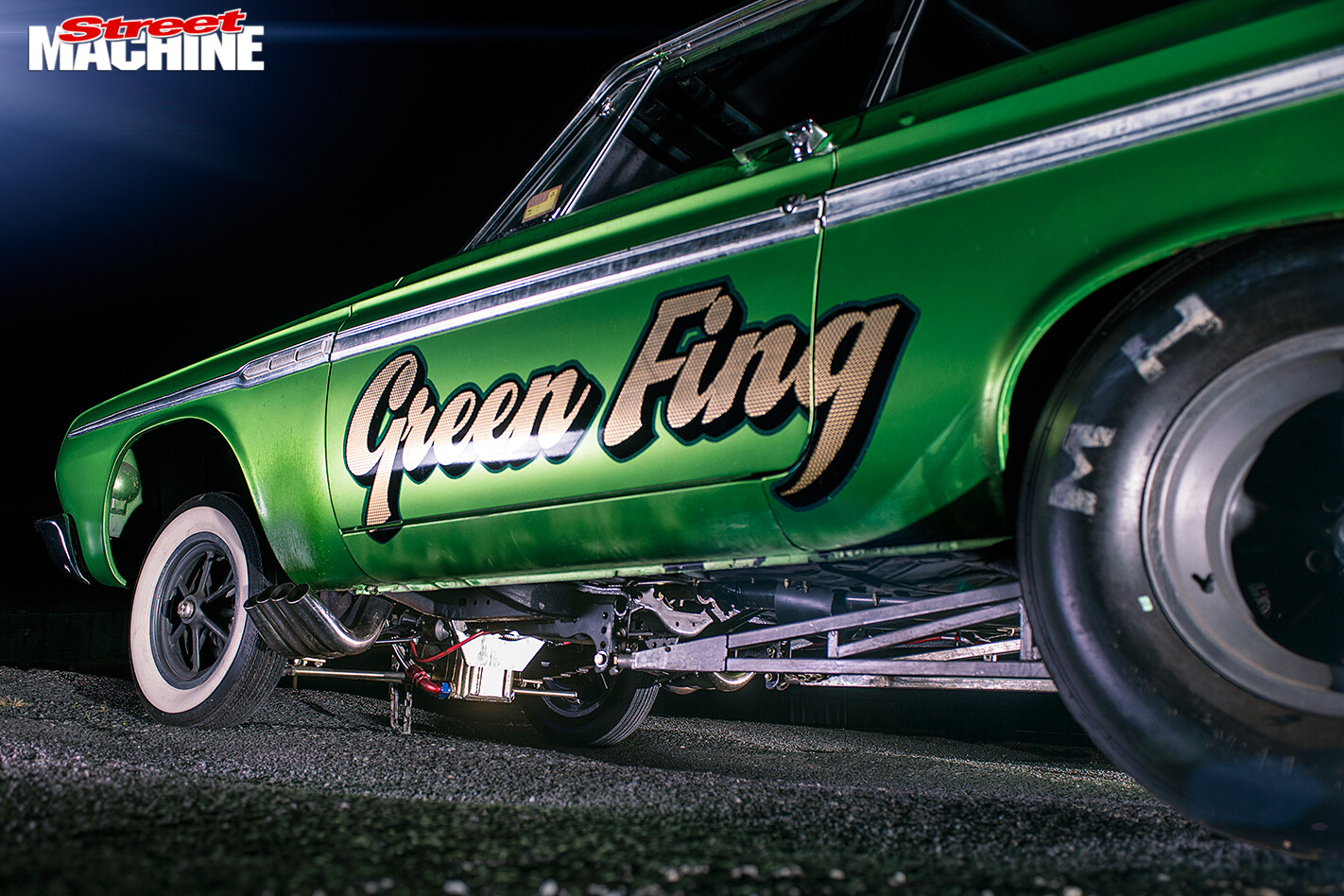 Al is convinced the car's unique tone comes from the exhaust design. Unwilling to cut the inner guards on the car – despite having chopped up the rear guards to move the axle – he made this complex set of pipes that come out the side like a set of zoomie headers. It took a week to make the easy side; much, much longer for the hard side.
Over the next seven months, the car made 19 cackle appearances, but then the time had come to move on.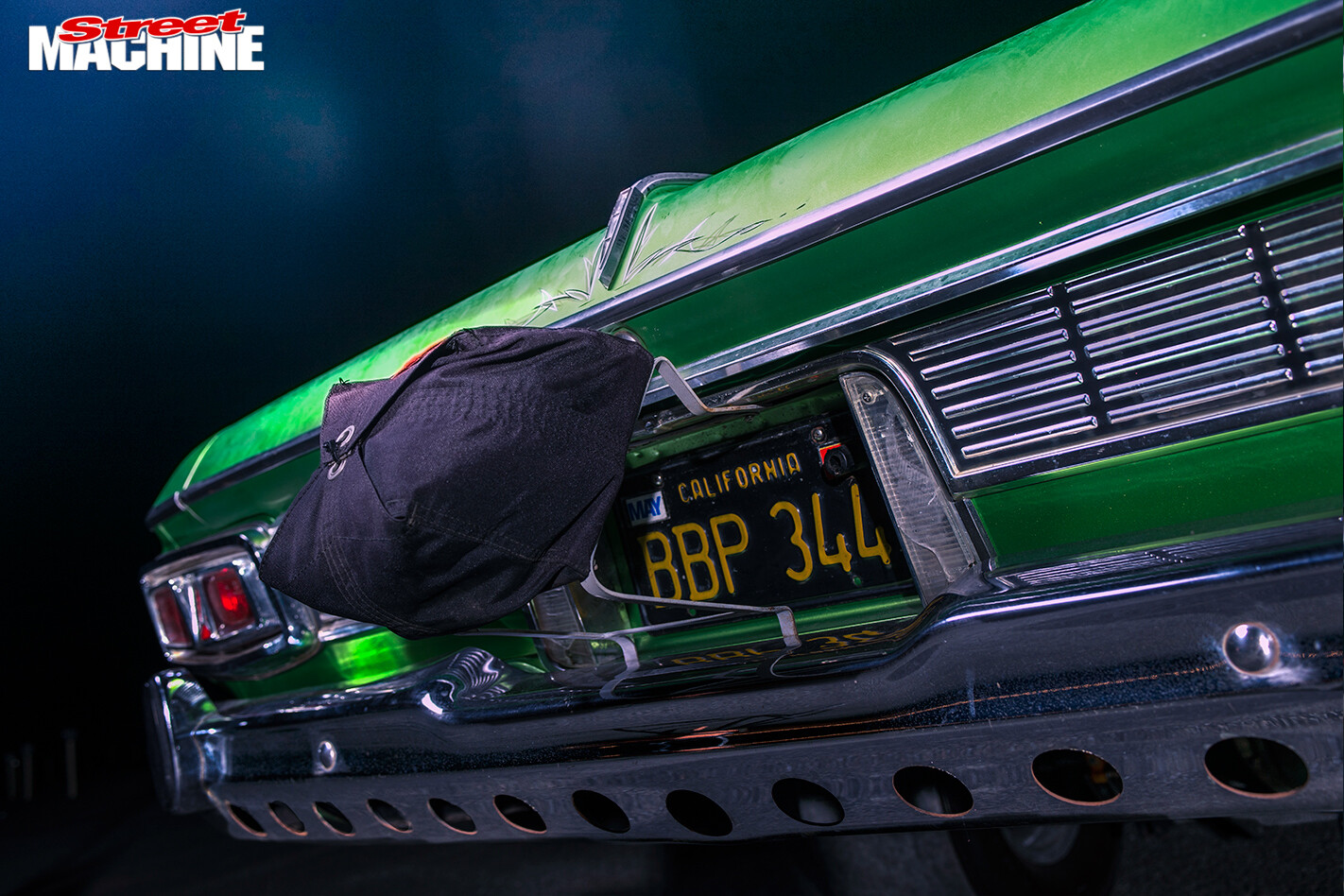 "If I kept that car any longer I would do things – serious things – with it, and that would be a problem," Burgo says. "And the way you solve your problems is you get rid of them. The roller went to a friend in Sydney who wants to build a gasser, and Frankenstein still sits on an engine stand in my shed."
There's talk of an altered, a really wild altered. Charlie says it wouldn't make as much noise, without those pipes, but Burgo reckons that now they could run 100 percent nitro!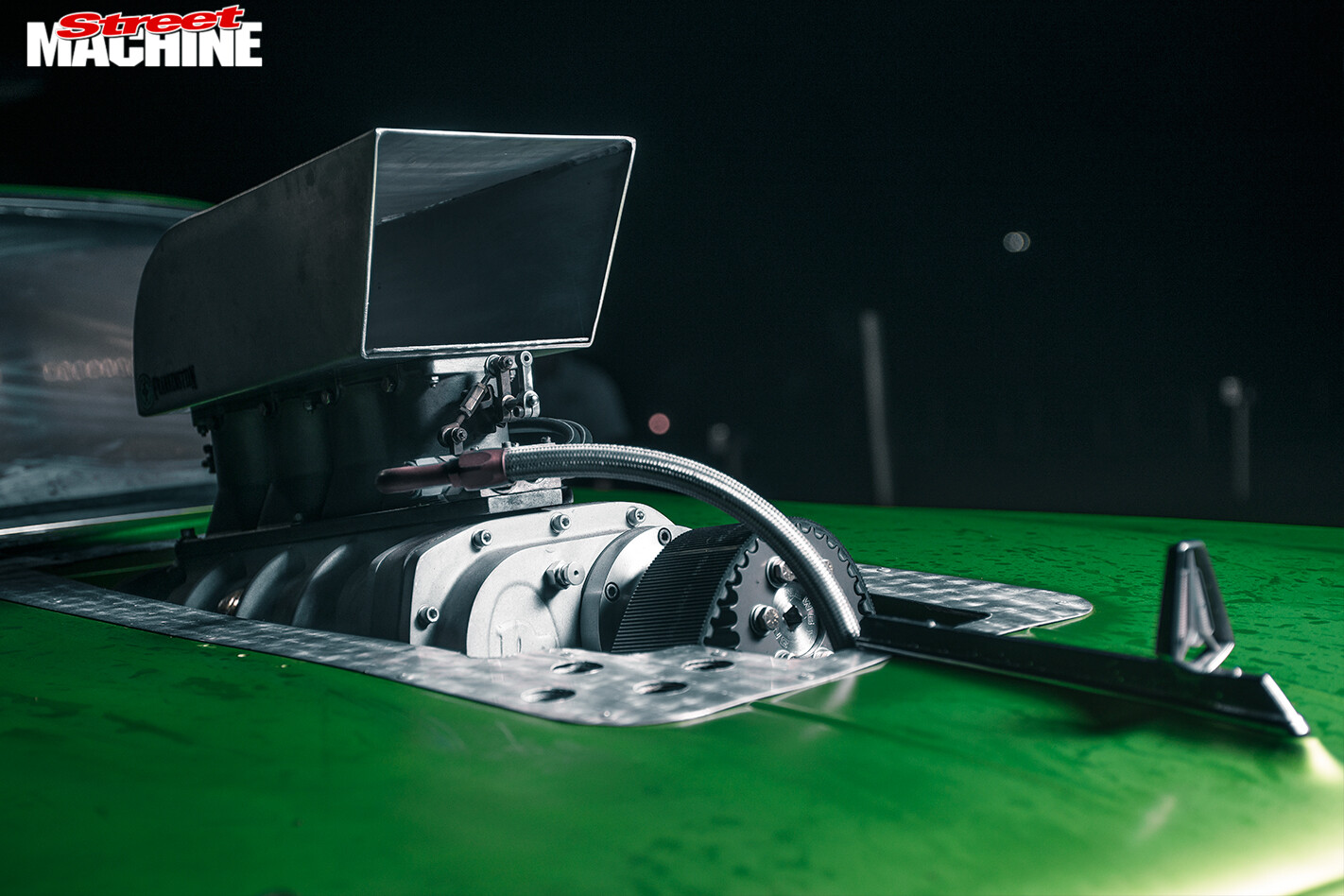 "See how your brain just explodes," he exclaimed. "I have to get rid of that motor; it's going to get me in trouble. But I love it."
Now in the offing is an FX Holden that Burgo has owned for 17 years. He's dead-set that this time he'll finish it off, as a two-door with a mint grey motor.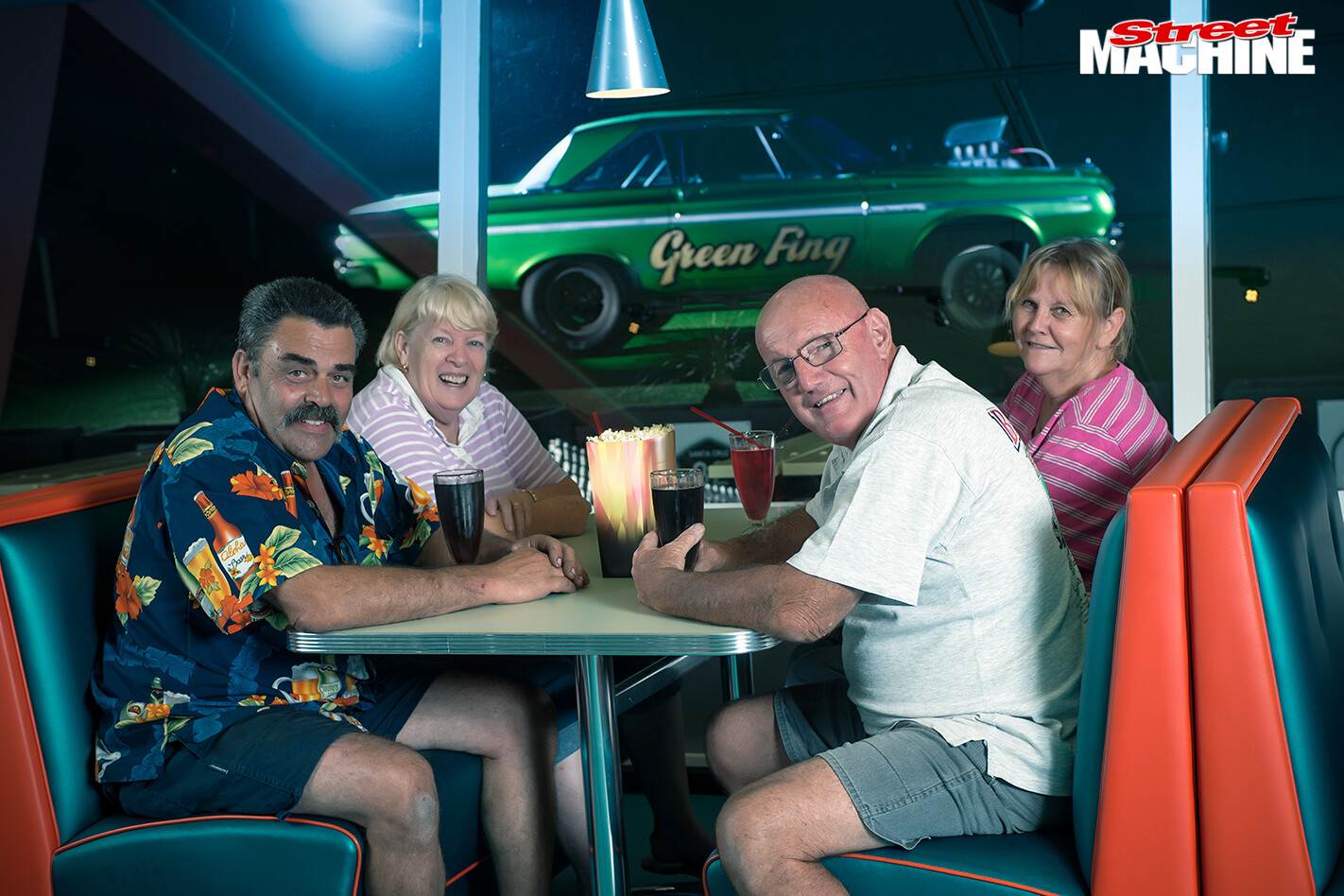 "And I've got four cars to build for other people," he says. "I'm trying to slow down, you know."
Yeah, like Al said before we started this interview: "Don't listen to anything I say. I talk a lot of shit."