As Casey Gilbert treats his pristine 1961 Volkswagen Karmann Ghia to its second resto, he looks back at the road he took to get here.
This article was originally published in the October 2014 issue of Street Machine
IN THE street I grew up in, there was a family that must have been run over by the ugly bus at some stage. Frizzy ginger hair, missing teeth and lopsided moustaches – and that was just the women. Except for the youngest daughter; she was drop-dead beautiful. Somehow, she'd sidestepped that bus.
And in the Volkswagen family, the Karmann Ghia – like the one you see here – is that girl. This one is a 1961 model, but the shape was just so right that VW didn't feel the need to change it for years. So, apart from a few tweaks here and there, the KG remained – just like its Beetle parents did – the same old girl.
Beautiful it may be, but it doesn't account for the fact that old VW tin rusts the way Angus Young strums a Gibson SG – swiftly and savagely. So, when WA lad Casey Gilbert got hold of this particular KG about 26 years ago, it was already an old car. And while it looked okay when Casey "paid too much for it", when he stripped it for its first go round the resto roundabout you could clearly hear Angus ripping out a devilish, rusty riff.
"We acid-dipped the shell and I took one look at the thing and nearly threw it all away," Casey remembers. "In the end we replaced the bottom six inches of the car with new metal. The bloke who did it was a master, though; he even lead-wiped all the seams."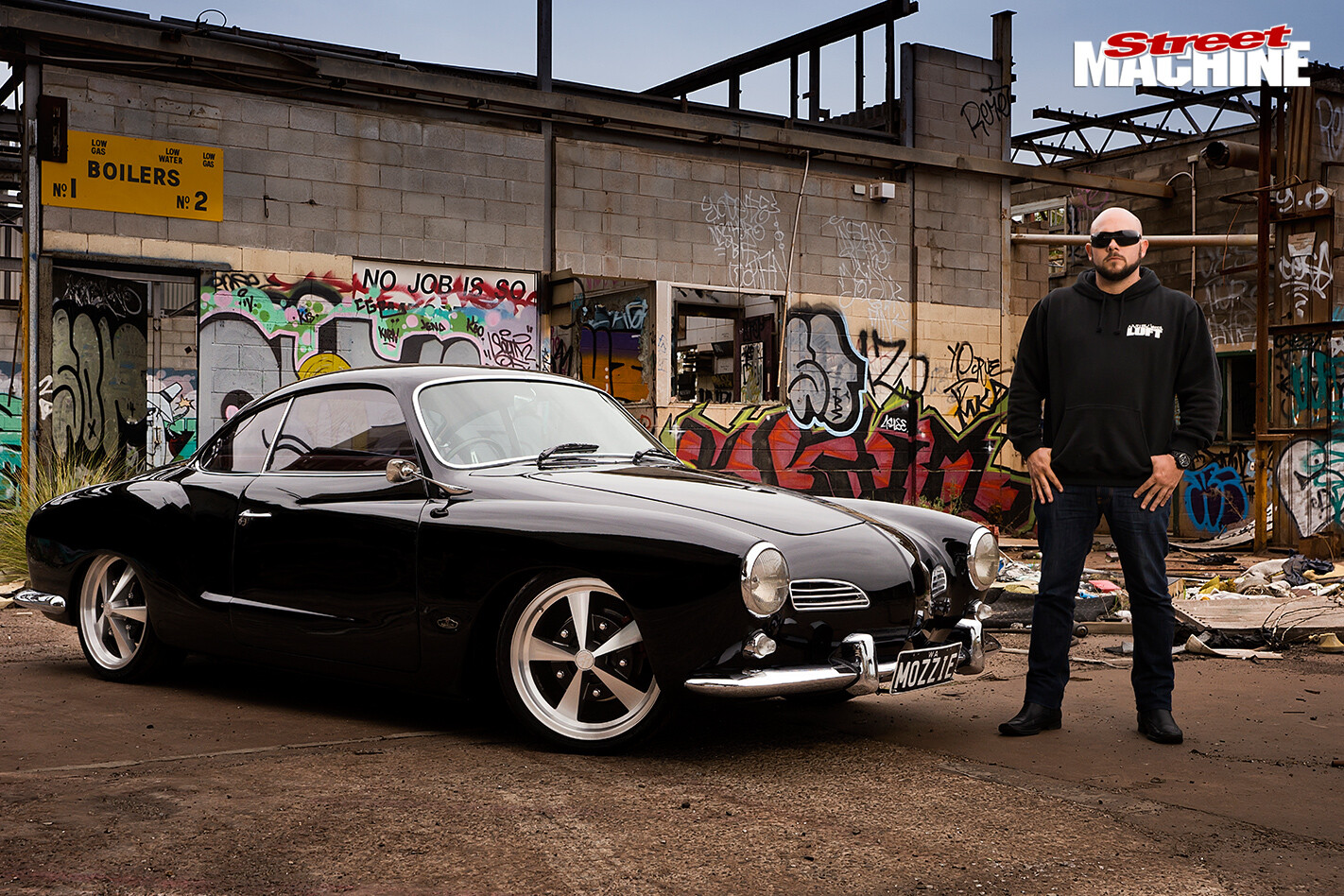 Casey trucked around in the Ghia for years in its original shade of white, but about six years ago, he pulled it off the road again for resto number two. That's when the KG turned black, grew a bigger engine, those stunning wheels and a new interior.
It's also where current owner Brad 'Mozzie' Baron comes in. Casey and Brad were actually once housemates, so the KG had been a big part of both their lives while it was coming together. Brad was dead keen to take Casey's KG off his hands. And while Casey admits he was anything but keen to part with the car, Brad had a sure-fire negotiating technique: "My nickname is Mozzie – I can be quite annoying and persistent. Every time I'd catch up with Casey, I'd ask: 'How's my car going?' Eventually he cracked and said: 'We better have a talk about this Volkswagen.'"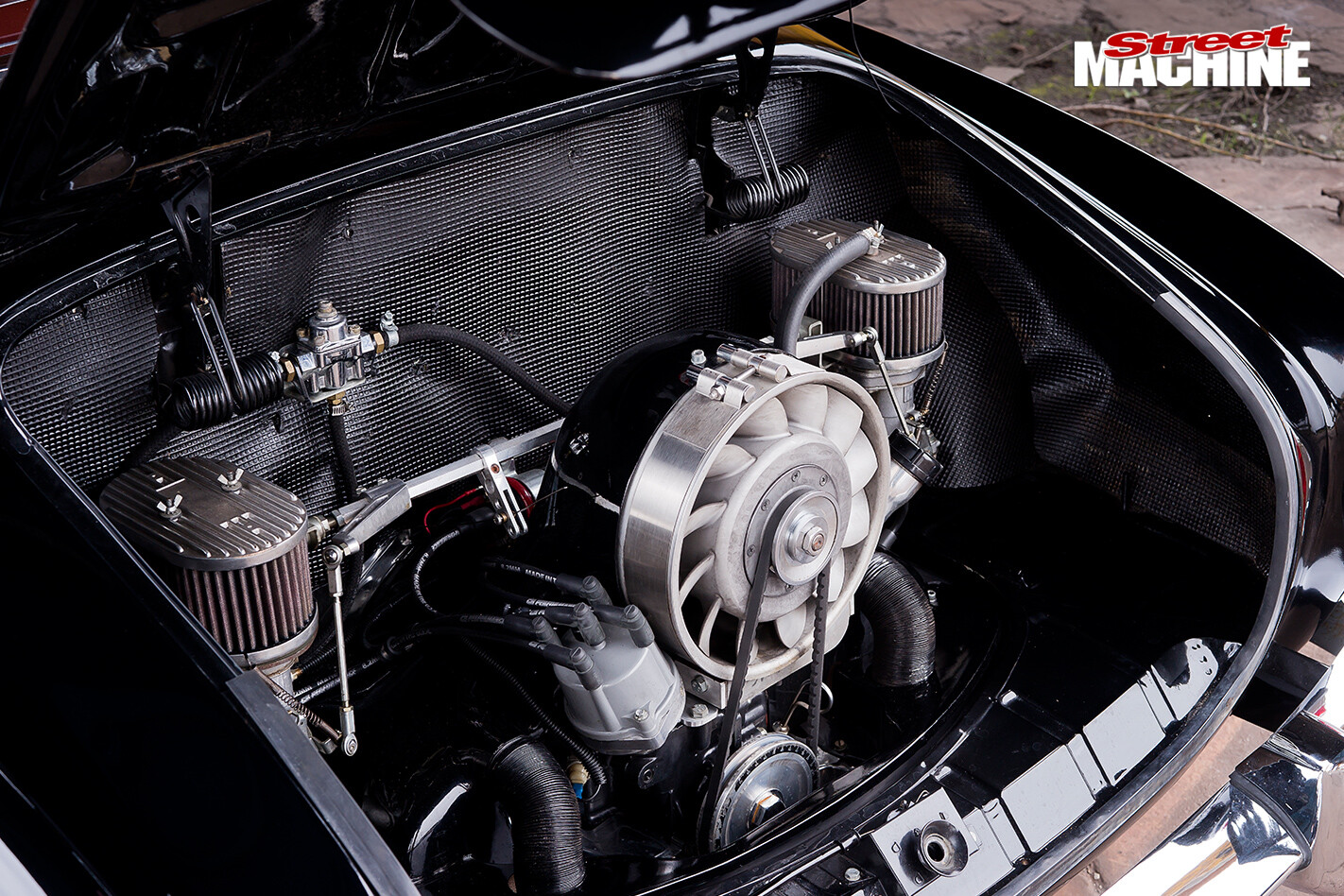 What surprises a lot of people is just how tuneable the air-cooled boxer motor really is. The standard unit's 36hp was all about lugging along for half a million kays, but grab the die-grinder, a stroker crank, big piston kit and a pair of Weber's finest and you can really make these old chaff-cutters bellow. Or you can do what Casey did, and start shopping Stateside.
The incredible cult of the Dak-Dak in the US of A means there's a vast aftermarket out there supplying every nut, bolt and washer. In fact, it's possible to build an entire Volksy motor without resorting to a single VW part-number. For Casey, the solution was to order up a Bernie Bergmann turn-key unit, which is to a Karmann Ghia what a crate 350 is to a '71 Camaro. With 94mm slugs and an 84mm throw on the aftermarket crank, total capacity is now a rather stout 2332cc.
VW motors breathe best through twin downdraughts, so that's what's going on here; specifically a set of 44mm IDF Webers. The rest of the package is hardcore, too, with a sidewinder exhaust, custom-ground camshaft and a CB Performance ignition system. To account for the extra heat developed, there's a Porsche fan set-up to push an extra 30 per cent air volume, with a special shroud to mate the Porsche whirlygig to the VW lump.
Okay, so we're not talking 400hp here, but with only around 800kg to shove around, the 2.3-litre air-pumper does the business, as anybody who has ever been in the jump seat of a quick VW will soon tell you.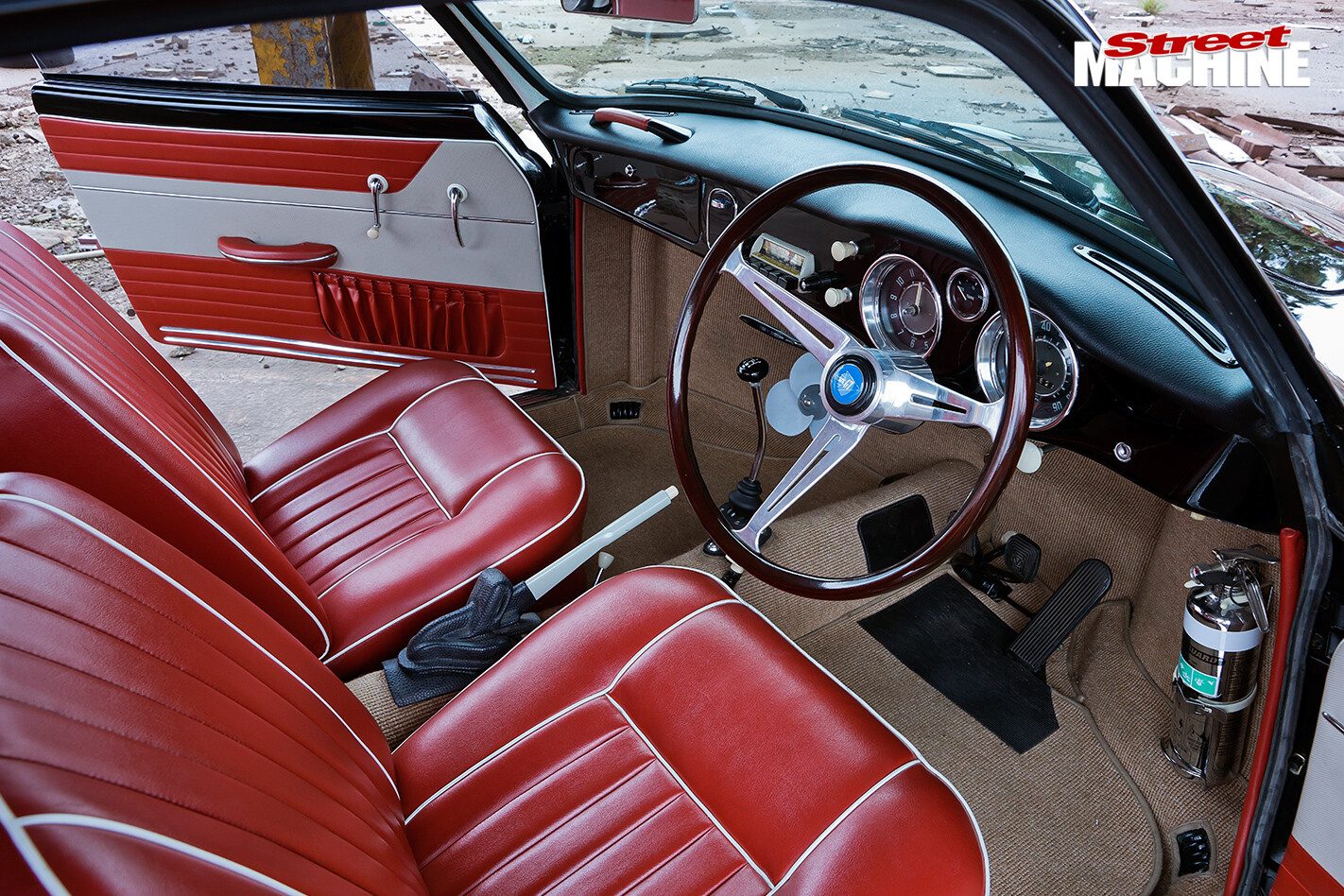 The weak link in most VW drivetrains has traditionally been the tranny. Being a transaxle, you can't just substitute a Muncie or a Toploader. But a mob in the US has developed a much tougher version of the standard four-speed transaxle and called it a Freeway Flyer. It not only keeps revs in the VW's comfort zone, it keeps the cogs and oil inside the casing, too.
Fitting those 17×7 Radar rims wasn't something the bodywork maestro wanted to do because it seemed as though the only way to get them on and under was to slice that 1961 metal. Eventually, though, the brains trust figured out how it could be done without butchering the KG's lovely flanks, but it required a one-off front beam that's 80mm narrower than stock. It's adjustable for ride height, too, and mounts the disc brakes, while fatter drums from a Type 3 VW occupy the stock position at the rear.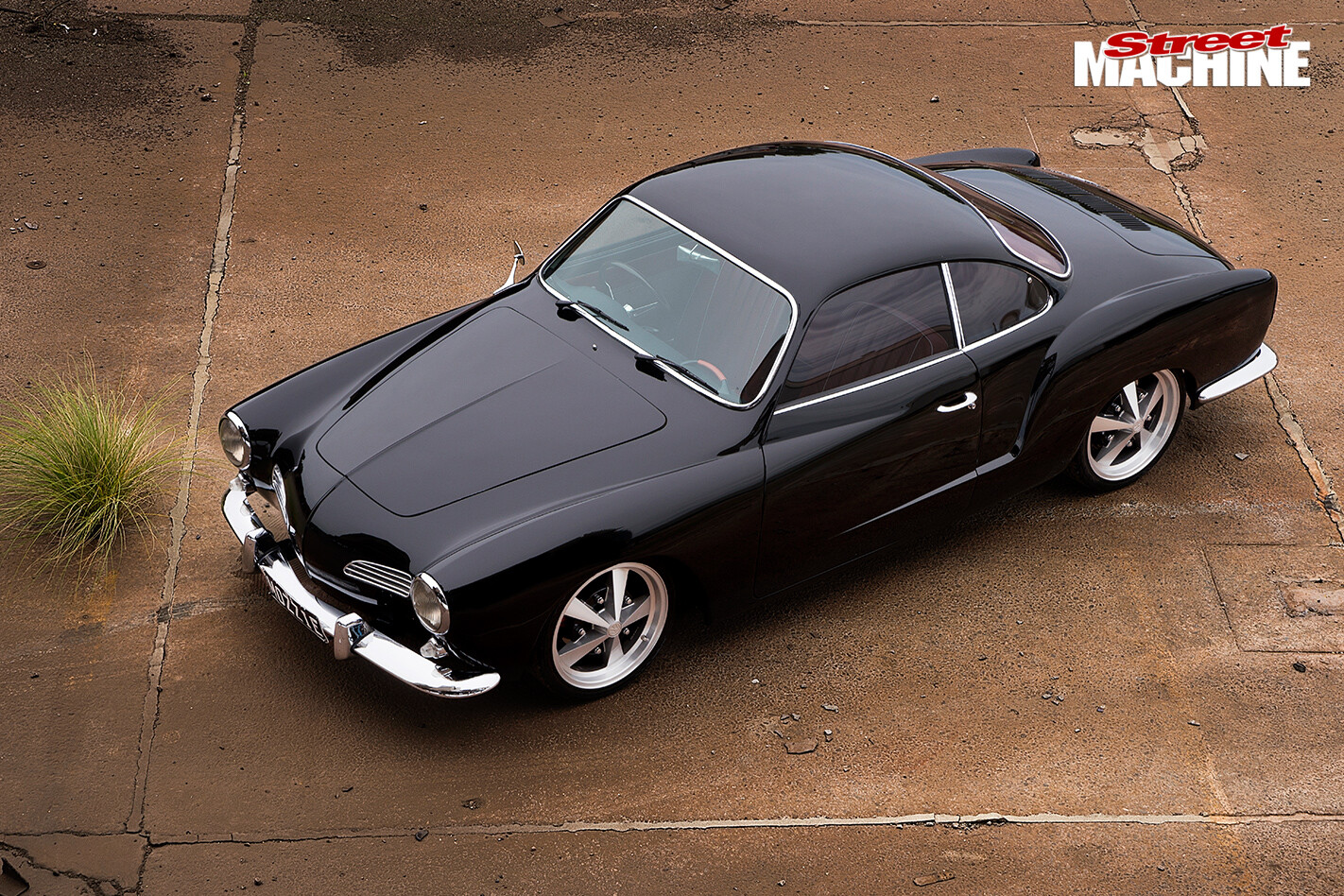 Inside, the original classy feel of the Karmann Ghia has been returned, courtesy of Kevin Ferguson of Trimtec in Wanneroo, complete with pukka square-weave carpet and seats that mirror the style of the originals. Even the skinny Empi steering wheel is just perfect for this car.
Looking at Mozzie's Karmann Ghia now, there's something that's just spot-on about the whole package. It's a combination of the stance, the quality, but also the lipstick-on-the-dipstick appeal of the KG back when it was brand spankers.
No need to worry about that ugly bus; it wouldn't see which way Mozzie's KG went these days.