OVER 100 car and bike racers took to the sands of the New Jersey shoreline for the 2015 Race Of Gentlemen. The annual event's only stipulations are that the cars have to be pre-'35-bodied, and all speed parts must be manufactured before 1953. The Oilers Car Club do a great job of organising this vintage spectacle, and the line-up down the beach was a sight to behold: Crazy gow-jobs, angry hot rods and vintage speedsters all shared space on the shore. Let's have a look at a few.
Dave Carter hails from Pennsylvania, and he raced this speedster at The Race Of Gentlemen. It's a hand-formed body built on a T frame and features a Whippet grille.
The car was put together for only $2200 and was first fired up in anger at last year's event. It's running a simple, warmed-up four-pot in the super-lightweight body. Talk about bang for your buck!
Jim Landwarer from Doylestown, PA brought over this all-aluminium speedster to race on the beach. It's built on a heavily narrowed A frame, and the body was hammered out on a tree stump to get the right curve.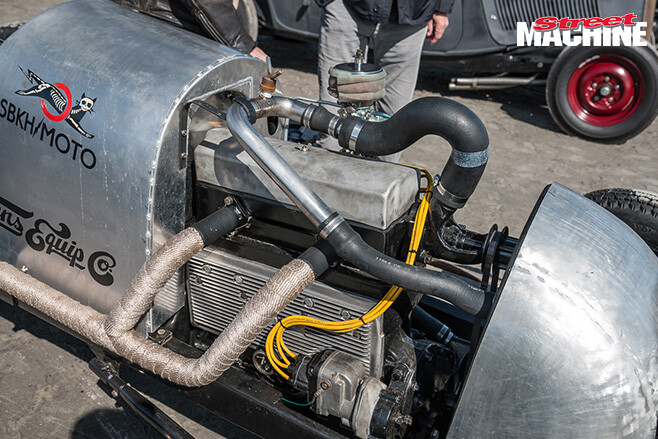 It's stuffed with a rare Newens OHV conversion on the B-block four-banger. The Newens head is a low-run speed part built around the more common '27 Chevrolet head conversion, which introduces crossflow through the engine by using the standard intake as the exhaust manifolds and pushing the intake to the other side of the engine.
The body is so narrow and light, you need to be a contortionist to drive it. To get your leg around the steering wheel to push the clutch in physically requires bending the aluminium body! Jim says that the only radiator they could find that would fit in the track nose was out of a Russian-built Zastava Yugo. The crazy radiator plumbing helps keep everything cool because of the strange proportions and water levels, and was devised early Saturday morning just before the racing began.
Mike Barillaro brought out this amazing bellytanker to race on the beach. It's made from a 320-gallon Royal Jet tank, and Mike only started the car in June, getting it running three weeks before TROG. It rolls on a heavily modified T chassis with bent tubing forming the rest of the 'cage. A warmed-up 221ci flathead V8 is nestled behind the driver, running Edelbrock heads and a single Stromberg 97 carburettor.
A simple and reliable set-up, it's a turn-key driver and even has reverse gear. The steering is manageable too, thanks to the custom-built linkages on the F1 steering box in the nose. Mike is hoping to eventually modify it to pass SCTA tech so he can start racing on the dry lakes.
Ken Schmidt of the Rolling Bones was down from New York with his 591 '33 coupe. Built in the iconic Bones style with a heavy chop, louvres, belly pan and striking paint job, the angry 276ci flathead V8 was on-song all weekend – easily the most recognisable and fearsome hot rod on the beach.
Another Rolling Bones member to make it to Jersey was Dennis Varni. His was a much more lighthearted racer, a Model T roadster in a simple gow-job style called the 'High Heel Special'. A pair of ladies' shoes were hung off the passenger-side door, and it's a surprise they never flew off considering how quickly the Cragar OHV-equipped B-block 'banger was able to power the roadster down the beach.
The Torrnados Car Club hails from Massachusetts and the wider New England area, and consists of a bunch of hot rodders that enjoy building cars made to be driven and raced hard.
Ray Prue built this '27 T track-nose roadster at home. It has all standard '39 Ford running gear including flathead V8, 'box and rear end. The frame has been shortened eight inches in the front and kicked four inches in the rear for the track stance. Behind the nose is a suicide front crossmember. F1 cowl steering turns those cool 'wide-five' steel wheels.
Nils Weeks crafted this '34 coupe out of a four-door sedan hacked into pieces. Spartan and rough around the edges, it certainly doesn't lack stance and aggression, and even though it runs a mostly stock 221ci flathead with a 2×2 Edmunds intake, it was raced super-hard all weekend. Check out that grille insert!
Peter Flaven purchased this complete and dead-stock '31 coupe at a local estate sale for an envy-inducing $4500. Stripped of its fenders and lights, and with a decent 6.5-inch haircut and the addition of a deuce grille, the car oozes barn-find cool. Under the hood you'll find a nicely specced '50 flathead, bored 0.008in-over with a 400 Jr cam, Thickstun twin intake and two Stromberg 97s.
George Gudat is one of the newer members of the Torrnados, and like Nils, his '33 coupe started life as a four-door sedan. Quickly hacked and shaped into this aggressive-looking masterpiece by George himself, it runs a super-nice 59AB flathead with 8BA heads, a four-inch Mercury crank and a 400 Jr cam. A McCulloch supercharger is fed by two Stromberg 97s to really get this thing up and going. Luckily he's got finned aluminium Buick brakes on all four corners in case he needs to pull up quick!
Daisuke Koda came all the way from Japan, invited to attend the event with his '24T tudor by the Oilers themselves. He came along with a host of other Japanese hot rodders and friends. The tudor is equipped with a flathead Ford V8, and adorned in multiple slogans, paying homage to the cars seen in '20s American teen culture photos.
Pat Grippaldi, of the Idiots Car Club, Long Island, brought down this crazy-looking modified roadster to race. Built in three weeks just before the event, Pat started with the rear quarter panels of a T coupe and formed the rest out of sheet metal. With a frame built out of 2×4 beams, the engine acts as the front crossmember, with the diff as the rear.
Somewhat rickety and bumpy, but a hell of a lot of fun, the tiny roadster runs a warm four-banger and the entire body lifts up like a Funny Car! Pat said he wanted to do it just as something different and fun for the race.
Brian Bass made his way up from Texas in his historic So Cal deuce roadster. It's equipped with a quick 239ci 59L flathead Ford along with some shiny Edelbrock go-fast bits, and the car has only improved as time goes on, with Brian slowly working to get it looking in top shape. The vintage candy-lacquer paintjob may be patchy and aged now but still looks stunning in the sunshine on the beach.
The Bronze Flame – originally built in 1951 by Ed Donato with bodywork by the Barris Brothers – was brought into the limelight this year by Lars Mapstead. Lars is well known for collecting historic cars and racing them hard, and this one was no exception. The former award-winning show car was hurtled down the beach countless times, much to the delight of the crowd.
The car is powered by a '46 Mercury flathead, '36 Ford three-speed and a '32 rear end. The early-style paint job is exactly as it was when it first touched metal, thanks to being stored in Ed's own garage for over half a century.
Joe Lockwood brought out his '30 coupe from Binghamton, NY for the weekend. It had been in a junkyard since 1962, and still retains some of the ghost signage advertising the Shaffer Auto Parts yard. It's been treated to a healthy seven-inch chop and now runs a 59AB flathead with a '39 'box, found 100 feet away in the same junkyard!
Ray Evernham, former NASCAR great and host of the TV show AmeriCARna, brought a crew with him and this 'Riley Special'. The car has authentic racing history from the 1960s and believe it or not it was raced in two categories simultaneously. It could do so by removing the track T body from the car and dropping on a sprint car body. A few quick changes and it was ready to qualify in a completely different class!
'Slim' Jim Loughlin from Ray's Hot Rods in New Jersey turned heads last year with his modified T roadster, and this year was back to stay in contention for quickest car on the beach in this all-aluminium roadster. All the panels were hand-formed, and it's as light as a feather. The hot Ford flathead sits back a healthy amount on the rails and runs a triple-carb set-up feeding a nitro mix to the mill. Sure enough, he had what it took to take the crown as quickest car in the Eliminator bracket races.
Matt Picaro of Creamridge, NJ brought out this 'Lightning Special' '27 Chevy-based speedster. The body is all aluminium, with the red nose and fuel tank being steel. It runs a B-block 'banger with a Riley two-port OHV conversion, and everything else is cut-down standard Chevy gear. It was named in honour of his father's time in the army in the 78th division, also known as the Lightning Division.
Larry 'Flip' Filipczak came over from Detroit with his '28 roadster built on a '32 chassis. The original car had been a 1932 roadster raced in '53 in Colorado Springs and the Hot Rod Hillclimb as a four-banger, dubbed the 'Bell Plumbing Roadster'. A lot of the history is still hazy, but Flip is the current owner of the chassis, now equipped with a 59AB flathead, while the original '32 body is owned by Larry Bell of Colorado. The two cars were reunited at the 2013 Hot Rod Hillclimb.
This fascinating roadster belongs to Victor Lago, hailing from upstate NY. He picked it up with no history on the car but has since traced it back to a lumber yard in Rochester. The frame is all steel tubing and he believes it could have been built off guides from a Mechanics Illustrated magazine, but there is so much still unknown about it. It's running a standard 59AB flathead now, but had engine mounts for something else when he first picked it up. Intriguing!
Matt Cholerton (on the left) and his father Brian brought out their Ford-based speedsters for a weekend of healthy father/son rivalry. Built in very similar fashions, based off an old Rootlieb-designed speedster body, the two racers traded times all weekend but Matt had the upper hand with his B-block 'banger equipped with a Thomas head, lightened flywheel and V8 clutch.