THE Street Machine team are still getting the dust out of our cars and nostrils after a big weekend at the annual Chopped festival in Newstead, Victoria. As usual, there were a bunch of killer new hot rods, customs and competition cars getting around. Here are 21 cars that got our juices flowing.
Our number one heroes of the weekend were Gav Edmonds and Natalie Khoury, who drove their blown Hemi-powered '58 Ford Mainline across from Adelaide and then raced the pants off it. Dubbed Krankenstein, the beam front axle went in especially for Chopped, but the car has been built since 2012, when the pair used it for a caravan tour around Victoria and Tasmania.
The beast is powered by a 354ci Hemi, with a blower and single four-barrel carb, backed by a Turbo 400 trans, with a neat Lightning Bolt-style shifter from www.kilduffmachine.com.
We dug Peter MacGregor's Mark III Zephyr speedway car. It is powered by a 156ci six, with Sonic extractors, a cam and some head work. Dragged out of a paddock and bought for a carton of beer, the Zephyr is thought to have been a Ford Australia test vehicle that competed in an Armstrong 500 race at Phillip Island and was later converted to speedway duty by a Ford mechanic.
Bayden Roberts gave his '57 Chev wagon a tasty taildragger makeover in the six weeks leading up to Chopped, with spats, wide-whites, Fiesta caps and Craig Issell pinstripes. The driveline is a simple 350/350 deal, with a disc-brake front end.
Gasser godfather Damien Kemp debuted his super-cool '63½ Mercury Marauder fastback at Chopped. It is a rare bird, powered by a 406 FE motor and decked out in period-correct race warpaint.
Lana O'Neill had a blast scooting around in this cool '35 Ford speedway car. "We're building a steel T roadster with a Toyota 18RG in it for Lana to drive, but it wasn't going to be ready in time, so we threw this together," says her dad Bill. "I saw the car in the background of a photo on Facebook and tracked it down. It was missing the lower four inches of the body, had a Falcon six in it, with headlights, mudflaps and a giant rollcage sticking out of it! I fixed all of that and put a Chrysler flathead six in it. The plan is to sell it off and put the money towards a Commodore Street Stocker for Lana to race."
Des Russell's channelled '29 roadster is going to be a beauty. It is a ways from finished, but the Eldorados member thrashed hard to get it up and running for Chopped. He bought the body from mate Bob Bleed in the US in 2013, an adventure we covered in Street Machine Hot Rod 11.Ample power is provided by a 324 Oldsmobile engine, built by Advanced Engine Dynamics in Bendigo. It has been taken out to around 350ci, with a staggered intake with four Stromberg 97s and a set of cool show pipes fabricated by Des.
There are a heap of neat touches to Des's roadster, including a new-old-stock Drag Fast shifter adapted to an XY three-speed, '58 Edsel instruments sitting in a fabricated dashboard, 60s speedboat tiller and '58 Chev tail-lights. The tuck-and-roll firewall and dash trim were knocked up by Des's missus Tesha.
Another cool channelled roadster on debut belongs to Adelaide's Ashley Cave. Ash went for an East Coast style with his '28, with a full-size windscreen, nerf bars on the back and carefully thought-out fenders.
The car is dubbed 'Sputnik' and features signwriting by Raymond P Moondog and pinstriping by Sam Harrison. There are some very cool touches on this one too, including an Adelaide-made Lightburn steering wheel and a full set of blue-face Smiths gauges.
Dave Andresen's Hi Jinx is unspeakably cool, running a 428ci FE big-block, topped by an M/T Power Ram intake and backed by a four-speed Top Loader 'box. Even so, Dave has a revamp planned that is going to blow minds.
We featured Joel Archard's '27 coupe back in Street Machine Hot Rod 14. Dubbed Death Wish, it cuts a wicked profile with a 6.5-inch chop, four-inch channel and two-inch section to the body. Power is provided by a 289ci Windsor, backed by a C4 and BorgWarner LSD.
Chopped co-owner Ryan Ford got his '32 Ford five-window drag coupe dummied up in time for the event. Upsetting restorers and street rodders by cutting up a real-steel body, Ryan has got the coupe sitting just right, with a blown Hemi, massive engine set-back and a host of cool vintage speed parts.
It was super-exciting to see the Jim Vincent '26 Willys bucket at Chopped. The car was built in the early 70s and featured a 292 Y-block, four-speed, C&D mags, Bob Grimshaw trim and a typically wild Rick Pacey paint job. The bucket has copped quite a few changes over the past 40-odd years, but it was great to see that it has survived to race again!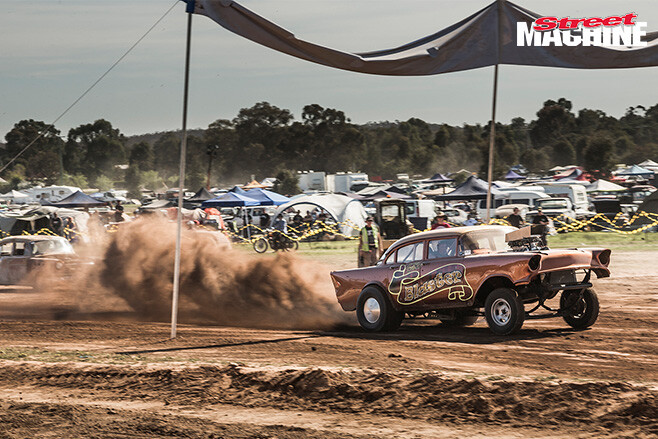 Probably the toughest car in the dirt drags was The Blaster, owned, built and operated by Steve Costa.
A particular treat for me was taking a ride in Dynamite Bettie. Originally put together by SM art dude Povi Pullinen for Chopped 2014, it was sold to Andrew 'Grot' Wallis when Povi made the big move to the US. Grot has fitted a hopped-up four-banger and got it running sweetly. Congrats mate!
Sean Basford from Adelaide brought over his 1954 Willys Aero Deluxe. The car is one of a handful imported into Australia for sale in right-hand-drive form.
Al Fountain never does things by halves. His Black Death Bourbon Model A roadster is powered by a 493ci Chrysler big-block and topped by the injection system from his monster bellytank.
It is always a treat to see Curtis Grima's '55 Pontiac Star Chief. Paint is House of Kolor Cinnamon Pearl.
Ryan Ford's '32 roadster has been running for a while now, but we dug the new lakes-style tonneau cover.
Kyle de Kuijer is another Eldorado with a delicious roadster. His '30 model sits on the car's original frame, stepped four inches in the rear. It is powered by a '38 flathead V8 and a '39 gearbox, with a natty set of Thickstun head covers. All built at home on a budget.
Street Machine photographer Chris Thorogood was a happy man after making it to Chopped in his newly registered '59 Chev Brookwood wagon. Expect to see this baby loaded to the gunnels with cool refreshments at events all over Victoria!
Yet another Eldorado with a bitching roadster in the build is Ben Mullholland. Based around a Brookville body and an original '32 frame, it is running an early Oldsmobile V8, T5 gearbox and a quick change rear.
Well, we are up to 22 cars, but what the heck! South Australia turns out a very high proportion of cool, traditional-style hot rods. This four banger-powered tudor is just one of them, owned by Christian Eckert.