Low on horsepower but big on fun, observed trials is grassroots motorsport at its best
This article was originally published in the November 2011 issue of Street Machine
TRIALS is not your typical form of motorsport. While almost every other type of racing involves competing directly against other cars or a clock, Observed Section Trials (OST) is all about points — and lots of fun.
Courses are laid out across mixed terrain and the further you make it — without leaving the course or hitting the markers — the more points you get. Pretty simple really. You've probably seen trials motorcycles, where riders negotiate seemingly impossible obstacles on their bikes without touching the ground with their feet. Well this is similar but with cars, as we discovered when we checked out the John Pryce Memorial Trials, near Healesville, north-east of Melbourne.
OST is nothing new. According to CAMS, OST was introduced to Australia by the late John Pryce back in 1950 and the Austin Seven Club has been running regular events around Victoria ever since. Some of the competitors have been in the game for 40 years or more, with three generations of trials enthusiasts throwing themselves around the mud.
Courses range from 25 to 100m long, and vary from slippery slopes and gullies to water crossings and mud holes; they're designed to test the limits of both car and driver. First thing we noticed, though, was the lack of helmets.
"It's not a speed event," event director Mark Taylor explains. "It's the car and driver versus the terrain."
The cars themselves are similar to the width and wheelbase of the original Austin Seven, which was a favourite for OST competitors back in the day. As those little Austins became harder to find, the rules changed to allow custom chassis cars. Nowadays all the cars use tube-frame chassis.
Externally, they look like a cross between the Wacky Racers and Mad Max and most are home built. The average car costs between $2500 and $3000 including trailer; $5000 will get you a top-of-the-line ride. That's got to be the cheapest motorsport in Australia.
"We run about 12 events a year," OST chairman Andrew Cox says. "It's a real family-orientated sport and that's the way we like it."
It's also free for spectators, which makes it a cheap day out for the many families we saw. Indeed, as with many other sports, most of the teams were family affairs.
Each car requires a passenger. In most cases that seat is filled by a wife, daughter or girlfriend, and they were having as much fun as the guys driving. Their job is to help the cars gain traction by rocking their weight backwards and forwards to shift the load.
Sooner or later almost all the cars come to a halt and once forward progress ceases or the car touches one of the course markers, the team gets awarded the points of the last gate their front wheel passed. Gates are numbered one to 10; get through the lot and it's 10 points but most of the time, competitors earn around five to seven points. This keeps competition tight and with just a couple of points separating the field, it's anyone's comp towards the end of the day.
The John Pryce Memorial Trial is one of the longest continually running car events in the country, this being its 62nd year. Before John passed away, it was the Park Orchards Trial and while the actual event is no longer run there, some of that suburb's streets are still named after trials sections.
This year there were 10 sections and 12 cars but despite the small numbers there was plenty of action and at the end of the day the mud-splattered competitors had smiles wider than their cars.
If you reckon tearing through some Victorian mud is something you'd be interested in or you'd just like to watch, check out the website at www.mudtrials.org.
RULE BOOK
Trials cars are open-topped two-seaters, with a set wheelbase and track, and limited to a maximum engine size of 1600cc. No superchargers or turbos are allowed, nor are large off-road tyres or limited slip differentials. Everyone uses dual handbrakes to help redirect power to the wheel that has the most traction and that keeps both hands busy as they negotiate the tight and winding courses.
Cars can be front or rear engined, and Toyota 4AGE 1600cc donks are popular powerplants, as are early Subaru and VW flat fours. Cars are scrutineered before each meeting and the drivers all require CAMS licences. It's all pretty simple, so if you want to know more, check out www.mudtrials.org.
LUCKY SEVEN

The Austin Seven is the British Model T. Around 290,000 were built from 1922 to 1939, and production would have kept going but for WWII. With a wheel track of just over a metre and a wheelbase less than two it was nimble and light, and economical thanks to its 747cc four-cylinder engine. Body styles included four-seat tourers and two-seat sports models and while the 10.5hp donk was nothing spectacular it was the basis of the engine for the Formula 750 race cars. Colin Chapman used Austin Sevens for his early Lotus creations, with strengthened Austin chassis used in the MkI to MkIV. Without the Austin Seven we probably wouldn't have seen the Lotus Seven.
MUD TRIALS
1. Geoff and Brenda Stritch in their Nissan-powered machine. Motorcycle tyres are popular up front as they help with precise manoeuvring the last stage. They both went for a dip later when Greg lost his footing and pulled Stephanie in too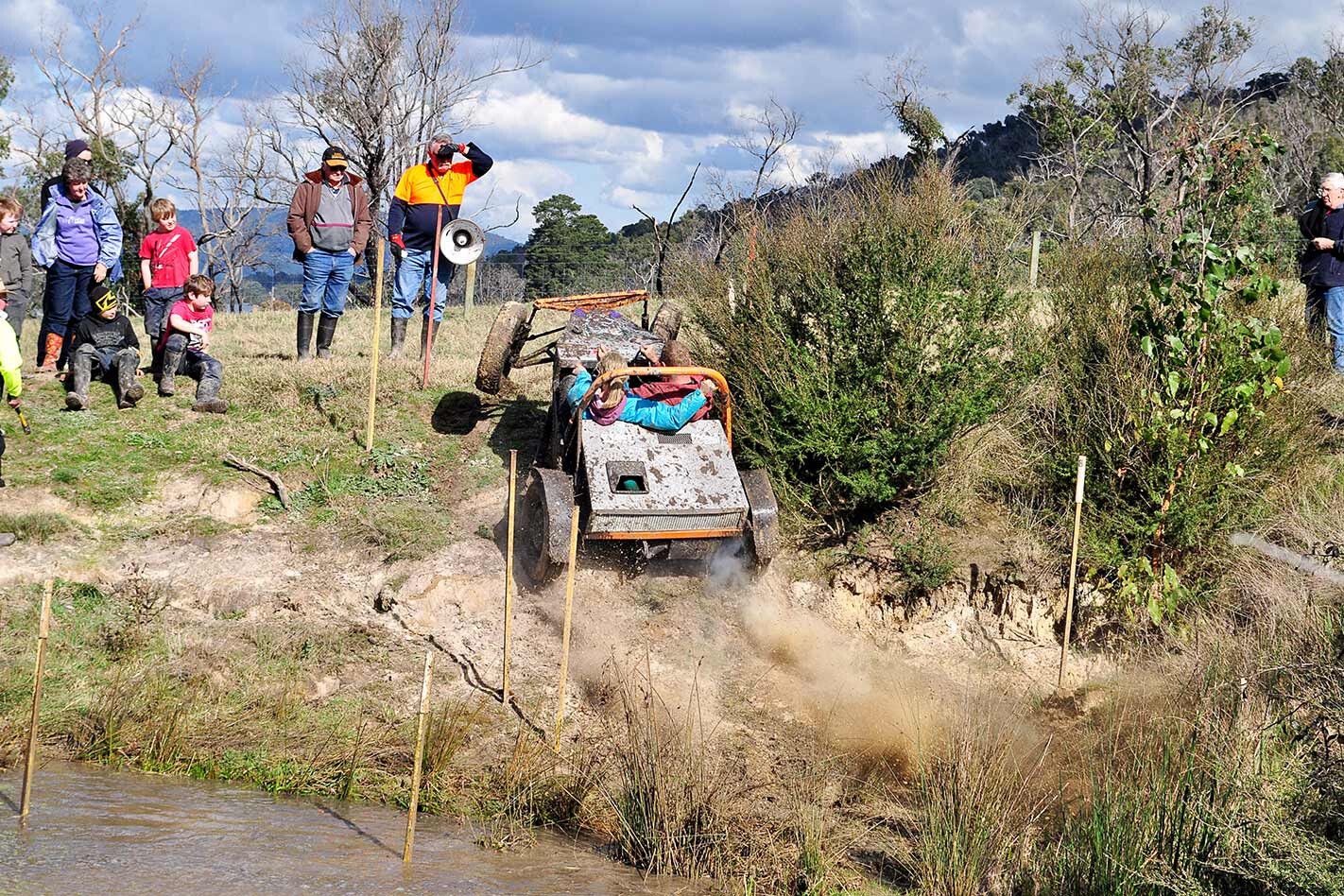 2. Wheels-up action is common. Stewart and Louise Schweiger's car runs a rear-mounted 4AGE Toyota motor rather than the usual Subarus and VWs
3. Greg and Stephanie Cox submerge attacking the last stage. They both went for a dip later when Greg lost his footing and pulled Stephanie in too
4. While not a speed event, competitors such as Ryan Blanch and girlfriend Melissa Holloway use a bit of extra speed to cross the muddier sections
5. Tom Howard and daughter Maxine launch over a log. Rear-engined cars like Tom's must run at least 12psi in the back tyres to make up for their extra grip
6. Geoff Taylor and Cassandra Jarvis tackle a steep descent. "I love getting dirty," Cassandra laughs
7. Trials has a real family atmosphere and with no spectator fees, it's one of the cheapest days out you can have with the kids at a motorsport event