The rain Gods had it in for Sam Tatton and his crew this year with not only July's event cancelled, but the November 8 rerun hampered by precipitation as well. Entrants were able to tuck a few passes under their collective belts before a rainy lunchtime thunder and lightning show called stumps on the event midway through eliminations.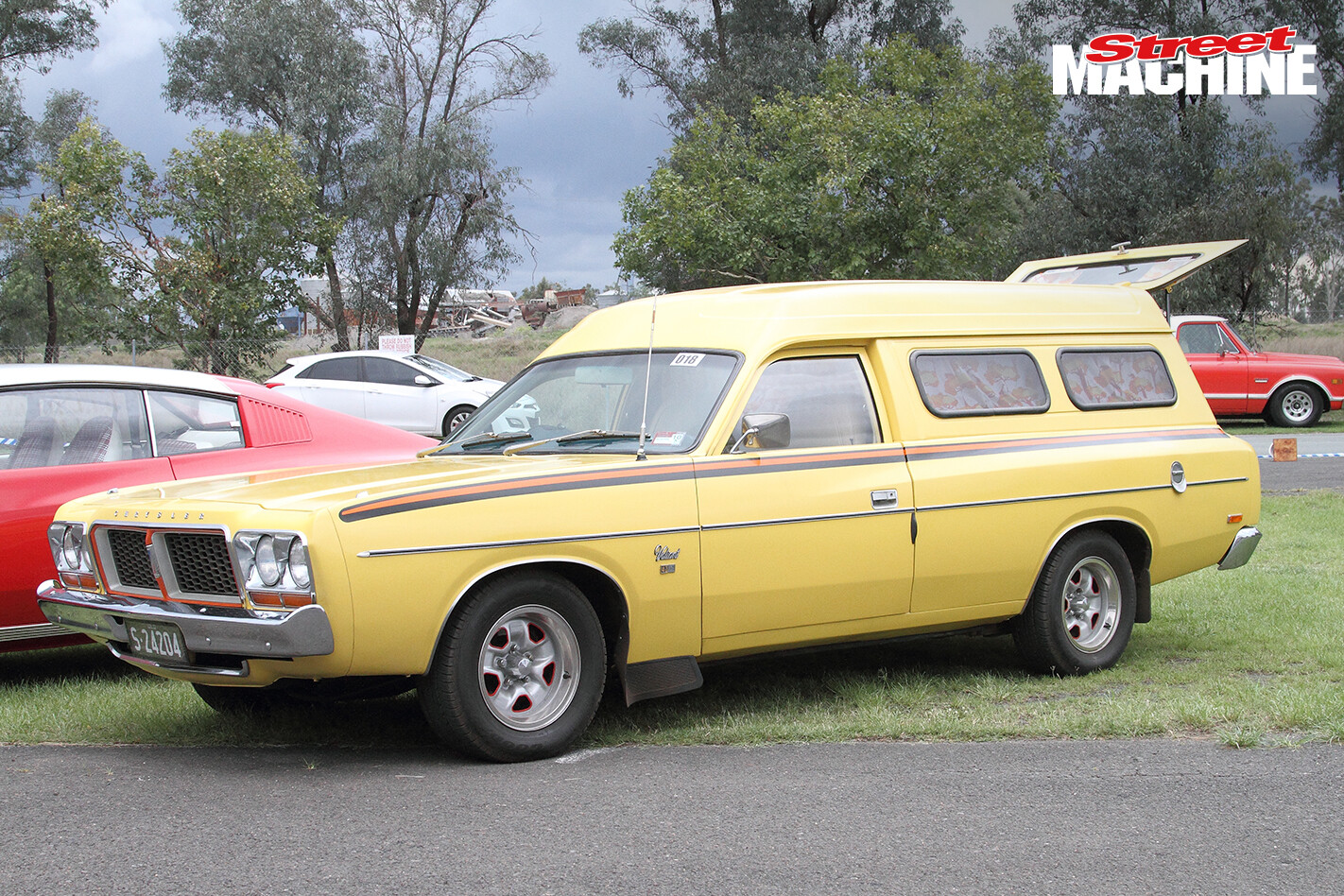 Peter Foote's tidy CL van took out the runner-up spot for Best Commercial and is a matching numbers 265/3 speed combination. The period curtains, pillows and knitted rug were whipped up by his wife as a Christmas present!
This pro-touring inspired AP6 sedan is a newcomer to the local scene and was a standout with two-tone paint and big-inch rims. A triple-Weber fed slant donk gives it plenty of old-school howl for track action.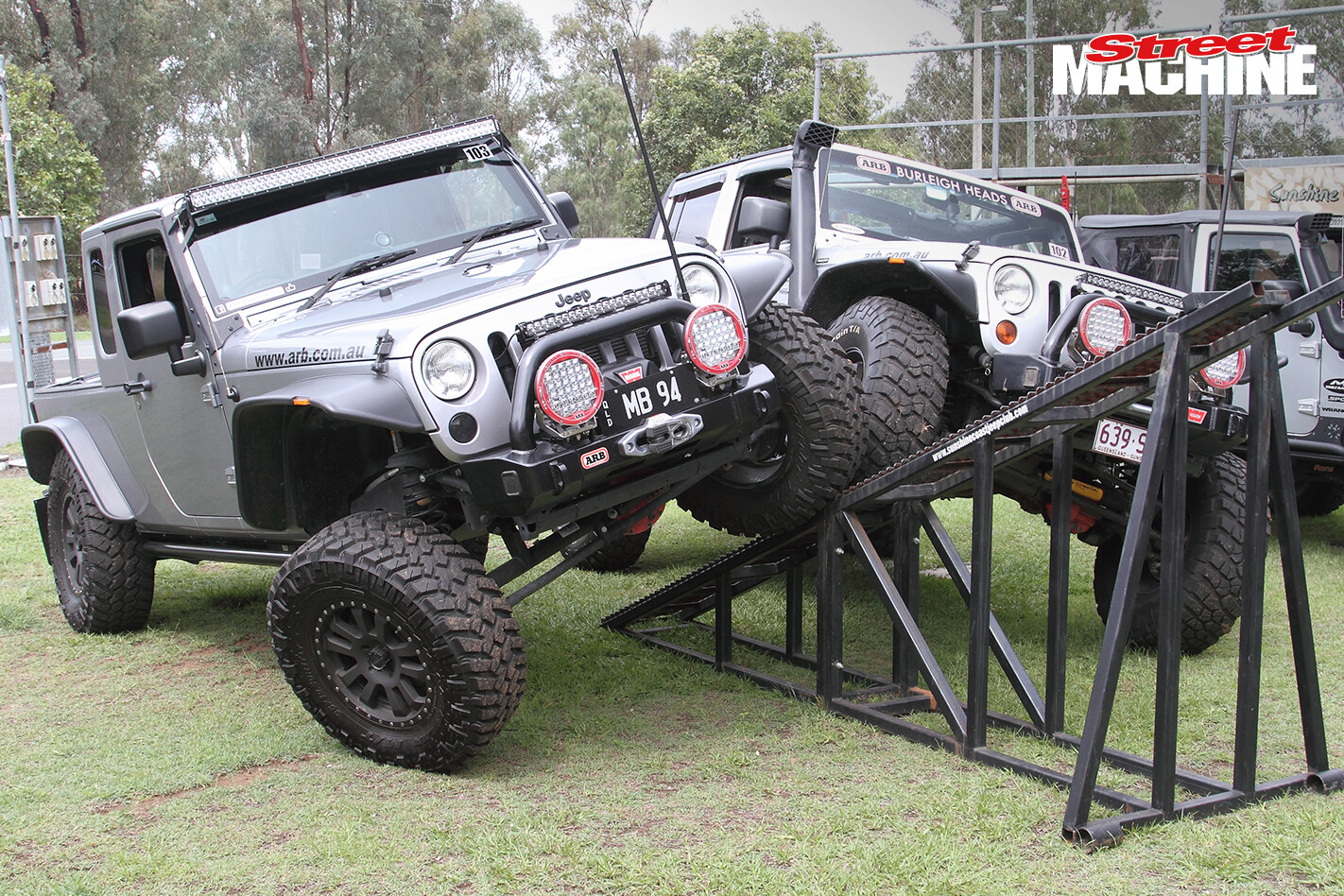 Mopars of all shapes and sizes are welcome. This modern Jeep pairing were displayed by ARB of Burleigh Heads to showcase some of their accessory range. The twisty silver JK 'ute' on the left began life as a four-door Unlimited.
Greg Emberley has been getting a handle on the tuning and driving duties with his turbo big block '66 Coronet since last years event, and managed a PB 7.60@191mph before the heavens opened.
David Webber took the wheel of the Webber/Scott VC sedan and ran a PB of 10.67@125mph with its stout 360 combo.
This beautiful Canadian-bodied AP6 wagon of Jeff Sladden runs a tunnel rammed 448ci big block and sees plenty of street using a tame 3500 stall and 3.5 gears – along with the protruding carbs, healthy rubber and Indy Champ rims filling the rear! A broken alternator bracket saw Jeff ease off to a 12.2@106 best for the day.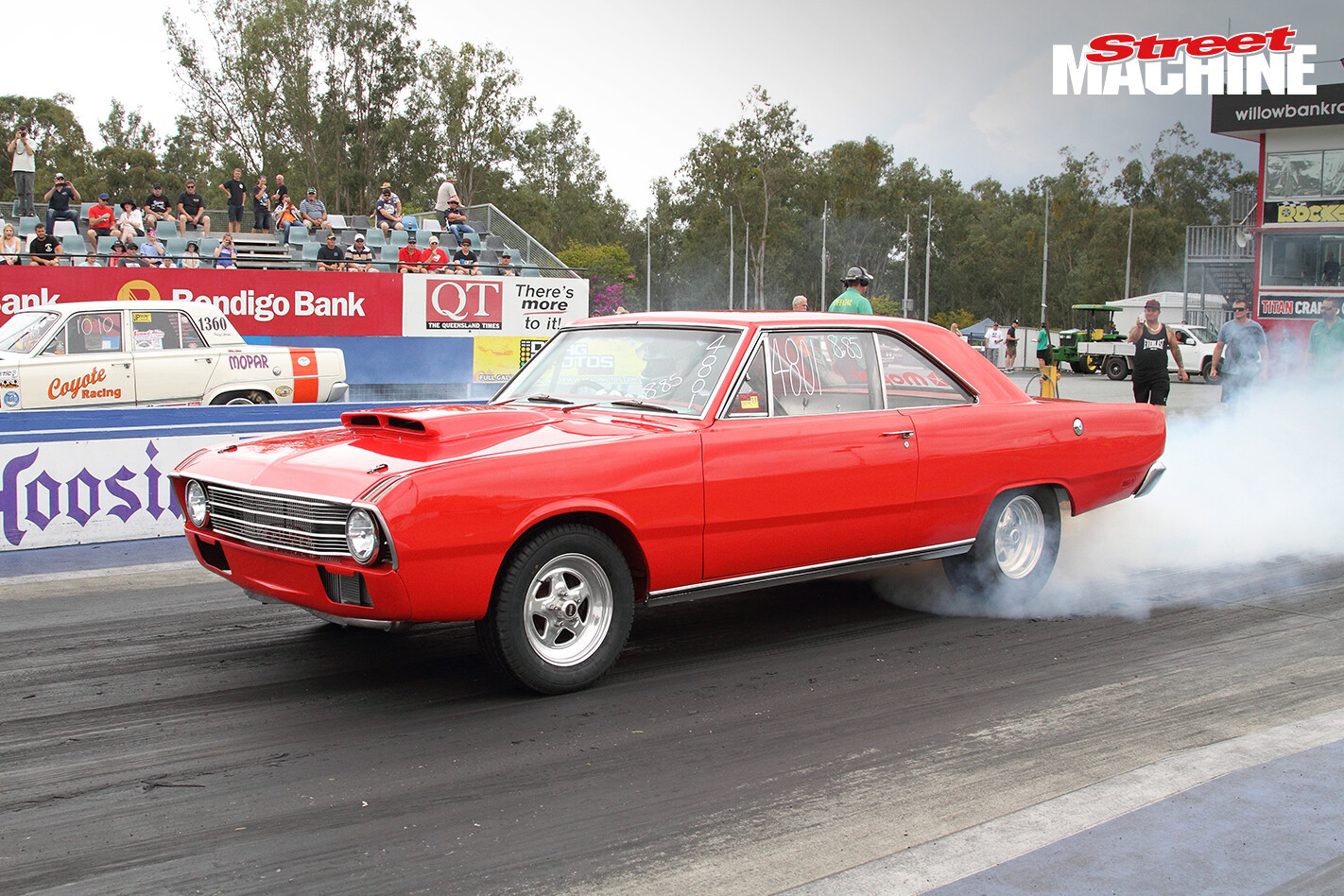 Jason Sladden continued the driving duties for George Bourne's popular VF Hardtop which runs a turbo stroker small-block combination. A 9.1@146mph in street trim is a current best time with an 8-second pass sure to be on the cards with further tuning.
Our scribe's Old Daze VG Hardtop is an ex-Nostalgia Drags runner that now clocks up plenty of highway miles attending dirt drags and mud events. It scrubs up alright for Mopar Sunday and its mild 318 and 904 drivetrain netted a 13.96@97mph.
The legendary Mr Ploppy Racing POO-440 Dodge Dart Swinger was a feared street/strip warrior in the 90s and returned to local streets a few years ago after a near-twenty year hiatus. The 440 big-block is two decades old and still good for low 11-second timeslips.
This blue VG Hardtop of Nancy Clarke is an ex-SM feature car that still pulls the crowds with its beautiful paint and superb detailing. A Hemi 6-cylinder provides ample go and is a regular trophy winner and cruiser on the SEQ car scene.