FIRE up your eight-tracks and drag out your bellbottoms – we're going to a Van-In. Now in its fourth year, the Majestic Vanners Australia Van-In is held each October long weekend in Albury, NSW. The weekend boasts a full schedule of events including lakeside camping, a sight-seeing cruise, charity auction, traditional show 'n' shine and a host of other activities.
This year's Van-In saw a record 63 vans in attendance, ranging from daily drivers and works-in-progress to previous Van Nationals winner Street Legal.
Gary and Gill McMillan's van is the blue Sandman tribute, while the custom magenta HZ is Andrew and Kerri McGuire's Serendipity, which was awarded the Most Popular Mild Custom.
Joe Radings's Sandman tribute runs a Holden 383 stroker and has many subtle mods that can be easily overlooked on first inspection. A lot of work has gone into making sure it handles as well as it looks. The wheels and stance make for one very cool cruiser.
Mick Ryan's Chrysler Sportsman panel van is one of five documented dealer-optioned five-seater vans. It was awarded the Most Popular Chrysler at the Van-In, as well as Longest Distance Travelled. Mick brought the van across from Tasmania and travelled to the Van-In via Queensland!
Neil and Cherone Marshall's HZ van, Angry Bird, is one tough custom. Running a tunnel-rammed 355 stroker through a Top Loader and a nine-inch, it has the performance to match its styling. Sitting on a fat set of Convos, and with a Camaro-inspired stripe draped over its bonnet and down its guards, it certainly makes an impact, and the full leather interior just finishes it off.
PJ Grant has only just got his XC Falcon van on the road. With a history of building show-winning Holden vans, this was PJ's first foray into Blue Oval territory. Although it is yet to be completed, he had done enough to walk away with the Most Popular Ford and the Most Popular Unfinished awards at the Van-In show 'n' shine.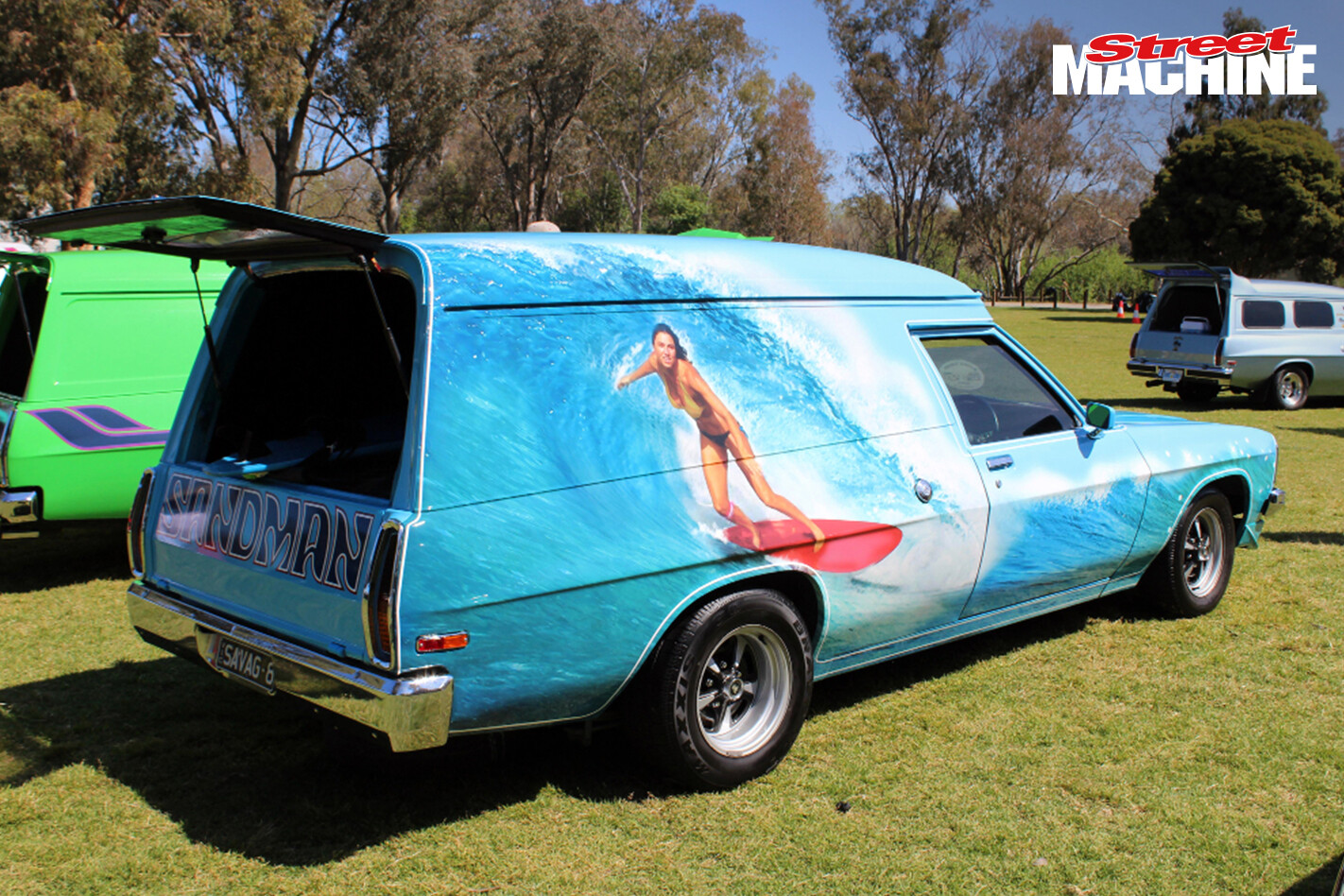 Reece Savage has transformed an old tradesman's work hack into his own take on the Holden promotional Sandman, Sea Witch. The picture that adorns the sides of this van is actually a wrap, created and applied in the Racepaint workshop of vanning legend John Evans.
Rod and Jennie Barnes are Sandman aficionados. They currently have two Sandman vans and a Sandman ute in their collection, all of which they have restored. This HZ Sandman has just been finished and is their take on a 'custom' van. It is called The Player and carries a gambling/casino theme – there is even a roulette wheel and poker table in the back! The van is packed full of detail, and is just as neat underneath as it is on top; chrome and billet is used to good effect and finished off with a great set of sidepipes. Rod and Jennie were rewarded for their effort and attention to detail with Van Entrants Choice, Majestic Vanners Choice, Vanning Legends Choice and the Most Popular Holden.
Darren and Lee Burns have owned this neat HQ for many years. At one stage it even had a dickie seat installed in the back so that their now-grown kids could cruise as well.
Dave McDonald's HJ Sandman was awarded Most Popular Sandman at Sunday's show 'n' shine. This fine example is one of two HJ Sandmans that Dave owns and has restored. Dave's sister Jude drove his other HJ over the weekend of the Van-In.
Frits Pel's amazing XC van, Jaffa, has undergone a major transformation over the past couple of years, with extensive murals covering the majority of the body, reworked interior and awesome detailing throughout. Frits is a veteran of the van scene with many years of Van Nationals under his belt, and the experience shows. He knows exactly how a van should be presented when on show, and was awarded Most Popular Display. Frits's XC also received Most Popular Sundowner.
Allan Marshall's HR van The Vandal picked up awards for Most Popular Paint, Most Popular Bodywork, and Most Popular Pre-HQ. Allan's van is beautifully presented inside, outside and under the bonnet.
Ashley Holder received the Headed For Success award for his HJ van Hang Loose. Recently Ash finished a two-year tidy-up on the van, including new paint, and it features many period styling cues.
Brett and Mandy Hansford are the current custodians of the Dave Marsh-built show van Street Legal. Street has been very well preserved and still wows the crowds like it did when it took out the Top Van trophy at the Van Nationals in 1988, 1989 and 1992. Fittingly, it won the People's Choice, along with Most Popular Wild Custom and Most Popular Engine Bay/Driveline.
Christine Dowton's HJ Sandman, Sku'ya, was awarded Most Popular Murals for the amazing American Indian-inspired artwork that adorns the outside of her van. The theme is continued into the interior as well.
Angelique Radings's Holden By Design VZ SS Sandman looks the goods in its black paint and red leather interior, set off by a nice set of wheels and finished with redwall tyres.
Matt and Mandy Harris's VF SS-V Redline van, Tigger, was one of the first of that model to be converted into a van by the company Amcat. It certainly stands out with its orange and black-stripe livery.