Ever wanted to go pulling? Matt Wood has a crack at steering a super mini modified pull tractor at the Diesel & Dirt Derby in Keith, South Australia
This article was originally published in the July 2017 issue of Street Machine
IT'S MY Top Gun moment. A crappy Steve Stevens guitar solo cranks up in my head. Do-or-die resolve courses through my veins as I drop the visor on my helmet and flex my gloved hands around the steering wheel. Behind me, the sled chain clanks into place, holding me fast.
And then an unwanted memory pops into my head, and the wailing mental guitar disappears with a pop. An interview with Top Fuel legend Don Garlits takes its place; the year, 1970, when an exploding transmission took half of 'Big Daddy' Garlits's foot off. I push the unbidden memory out of my mind. Focus. I watch the marshal at the end of the track, awaiting the green flag.
My mind conspires against me again. It occurs to me that I have a 550hp small-block stroker between my legs and an ageing Toyota diff under my arse. Anything that explodes is going to hurt. I remember querying the need for a flame-proof balaclava. "If it goes up, you don't want a faceful of hot engine parts," was the reply. Not helpful.
I hit the starter button and the tunnel-rammed 383 Chev stroker coughs into life, spluttering at the heavens through twin stacks. The cammed-up 105-octane chugging idle blends into the heavy metal soundtrack of the diesel Pro Stockers on the track next door as they blot out the sun. The syncopated beat of horses straining to haul.
Luke Skywalker had Jedi Master Yoda, the Karate Kid had Mr Miyagi, and I've got Jobbo, a former Australian champion tractor puller on my side. Out of the corner of my eye, through the quickly fogging visor, Jobbo gives me the thumbs-up and his words come back to me: "Take up the slack and nail it after the first five metres or so." And: "Don't let the sled catch ya." I've got this.
This is my first time competing in a tractor pull; in fact it is my first time at a tractor pull, full-stop. I am shitting myself just a little.
Just a couple of weeks earlier, I'd caught up with Jobbo in his home town of Quambatook for a, er, crash course in tractor pulling. The tractor is called Hopeful, and is owned by Team Outlaw, which consists of Kelvin 'Jobbo' Jobling and Melbourne-based team-mates Bob Kinnersley and Kenny Patterson. Jobbo gave me a run-down on the tractor and I took it for a squirt bob-tail. It was a hoot, just like driving a dirt dragster, but without the important stuff like brakes – or effective steering. I was hoping that my first competition drive in Hopeful wasn't going to be Hopeless.
So that's how I find myself at the Diesel & Dirt Derby in Keith, South Australia – a wholesale celebration of horsepower and dust-laden, farm-fuelled hoonery. As well as the tractor pull, there are trophy trucks, jet boats, and my favourite: a header demolition derby. What better place to have a crack at dragging a 3.5-tonne sled 100 metres down a dirt track with a Super Mini Modified tractor?
A Super Mini generally tips the scales at 860kg, and is often referred to as the Fat Man's class. Apparently, the more generously proportioned drivers fit into this weight category nicely, which works for this particular fat bastard! The next class up is the Open Mini class, where all manner of supercharged, turbocharged, nitro-powered, chassis-twisting madness can be found.
Heading up the size ladder, you'll find multi-engined behemoths in the Limited, Super and Open Modified classes. Then there's the diesel-fuelled Pro Stockers – also known as the 'smokers' – that are roughly based on an existing production tractor. And there's the spectacular wheelstanding 2WD Truck class, where competitors are limited to one naturally aspirated engine, in most cases a big-block stroker.
Jobbo has a history with the sport that stretches back to 1982, when tractor pulling was in its infancy here in Oz. A handy wielder of a spanner, Jobbo built this country's first Pro Stocker, the T&I Terminator for Swan Hill-based T&I Tractors back in 1998.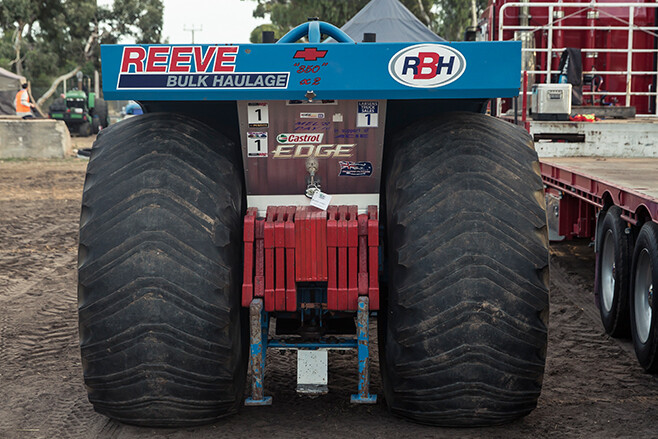 The rules of tractor pulling are relatively simple: Attempt to haul the sled as far down the track as you can. The sled gradually tries to stop you by either dragging on the track surface or throwing the weight forward on the sled, weighing down the pulling vehicle. If you crack the 100-metre mark – known as a 'Full Pull' – you then go in a 'Pull-Off' with any other tractor that manages to make the ton.
Apparently, according to Jobbo, quick reflexes, a strong tractor and knowing what part of the track to use are the main qualities required to be competitive in pulling. I push this to front-of-mind as the green flag drops at the end of the track.
With my best race face on I squeeze the go-pedal as the sled chain pulls taut. I pick up some momentum, then nail the right foot all the way down to the floor. The stroker answers with a hairy-chested bellow, tyres digging at the track surface.
All of a sudden those dicky little steer wheels out front seem woefully inadequate for keeping the tractor in a straight line. The Chevy's V8 thunder reaches fever pitch, a yammering howl as it hunkers down and hauls. We gather pace down the dirt. Clods of earth hammer the sled.
I start to get out of shape. Instinctively, I button-off briefly – not recommended, as the sled can grab you. There's a sphincter-puckering moment before I nail it again and the tractor thankfully pulls straight.
The sled starts to dig in and I've got my foot flat, with the small-block attempting to gulp in fuel and air through the twin Holley centre-squirters perched atop the tunnel-ram manifold.
Then it's over. I'm dragged to a stop at 94.2 metres. I kill the ignition and hear my heart thudding in my temples. What a blast! A high-horsepower homage to haulin' hay! And I didn't even suck quite as much as I thought I might.
GREG ABREHART'S FJ LAND CRUISER – SUDDEN IMPACT
Given some of the mad prices being fetched for old FJ Land Cruisers in recent times, you'd reckon that Greg Abrehart may have pissed off a few Toyota fans with his pull truck, Sudden Impact. But Greg reckons that there's enough bog in this FJ45 cab to justify its role as a wheelhouse in the 2WD Truck pulling class.
In fact, that's pretty much all that is Toyota on the whole rig. Under that bonnet is a Dandy Engines-built and stroked 510-cube big-block Chev. The mumbo gets to the gumbo via a Powerglide, a 10-speed overdrive Road Ranger and the planetary diff out of a Leyland bus. All that sits in a Mazda T3500 truck chassis!
Sudden Impact was the result of a four-year build and this has been its first season out of the shed. Greg is pretty happy with the results so far: "It's been a crowd-pleaser, that's for sure," he says. "And we haven't had any breakages this season either."
It was clearly a crowd favourite at the Diesel & Dirt Derby, with the Cruiser hanging the wheels in the air more than a couple of times with that raging big-block Chevy bellowing down the track.
ROSS SIMPSON'S 1970 TOYOTA CROWN
Melbourne's Ross Simpson took 18 years to turn his father Ralph's 1970 Toyota Crown into a one-of-a-kind, tyre-creasing pull truck. Ross got his driver's licence in the Crown as a young fella, and when his parents moved to Queensland in 1983, he was handed the keys.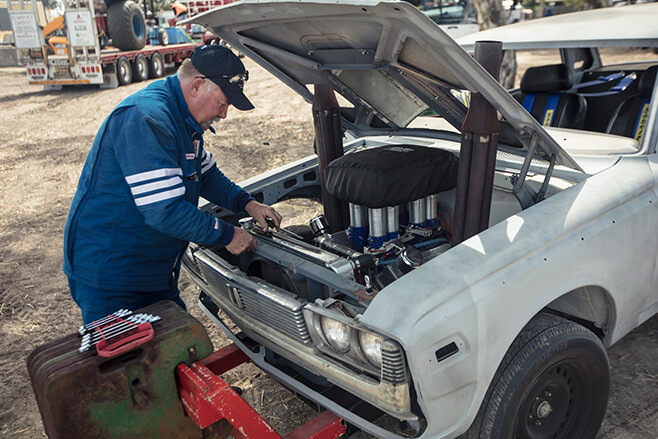 In went a 283 Chev small-block, Turbo 350, nine-inch and four-wheel discs, which was awesome for about a decade, until a roadside check by the wallopers revealed that the car wasn't engineered. So it ended up sitting idle in the shed until Ross came up with the idea of turning it into a pull truck.
Power now comes from a 700hp, 427ci small-block Chev. Fuel delivery is via a Sprintcar-style injection system and the 427 is running a pretty hefty 14.5:1 compression. Power gets to the ground via an overdrive Road Ranger truck gearbox and a bus diff. It packs a healthy 636lb-ft of torque – important when your mission in life is to haul heavy things!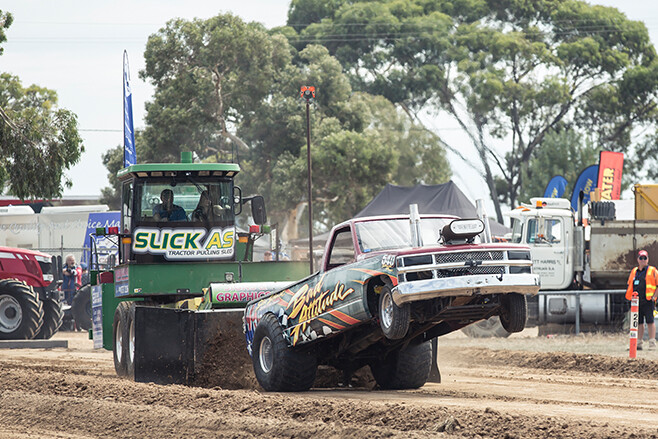 1. Imported from the US of A as a turn-key rig by New South Welshman Brad Hewitt, Bad Attitude is a two-wheel-drive Chevy pick-up powered by an injected, Steve Schmidt-built 540-cube big-block. Those monstrous rear tyres are 18.4 x 16.1 Dick Cepeks
2. With a tunnel-rammed 427ci small-block Chev, Powerglide transmission and a Ford nine-inch rear end, the driveline in the Success II Super Mini Modified wouldn't look out of place in a tough street car
3. Ken and Marilyn Butcher from Elmore in Victoria pose with their 540ci big-block Chev-powered beast, Chilli-Town Thunder
4. The ease with which a tank can stomp a car into the dirt has to be seen to be believed!
5. Blown Income is an Open Mini Modified running a 540ci Hemi mill, SCS transmission and Dana 60 rear end. As you can see, there's not much to it – it's all engine and tyres!
6. There was more to the Keith Diesel & Dirt Derby than just tractor pulling. If you didn't have a spare combine harvester kicking around to participate in the Header Demo Derby, a banged-up old Subaru would suffice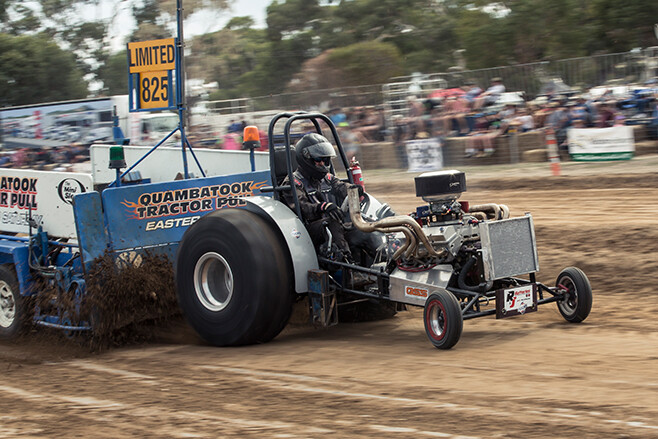 7. The Open Mini class is low on weight and big on horsepower. Think of them as V8-powered, tube-chassis billy carts
8. Limited Modified tractor Flat Stick saw double-duty at Keith at the hands of father-and-son team Murray and Luke Hynam. Luke campaigned the tractor in the 2.9-tonne division, while Murray drove it in the 3.4-tonne division. Both picked up podium places for their efforts
9. Every bit as crazy as it looks, the Header Demo Derby saw competitors attack each other in giant pieces of farm equipment. A truly spectacular spectator sport!