SPORTING what one judge called "arguably one of the best fields in recent memory", the 2019 America's Most Beautiful Roadster competition saw 14 of the country's finest open-air hot rods vying for the coveted nine-foot-tall trophy at the Grand National Roadster Show last weekend in Pomona, California.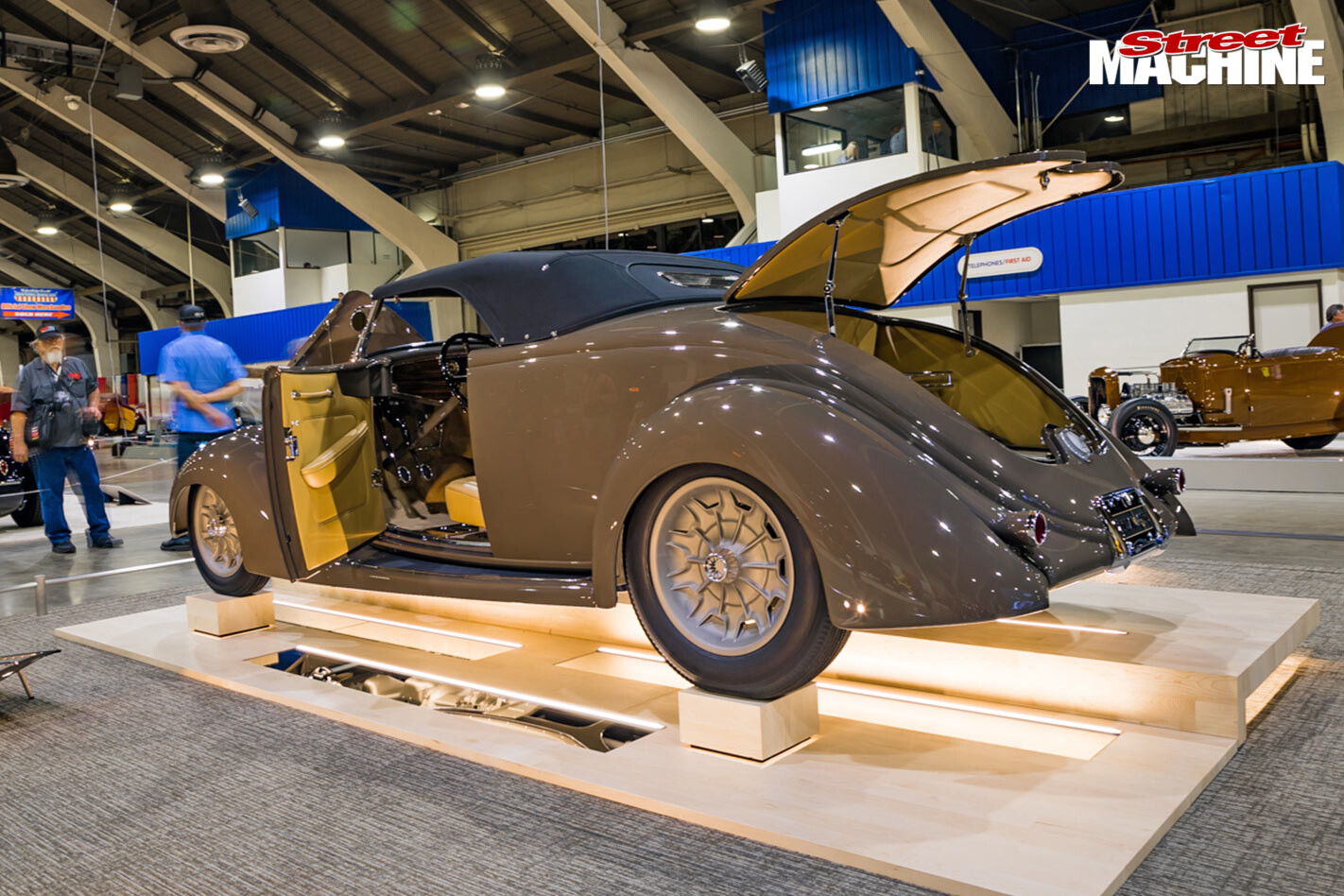 Legendary car builder, racer and hot rodder George Poteet was the man to snatch the title for 2019. His achievements include winning the Ridler Award and Hot Rodder Of The Year, owning famous cars like Blowfish and Sniper, and wagon-loads of Bonneville land speed records with cars like Speed Demon – including a bonkers 452mph record just last year.
Building a car for AMBR seemed like a missing piece of the puzzle, and with the help of Eric Peratt and the team at Pinkee's Rod Shop in Windsor, Colorado, George was finally able to tick that achievement off the list with a 1936 Ford roadster. The car is dubbed 'The Three-Penny Roadster', harking back to George's childhood memories of buying chocolate milk for – you guessed it – three pennies. The unique PPG colour? Also inspired by choccie milk.
The body has been under the knife at almost every curve and junction, including a three-inch stretched wheelbase, three-inch cabin lengthening and a three-inch chop of the roofline. The fenders have also been stretched, while everything else has been leaned, sliced, extended or peaked to create a beautiful, flowing body shape.
It's powered by a 351ci Windsor mated to a TKO 600 five-speed and topped with eight-stack injection. The one-off Indy-inspired wheels were created by Mike Curtis, while the beautiful tan and woodgrain interior was handled by Sid Chavers Co. The list of elite contributions also includes design work by Eric Black of e.Black Design and brightwork by Sherm's Custom Plating.
A deserved winner in a tough field of 14, the Three-Penny Roadster will be now etched into the history books, and there's no doubt land speed-obsessed Poteet already has his sights set on breaking the elusive 500mph barrier out on the salt later this year.
Cory and Ashley Taulbert's timeless black '32 highboy was also a crowd favourite. Powered by a simply appointed flathead Ford V8, the car has racked up over 19,000 miles since it was finished, including the 2300 miles Cory and Ashley covered by driving the car from Detroit to Pomona for the show!
'Tweety Bird' was originally built by Jim Govro in 1951. After being lost to the perils of time, what was left of the original car was found by Jim and his stepson Jimi a few years ago. The monumental project of returning it to its 1958 Hot Rod magazine feature guise culminated with its entry into the 2019 AMBR competition.
The Howerton & Moal Tulsa Roadster was a joint venture for Jackie Howerton, a prominent Indianapolis race car fabricator, and renowned coachbuilder and customiser Steve Moal. It's inspired by their first meeting in 1974 at the Indy 500 and has an insanely trick chassis including a hidden rear torsion bar set-up and a Chas Rose-built Corvette small-block.