OF THE four cars that took part in our convoy to Red CentreNATS, Peter Traumanis's VTII was the fastest, most economical and by far the comfiest. The car runs a low-mount AVO twin-turbo set-up, with an air-to-air intercooler and a water injection system, but the engine itself is a dead-stock LS1, with only a set of valve springs to vary from the factory spec. Driving through a six-speed gearbox and with a four-link and nine-inch diff set-up out back, it is an unusual combo, but one that proved super-reliable on our trip to Alice Springs.
Pete not only took out the dyno competition with a 607rwhp run, but he raced the pants off it at the Alice Springs Inland Dragway, running a best of 11.40 on the same Nankangs that he drove there on! Once home, he headed out to Calder and set a new PB of 11.13.
Now the car is headed out to the Temora 1000 event, which sees all sorts of exotica tackling the standing-kilometre dash. Peter and his mates have given GMGRNT a quick makeover to tackle the high-speed event, one that they finished as the sun came up this morning.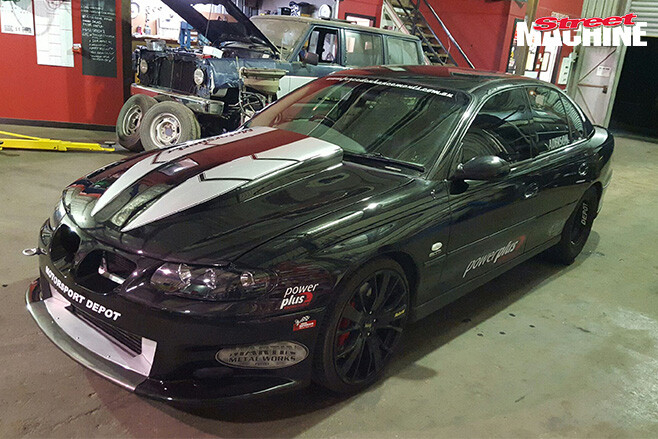 "We wanted to get some more air into the intercooler, so we fitted a GTO-style alloy air dam from Martin Metal Works," Pete says. "The bonnet is a fiberglass item from Alfa Motorsports, to help get the hot air out of the engine bay. It works great, but it is a lot noisier in the car; you can really hear the turbos working."
With that done, good mate and fellow Red CentreNATS cruiser Jeff Birchfield gave the car one of his trademark fast paintjobs, and then it was back to Peter's Motorsport Depot workshop for a brake upgrade. This was handled by another Red CentreNATS veteran, Jason Vandyk, who bolted on a set of big HSV discs and calipers, with QFM pads and braided lines.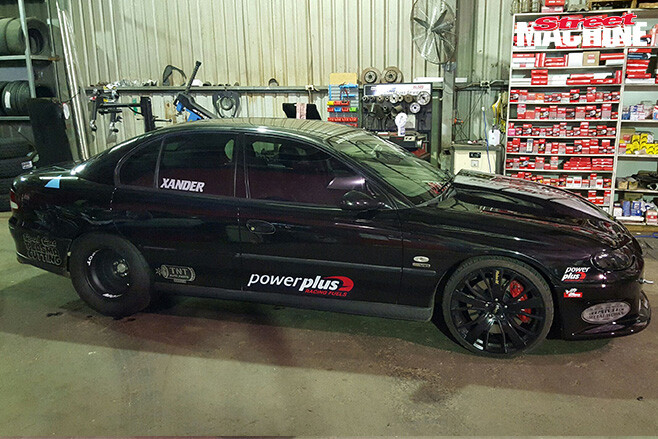 "The clutch and engine are just the same and the fuel system is pretty much maxed out," Pete says. "I gave it a quick tune on the dyno with race fuel in it and the biggest change is that the inlet temps are barely above ambient temperature with the new air dam. It will be fun to be able to test the car out. We'll see if we can finally blow this engine up!"
Good luck, lads!