HERE we have another look at some of our favourite cars of Hot Rod Drag Week 2019, day four:
Glenn Hunter from Long Island, NY is a Drag Week veteran, having competed at nine previous events. Glenn's 10th campaign is going very well, as his all-steel, chrome-bumper, full-interior '56 Chev sits in third place Overall and first in Pro Street Power Adder after four days of racing.
"I've had this car since junior high," said Glenn, "and it's been a never-ending battle of changing stuff." The current combo features a 540ci aluminium block, Brodix heads, twin 88mm BorgWarner turbos, with a Turbo 400 trans.
The Chev ran 8.08sec on Day One of Drag Week 2019 due to a melted hose that was restricting it to just 15psi of boost. Glenn sorted that issue and the car has run 7.3s every day since. "It's on a safe tune-up right now, leaving the line on six pounds of boost," said Glenn. "Tomorrow I can start playing with it and add some more timing, because I know it has more in it."
Jonathan Coleman from Spring Hill, Tennessee is doing Drag Week for the fourth time in his 2003 Mustang. It's got a 388ci LS with twin-88mm Forced Induction turbos, Powerglide and Gear Vendors, on a 275 radial.
The car, which is tech'd to run as quick as 7.49sec, has run a seven-second pass on all four days of Drag Week 2019 and leads the Super Street Small-Block Power Adder class. "Tomorrow we're going to load the same tune-up that's in it and make a pass, and if we have a timeslip that we'd be comfortable to turn in, we'll keep that in our back pocket and turn the car up," said Jonathan.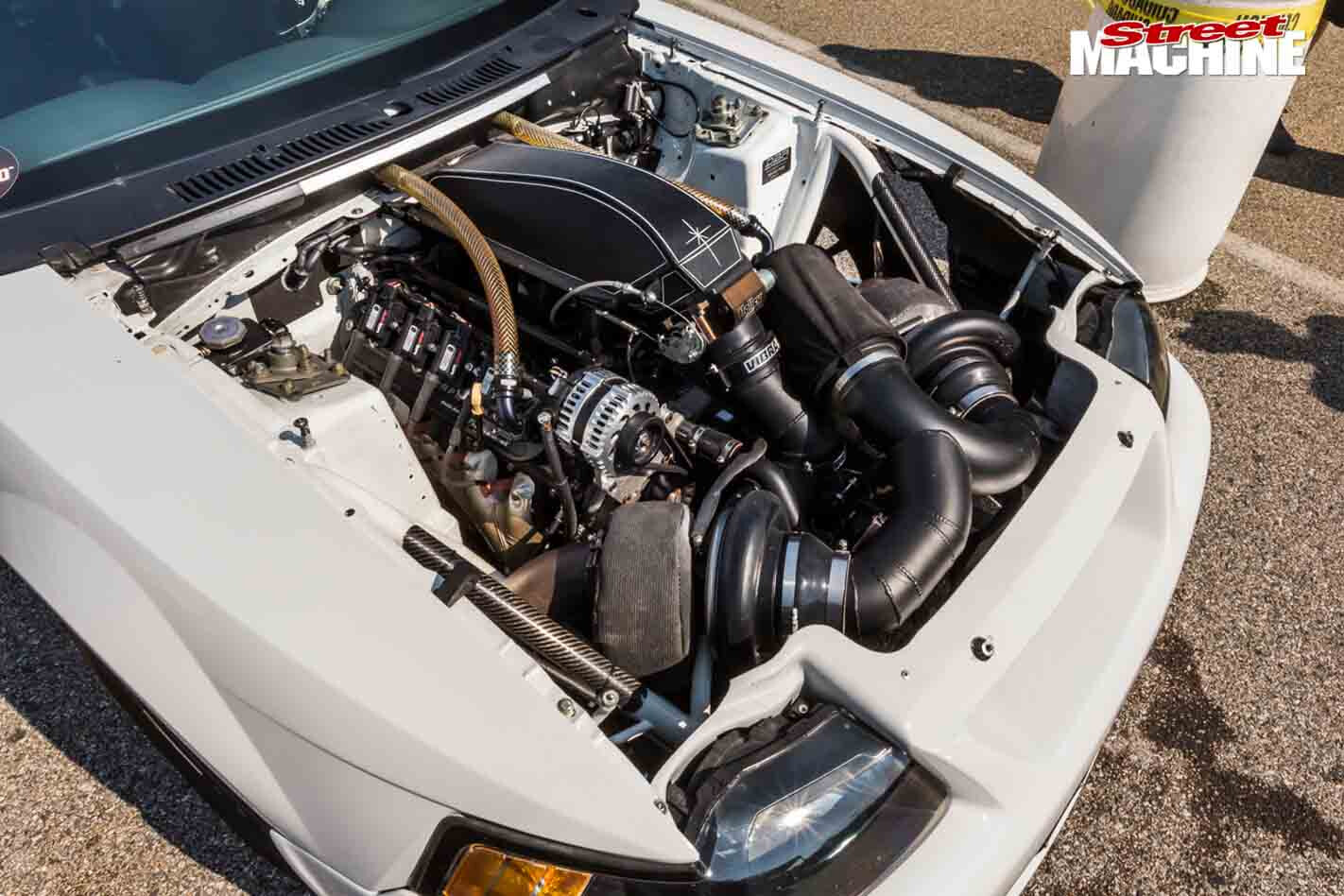 Jessie Harris from Cope, Indiana is driving half an 80s Corvette around on the street – god bless America! "It's a 1980 C3 that had been on fire in the back," Jessie said. "It was a parts car and I used the front end for another car. I normally race a Chevy pick-up with a diesel engine that does big wheelies, but I didn't get it done and this was sitting there so we made it run, and it doesn't run very good! I've used seven gallons of oil so far."
All that junk in the front is mostly stock Corvette, except for the intake, carb and turbo. "The turbo kit is off a 70s Winnebago," Jessie said. "I guess they blew up every one they ever put it on, so I found it and thought it was a good idea." The 'Vette has been giving Jessie trouble on the street and on the track, with a best time of 13.10@134mph. "I can't hardly get it to go," he said. "I might have a couple of burnt vales or something because it just runs really bad."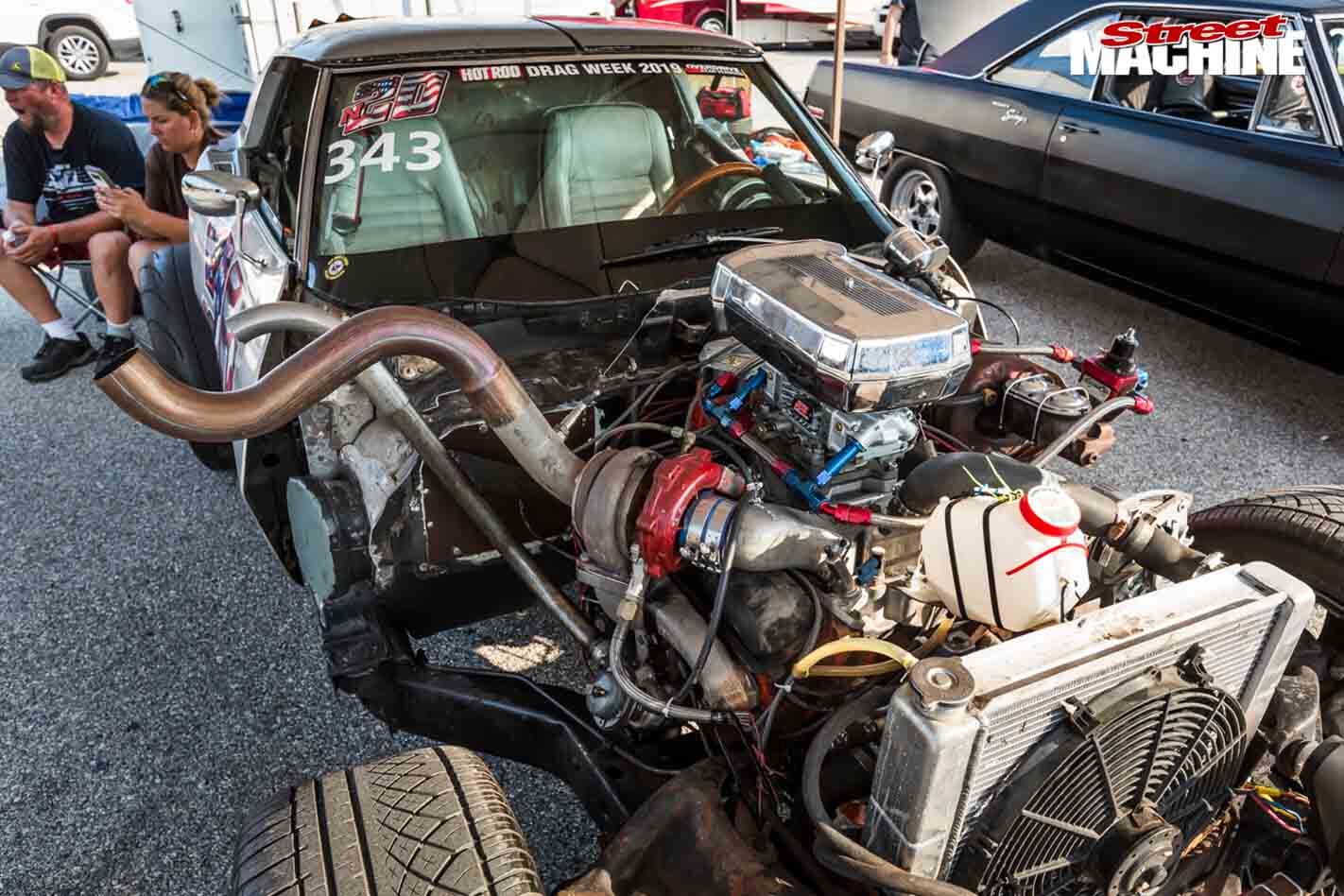 Brent and Amy Sinclair from Evansville, Indiana are enjoying Drag Week in their turbo '99 Camaro. It's got an LSX block topped with a set of Trick Flow 245 heads, boosted by a 94mm Forced Inductions turbo, backed by a Powerglide and nine-inch with a Strange Ultra case. "We spent three years building it and only raced it for the first time two weeks ago at Bowling Green, Kentucky," said Brent. "All last week we thrashed to run over everything and make sure the car was roadworthy. On the Friday night before Drag Week we got in it and drove it around about five miles and said: 'Okay, I think it's good to go."
Turns out the car was good to go. Brent has run an eight every day this week, culminating in an 8.14@175mph on Day Four. "I started the week just wanting to finish Drag Week because that's a feat of its own," said Brent. "Then after a couple of days it turned into: I think I can place. Right now we're in second position in the Modified Power Adder class and I believe it has more in it, we just haven't gone after it yet."
Toledo, Ohio resident Dan Hirsch inherited his 1965 Mustang from his father when he was 16 and has been tinkering with it ever since. It's currently rocking a Bennett Racing Engines 427ci small-block with 76mm turbos, backed by a Turbo 400 transmission, PTC converter, and a nine-inch with 3:25 gears.
The Muzzie ran 8.1s the first two days of Drag Week 2019 before dipping into the sevens on Day Three at Atco Raceway with a 7.93@178mph. "We were excited about that," said Dan. "But then, as we were driving here, it broke a lifter. We were on the side of the road and I didn't have a spare lifter, so I called Jesel and they said they had them in stock but they were four hours away. So we booked an Uber to deliver them to us. We got it all back together and drove it here hoping it would be okay." Luckily, it was. The car went 8.18@174mph on Day Four and currently leads the Modified Power Adder class.
A/Gas winner in both 2017 and '18, Jarrad Scott's '62 Ranchero is running second to Finnegan in the Blasphemi '55 Chev. Jarrad, who hails from Maysville, Iowa, bought the 'ute' from Dennis Taylor, who campaigned it at Drag Week 2016. Jarrad has since installed the 540-cube Hemi, TBS blower and Hilborn injection stack with Holley EFI, which is backed by a McLeod five-speed manual and nine-inch.
"We haven't raced the car since Drag Week last year," said Jarrad. "We just pulled it out of storage and raced it again." So far this week the car has run a mix of eight- and nine-second passes, with a quickest of 8.82@151mph on Day Two.
The biggest hassle of the week occurred on Day Four, when a broken rocker arm needed to be replaced before Jarrad could make the drive back to Virginia for the final day. "Tomorrow we hope to make some good passes but I think I would have to make the run of my life to get ahead of Finnegan at this point. So we'll probably finish up a solid number two."
It was a tough Day Four for Mike Finnegan and the 'Blasphemi' blown Hemi '55 gasser. Finnegan broke first gear and battled all day to fix it. In a race against the clock to beat the 2pm cut-off time for racing, he sourced a new first gear from a fellow racer and got it buttoned back up, but by this time there was only about 15 minutes of racing left. He came out and ran a rough-looking 10.08, which put his lead in the Gasser A/Gas class in jeopardy.
In danger of losing first place in class to Jarrad Scott in the 'Bitchin' '62 Ranchero, Finnegan lapped back around for another pass right on 2pm and went 9.30@149mph to maintain a slender lead of a little over two-tenths.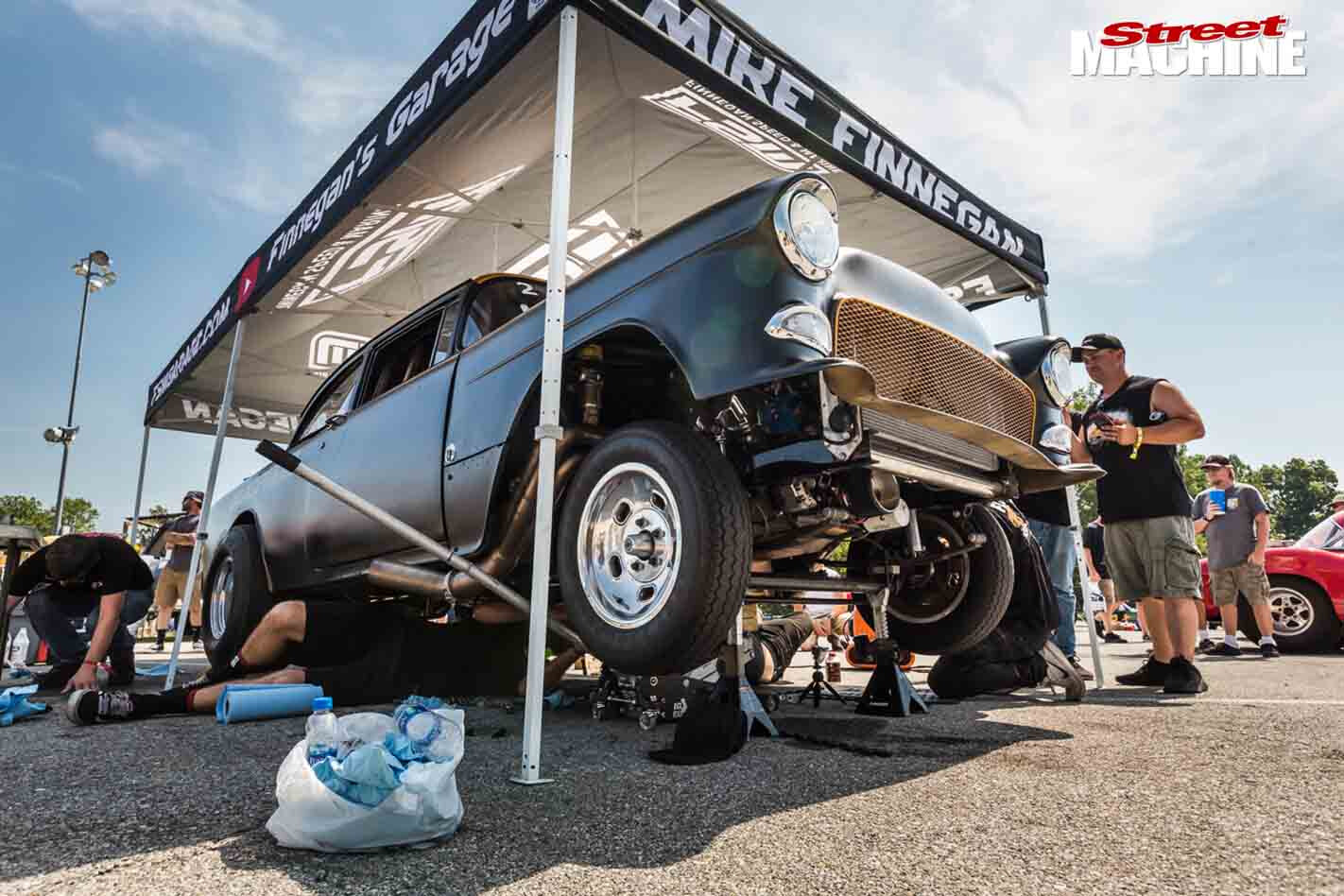 Holding a seemingly unassailable lead in the Unlimited class and Overall, Tom Bailey hit the track early in the 'Sick Seconds 2.0' Camaro and nailed a dead straight 6.27@219mph. Tom's engine builder and co-pilot, Steve Morris, shook his head and looked unsatisfied. When SM ask Steve why the head shake, he said: "Because it sucked. He shut off early. It could've been better – it could have been a 6.0 or a 5.9. We want to chase a five so tomorrow we're going to try to make that happen."
Bryant Goldstone's twin-turbo big-block AMC Javelin mangled a valve spring on the drive from New Jersey to Maryland, prompting some roadside repair. It also ran out of gas at one point, which is nothing unusual according to Bryant. "I think we've run out of fuel less this year than any other year," he said.
Things didn't get any easier once he got to Maryland International Raceway, with the six-second two-door only managing to run a 7.12@204mph. "That's our crappiest run in two years," he said. "I'm obviously not happy but I guess it's good enough to move on and keep us in second place." He is currently in second in both Unlimited and Overall.
The 'OG Ascona' from Sweden broke two rockers on the road and was stranded at a nearby hotel for most of today. Fellow competitor Daryl Yost kindly donated the parts and the team, with help from Aussie Robby Abbott, got it back together and made it to the track after lunch. With the lanes set to close at 2pm, owner Robin Johannesson got the car to the startline with about 20 minutes to go but it dropped oil during the burnout and was pushed back into the lanes.
The crew figured out the catch can hadn't been emptied, so they emptied it, cleaned it up with a bit of brake fluid, and came back to stage right on 2pm. Against all the odds, Robin rocketed the Ascona to a searing 7.92@171mph.