MANY of you loyal Street Machine readers would remember Adam Styles's orange Torana from our January 2014 issue. The Albury local built the pretty little car with an eye to regular strip-teasing, including Street Machine Drag Challenge.
Back then, Albury-based Adam had just completed his build, which began with an LC two-door Torana and Adam rolling out the tape measure to see if his idea of shrink-wrapping the little Torry around a twin-turbo LS V8 would work.
Turns out it did! Adam's Torana carries a cammed-up iron-block L98 V8 with a set of heads by Nathan Higgins breathing from a huge Holley Hi-Ram intake and – of course – those two Garrett turbos. At 20psi and 6800rpm, the GM-managed (tuned by Websters Dyno &Performance) turbo V8 makes just shy of 1400hp. Behind the LS is a Powerglide and an RC Metalcraft-fabbed sheet-metal nine-inch on coil-overs between a set of 275-wide rears.
Adam has campaigned the car at a few Australian Pro Street Association (APSA) events (hence the 275 tyre). With a string of 8.13@172mph timeslips to chase, Adam arrived at his first Drag Challenge this year with high expectations.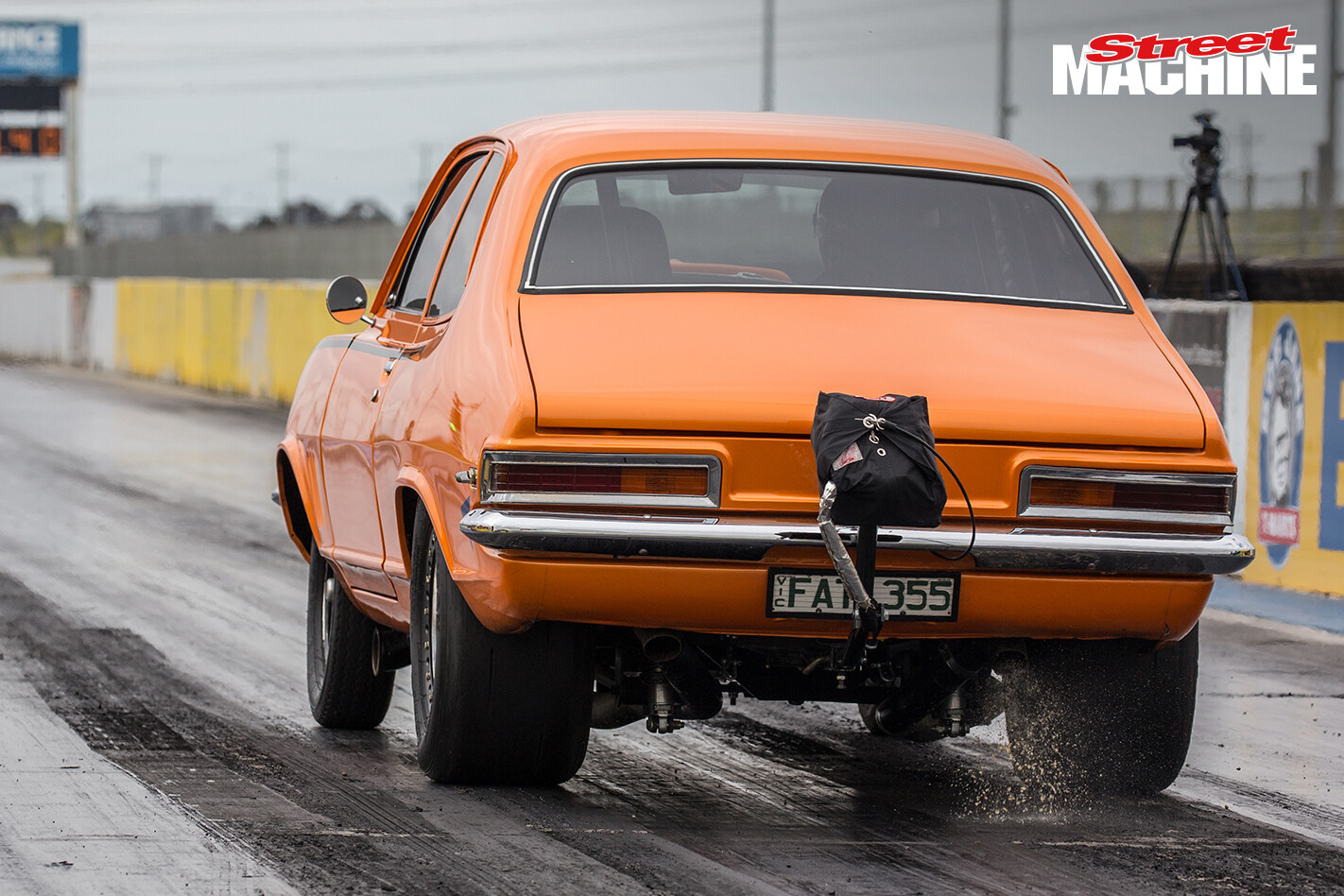 But dammit, despite the effort Adam put into the car over the past three years, that ol' bastard Murphy had to come and spit in his dinner. At Calder Park on the first day of Drag Challenge, there were obvious problems.
"We had a shudder through the car – at first, we thought it was an electrical issue," Adam explained. "We had three runs, but nah – we discovered the trans fluid had metal all through it, so we knew pretty early that it wasn't something that we could fix at the track."
Bugger! But even with his own problems weighing on his mind, Adam spent until midnight assisting another participant with another gearbox problem – a great display of helping a fellow racer. Only then did Adam begin the trek back to Albury with the Torana.
The gearbox problem was properly diagnosed the next day: The low-gear band had come apart. So while other Drag Challenge competitors were racing at Heathcote, Adam and his team spent the day rebuilding the gearbox before setting off for Mildura that night. After sleeping in a service station, they caught up with the carnival at Mildura's eighth-mile strip on Drag Challenge's third day.
But with no chance of standing on the podium and spraying grid girls with champagne, why bother? "Mate, I already had the week off!" Adam told us in the paddock at Mildura. "So I'm going to enjoy it! I'd put a lot of dollars and hard work into it to have some fun! I messaged Scotty [Taylor] and said: 'Hey, is it all right if we keep tagging along?' and he agreed."
At Mildura, the car ran a 5.41. "I think that was the quickest time of the day," Adam said. "I ran four passes there; then we got ready to unleash hell at Swan Hill. But as I started it to load it onto the trailer, it stalled. The block had split from top to bottom on [cylinder] number six. "I was pretty disappointed – but what can you do?"
What he did was cop it sweet and look back on an amazing – if frustrating – experience at Street Machine Drag Challenge. No matter what, Adam insisted he had an awesome time and he'll be back next year – he has unfinished business to take care of!
"I can't thank my mates enough," Adam said after the event. "Everyone who helped – Matt Webster for the tune, Dean Soderblom, Peter Grenness, Dusty Benson, Shaine Benson and Paul Kuczko."