THE boys from Adelaide Motorsport Fabrication in South Australia returned to Drag Challenge in 2018 with a fresh new hot-rodded 1934 Ford ute.
Last year the boys brought their 'Krankenstein' '58 Ford Mainline gasser along for the wild ride of DC, its outlandish styling catching the eye of many who attended.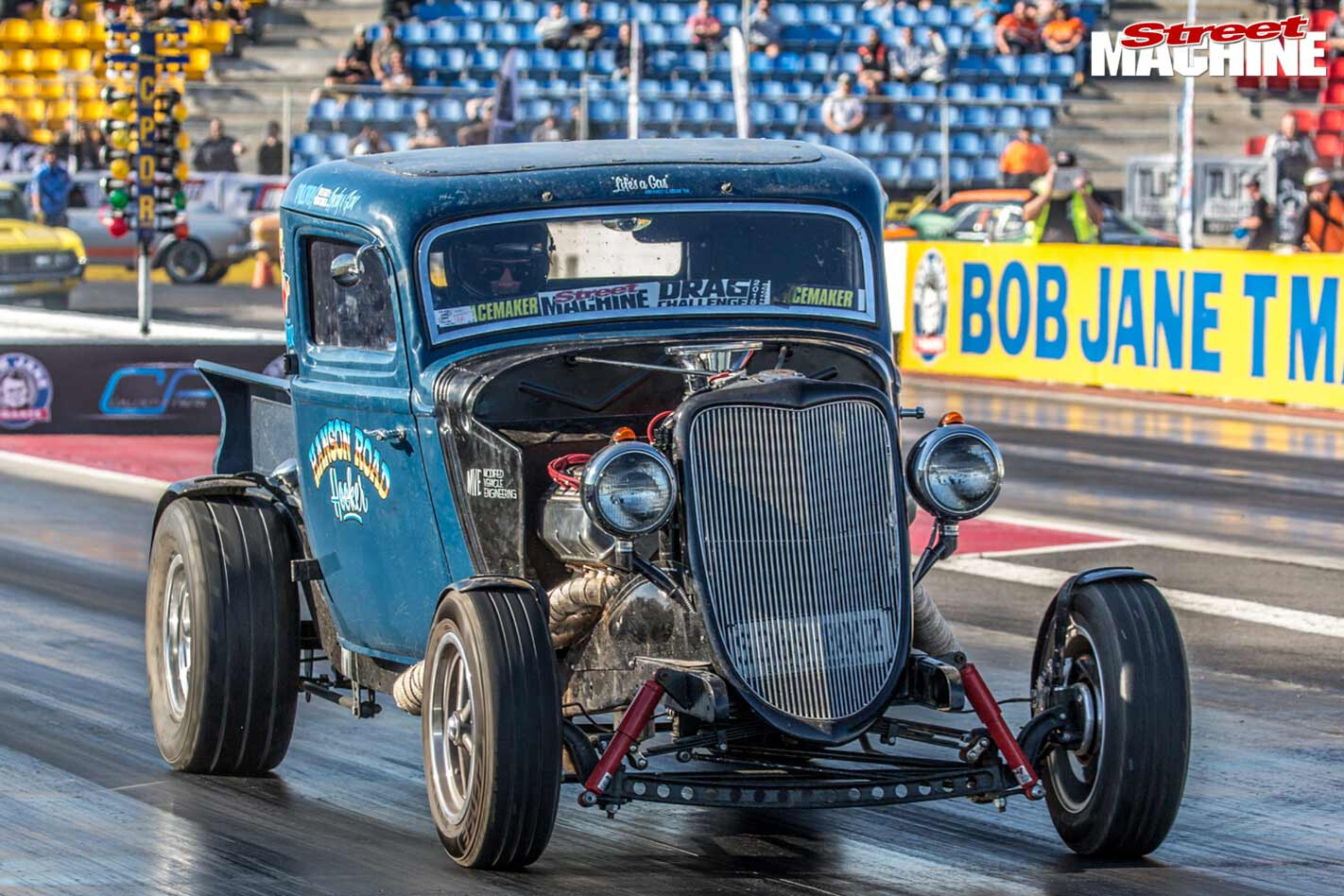 For 2018, Gavin Edmonds and driver Andy Milne decided they had to bring something even wackier, and with only four months in hand until Drag Challenge they began turning a bare-metal '34 body and chassis into a street-ready dragster. They chucked a Chrysler 354 Hemi under where the bonnet should be, along with a New Process Chrysler four-speed manual 'box. A Winters Nostalgia quickchange rear end allows the boys to switch between a 4.11 and 3.5 diff ratio with ease.
Gav and Andy also did all the fab work themselves at their shop: fuel tanks, tubs, wheelarches and more.
The exterior is pretty striking, too – particularly the enormous headers that dump just in front of the doors, although the boys do have a quick-release exhaust that takes the Hemi's noise to the back of the car for (slightly) more comfortable street driving. The hand-painted signage was done by a friend of theirs who goes by the nickname MoonDog, and he did a pretty mean job with the brush.
In terms of street driving, the boys had only done around 500km since they finished thrashing on the '34, so Drag Challenge provided a good way to stretch the car's legs.
There are all sorts of stories that come out of the week of trials and tribulations at DC, but Andy and Gavin's tale really does have 'wow' factor. On Day Two at Swan Hill Dragway, the boys bent a valve on their first pass, but in the spirit of DC they weren't going to let that stop them. Gavin had his heavily pregnant wife Natalie go down to their workshop and pull the heads off their Krankenstein gasser, then drive five-and-a-half hours across to Swan Hill Dragway from Adelaide.
By the time the heads rocked up and the crew had finished slapping the donk together it was 6am, and after a quick sleep they drove across to Mildura's Sunset Strip to make passes just an hour before the track closed. The incredible effort saw Natalie take home the Spirit Of Drag Challenge award, and the boys finished the week 16th in the Pacemaker Radial Aspirated class, with a PB of 12.08@111mph.
The relief on Gavin and Andy's faces at completion of DC on Friday night was obvious, but they were still all smiles and keen to take on the event next year.
"Next year we'll come back with the same car, but we'll build an engine this time and see if we can crack into those 11s," Gavin said. "I'm just happy we made it through this year and got that sticker to say we finished."
Even with their dramas, the boys exceeded their goal of running mid-13s all week, and we're all super-keen to see what they can do in 2019.
ANDY MILNE & GAV EDMONDS
1934 FORD UTE
Class: Pacemaker Radial Aspirated
SPECS
Engine: 354ci Chrysler Hemi
Transmission: New Process four-speed manual
Diff: Winters quickchange, 4.11:1/3.5:1 gears
Power: 250-300hp (estimated)
Previous PB: N/A
Best Drag Challenge 2018 pass: 12.08@111mph