IN THE lead-up to Drag Challenge 2018, Frank Marchese from Dandy Engines copped a lot of heat about whether his leaf-sprung XW Fairmont could be considered a proper street car. He's certainly silenced those critics after driving it 1300km through rural Victoria with a trailer on the back and a bunch of seven-second timeslips in the glovebox!
Despite having never run Drag Challenge, FAIRXW was a serious contender from the moment Frank pulled it into the Calder Park pits. With a new World Products 450ci motor inflated by a pair of 88mm Precision Pro Mod turbos, and run by a FuelTech ECU, the big four-door sedan had run a string of sevens in testing, with a PB of 7.15@202mph.
Running on VP Racing Roo16 race gas at the track and pump fuel on the road, the XW struggled on its first pass on Day One at Calder, before coming out late in the day to run a 6.56@168mph on the 1000ft strip. It was enough to place Frank second overall and at the top of Haltech Radial Blown.
Day Two finished with Frank in the staging lanes after almost everyone else had packed up and fled the plague of flies. It was worth it, as FAIRXW laid down a 7.79@152mph despite a big pedal and having the 'chutes out at the 330m mark to stop the car heading towards the centre-line.
The Dandy Engines crew then had to overcome a cracked up-pipe on the exhaust, as well as heavy rain giving the sensitive electronics a bath on the road leg between Swan Hill and Mildura at the end of Day Two.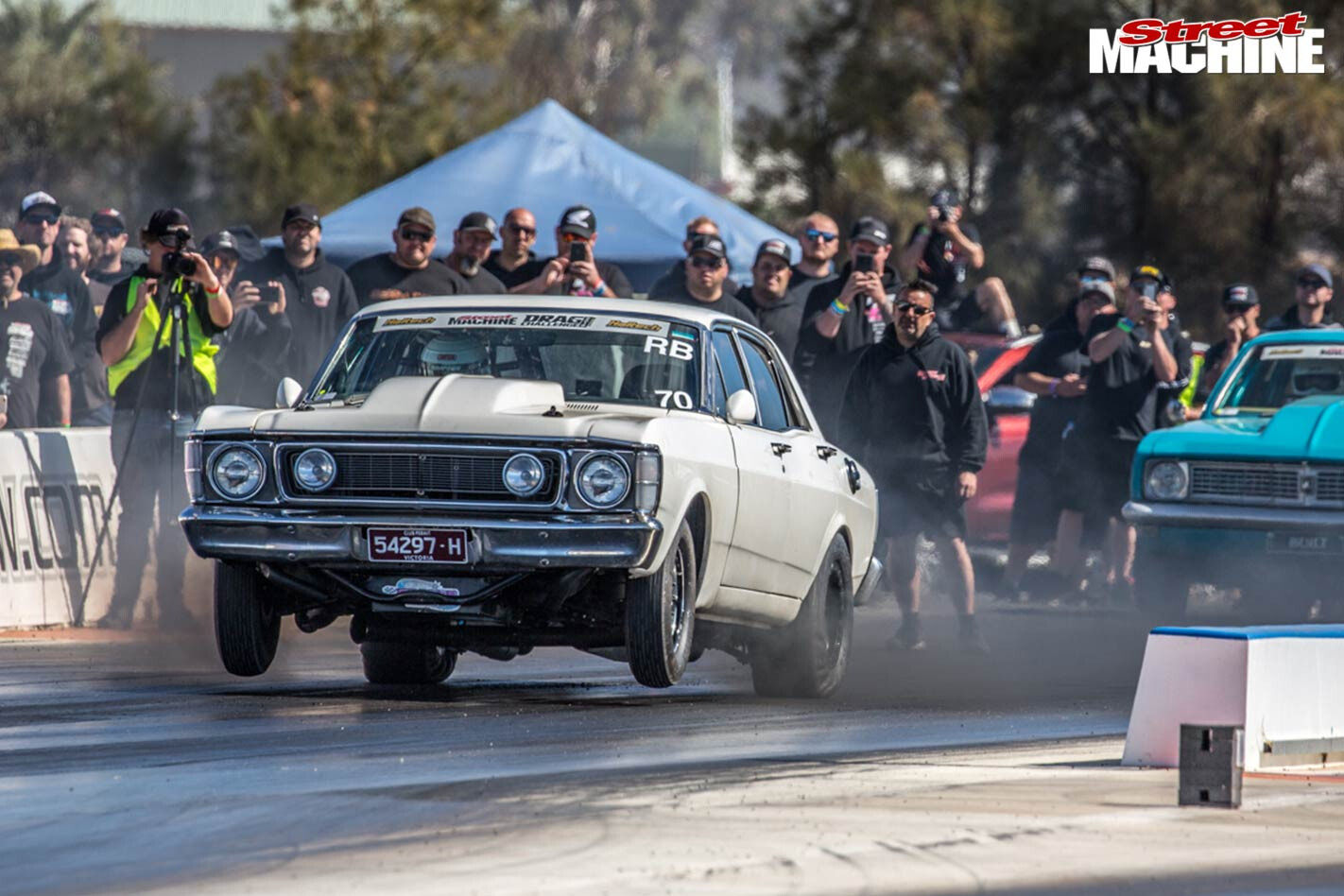 "We found a workshop in Mildura who lent us some hoist space to fix the exhaust, which was grouse," said Frank, who then went out and ran 5.12@148mph on Mildura's Sunset Strip eighth-mile. "It's disheartening for me, because the car normally goes 4.6-flat in the eighth!"
Day Four will go down in the record books, as Frank and Harry Haig both threw the kitchen sink at the Swan Hill track in an effort to run big numbers, and boy did they do that. Though Harry managed a 7.50@174mph in his big-inch HQ, Frank had everyone falling over themselves late in the day with a 7.36@192mph – the quickest and fastest pass we've ever had at Drag Challenge!
"This feels so good; I'm ecstatic to have done that," said Frank straight after the run. "I wanted to do this so badly for my guys who've worked so hard on no sleep, from before the event even started. I'm just emotionally wrecked!"
The Dandy crew made it back to Calder Park on Day Five with a lead of under half a second from Harry Haig, and they went pass-for-pass right until the lanes closed, with Frank's 6.369@171mph over 1000ft enough to get the job done.
After five days of knock-'em-down, drag-'em-out racing, Frank's combined ET of 33.224 seconds was 0.15sec ahead of Harry's 33.374. This was enough for Frank to take out the top spot in both the Outright and the Haltech Radial Blown standings, along with awards for Quickest ET and Fastest MPH of Drag Challenge and Quickest Ford-Powered.
"On Monday afternoon about 4pm I was asking what I'd got myself into, and Friday driving through those gates was the most emotional feeling I'd had," Frank sighed. "I'd just proved all those doubters wrong!"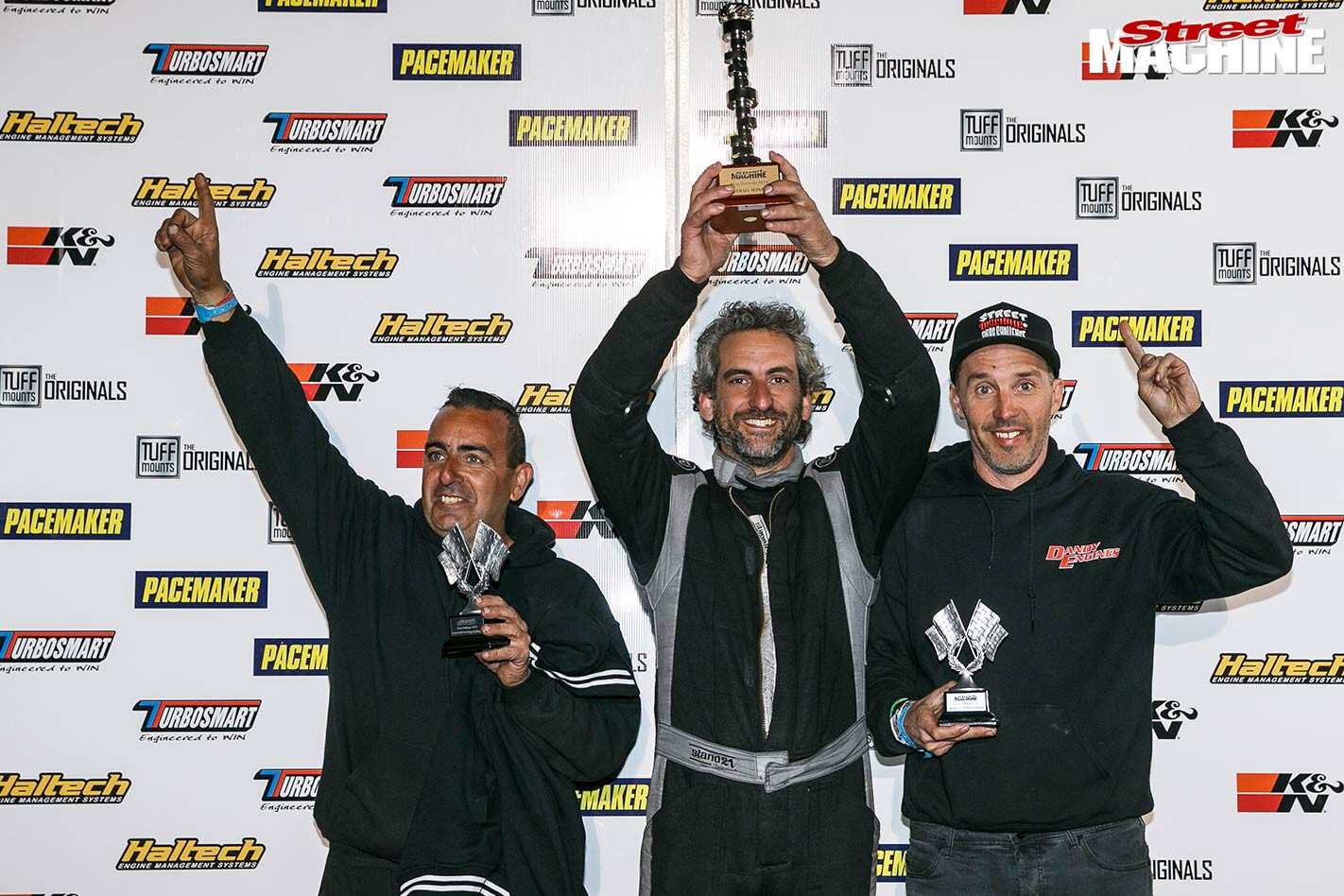 TROPHIES
OVERALL WINNER – AUSTRALIA'S QUICKEST STREET CAR
WINNER – HALTECH RADIAL BLOWN
QUICKEST ET
FASTEST MPH
QUICKEST FORD-POWERED
FRANK MARCHESE
1970 FORD XW FAIRMONT
Class: Haltech Radial Blown
SPECS
Engine: World Products 450ci Windsor
Turbos: Twin Precision Pro Mod Gen 1 88mm
Transmission: Protrans TH400
Converter: ProTorque EV1
Diff: Profab 9in, 3.40:1 gears
Power: 2050rwhp@30psi
Previous PB: 7.15@202mph
Best Drag Challenge 2018 Pass: 7.36@192mph