This article was originally publlished in the January 2019 issue of Street Machine
MITCH Bean's '68 Camaro finished third in the K&N Dial Your Own class at our first Drag Challenge Weekend early in 2018. Running nines across the three days, the twin-turbo LS-powered F-body cracked into the eight-second bracket not long after our three-day event, but all wasn't well with the alloy LS2 under the bonnet.
"After Drag Challenge Weekend we wound some more boost in and it went 8.8@151mph, but the oil pressure was reading low," Mitch explains. "We checked the logs and it seemed fine, so I went back out and ran an 8.90, then put it on the trailer, took it home and stuffed it in the shed. Later on I cut the filter open and it was full of copper; the motor had spun a bearing!
"It now has an iron 6.0-litre LQ9 grout-filled to the water jackets, so we can wind the boost up. I also changed to a Moroso sump and it now holds 10 litres of oil."
The 402ci iron truck block wears alloy rectangle-port heads, a tough Callies crankand-rods combo, and JE slugs holding compression, while a 239/243 bumpstick keeps the chamber filled with compressed air/fuel mix.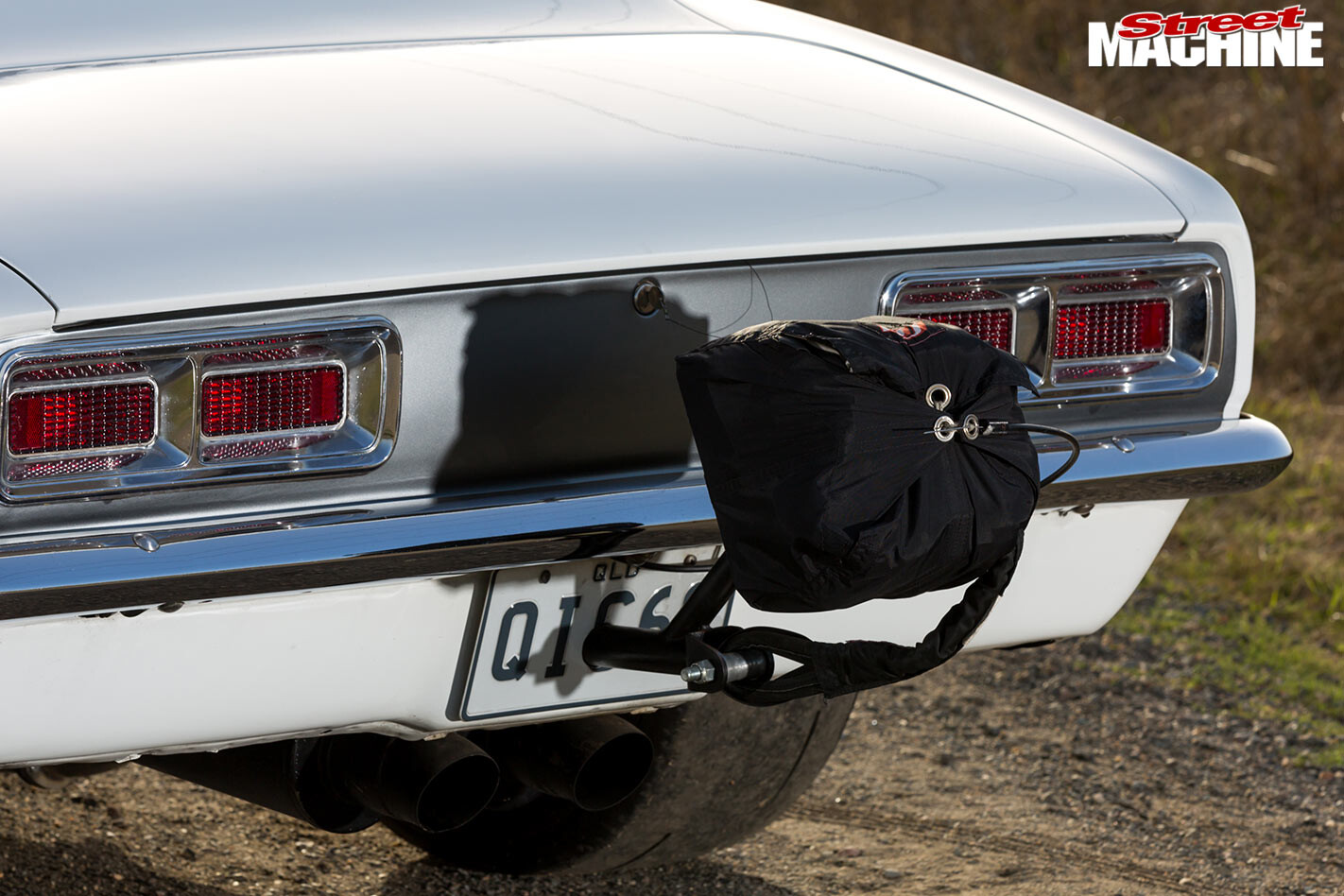 "Spot On Performance did all the hotand cold-side piping, mounted the air-to-air intercooler, and set up the wastegates and blow-off valve," Mitch says. "Years ago I'd have had a go at doing all that, but I'm past that now."
Sitting on the custom steam-pipe manifolds are a pair of 62mm ProBoost turbochargers, blowing into an Edelbrock single-plane intake with a Wilson elbow, and a Holley Dominator EFI system controlling it all.
"We need bigger turbos now, as they're out of puff," Mitch says. "It went 8.80 on 19psi but we have 22psi in it currently. It's making that much power the rear shocks are topping out, so I need a set of coil-overs so we can get some more travel and adjustment."
Not one to rest on his laurels, Mitch is looking for another hit of the boost bug. "I was talking to the boys at Spot On Performance and they still have the turbos off Steve Smith's One Tonner, which slapped the wall at Jamboree a while back. I don't know what they are, but they're bigger than what I've got!"
Don't think he is looking to turn it into a trailer queen, however. After playing with plenty of other cars and engine combos through the years, including a tough aspirated plastic motor that ran eights in a tube-fronted race car, Mitch grabbed his '68 Camaro for more street-oriented duties.
"All I wanted was an eight-second street car; it didn't matter if that was an 8.99 or lower," he says. "The Camaro was for sale on Facebook and I knew of the car, as it had been imported and built up here. I bought it with an aluminium LS2 already in it, and it had gone 10.60s. We've now gone 8.76@154mph, and I'm hoping we can get into the 8.50s!"
Mitchell Bean is a familiar face at Willowbank Raceway. He's probably best-known for his tough, race-only FJ ute that ran a best of 8.80 thanks a stout aspirated Holden 355. These days he's enjoying the street 'n' strip lifestyle with his wife Kim and son Kyan, both of whom joined in on Drag Challenge Weekend
With the whole car blue-plated to keep it legal in Queensland, Mitch is dead keen to keep racing and cruising the 3650lb F-body. "It is going great and we had a great time at Drag Challenge Weekend, apart from a minor cooling issue due to some wiring, so I am really keen to do it again," he says. "It is in the shed at the moment, but we'll take it out for a run this weekend. It really is awesome to drive."
MITCHELL BEAN
1968 CHEVROLET CAMARO
ENGINE
Brand: Chev LQ9
Capacity: 402ci
Pistons: JE
Crank: Callies
Rods: Callies
Heads: LS2
Intake: Edelbrock single-plane, Wilson elbow
ECU: Holley Dominator EFI
Turbos: 62mm ProBoost
Cam: 239/243
Fuel system: 2000cc injectors, Magnaflow 625 electric pump, Enderle 110 mechanical pump, E85
TRANSMISSION
Gearbox: Powerglide, transbrake
Converter: The Convertor Shop 4500rpm
Diff: Altra 9 9in, 3.5:1 gears, Truetrac
SUSPENSION & BRAKES
Front: Gazzard Brothers coil-over struts
Rear: Split mono-leaf, Koni shocks
Chassis: CalTracs bars, mini-tubbed, rack-and-pinion steering, tube front control arms, chassis connectors, weld-in rollcage
Brakes: Wilwood disc brakes (f & r)
WHEELS & TYRES
Rims: Weld AlumaStar; 15×3.5 (f), 15×8 (r)
Rubber: Kenda front-runners 165/80 (f), M/T ET Street radial 275/60 (r)