HAVING lost more than half the Turbosmart Outlaw Blown class through mechanical attrition at this year's Drag Challenge, the eight survivors arrived at Calder Park following a marathon 400km leg through the Victorian countryside. The competitors that didn't make it had the potential to be the quickest in the field including Bubba Medlyn, Brendan Cherry, Mark Sass and Paul Hamilton. The remaining eight were John Ricca in the VL, Alex Moshopoulos in the twin-turbo XY, Marcus Howe, Cory Read, Mark Whitla, Josh Grant, Jake Edwards and Harry Haig who few thought would make it to the finish.
John Ricca's RB30-powered VL BT1 was the first six-pot to run a seven at Drag Challenge, with a 7.91@171mph on Thursday at Swan Hill. For Friday he was planning on pushing 60psi boost through the 3.2-litre DOHC-headed RB, and ran 6.64@158mph in the 1000ft, finishing second in class, fifth Outright, and winning Quickest Six.
Jake Edwards managed to get his famous Torana to Calder after blowing one header apart at Swan Hill on Day Four. A 7.71@136mph in the 1000ft snared him the Quickest Holden trophy.
Marcus Howe's nitrous 434ci XW took home the Quickest Without Trailer trophy after stopping the clocks at 8.40@99mph in the 1000ft on Day Five.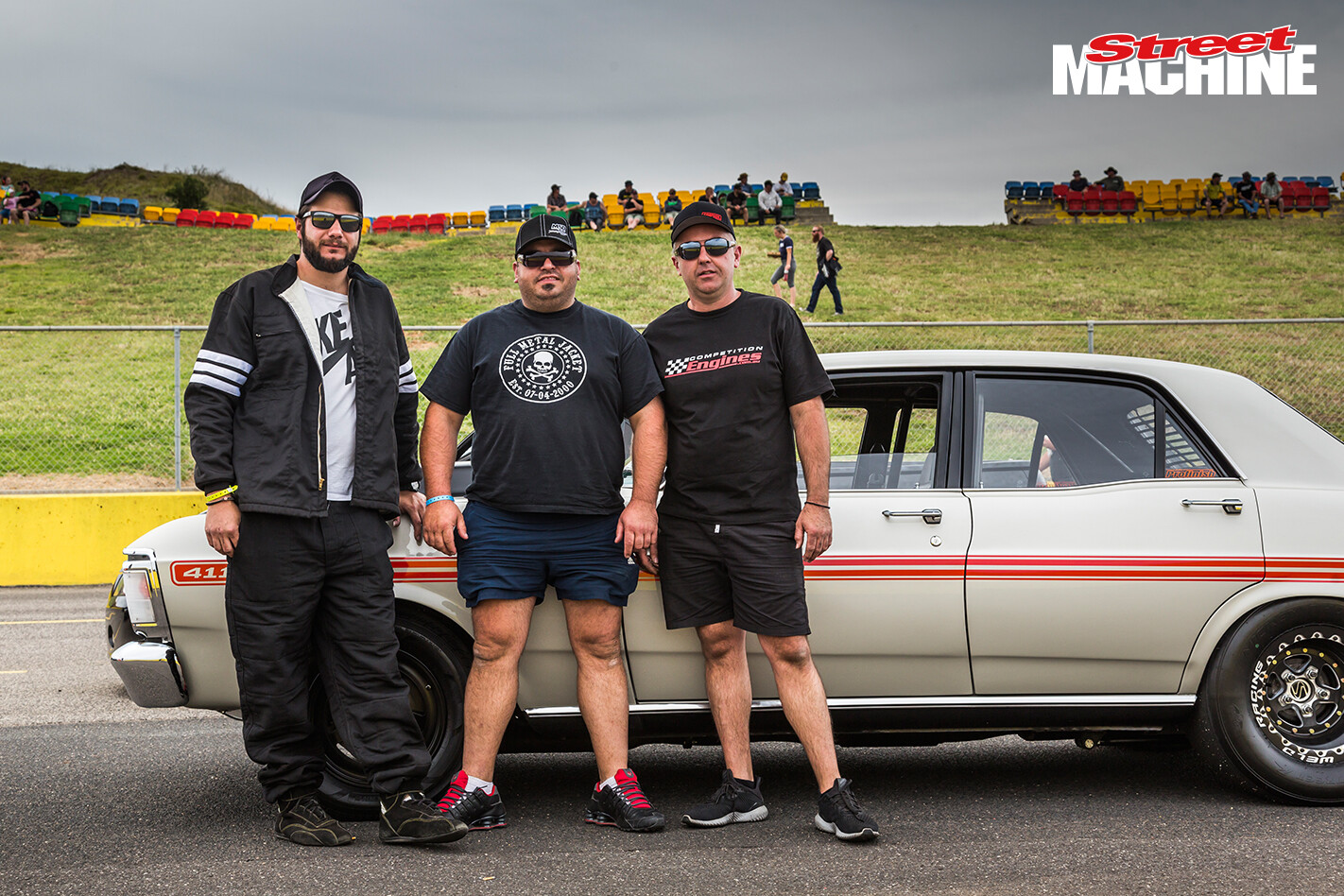 The twin-turbo 411ci XY Falcon of Alex Moshopoulos freight-trained a 6.77@155mph over 1000ft, and ran low eights in the quarter, finishing the week in 10th Outright. The super-tidy sedan ran hard all week and had very few dramas.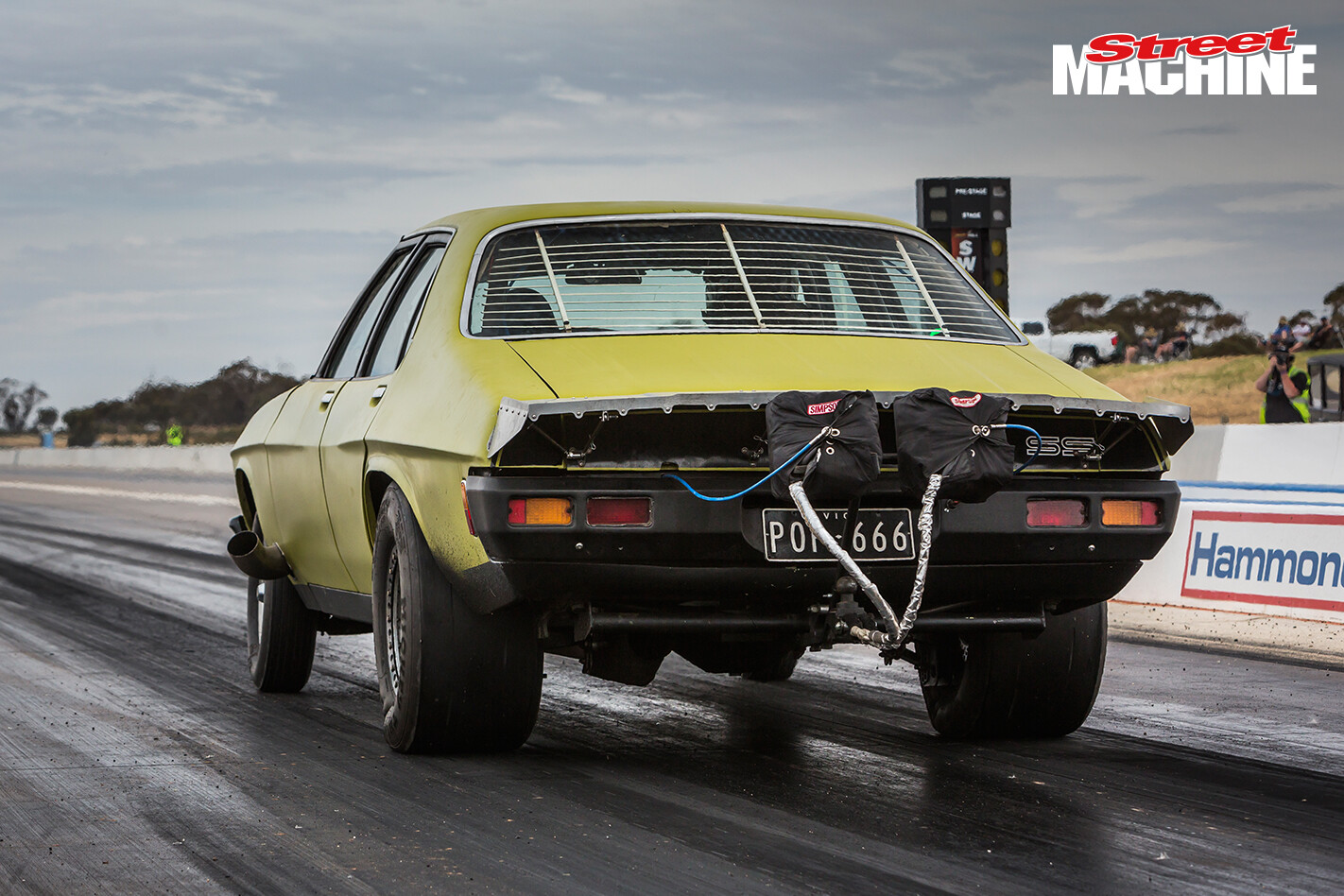 Harry Haig was one of the first in line at Calder Park on Friday, ready to let the big HQ bark. Only 0.02sec behind Frank Marchese for the Outright win coming into Day Five, Harry's best time on Calder's 1000ft surface of 6.49@171mph wasn't quite enough to get past Frank, though he still took out Turbosmart Outlaw Blown and Quickest Chev. Ever-ready with a sharp quote, on Thursday afternoon Harry had said: "My main goal for this week is to drive through the gates at Calder. After that, I don't really care!" Mission accomplished, and then some!
Turbosmart Outlaw Blown
Calder Park
Swan Hill
Mildura
Swan Hill
Calder Park
Combined
ET
ET
MPH
ET
MPH
ET
MPH
ET
MPH
ET
MPH
1.
Harry Haig
HQ Holden
6.496
170.64
7.698
182.85
5.183
145.45
7.5
174.89
6.497
171.99
33.374
2.
John Ricca
VL C'dore BT1
6.765
151.83
8.085
171.36
5.266
134.71
7.912
171.95
6.645
158.43
34.673
3.
Alex
Moshopolous
XY GT Falcon
8.131
146.43
8.79
135.86
5.566
128.84
8.481
158.45
6.774
155.61
37.742
4.
Marcus Howe
Ford Falcon
7.633
138.53
9.327
147.83
6.05
117.11
9.493
144.13
8.407
99.3
40.91
5.
Cory Read
Ford Falcon
8.335
127.22
9.812
139.36
6.266
110.73
9.704
138.71
8.146
128.22
42.263
6.
Joshua Grant
Commodore
8.317
136.79
9.987
134.24
6.348
109.14
9.827
134.97
8.454
123.63
42.933
7.
Mark Whitla
Ford Capri
8.711
115.66
10.143
129.38
6.457
104.41
9.984
135.37
8.015
127.69
43.31
8.
Jake Edwards
Holden Torana
8.304
146
9.514
146.15
5.909
118.54
11.921
72.92
7.718
136.04
43.366