THE trophy count at Street Machine Drag Challenge seems to grow every year and while we've already announced all the class winners, there are bunch of other categories who deserve their own 15minutes of fame. Check them out.
The Top Ten list was a white wash for the Holden crowd this year with not a single Ford or Mopar at the top of the table. The closest anyone came was Jason Ghiller in his Barra-powered XD Falcon in 11th place.
TOP TEN
1 Bubba Medlyn
2 Adam Rogash
3 Mark Drew
4 Terry Seng
5 Jarrod Wood
6 Brendan Cherry
7 Graeme Horner
8 Luke Grima
9 Luke Foley
10 Todd Foley
QUICKEST OF DRAG CHALLENGE
Jarrod Wood
The Quickest and Fastest awards went to the same car this year, and that hasn't usually been the case, but once Jarrod Wood started to get a handle on his new 600ci Holden tonner the beast reeled off a 7.71@184mph to be the quickest and fastest car to ever complete Drag Challenge.
FASTEST MPH OF DRAG CHALLENGE
Jarrod Wood
QUICKEST WITHOUT TRAILER
Todd Foley
Drag Challenge is hard; doing it without towing a trailer full of spare, fuel and tyres is even harder but Todd Foley ran low nines all week, and even dipped into the eights, with his supercharged VH Commodore sedan.
QUICKEST SIX
Jason Ghiller
We had a few very quick sixes at Drag Challenge this year but not all of them made it to the end, which is what the event is all about. Jason Ghiller has no such trouble and ran 9.04 at over 150mph.
QUICKEST FOUR
Ben Kadel
We didn't have many four pots this year but Ben Kadel's was definitely the quickest with a best of 12.68@111mph
QUICKEST STICK SHIFT
Kim Smith
Manual transmissions are few and far between at the drag strip these days but Kim Smith rowed through the gears in her six-speed supercharged Maloo ute to a best of 11.9
QUICKEST HOLDEN
Bubba Medlyn
To win the quickest brand award you needed to have a car powered by that type of motor and we decided to base it off the overall finishing results this year. Last year we based it on the best individual day's performance, but it is a week-long event so it makes sense to use the week's result to decide the winners. We'll be sticking with that from now on.
QUICKEST FORD
Jason Ghiller
QUICKEST MOPAR
Jon Mitchell
QUICKEST CHEV
Jarrod Wood
QUICKEST LS-POWERED
Adam Rogash
The distance awards needed to be qualified last year because some people were sending their cars over separately while others drove their rides all the way. Both options take amazing commitment so we decided to award them both separately.
LONGEST DISTANCE TRAVELLED
Jay Jefferies – Perth, WA
LONGEST DISTANCE DRIVEN
Josh Grant – Kalgoorlie, WA
HARD LUCK AWARD
Scott Levy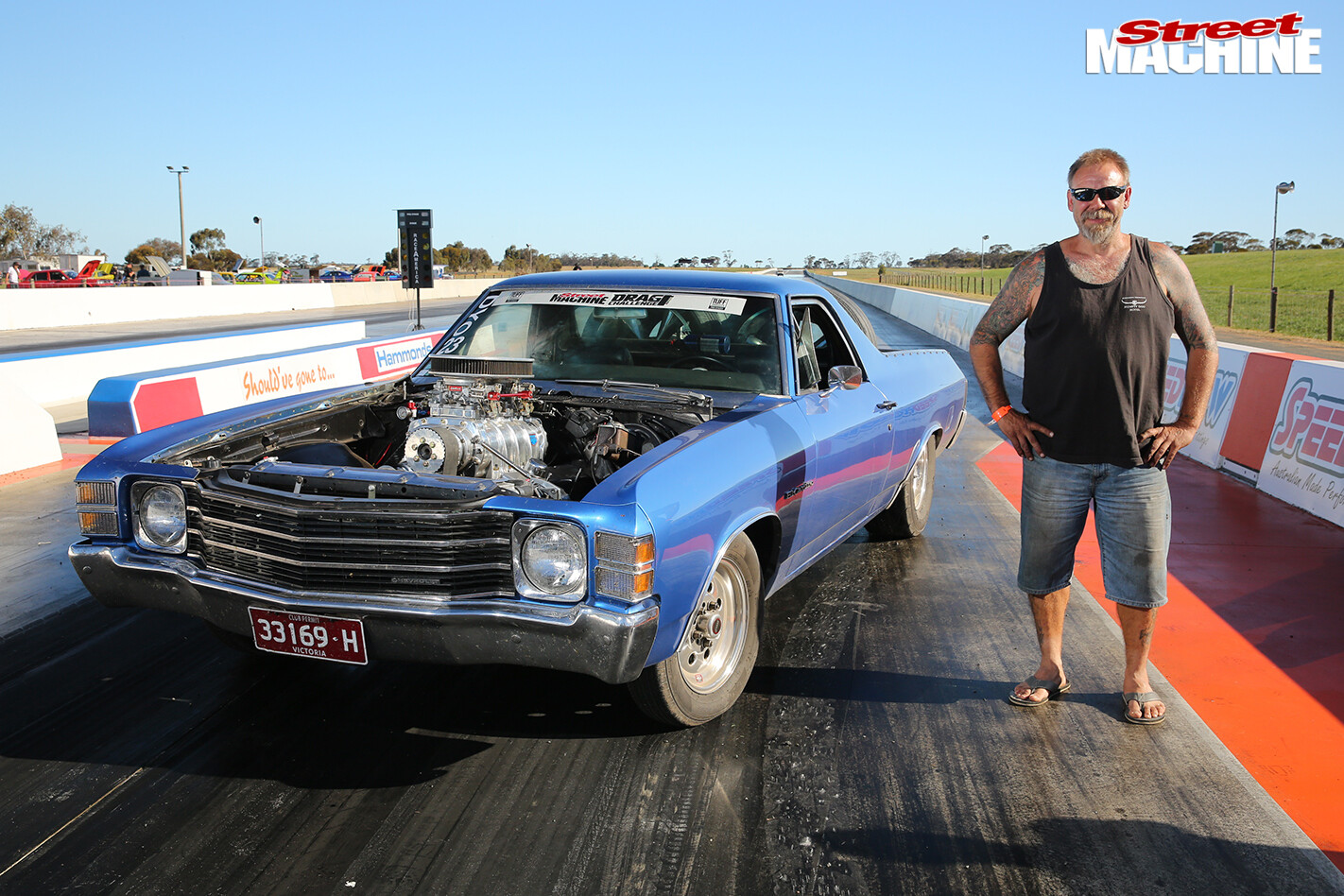 The Hard Luck Award could have gone to any of a dozen people, but how about the guys who went to the trouble of getting a whole new motor shipped in to only have that blow up too. The Hard Luck Award seems like a small consolation prize.
SPIRIT OF DRAG CHALLENGE
Harry Haig
Spirit of Drag Challenge can go several ways. Sometimes we've awarded it to the person who goes out of his way to help others finish, but other times it's the team who pull out all stops to make it to the end. Generally these people have no sleep, empty bank balances and huge grins at the end of the week. Harry Haig and his team gave it their absolute all, but a cracked oil pump killed the engine just 30 minutes from Calder Park on day five. So close!