LATELY there has been a battle between two Sydney workshops fighting to have the first street-driven Skyline GT-R into the six-second zone across the quarter-mile. Croydon Racing Developments and Maatouks Racing have each been chipping away, resetting the record again and again with their respective cars – CRD's JUN II and Maatouks' KING 32.
Last year the battle really heated up, with both cars running deep into the seven-second zone. Robert Marjan's JUN II ran 7.28@189mph, and just a few weeks later Anthony Maatouk went 7.007@199mph in KING 32. Since then Maatouks has been racing its 32 GT-R race car, METRO, which has run 6.93@203mph.
This year the Croydon Racing Developments boys have been refining JUN II with the aim of being the first street-driven Skyline GT-R into the sixes. A few weeks ago they ran 7.10@201mph down Sydney Dragway on a test pass, which made JUN II the first street GT-R to hit 200mph, but they wanted that six.
Eight-second R35 Nissan GT-R – Video
Yesterday during a private test day, Robert Marjan and the CRD guys reset the record for the world's quickest Skyline GT-R and finally got that six-second timeslip, running 6.97@202mph! And before all the keyboard warriors claim that it's not a street car, Robert drove it home from the track after running the six!
There might still be more left in the tank too. On the six-second pass the GT-R ran a 1.18 60-foot time, but it has gone 1.16 before.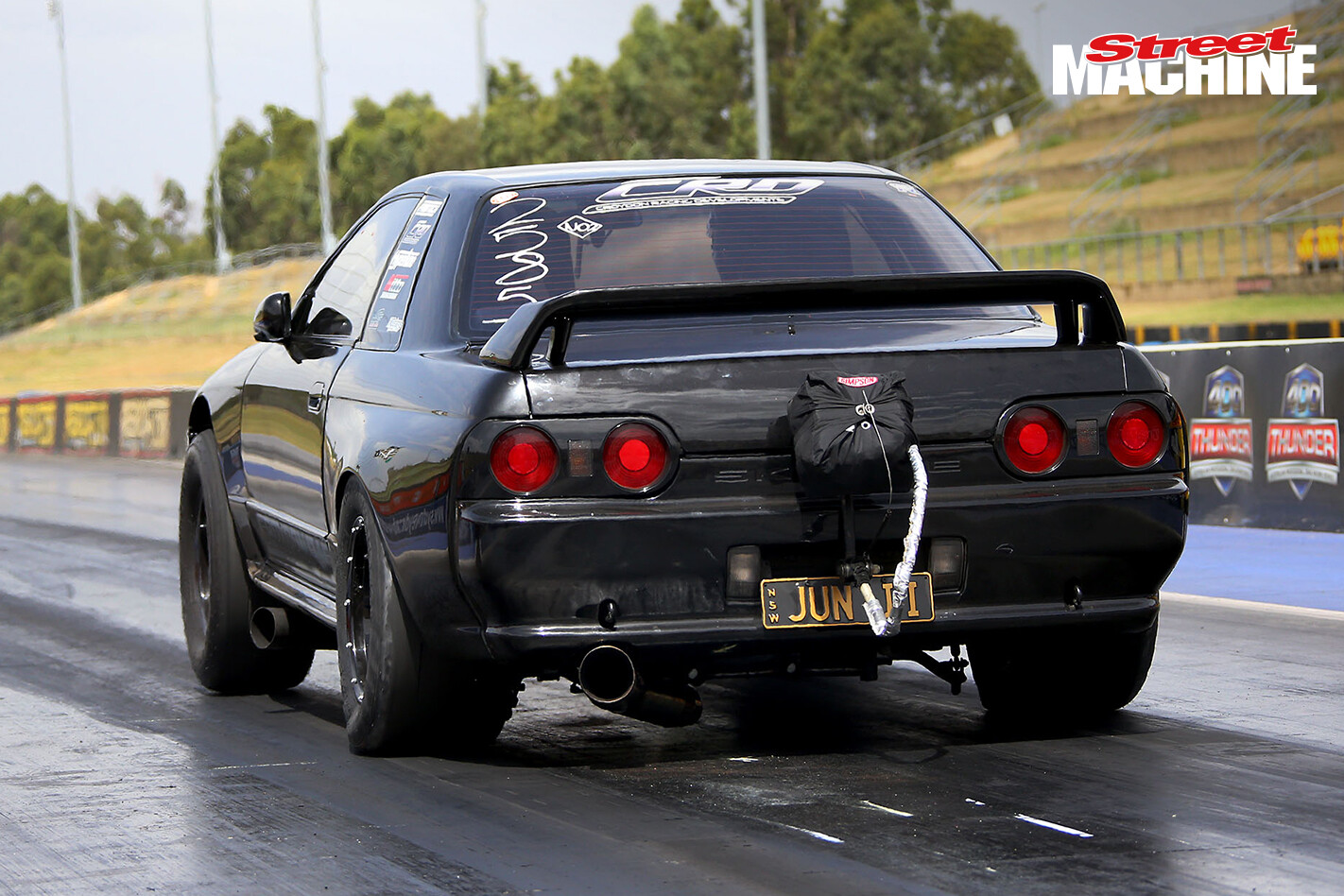 JUN II runs a billet-alloy RB30 block from Bullet Race Engineering in South Australia with all the Nitto 3.2-litre stroker gear. It's boosted by a big Precision Promod 94mm turbo and runs a Hypertune twelve injector intake manifold. On 63psi with a small Nitrous shot it makes around 1800hp at all four wheels through a three-speed TH400 and beefed-up GT-R all-wheel-drive system with a nine-inch IRS rear-end. The whole deal is controlled through a Croydon Racing Developments-specific MoTeC M150 Drag Package ECU.
The body is all factory Nissan – swap the drag radials for street wheels and tyres and you'd never know it was a six-second car.
No doubt the guys from Maatouks Racing are planning a comeback with KING 32 to try and reclaim the record. The Skyline GT-R battle has only just begun!