AT STREET MACHINE Drag Challenge 2016, Paul Hamilton's monstrous 598ci XA Fairmont was put out of contention on Day One with a dud roller lifter. But Paul vowed he'd be back at DC in 2017, and suggested that he might just add a pair of turbos to his big-block in the hope of making it more streetable while also producing even more grunt.
And here it is! It's the same basic IDT big-block Ford, but now equipped with twin turbos and a host of other supporting upgrades that have seen this combo making north of 2000hp.
Paul enlisted the help of Zoran and Bobby from Competition Engines, who have gone right through the car from the engine to the rear end. The boys have sorted out a new Powerglide trans and nine-inch diff, and strengthened the body, but the main focus has been the hunt for more grunt and, more importantly, reliability.
"I 100 per cent went twin turbos for reliability," Paul says. "The old motor had a big aggressive cam and did a lot of revs, and it just wasn't reliable – I smashed two cams with it and it was constantly hurting valvetrain components. I still wanted to run a decent number, but it had to be reliable, so now the turbos are doing all the work."
Starting with the bottom end, Paul's original billet Scat 4.5-inch-stroke crank and Oliver rods were retained, but teamed with new custom JE pistons, taking compression down from roughly 14:1 to a more boost-friendly 9:1. To fit the new pistons, the bore size of the IDT Eliminator block was increased from 4.600 to 4.610, so cubes have risen slightly from 598 to 601ci.
A more sensible custom solid-roller camshaft was ground up by Comp Cams, who also supplied double valve springs and titanium retainers. Combined with a larger lifter, titanium inlet valves, Inconel exhaust valves, Jesel rocker gear and bigger pushrods, the whole combo puts far less stress on the valvetrain, so it's less likely to have issues with lifters than it did before.
"We had Comp Cams grind us up a custom camshaft that is going to make 2000+hp, but it's not opening and closing the valve really fast so you don't have to run a lot of spring pressure," says Zoran of Competition Engines. "The whole top end is lighter, which puts less stress on everything."
Paul's original A460 Ford Motorsport cylinder heads were retained, although they've been ported to make them more amenable to boost. The heads were also port-matched to the original intake manifold, which was in turn port-matched to a Wilson elbow and throttlebody – all done in-house at Competition Engines.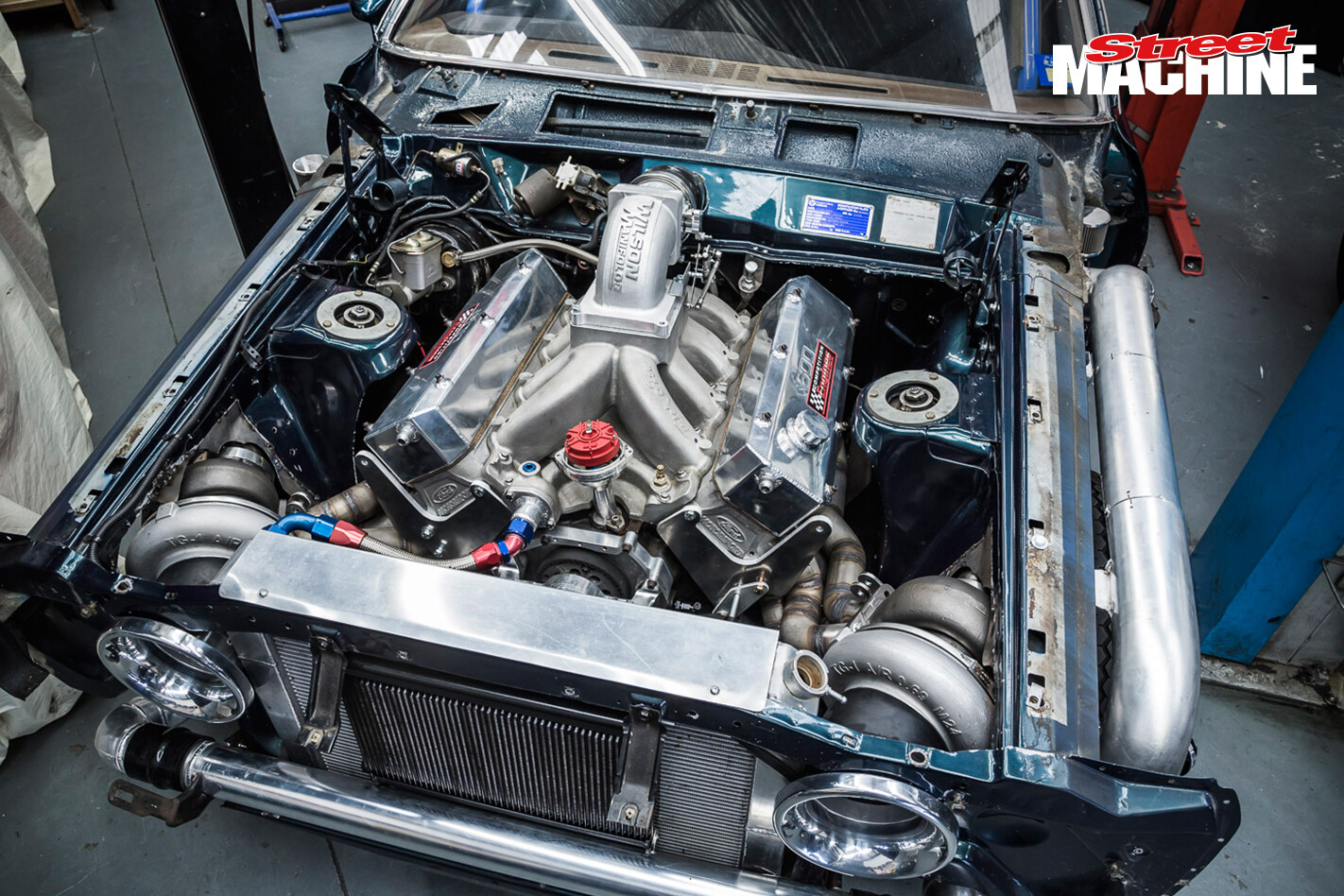 When you see this monster engine out of the car, it's hard to believe it all fits, but the trick four-inch intercooler piping and dump pipes that run under the front guards allow it all to work – and well. "The minimum boost we can run is 5lb, so that tells us we've designed all of our piping well," Zoran says. "Sometimes if your piping isn't right it's hard to control boost low down and you end up with 10lb minimum, which you can't use."
The turbos are twin Garrett GTX45s with 80mm wheels, mounted behind the headlights. To help control the boost there's a pair of Turbosmart 60mm Pro Gates and twin Race Port blow-off valves on the other end. The set-up runs a Precision water-to-air intercooler mounted under the dash, and when it's all in the car there's minimal piping to see.
A Haltech Elite 2500 ECU controls eight 2400cc Siemens fuel injectors, which flow either pump 98-octane petrol or VP Racing Fuels NO2. With the injectors already at roughly at 60 per cent, the set-up hasn't been designed for the higher fuel demands of running E85 juice.
"We wanted to keep it street-friendly, and going to E85 would have meant running two sets of injectors and potentially going to an injector that may not be as reliable," Zoran explains. "With the water-to-air 'cooler our intake temps are 40 degrees even with 30-degree ambient temps, and we're making more power than we think the car is going to be able to use, so there's just no need to go to E85.
"Ninety percent of the time it'll run on 98-octane petrol, making 1750hp on 17lb boost, which should be plenty to run the numbers that Paul wants out of it," Zoran continues. "When he's ready we can put race fuel in it, and it'll make 2100hp on 25lb. Even at that it's still sleeping – there's more in it."
Paul can't wait to put the car to the test on Drag Challenge 2017. "Last year I was very prepared for Drag Challenge and lasted one day; this year I want to make it through the whole thing, and we're confident we will," he says. "If it ran a low-to-mid eight-second pass, I'd be over the moon."