A look under the hood of the bold and the beautiful
This article was originally published in the January 2017 issue of Street Machine.
Most of us have some particularly fruity swear words in our vocabulary, but when you're talking horsepower there's one four-letter word guaranteed to drop jaws: Hemi. Yep, it's that monster of the street and strip, which commands respect regardless of your brand allegiance. Not only is the Hemi's track record the stuff of legend, but these donks have a physical presence that will guarantee 'oohs' and 'aahs', thanks in part to those whopping tappet covers with the only plug-lead placement in history that makes me happy in the pants.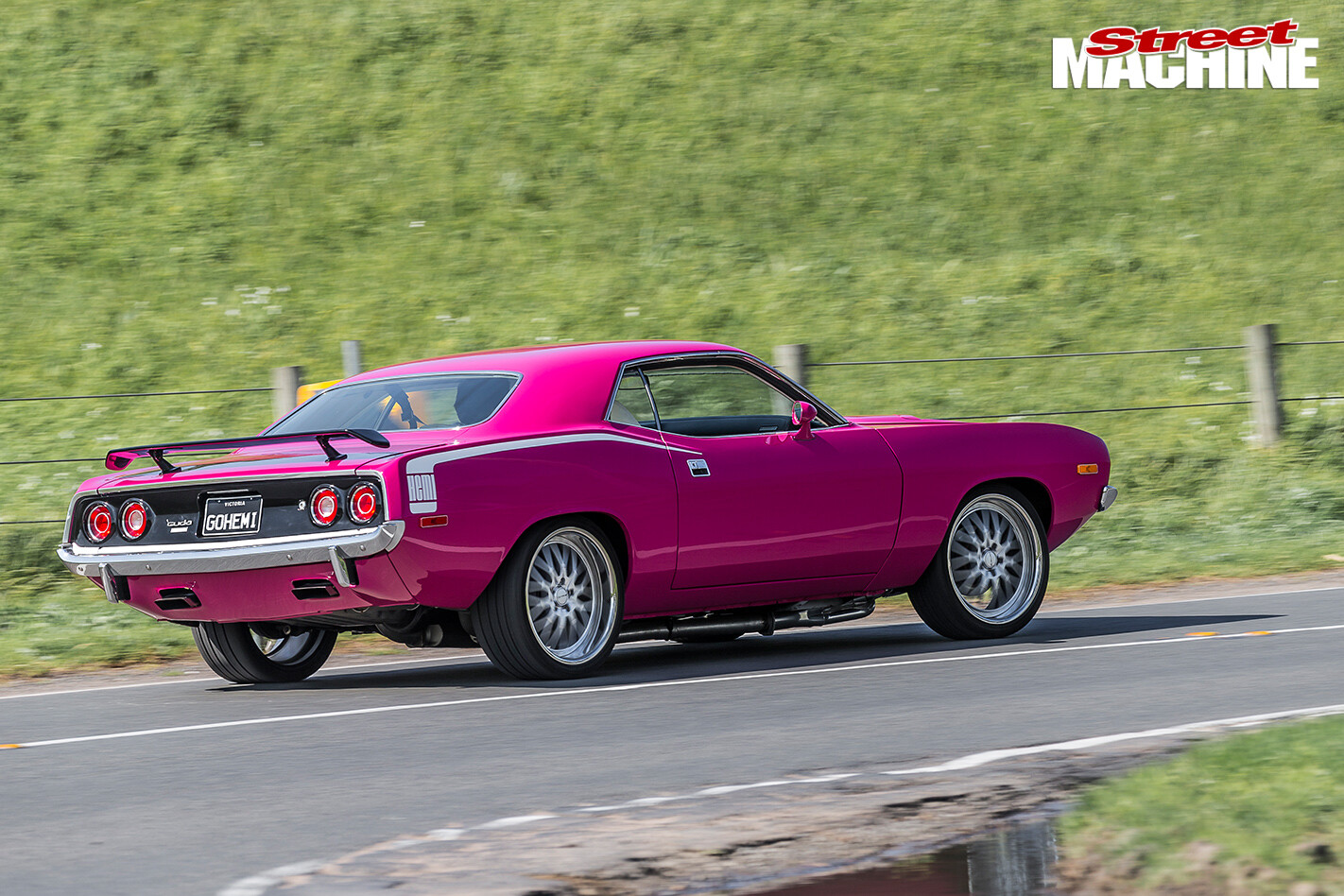 We all know that power-to-weight is key when it comes to an overall performance package, so how do you best tackle that with a heavier car – an E-body Mopar, for example? Head on, with a mega-cubed Hemi of course!
That was Peter Mikelat's theory when starting the build of his latest Yankee muscle project, a factory Panther Pink '72 'Cuda.
"I always wanted a pink car," Peter says. "I love colour. It's everywhere in my life and Chrysler in the late 60s and early 70s knew where it was at with paint options. It was like they turned the taste knob right up then snapped it off.
"I'd been chasing this particular 'Cuda for a couple of years with no luck, so settled on a brown '74 'Cuda to 'pink up' instead. But of course, as it happens, this pink '72 came up for sale a fortnight later, so I grabbed it too."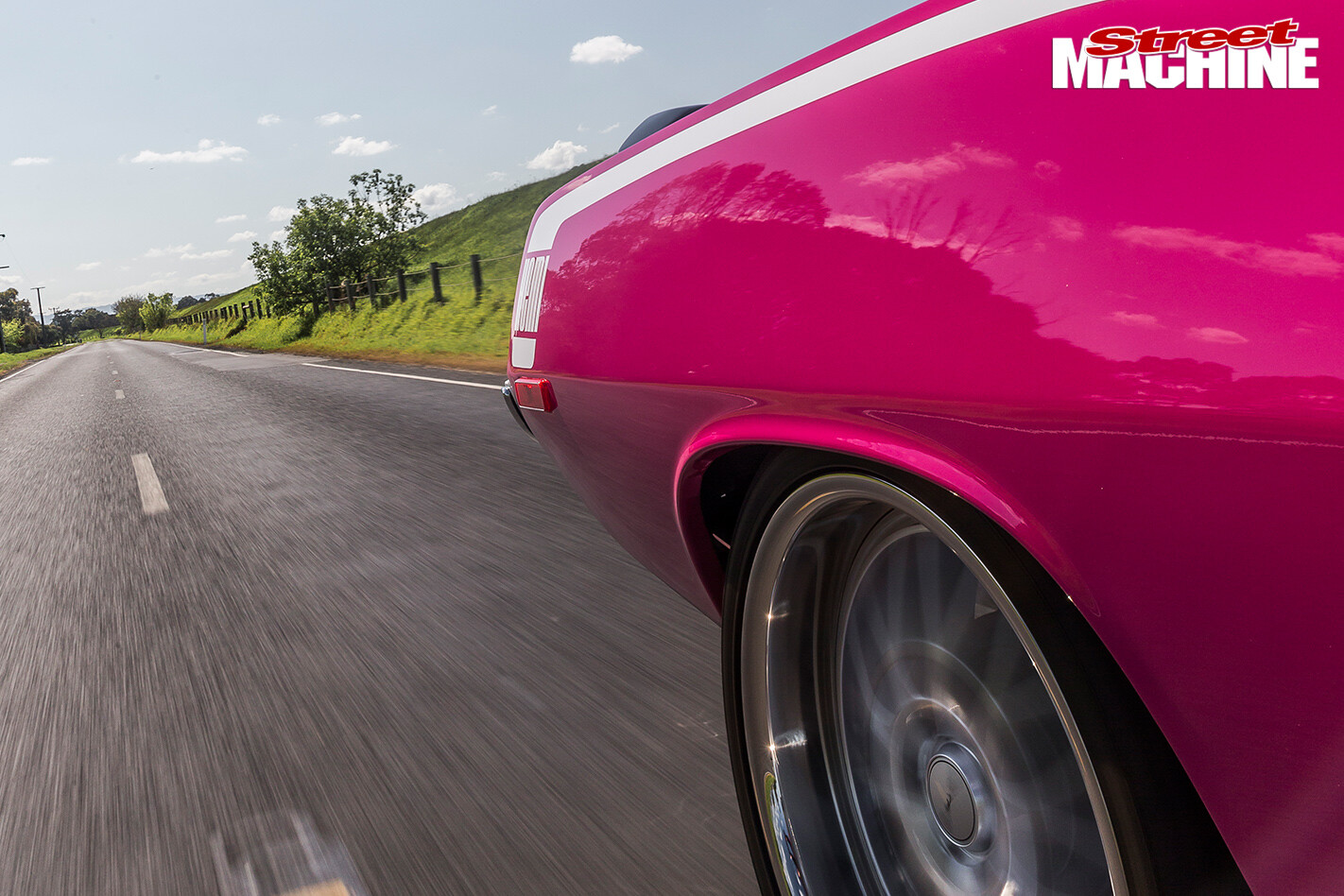 Starting with a car that was already the right colour – with an allegedly fresh paintjob at that – would undoubtedly save time, so it seemed that Peter had made the right choice.
"You would think so, wouldn't you?" he laughs. "But I bought the '72 sight-unseen, and we all know how that usually turns out. It looked like it had been painted with a roller and there was plenty of underlying rust."
Not one to cry over spilt milk, Peter, along with good mate and Pro Race Engines guru Con Sagiaris (check out his VG hardtop in SM, May '15), stripped the 'Cuda bare and sent it straight for panel and paint. The body was subjected to multiple repairs before being lathered in fresh coats of Panther Pink from the Dodge charts. "It's the identical colour to the Plymouth hue, but Plymouth named it Moulin Rouge; I find calling it that just confuses people," Peter says.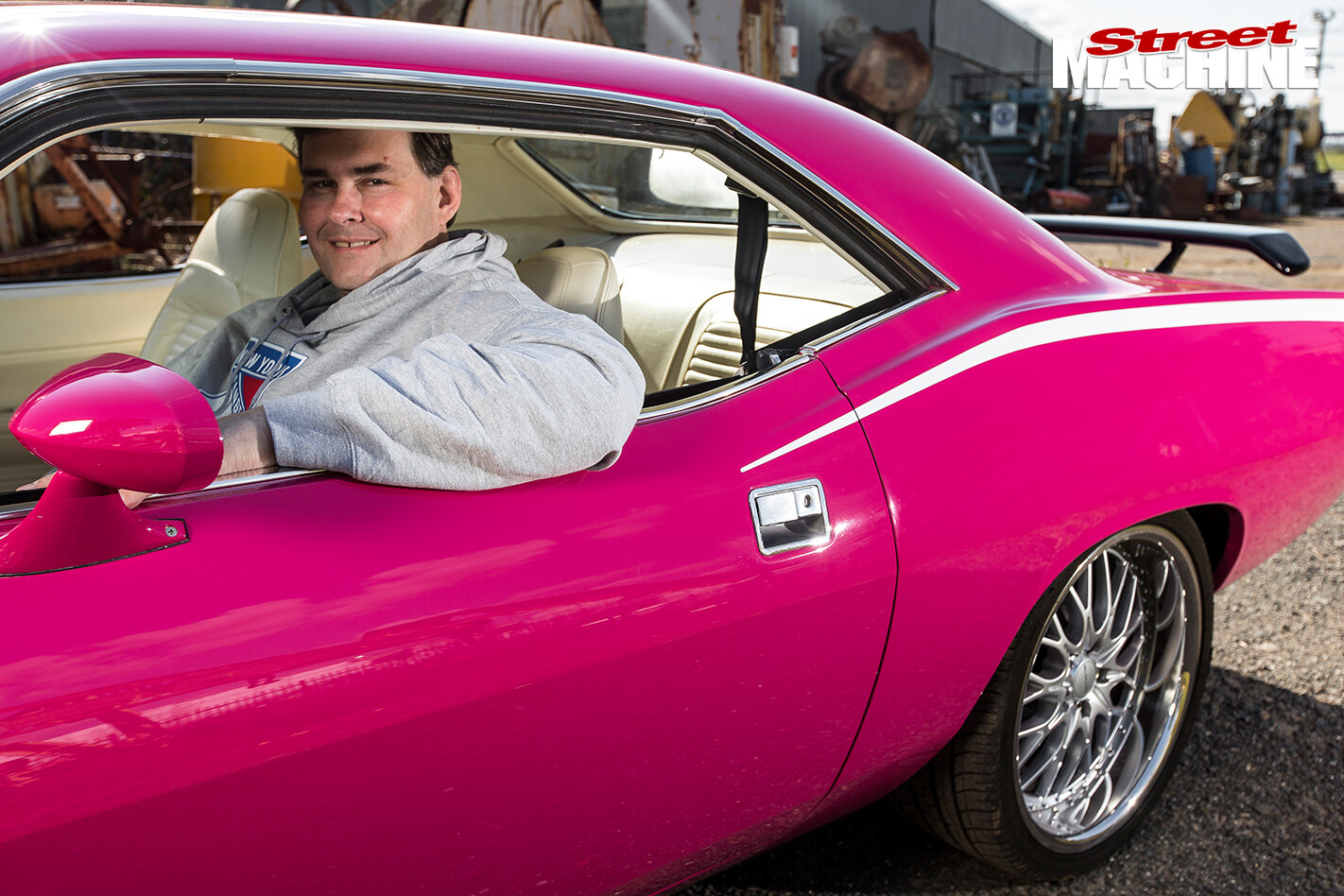 "Unfortunately there have been ongoing issues with poor prep and blistering. It has already had its second respray in 12 months, with a third to come; best we just leave it at that to keep me calm!"
Peter prefers the single-headlight '70 'Cuda grille treatment, which was fitted along with era-correct white Hemi hockeystick stripes and a 'Go-Wing' – how cool is that for the name of a spoiler?
The brown '74 was raided for its Legendary Auto Interiors white trim, while a Billet Specialties wheel, Kenwood speakers and a pair of aftermarket gauges are the only modern inclusions.
In August 2015, with the project mid-build and ticking along nicely, Peter was hit with some devastating news: "I was diagnosed with a brain tumour that required immediate treatment. The surgery and down-time for recovery put me out of action, so Con stepped up and basically project-managed the rest of the build."
Con was well into weaving his magic with the assembly of a 528-cube Hemi, filling a Mopar Performance-sourced World block with a 4.5-inch stroker MP crank connected to Eagle rods and Ross pistons. Comp supplied its largest available hydraulic camshaft, selected for Peter's love of ample grunt matched with low maintenance and reliability. Mopar Performance alloy heads house Manley valves and Edelbrock springs.
An 850cfm Quick Fuel carb sits atop a low-rise Mopar Performance dual-plane intake to help keep the hulking donk under bonnet. This combination produced a healthy 651hp and 644ft-lb on the engine dyno, which more than satisfies the 'Cuda's tyre-torturing requirements.
A whopping Race Radiators aluminium item and dual Spal thermo fans keep temps nice and cool, while a mix of an ICE ignition unit and Accel distributor fire the copious litres of PULP 98 required to feed the beast. Whopping 2.25-inch primary Hooker headers were a challenge to fit, and connect to a twin three-inch system exiting via signature 'Cuda rectangular tips.
A 727 Torquelfite transmission was rebuilt with a Stage 2 shift kit and 3000 stall; an 8¾-inch Dodge diff running a Truetrac centre and 3.55 gears rounds out the all-Chrysler driveline.
The factory torsion-bar front suspension and leaf-spring rear were retained, but rebuilt with a two-inch drop, while 20×8 and 20×9 Octane rims were fitted with 245/35 and 275/35 rubber respectively.
With Peter thankfully in remission and looking forward to his next challenge, there are plenty of projects to choose from. "I can't help myself," he laughs. "I keep buying cars and have a pretty eclectic collection of US muscle, including a number of Mopars, Pontiac Firebirds and Trans Ams, as well as a Corvette and Rambler/AMC products. I like a mix of mainstream and 'weird' models, and am currently on the lookout for a Gremlin [think Wayne's World – Ed.]. I even just bought my first Ford! It's a '72 Gran Torino, so that's yet another mouth to feed. I'm nearly at the end of my bucket list, but will be busy for a while yet!"
Even with a generous 'Cuda engine bay to play with, fitting the Hemi donk still took plenty of work: "It wouldn't fit. I had to buy a smaller booster and we had to modify the massive 2.25in primary headers, which are still a bit tight," Peter says. But with nary a fenderwell to be seen and a massive Race Radiators alloy job handling the cooling, Peter and Con managed to keep the factory 'street muscle' feel and manners intact. "It's such a trouble-free and reliable car; it fires first shot, drives really well and doesn't get hot. What more do you want?"
Pop! The Legendary Auto Interiors white trim kit is a perfectly fresh accompaniment for the pink exterior, and replaces the factory black. A Billet Specialties 15.5in split-spoke steering wheel and modern stereo are the most prominent deviations from stock
These 'Cudas cut a wicked profile and are one of the most beautiful designs to have rolled out of Detroit; they were also one of the last Chrysler-based products to incorporate the rear-quarter 'Coke-bottle hip' pressing. Sadly, a conservative push by manufacturers and the resultant design soft-on, which lingered from the mid-70s until only recently, has left a serious void when it comes to sourcing good project fodder from those intervening decades