With a big-block up front and a bottle of nitrous in the boot, Vito De Francesco's Ford Fairlane is a luxury barge that's built for speed
This article on Vito's Fairlane was originally published in the November 2015 issue of Street Machine magazine
THERE wouldn't be too many people crazy enough to stick a big block in a big ol' luxury Ford. Vito De Francesco isn't big on convention though. A panel beater by trade, he smooths concrete for a living instead because he can't stand working inside. He's also got a lot of good mates down Geelong way and they do some pretty crazy things with cars.
This car was actually meant to be an HSV ClubSport. At least that's what Vito went to buy when he made the trip to a local car dealer at the ripe old age of 19. His mate suggested the near-new Fairlane was a better bet. "I listen to stupid ideas," Vito says. "The ClubSport was next to the Fairlane and my mate goes: 'You should buy this, drop it on its balls and black the windows. It'll be gangster!' And I went: 'Y'know what, let's do it for shits and giggles!'"
Believe it or not, the full-on conversion to big-block power began as a simple starter motor replacement. "It started out as a joke," Vito says. "I blew the starter motor and it sat there for two years. So I thought: 'Stuff it, it's time for it to go. Let's change the starter motor.' I took it around to Tim 'Creep' Holmyard's joint and all of a sudden it's got a big-block in there." Far be it from me to say that Vito is easily influenced, but there's a definite pattern emerging here!
According to Vito the conversion wasn't particularly difficult. Most of the parts are off-the-shelf. "[The big-block] fitted in there better than the original motor," Vito says. "Three days and we had it in there, and that includes making engine mounts, transmission mounts, everything. It was really easy."
The project then went on for another 18 months while Tim built the powerhouse engine and Vito allowed his wife to assume that the vehicle was actually gone. When it made a re-appearance more than a year and a half later, she was less than impressed. "She thought I got rid of the car," Vito says. "I drove it in the driveway and she goes: 'Have you still got that car?' And I went: 'Yeah, it's just a little bit faster now!'" Vito's wife's attitude has mellowed with time though. "As long as it makes me happy, she's cool," he says.
The big-block Ford is a 545ci monster running a set of Kaase P-51 heads, an Edelbrock Performer inlet manifold and a 1250 Dominator carby under the reverse-cowl hood. A Scat crankshaft spins in Clevite bearings and works a set of Diamond pistons with Total Seal rings attached to Scat H-beam conrods.
There's a Canton sump down below and lubrication duties are handled by a Kaase pump. The bumpstick is an HRE Custom unit, with a set of Competition lifters and Manton pushrods opening the Ferrea valves, which run PAC triple springs. Spark is provided by an MSD dizzy.
The monster motor has been tested on a chassis dyno and is good for 961 horses at the wheels, with help from the Wilson direct-port 200-shot nitrous kit.
Vito's been running the car at Heathcote since he became persona non grata at Calder Park. "I took it to Calder once and got kicked out because I went too fast," he says. "The guy goes: 'Mate, obviously this car goes a lot quicker than the 10.7 you're supposed to be doing, when you're standing on the brake at half-track.' And I went: 'Yeah, all right, you got me.'" The Fairlane has so far run a best of [email protected]. That's getting pretty quick, so a rollcage and a 'chute are on the agenda before Vito sees any more track time.
The big luxury barge runs on E85 fuel pumped by an Edelbrock unit and stored in a sunken fuel cell out back. Cooling duties are handled by a PWR radiator and the spent gases exit via a custom exhaust.
Cogs are swapped with a Powerglide slush box running a TCE converter, and power gets to the rear wheels through a three-inch tailshaft running a 1350-series Strange yoke and universal joints. There's a full-floating nine-inch out back with 35-spline axles and a Truetrac centre. It's mounted by a custom four-link set-up engineered by Geelong Diffs and suspended via a set of QA1 adjustable coil-overs.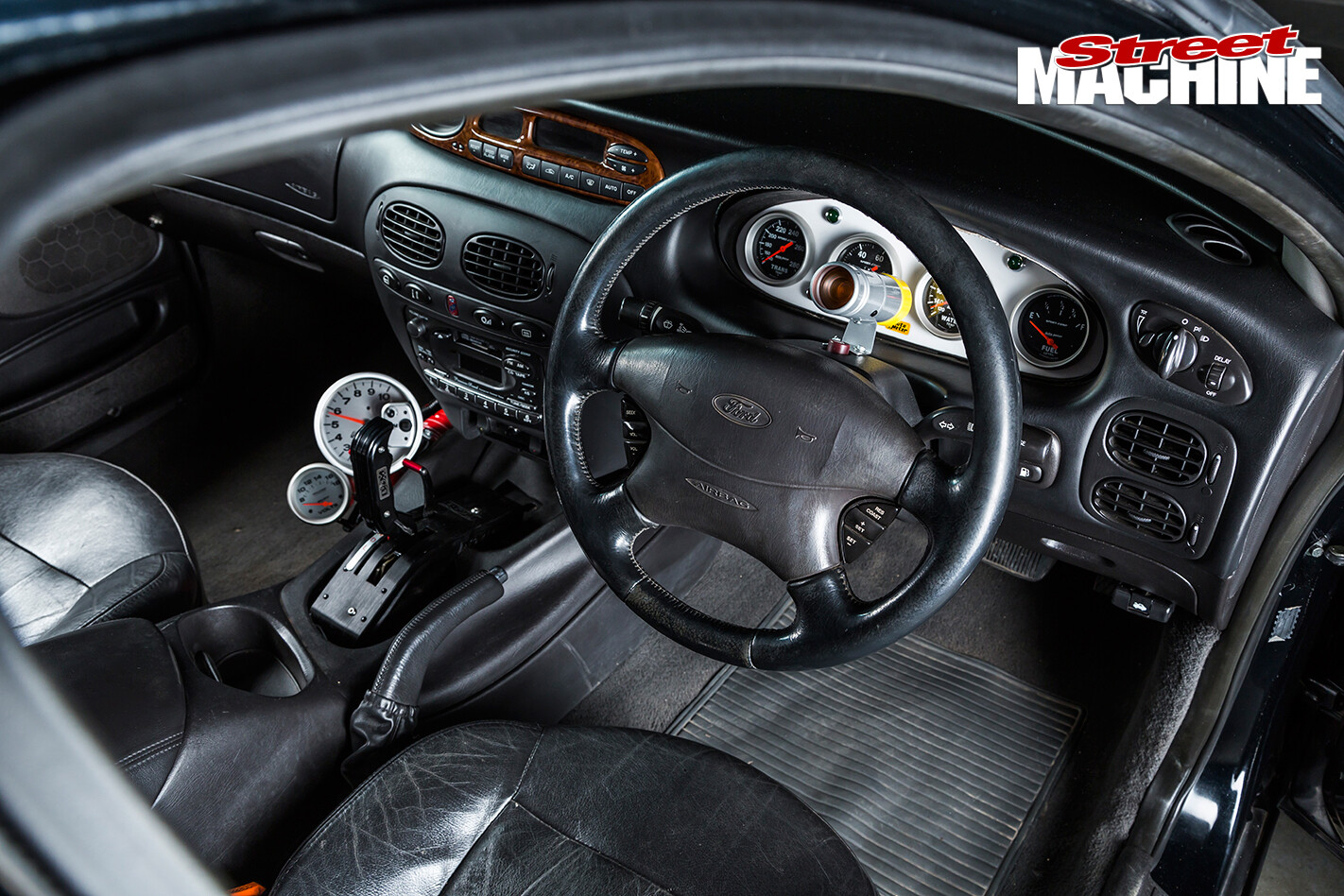 Up front are stocky six-cylinder springs with Koni 90/10 shockers. Brakes and steering were more than adequate from the factory, so Vito left those alone.
Wheels are Center Line Convo Pros for street duties, running 165/80R15 M/Ts on the front and 295/50R15 Sumitomo rubber at the business end.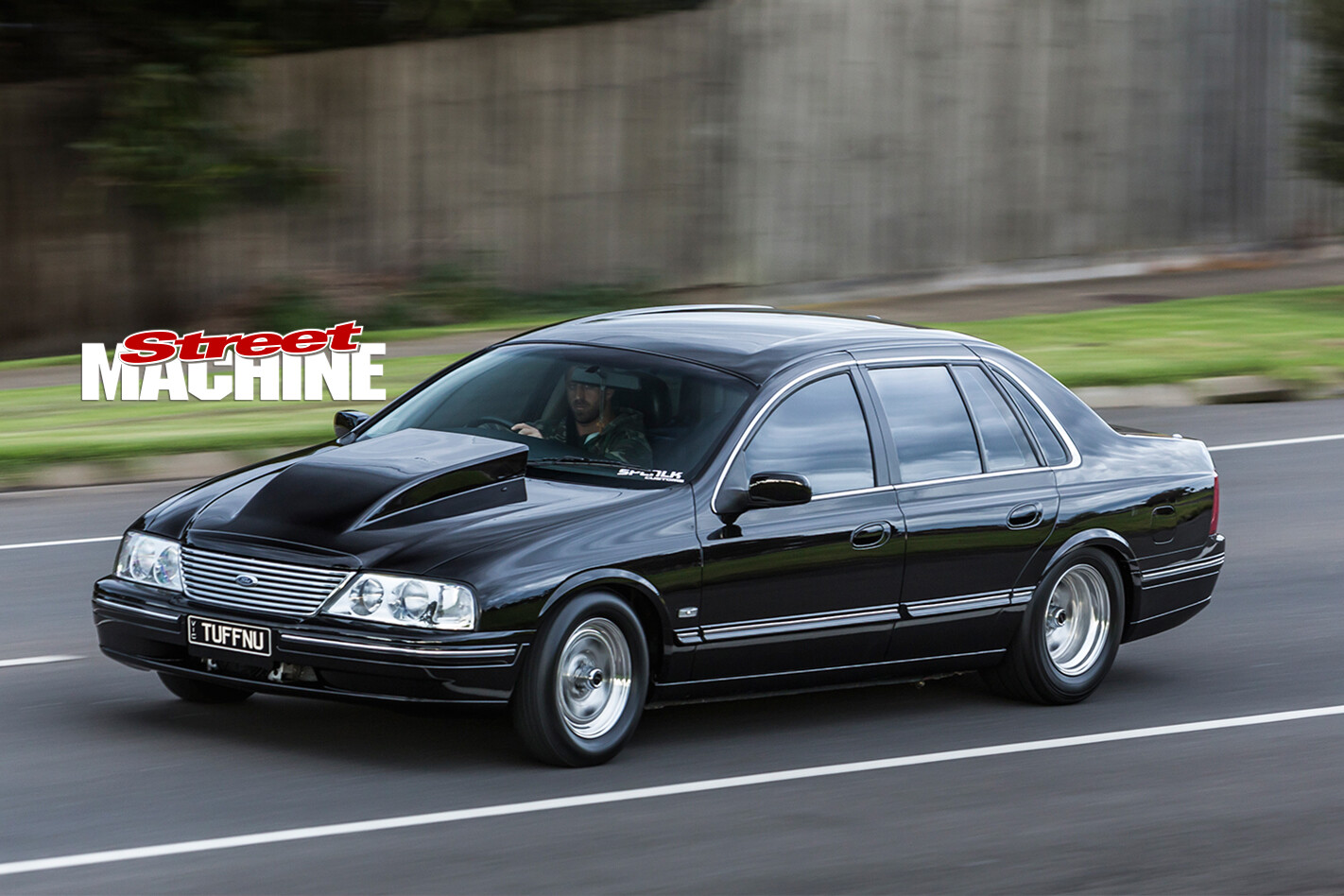 Vito's mate Carl works at Fyans Street Panels and he handled the painting duties. Vito thought it was going to be a straight respray in the original colour, but Carl had other ideas. "I don't even know the colour of the paint," Vito says. "It's black, but it's a custom cherry black.
"When it came out I went: 'That's got red pearl in it,' and Carl goes: 'Do you like it?' Stiff shit if I didn't," Vito laughs.
Vito has another project waiting in the wings – a '67 XR Falcon that'll sport turbo power. We can't wait to see what he – and his talented and persuasive mates – come up with.