POMGOLIAN Steve Neimantas started drag racing back in 1987, his car back then a 1969 Plymouth GTX. He's run the quarter-mile pretty much every year since, and his list of race cars reads like the ultimate dream.
garage: 1964½ Mustang convertible; 1970 Plymouth Duster; 1969 Plymouth GTX; Triumph Vitesse convertible (okay, not everyone's idea of a dream) with a 440ci Chrysler donk (better); 1966 Dodge Charger; 1934 Ford; 1970 Dodge Challenger; and an Aston Martin Vantage (527ci Mopar, 14/71 blower, tube frame). All Steve's cars have one very important thing in common – they have all been street-legal. Clearly UK laws are a tad more lenient than Oz!
I first met Steve in 1992. I'd landed a job with Street Machine (UK) and the editor sent me back to my hometown to write a story on Steve's 1934 coupe. Over the years we stayed in touch, drinking the occasional beer and talking cars. And then a few years ago the rumours started, which, even after the Aston Martin, seemed hard to believe. But they persisted, until one day I picked up the phone and asked if they were true. Steve, in typical understated style, confirmed the rumours – he was building a big-block twin-turbo Bentley Continental GT that would be good for 3000hp at the flywheel.
Back in 2013, Steve was at a crossroads. His love affair with drag racing was under pressure and he was thinking of selling his beloved Aston Martin Vantage and kicking his quarter-mile addiction. But not without one last run. And so he loaded up the Vantage and headed to the Mopar Nationals at Santa Pod, Bedfordshire. That weekend the Aston ran nowhere near its best (8.60@160mph on street tyres, 7.70@177mph on slicks), but it didn't matter to Steve, who had rediscovered his drag-racing mojo. Now he wanted to push into the sixes, and to do that, the Aston would need a rebuild.
Rather than totally rebuilding the Vantage, Steve decided to start from scratch. First of all, the new car had to be street-legal, and it had to be British. The choice quickly boiled down to either an Aston Martin DB9 or a Bentley Continental GT. And Steve already owned one Aston Martin drag car.
"I searched breaker's yards for a Continental GT bodyshell, but they were all too badly damaged," Steve says. "So I decided I might as well buy a complete car."
The complete car in question soon appeared on eBay. So the deal was done and the £500 deposit was paid online, the rest in cash. With that, Steve and his mates headed 100km west to Liverpool with a gym bag full of cash.
For the most part Liverpool is a wonderful city, but it has its more challenging neighbourhoods. And it was to just such a neighbourhood the lads were headed. "As we got closer, buildings got rougher and rougher. Definitely not a Bentley area," Steve remembers. "Then we saw the Continental GT parked in a front garden, blocked in by two old 4x4s."
Despite Steve's misgivings, it was the car's owner who ended up with more questions than answers. Steve: "He asked me if I would like a test drive, but I said: 'No, I'm going to chop it up as soon as I get it home.'" Money and documents changed hands and Steve drove his Bentley back home.
From the moment Steve decided to build a new car he had a very clear idea that it would be street-legal, and that it wouldn't be covered in big wings and snorkel scoops. It had to look as close to a standard Bentley as 3000hp would allow.
And so, as promised in Liverpool, the car was stripped immediately. What wasn't needed was sold, the sale recouping a surprisingly large amount of money: "All the parts went to one company," Steve says. "They'd shipped a Continental GT in from the USA. Somehow it had been completely submerged in salt water and they needed everything I wanted to sell including the interior, about five miles of wiring and 30 ECUs. I got 60 per cent of the money I'd spent on the car back."
Bodywise, the Bentley just needed flatting and painting, and at this point the project went two ways. What remained of the GT – essentially the two sides, roof and rear panels – was dispatched to Jon Webster's Webster Race Engineering (WRE) who would construct the full tube chassis and carry out the vast majority of the fabrication. The engine commission, meanwhile, went to Steve Morris, the man behind some of the quickest and fastest streetable engines ever built.
Neimantas is a Mopar guy through and through, and originally wanted to run a Hemi in the Bentley. Almost from the get-go, however, the idea was a non-starter. "When I first called Steve Morris we talked about a Hemi," he says, "but they had never built one for a project like this and it would have meant a lot of expensive development work."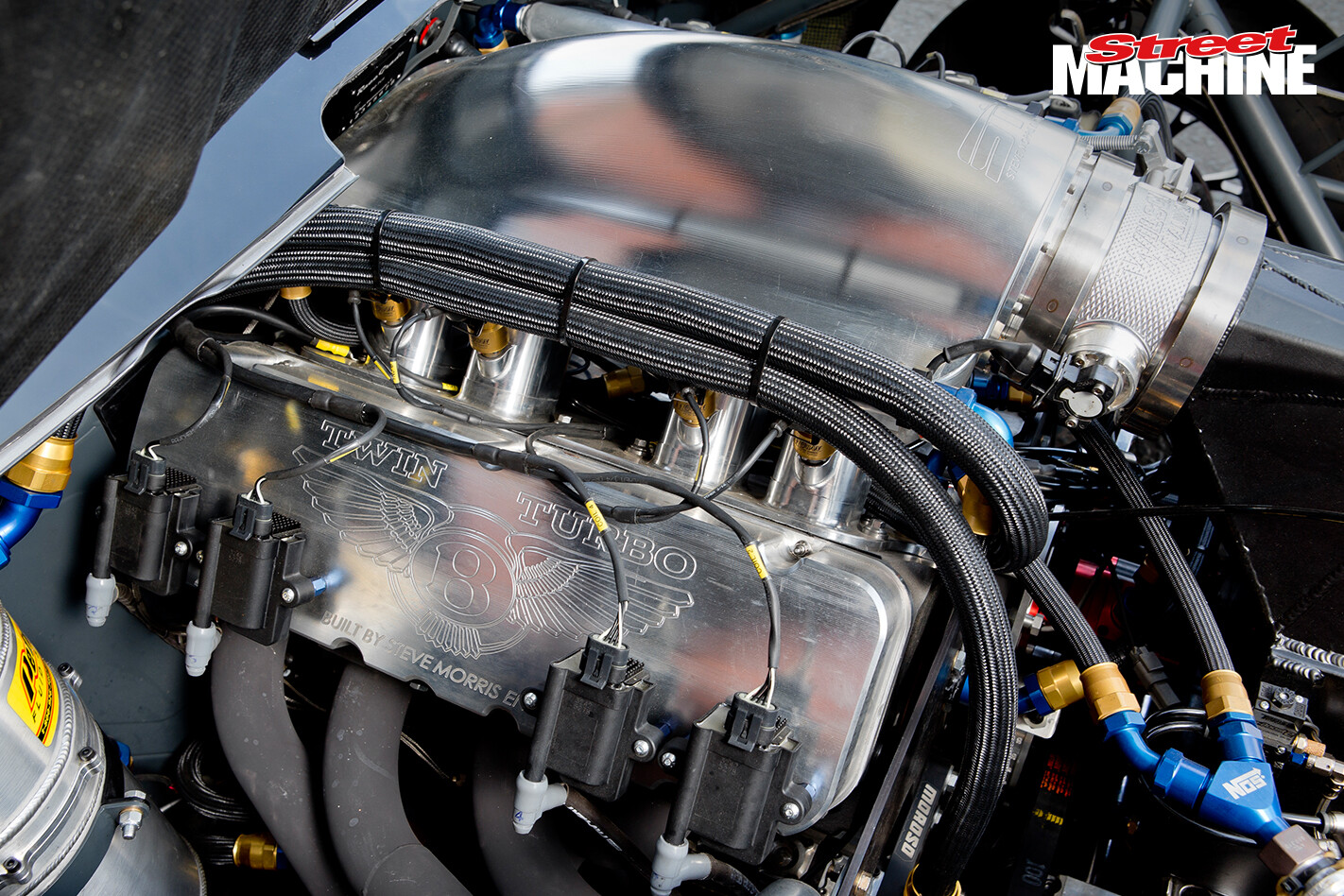 Tom Bailey, winner of the 2013 and 2015 Hot Rod Drag Week in his 1969 Camaro, had caught Steve's attention. Running a Steve Morris-built 615ci twin-turbo Chevy, Tom had been the first to run five consecutive six-second passes during Drag Week, and the engine had also survived thousands of road miles. Steve N and Steve M agreed this was the way to go and work and began on the 615ci twin-turbo Chevy. Aside from a different intake manifold and smaller turbos – to help the Bentley spool up quicker – Steve's and Tom's engines are essentially the same. The aim was around 2500hp, but when the engine went on the Steve Morris dyno it hit 3082hp.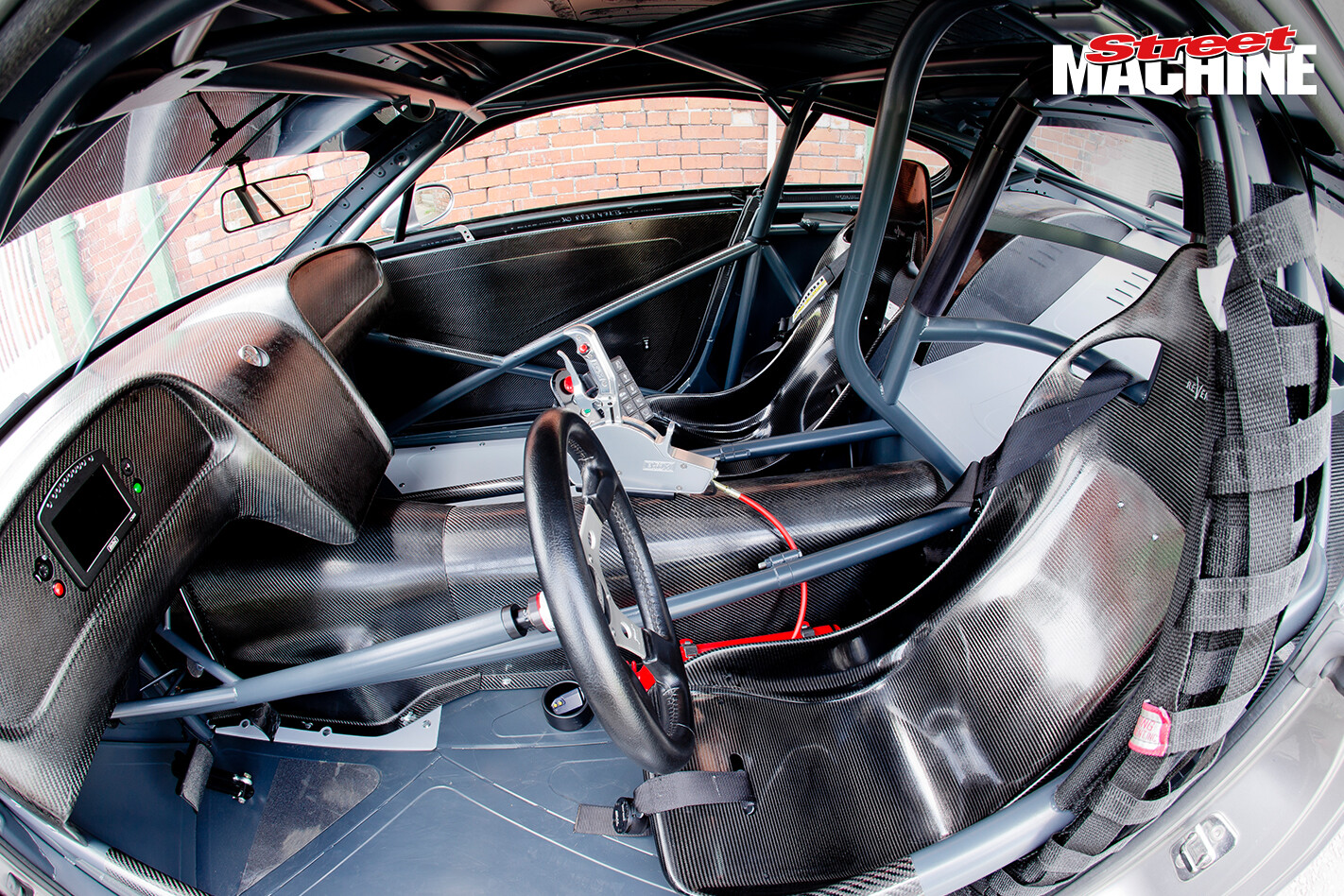 Meanwhile, back in England, Jon Webster was pushing ahead with the chassis and fabrication, sticking as tight as was practical to the 'it-must-look-as-stock-as-possible' brief. So much so that all bodywork, with the exception of the front end, is still original Continental GT – the roof and the rear quarters are steel, and the doors and boot lid are aluminium. The bonnet and front wings are custom carbonfibre, but there are no huge scoops or vents. The paint is stock Bentley. From start to finish Webster took just seven months to build the car.
And so, 28 years on from his drag racing debut, Steve is back between the beams, this time not in a '69 GTX, but a 3000hp state-of-the-art street racer loaded with turbos and electronic engine management. Going one second quicker certainly takes a lot of doing when it comes to street-legal cars and drag racing. And it's not just about the specification, build and expense. The driving becomes a very different challenge, too.
"We are still learning about the car, but right now, at the top of the track, the GT is only running about 20lb boost," Steve says. "On the startline it leaves on about 4lb boost. To put this into perspective, on the dyno we got 32lb boost. 20lb boost works out at about 2000hp, and we are currently leaving the line with 1000hp. This is using treaded drag radial rubber. So there's still mountains of performance to come.
"When you launch the Bentley on the transbrake, the engine management kills the power then feeds it in gradually based on feedback from the engine management system and sensors. The problem is if you get out of shape and come off the power and then get back on it, the management doesn't just feed the power in gradually. You go straight to the end-of-track boost and the tyres get blown away."
After each run there is a colossal amount of data available to Steve and his crew, provided by the engine management system and sensors placed around the Bentley. These measure such things as shock travel for downforce and wheel speed. "Our biggest problem at the moment is the tyres are spinning right through to the top end of the track," Steve says. "At the last meeting the timing ticket said 199mph, but when we downloaded the data the wheels were spinning at 222mph. I was black-lining the track from 1000 feet onwards."
Steve races his Bentley in the Street Eliminator UK series – the longest-established street-legal drag racing series in Europe. However, there is an elephant in the room and that's Hot Rod magazine's Drag Week, the ultimate test of street-legal race cars.
If ever a car was built to take on the ultimate Drag Week challenge, it is Steve's Bentley. Yet Steve remains non-committal about shipping his Continental GT Stateside. "If we can get the car dialled in properly we will certainly seriously think about going," he says. "But the problem is the more time passes the quicker the cars taking part in Drag Week get. It will have to be 2016, or not at all." Here's hoping there is a Bentley-sized shipping container dockside next year.