At Street Machine we love our racing games. F1s, V8s, T buckets, rally weapons, dragsters; you name it and we'll give it a fang. But never have we been so totally over-the-top spoilt as now.
Forza Horizon 3, for PC or Xbox One, features some brilliant stretches of Aussie dirt and bitumen. Even better, the game is bursting at the seams with stove-hot examples of high-performance and classic Aussie rolling stock.
No game delivers the goods as well as Forza Horizon 3 when it comes to local horsepower heroes. Those who long for Holden classics will love the FX ute, the Walkinshaw Group A, the Sandman panel van and the A9X Torana. Among the more contemporary weapons likely to tempt your lead foot are the VF HSV GTS and Maloo ute.
Aussie blue-oval pundits aren't given the loving that Holden fans get, but there are still some seriously cool global tools from Henry's house for you to play with. You can belt a 1973 Capri RS3100, a 1940 coupe, a 1966 Ford Lotus Cortina, a '78 Mustang II King Cobra, an Escort RS1800 and RS Cosworth. Purebred local legends are headlined by the XY GTHO Phase III and the Falcon XB GT coupe.
If you like your Fords more modern, settle in with the 2015 Falcon GT-F351, the Shelby GT350R or the limited-edition FPV Pursuit UTE. For those after something a little unusual, a dedicated fan has perfectly redone the Sierra in DJR war paint. The thing goes like stink for a car that was raced during that era.
Never has a game gone so balls-and-all with cool Aussie cars, and of course there's a veritable ton of slammin' cars from other parts as well. In terms of meeting the racing challenges, the legendary 22B WRX STi and the R32 Skyline GT are more than capable of demolishing large lumps of bitumen.
The whole carnival of race events is set in Australia, and on this front the game also packs some whallop. You'll drive the Great Ocean Road, the rally tracks around the Maroondah Dam, Byron Bay and the streets of Surfers Paradise. Then there's an area on the edge of the map, just called The Outback. The geography might be a bit wonky –with locations thrown on the map in a haphazard manner – but in its favour, the game delivers some diverse places to play. You'll be required to open 'festivals' in different locations and set up fresh bases.
The experience has moments of sheer indulgence. There are even 'bucket list' challenges. When you access one of these you'll get to do something seriously cool in a car. There are stunts, drift challenges and outright-insane speed runs. Centenario, anyone?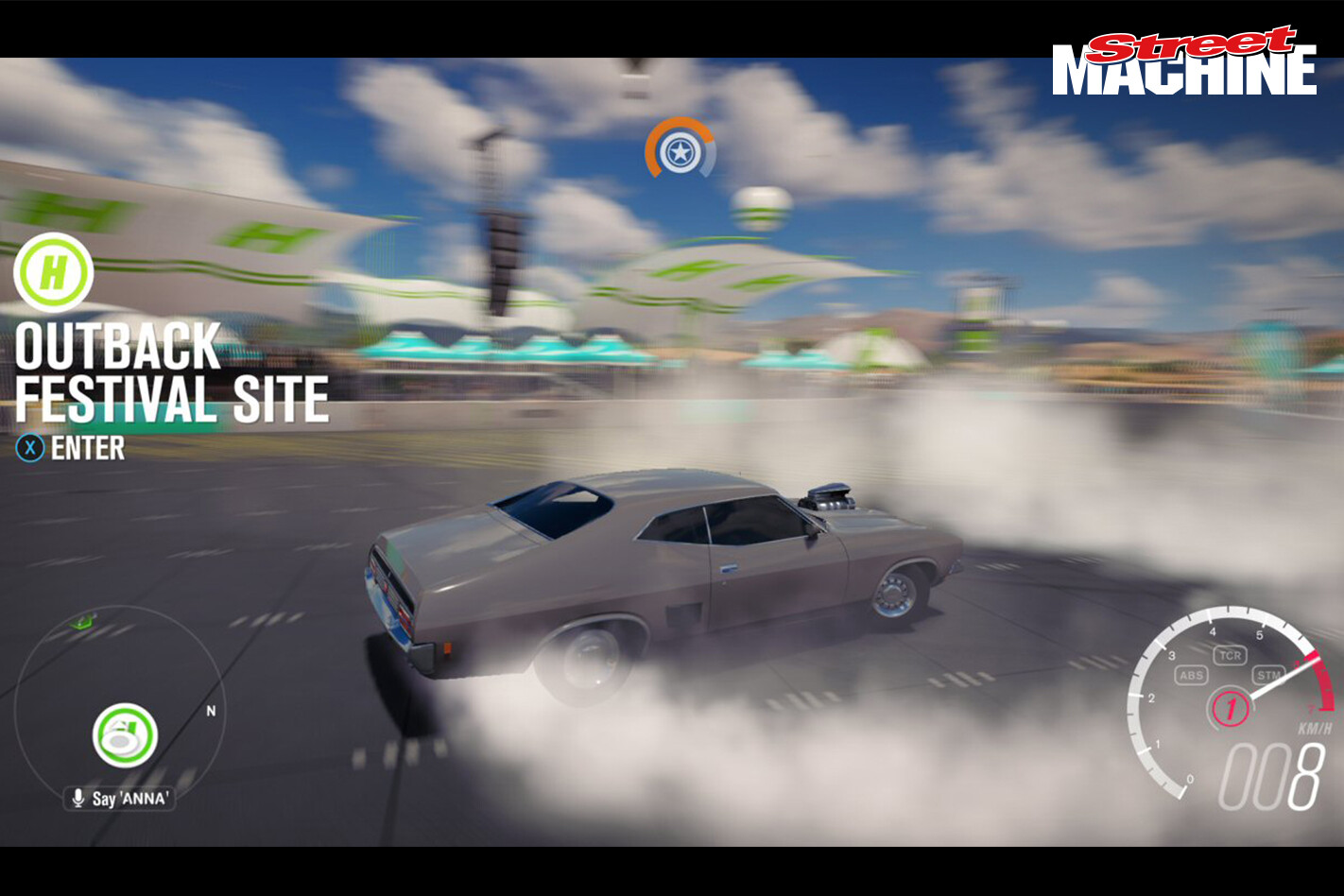 These cars are fun to drive and you can tune them and add your own war paint easily. The way the game lets you drop in and out of online racing is slicker than baby poo. Even if you're not playing online against real drivers, it'll feel like you're doing so as you race other players' recorded 'drivitar' avatars. These opponents are often fast and erratic, just like their flesh-and-blood namesakes.
On top of this, the weather effects, the smoke and rubber from burnouts and the water droplets when you rocket through a shallow creek are just superb.
Forza Horizon 3 also features quintessentially Aussie elements such as roos, Telstra phone boxes, locally made cars that have the tiller on the correct side of the dash and wheelie bins you can smash into.