LEGENDARY US daredevil Evel Knievel once said that jumping a motorcycle wasn't that difficult — it was the landing part that often proved a bit of an issue.
It was an assessment that was pretty hard to argue with.
In a career that shone like a beacon of 1970s pop culture, the iconic hospital-food aficionado with a penchant for star-spangled leather jumpsuits sustained somewhere in the order of 37 broken bones — including all his ribs, his pelvis three times, left femur five times, lower back twice, upper back twice — he survived a 28-day coma, and helped redefine the meaning of the word 'pain', all as a result of landings that were anything but happy. Or soft.
"I guess I thought I was Elvis Presley but I'll tell ya something: all Elvis did was stand on a stage and play a guitar," Evel once helpfully explained. "He never fell off on that pavement at no 80 miles per hour."
If there was a stunt Knievel never attempted — or a surgical procedure he didn't undergo — chances are it wasn't worth contemplating. And when it came to things to jump over, trucks, buses, lions, sharks, rattlesnakes and even geological formations were standard fare for the stylishly coiffured caped wonder.
Demonstrating an unhinged passion for danger from childhood, Knievel exploded into prominence on New Year's Eve 1967, when he attempted to jump 141 feet over the fountains at Caesar's Palace casino in Las Vegas. While he cleared the fountains, the subsequent crash-landing left him with a fractured skull and broken pelvis, hips and ribs, and rendered him unconscious for a month. He awoke to find himself a national hero.
"It was terrible," he later said. "I lost control of the bike. Everything seemed to come apart. I kept smashing over and over and ended up against a brick wall, 165 feet away."
Brilliantly, there were to be plenty of other opportunities for major surgical intervention — like his jump over 13 London buses at Wembley Stadium, which scored him a million dollars and resulted in a broken pelvis and hand after clipping the 13th bus, and his leap over a shark tank in Chicago, which ended in a broken forearm and collarbone after skidding on the exit ramp.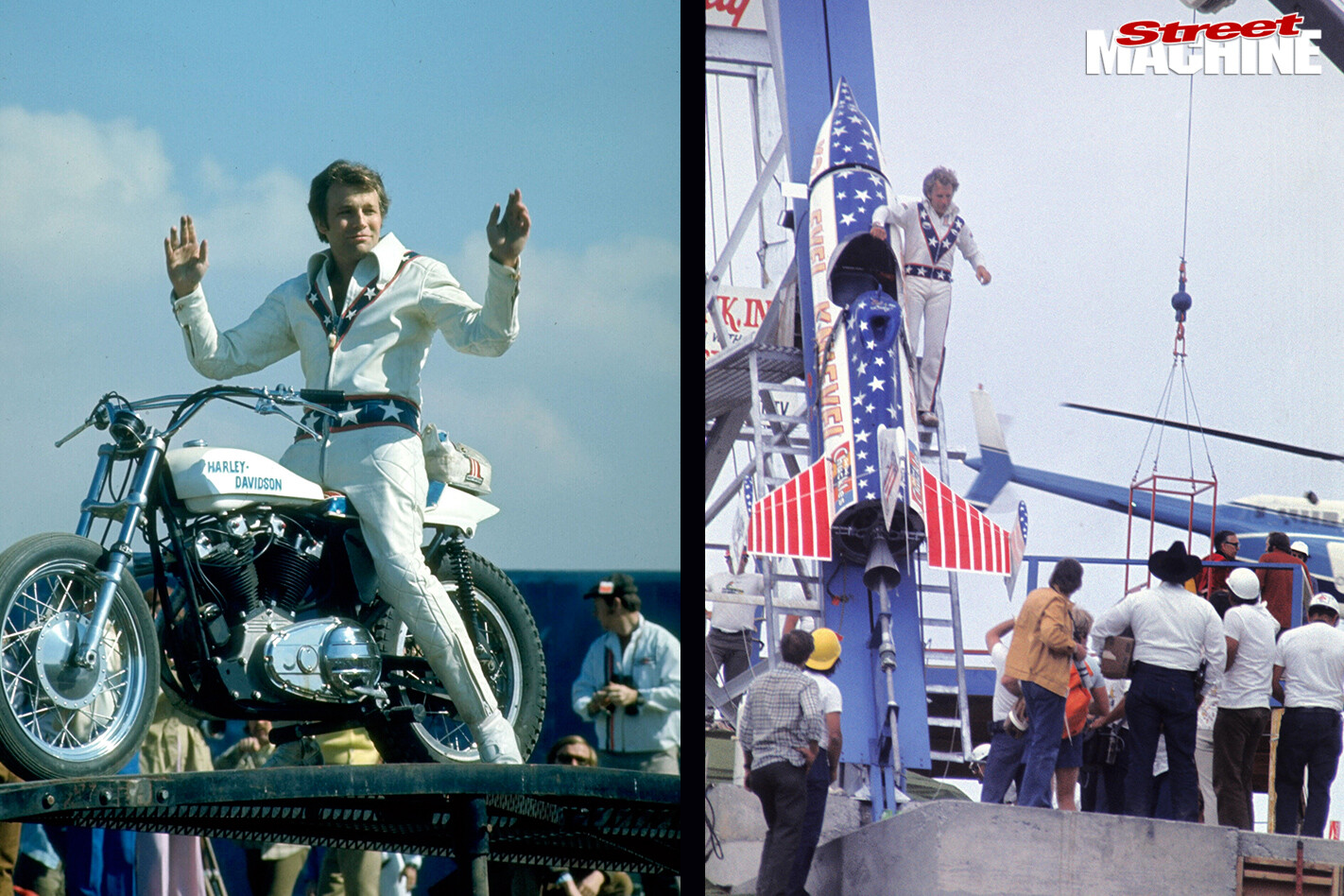 "In the old days, the promoters wanted more and more from me," Evel once recalled of his spleen-jolting heyday. "They wanted me to jump or spill my blood and break my bones. Every time they wanted me to jump further, and further, and further. Hell, they thought my bike had wings."
Keen to flame the frenzy, in 1974 Knievel attempted to jump nearly 500 metres across Snake River Canyon in Idaho aboard a rocket-powered cycle. In front of thousands of gob-smacked spectators, Knievel launched his ballistic missile-shaped X-2 Skycycle (featuring two engines capable of producing more than 14,000lb of thrust) off a near-vertical ramp at a ball-tearing 560km/h. Apparently due to malfunction, the cycle's parachute opened almost immediately after take-off, causing both it and the rider to drift slowly down to the canyon floor. The failed stunt buggered Evel's credibility, with detractors claiming he simply shat himself and pulled out of the attempt early.
But it wasn't just critics and crappy landings that proved unkind to Evel.
Alongside all the death-defying stunts were the temptations of life itself. Equally renowned for his womanising, boozing, gambling and bad temper as he was for his daredevil exploits, Knievel was a bloke who didn't need to rely on spectacular crashes to bugger his health and future earning potential.
Eventually fading from the limelight, his vast fortune lost, Knievel suffered severe ill health during the later phases of his life. In 1999 he underwent a liver transplant after nearly dying of hepatitis C, which he believed he'd contracted through a blood transfusion following one of his many massive spills. If that wasn't bad enough, he also developed diabetes and pulmonary fibrosis, the incurable lung condition that ultimately achieved what countless impacts with solid objects failed to do. In May 2006, perhaps sensing the end was near, Evel appeared ready to finally meet his maker.
"I can't wait to meet God and ask why he didn't make me go faster on some of those jumps, why he put me through all this pain. He knows I'm not evil."
We can only wonder if he finally has his answer.
PURE EVEL
1938 – born Robert Craig Knievel Jr in Butte, Montana, USA.
1968 – attempts to jump fountains at the Caesar's Palace, Las Vegas. Crash puts him in coma for 28 days.
1971 – George Hamilton stars as Evel in the feature film Evel Knievel.
1973 – jumps 52 wrecked cars at LA Coliseum.
1974 – jumps 13 Mack trucks at the Canadian National Exposition.
1974 – attempts to jump Snake River Canyon in Idaho aboard rocket-powered Skycycle X-2.
1974 – release of Evel Knievel action figure and accessories. Merchandise sales go on to ultimately total $300 million.
1975 – jumps 14 Greyhound buses at Kings Island, Ohio. The 133-foot distance is the furthest he ever jumps without injuring himself.
1977 – stars as himself in fictionalised feature film Viva Knievel.
1977 – attacks public relations man and biographer Sheldon Saltman with a baseball bat and is sentenced to six months in jail.
1981 – makes his last jump, describing himself as "nothing but scar tissue and surgical steel".
1983 – the IRS determines that Evel owes them $1.6 million in taxes. They also sting him for an extra $2.5 million in interest and penalties.
1999 – son Robbie Knievel successfully jumps 228 feet across the Grand Canyon.
2006 – sues rapper Kanye West over the music video for Touch The Sky, in which the artist appears as character Evel Kanyevel and jumps a canyon on a rocket-powered machine.
2007 – premiere of Evel Knievel: The Rock Opera in Los Angeles.
2007 – dies in Clearwater, Florida, aged 69.