This article on Joe Gari's Ford Capri was originally published in the May 2011 issue of Street Machine
IT WASN'T so long ago that the eight-second zone was the exclusive preserve of blown dragsters and Wild Bunch cars. If you had a 10-second streeter you were king of the kids but these days it's a whole new ball game.
Now we've got cars like Joe Geri's Capri. Sedate on the outside and legal for the street but chuck on a set of slicks and it'll earn you an 8.34@164mph timeslip. (Note: Since the story was originally published, the car has run a best of 8.20@167mph on slicks and 8.24@166mph on radials.) And no doubt it'll keep the greenies happy too, because it runs on renewable E85. Isn't technology wonderful?
Joe bought the Capri to build himself a tough-but-fun streeter a lifetime ago. "I've probably had it 22 years or something," he says. "It was pretty well a body shell; no suspension, no diff, no nothing. Not even a roller. It had rust everywhere your usual Capri has it. All around the plenum, all around the quarter panels and doors and guards. But I paid bugger-all for it — a couple of hundred bucks."
Back then the plan was to fix the body, fit a nice 302 Windsor, and get it registered. With a bit of help from work and his mates, Joe had the Capri going in about six months.
"The first engine only ran mid-11s," Joe says. "Then, when we did the other 302 it ended up going mid-10s, so we had to put a 'cage and shit in it. We probably did seven or eight years with the little engine, mostly street meets, and I drove it all the time for six or seven years."
The Capri has been painted black from day one and being a painter, Joe gave it a freshen up for the 10-second 302 in the late 90s. But since then it's been wearing the same paint — that's the past decade and more. Looks pretty bloody good for a car with old paint, doesn't it?
With that engine on board, Joe raced the Capri for half a dozen years until he jumped behind the wheel of his brother's low-eight-second 2JZ-powered Corolla wagon, which illuminated a light bulb above his head.
It was clear these Japanese performance engines were good and he wondered how the Capri would go with a boosted Jap import engine. "But I thought I'd do one better and go a V8."
The perfect candidate was the 1UZ Lexus V8. At four litres and with twin overhead cams and a tough bottom end, the Lexus motor has a serious reputation for horsepower and reliability.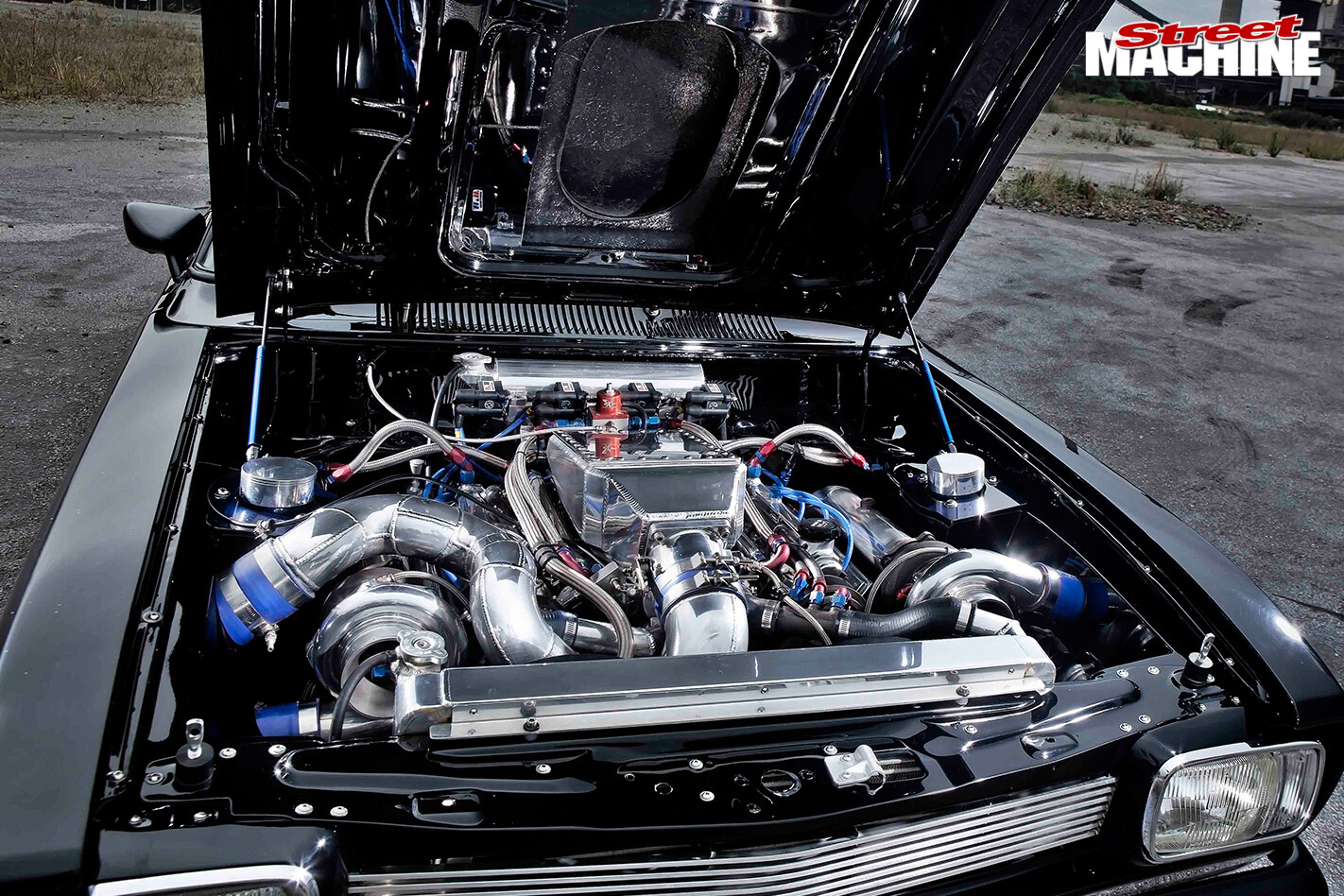 "Plus it was the biggest engine I could fit with turbos and still stay street legal, going by the RTA," Joe explains. "A lot of guys say their cars are street legal but I couldn't put a bigger engine than a five-litre in it so I don't know how they can fit 500 or 600 cubes in theirs."
The engineer wouldn't sign off on a boosted five-litre V8 but the four-litre Lexus got the green light. Naturally they weren't just going to drop in a stock donk with a pair of small hairdryers — Joe had Greg at Gomac Race Engines build him up a stout combo using Argo rods and Ross forged pistons.
"I knew the V8, the 1UZ, was a good motor. Greg, my engine builder, built one back in '99 or 2000 — Street Machine featured it. It had a high-helix 8/71 on it, and he said for the dollar value it's a mad engine. So I thought: 'Oh yeah, I'll do that.'"
Amazingly it still uses the factory crank, as well as standard valves and valve springs. Jake from Bain Racing ported the DOHC heads, with the lower half of the factory intake match-ported and a custom upper plenum on top.
"That was really nice work. Jake did all the radiator, the plenum, pipework, the whole lot."
Joe and his brother John built the exhaust manifolds that support a pair of Garrett GT35/40 turbos running up to 26psi boost. Vince from V&E Rigoli tuned the EMS 8860 to make sure the Indy Blue injectors and EMS ignition do their things at the right times. And it certainly delivers the power.
While testing a new pair of exhaust housings, the combo made 870rwhp on E85 but the Capri is having trouble putting down the newfound power. The best time is still with the old set-up, using the smaller turbine housings.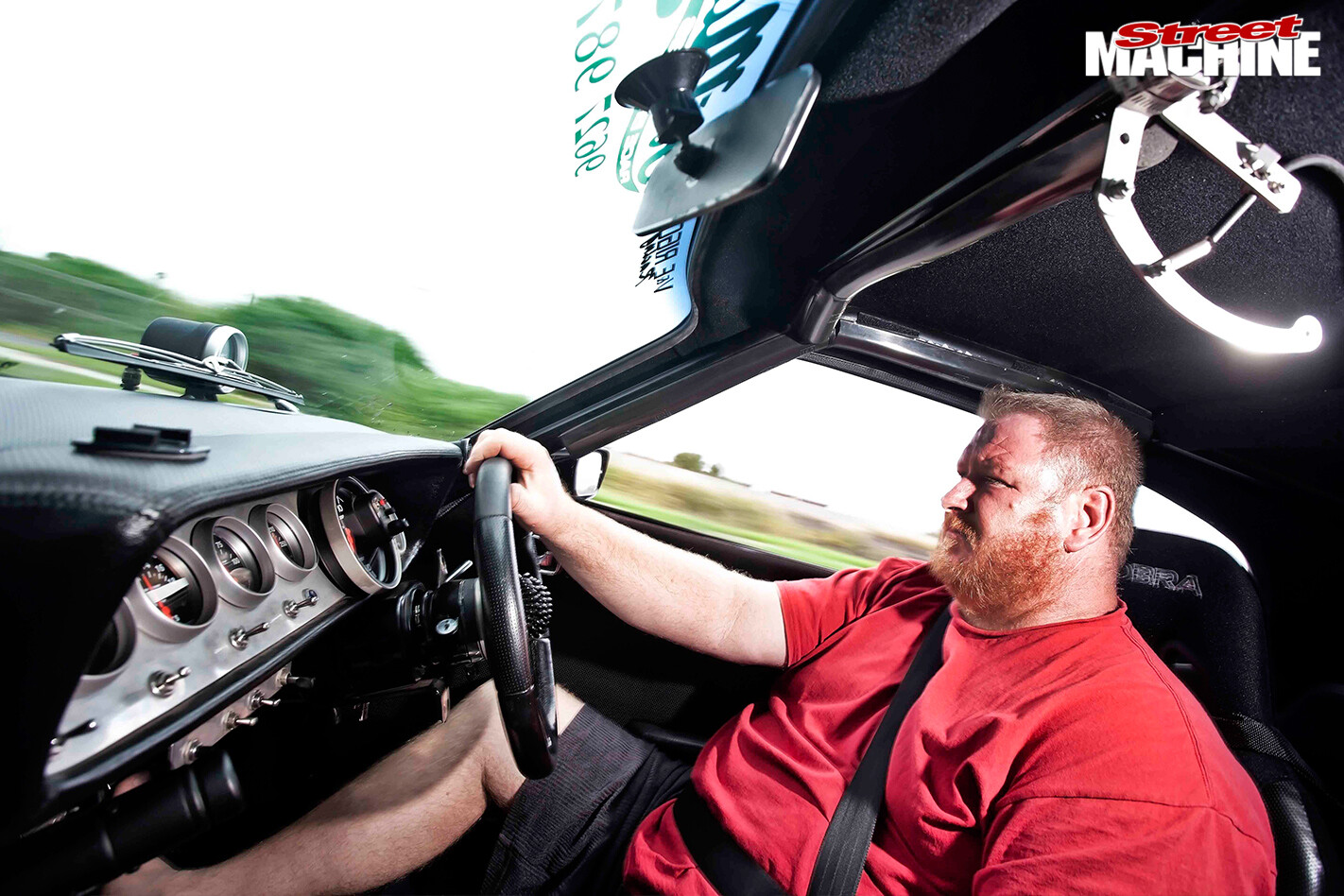 "It makes more power now but it just hasn't shown it yet — we've got to work on that. It needs wheelie bars too. We've got no wheelie bars, no nothing on it yet."
He's not concerned though; for him the car is all about having a bit of fun. He can drive it on the street with no problems and then take it to the track in the same trim.
"That was the whole purpose," he says. "I wanted to keep it registered; I drive the thing all the time. I drive to the track, we change the tyres and 'plugs, and race."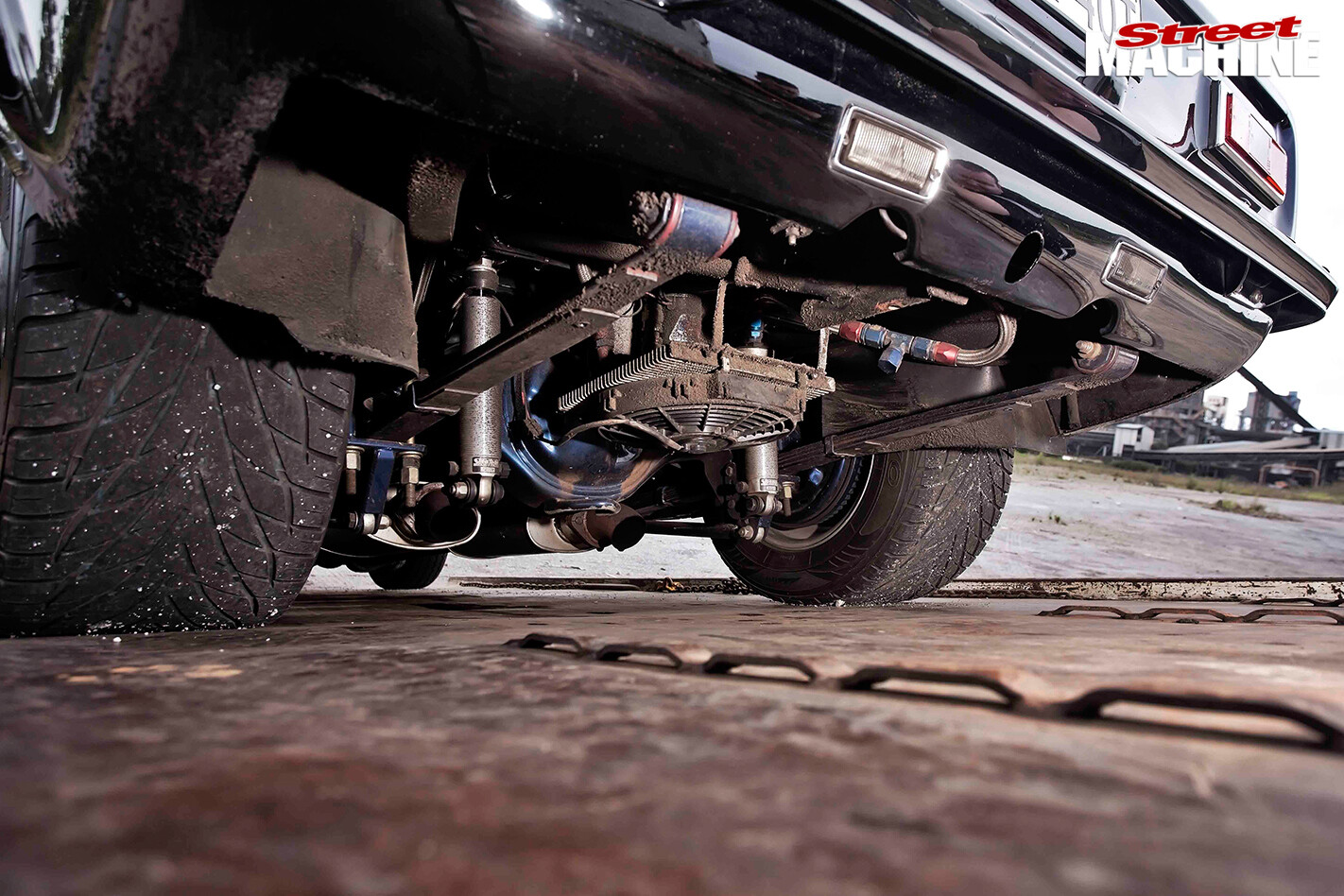 And he reckons that if he wants to be really cheeky, he can even run the Capri on BP Ultimate. It's a tad slower, if you can call nine seconds flat slow — with 675rwhp on PULP it's still quick enough to take your breath away. But Joe reckons it'll be interesting to see what times it runs once they can use the extra power on E85.
"We've got a few rear-end issues. We've just put in a new set of shocks, and we'll try a few things. And we're still just playing with boost off the line. You leave on 14lb and you're all right. You leave on 18lb and it's up on the rear bar. If you're going up, you're not going forward. I know wheelstands look good but I'd rather go fast."
While Joe doesn't really care about records, his insistence that the car remains street legal makes it hard to compete in APSA's Modified Street Blown class.
"They've got no cube restrictions. You look at the cubes they run, and the cubes I run, and it's like: 'Bloody hell!' But I built mine for a street car and I'm not going to change it. I'm just there to run the car as quick as it'll go.
"We might build another Mod Street Blown car with a 4.6-litre Modular motor as a complete race car. A couple guys in the States are making more than 2500hp with them."