Bashed, broken, then banished, this legend has finally been revived after a 30-year hibernation.
This article was originally published in the November 2014 issue of Street Machine.
Every car leaves the showroom floor brand new; what happens next comes down to fate. Some cars live the dream – you know the type: one owner, church on Sundays and all that – but then there are cars that get ridden hard and put away wet from the moment they're fired into life.
The father and son team of John and Tim Lynch have the skills for turning wrecks into riches, and none more historically significant than this 1969 Dodge Daytona.
"Dad has always been a Ford man," Tim says. "So I'm as surprised as anyone to have a Mopar obsession. I started with an Aussie Charger, which was replaced by a 1970 Challenger R/T with a 383 and four-speed, so that pretty much forced my hand when it came to broadening Dad's horizons. He'd walk past the Challenger and say: 'Geez, that's a tough-looking car,' so I just kept in his ear the whole time. If he said: 'Good morning,' my reply would be: 'Dodge Daytona!'"
The pinnacle for many Mopar fans is the Dodge and Plymouth aero cars. Seriously, how crazy are these factory builds – yep, styled like this, and available from your local dealership to boot. Their NASCAR achievements are legendary and the homologation process meant that even the average Joe could schmooze around town rightly acting like King Shit.
Tim was hooked, but knew to find a car that was even remotely affordable would be a big ask. "They're such a rare and amazing model that I thought owning one would be totally unachievable. We toyed with building a replica, then Dad said: 'Why don't we see if we can find a real one?' He didn't have to ask twice!"
The Daytona was spotted on US eBay in late 2007, very much the worse for wear, but nonetheless a genuine item – number 253 of 503 made. "Our highest price didn't meet the reserve, but we managed to buy it privately for less than the original bid," Tim says.
"We headed to New Jersey to finalise the deal in early 2008, setting aside 10 days to get it sorted. We spent the whole time waiting for the call to pick it up, but it was just one delay after another. Finally we said to the seller, Tom: 'What the hell is going on? We're flying out tomorrow afternoon.'
"Tom hauled it to the docks on a car trailer doing about 100mph. He was a wild unit, but a good guy who offered us a heap of replacement panels and NOS parts. You could tell it was torturing him to sell it and I could understand why he was struggling to let it go."
With the Daytona safely crated up for the slow boat home, Tim and John checked-in the rear wing as hand luggage, and then had some time to research the car's history.
The Daytona was sold new through a dealer-only auction house to Reedman Dodge in Pennsylvania in 1969, where it spent its early days as the pride and joy of a local butcher.
Moonlighting as a gas station attendant in April '71, he was robbed by bandits who stole the car for their (unsubtle) getaway. It was returned in one piece and continued as daily transport before being rolled in '76. It spent the next three years laid up in his backyard.
The gas crunch was in full swing and two New Jersey guys were taking it upon themselves to save as many NASCAR 'street edition' cars as possible. They bought the wreck, but soon used it as a partial trade on a Plymouth Superbird.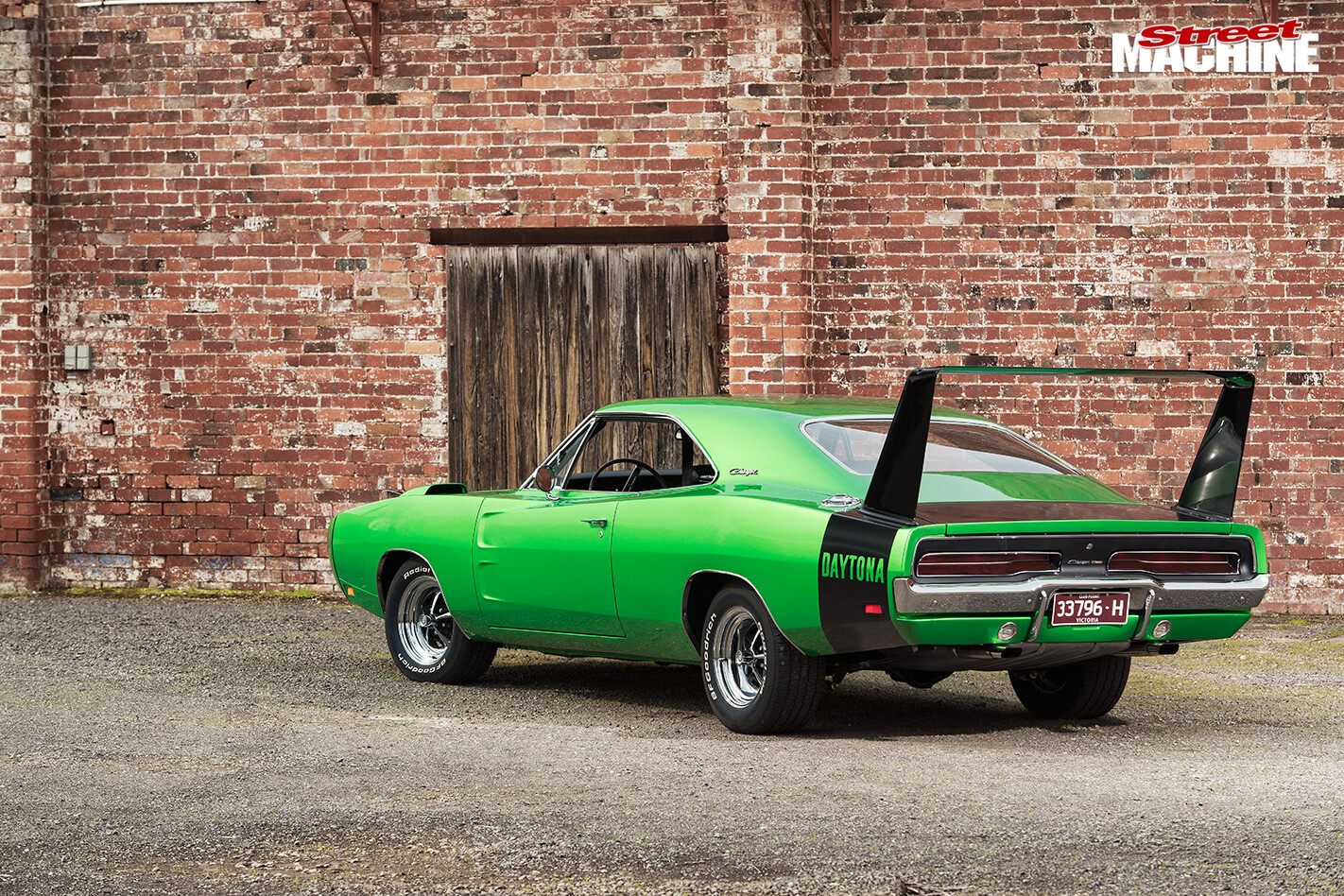 The new owner hauled it across to Iowa, where it shared barn space with a number of other winged cars, until all were sold in a clearance sale in '94. The Daytona headed to New York, where it stayed with Tom before heading Down Under. With the car dormant since '76, and having only ever had one road-going owner, it's not surprising to learn that there is a mere 46,000 miles on the clock.
Safely home in Castlemaine, the hot rodder in John wanted to drop in a blown Hemi, but Tim stood his ground. "I told him we can't mess with it and explained that we owe it to the car to restore it. He came around eventually, but I think he was torn," he laughs.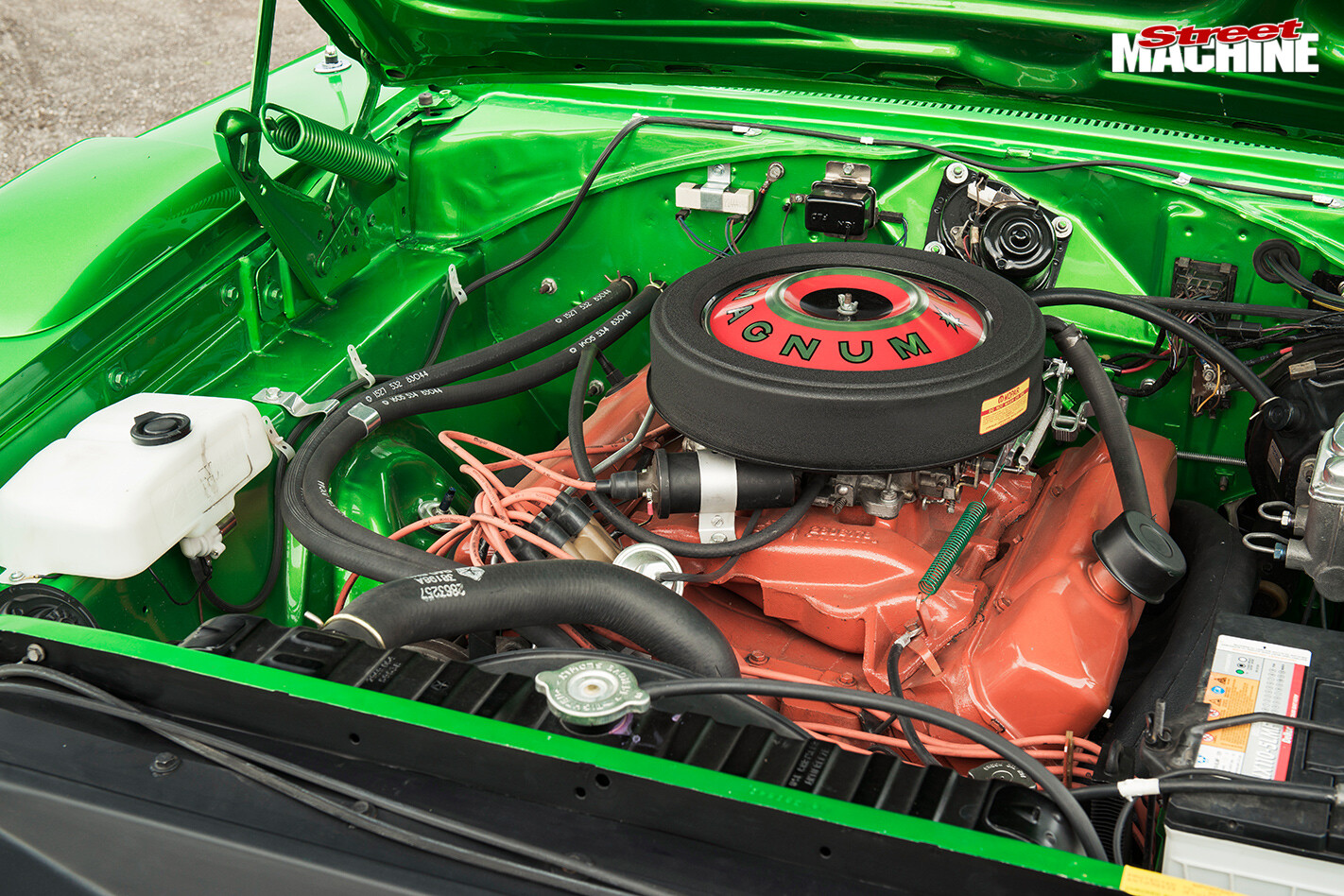 Tim began a regular weekend commute from Melbourne to work on the car, and it was soon stripped, blasted and hooked to a rotisserie for panel and paint. The panelwork was a mammoth task, given the state of the car. "The body was a mess," Tim says. "The chassis rails were twisted and the roof and rear quarters were caved in from the rollover. Thankfully the wing had helped share some of the brunt."
Occa Tingay is a fine example of an old-school craftsman, and restored the shell with the help of Craig Green, keeping as much of the original metalwork intact as possible. This called for plenty of manual labour to knock everything back into shape; there's close to 500 shrinks in the roof alone.
"The bodywork unfolded over 18 months and it was amazing to see the transformation. It was like watching a slo-mo rebirth of Christine," Tim says. Jarred Solomon from Cre8tive Edge in Bacchus Marsh lavished the fresh metal in the original Dodge Spring Green, with the factory stripe recreated in original-spec 3M vinyl.
With the body away, Tim and John were busy readying the sub-assemblies. This included a standard rebuild of the factory 375hp 440 donk and 727 Torqueflite, the latter supplemented with a Gear Vendors overdrive unit to help offset the 4.11-geared Dana rear end. The complete interior was refurbished and the reassembly began, with Chryslers On The Murray 2014 in their sights.
"It was six years in the making," Tim says. "We finished the car on the Thursday and left for Albury on Friday, so yeah, it was tight. The Daytona didn't miss a beat and was well-received by the COTM crowd. It seriously turns heads and kids just lose the plot when they see it.
"It's not a 100 per cent OE restoration, but we rebuilt it with the best interests of the car in mind and I think people appreciate that we get out and drive it. We've been told it was unlucky for the car to have been wrecked, but I think it's the luckiest car around to have survived since."