Amanda and Joel Sinclair's custom candy lace-painted Ford XM Falcon wagon shows what can be done on a budget with a bit of imagination and a lot of hard work
This article on Amanda and Joel Sinclair's XM wagon was originally published in the September 2013 issue of Street Machine
CANDY lace paint has been a long-time favourite with car painters and the feature has made a resurgence of late thanks to the popularity of old-school custom rides.
Joel Sinclair has taken the style to new levels, applying it over most of the metal on his wife Amanda's mild-custom Falcon wagon. The job required a 25-metre roll of lace from Spotlight, so before you judge any bloke you see pondering goods at a haberdashery store, he might be a painter with some crazy ideas.
"I went in there wearing work clothes," panel beater Joel recalls, "and the lady said to me: 'You don't look like you're making curtains.' I had to explain that I was painting my car and how the lace is used."
The XM Ford wasn't always going to be a work of art. Joel scored it for $600 from eBay and intended to retain the old patina included in the price when he started building it with his brother.
His plans changed as his brother lost interest in the project and Joel started to clean it up. At first, he was hit with the idea of putting lace on the roof, as usual. Then he decided to go the whole hog and make it "a bit girly" to give to Amanda.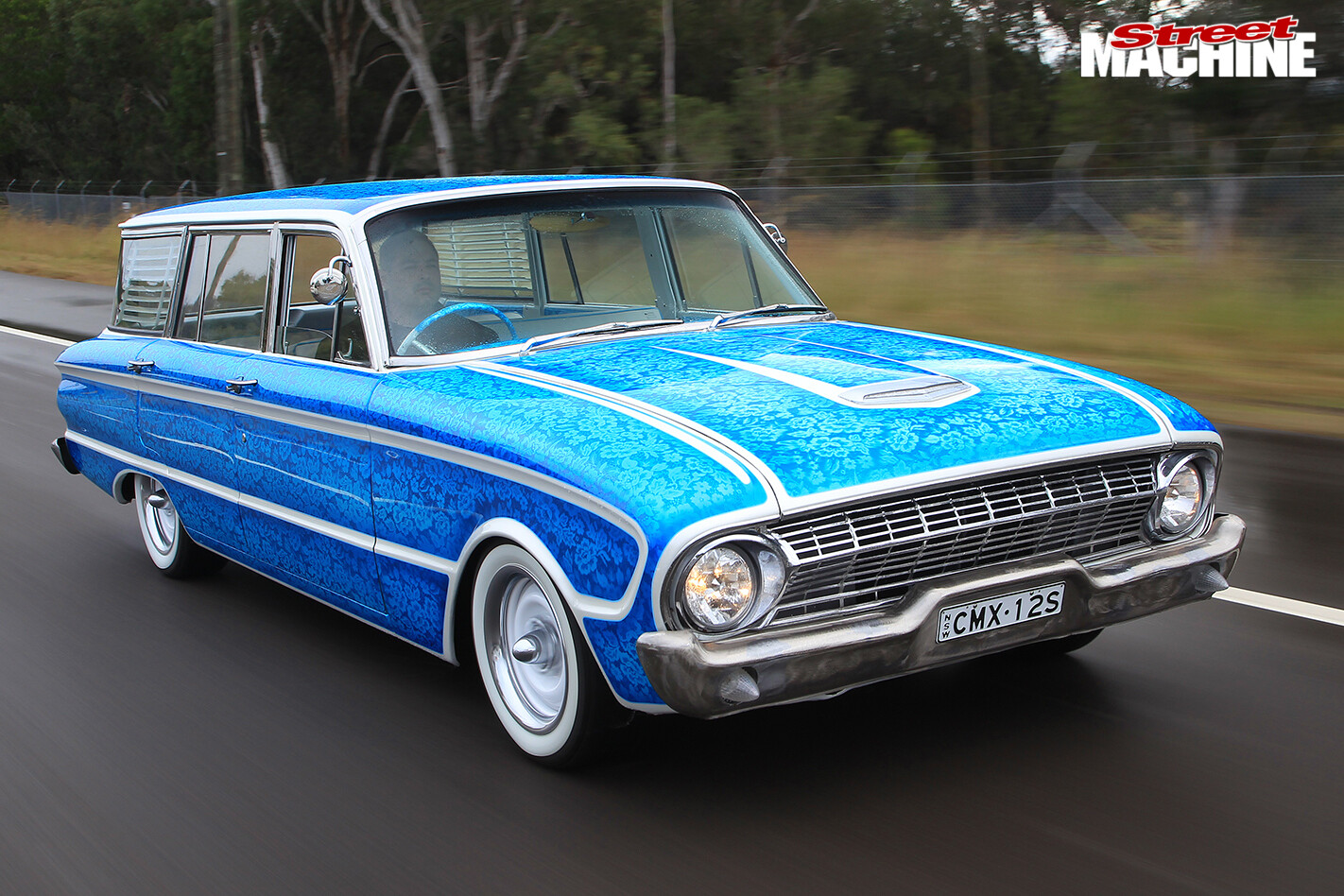 "I bought the car to build with my brother but when things changed I decided to build it for my missus. It is for my missus but she still doesn't believe me — she thinks I'm bullshitting!"
Though his inspiration came from Goodguys Gazette editor Kirk Jones's 1960 Ford Starliner in the US, Joel wanted to take things further and lace every panel.
Now, it's one thing to lay the lace flat on a roof or bonnet and paint it but hanging it on the vertical panels proved harder than anticipated. Maybe that's why the Starliner doesn't have lace along its flanks but Joel was up for the challenge.
"The paint work took months. We started with three layers of white pearl, rubbed back and masked, then laid the lace on and sprayed on the blue pearl. Then we unmasked and removed the lace, remasked and sprayed the blue candy over that, then three coats of clear, rubbed it back again, flow-coated it, chopped it and buffed it."
The result, with the pearl white fading to candy blue, is like diving to the depths of a glacial crevasse, and the lace detail covers all the surfaces — it even extends inside to the dash, doors and steering wheel. And it was all carefully applied by Joel.
The wagon fits in the mild custom class but you'll need to be a certified Ford-spotter to pick the mods that Joel's put into the body. The sheet metal was in good condition and only required a tidy-up before painting but there were changes he wanted first.
"I always liked the look of the XL Falcon rear quarters, so I cut the XM panels out and put XL quarters on with custom tail-lights," Joel said.
Even the chrome was relatively good but it wasn't perfect, so rather than fork out the expense to have the bumpers re-chromed, Joel filled the holes and linished them to give a satin finish at a fraction of the cost. Clear Caddy tail-light lenses give the front blinkers the style to complement the chrome hubcaps on the painted steel wheels. The trad custom styling continues with tuck 'n' roll trim on the seats and doors, with contrasting piping and a smoothed and painted dashboard. The oversized toggle switches were found on eBay and are just another mild custom touch.
Wanting the car to be reliable, safe and easy for Amanda to use, the drivetrain was upgraded with a bone-stock 250ci six pulled from an XW. That's backed by a three-speed auto which turns a Mustang rear end.
Lowered springs drop the ride height to a cooler cruising level and boosted XF Ford discs give sure-footed stopping power.
"It's a great family cruiser and we all fit in it," Joel says, alluding to the limited seating capacity of his '32 Ford roadster which was featured in the Street Machine Hot Rod Annual a few years back. And he's not done building yet — there's a '32 five-window coupe in progress and a '54 Chev waiting to be cut up and transformed into a wild custom.