I WOULD like to talk about $10,000. I've been reading some old SM mags from the 80s, and started to brew on what a street machiner could do with $10K in 2016. Not much, I hear from the peanut gallery! Well, maybe that's true at an elite level, but at a more grassroots level I think you can do plenty.
So what could the average street machiner build for $10K? Here are some great choices: a factory LS1 SS Commodore, a same-model Statesman, or a 5.4L XR8 or Fairlane. Sure, these cars are going to have high kays on the clock and a few issues, but that's to be expected.
Most Commodores can have the rear mufflers removed cheaply, and that changes the note from tame to tops without having to fork out two grand for a stainless system.
For the cars I've listed I would also fit lower springs, tint the windows, and add a cheap, loud sound system. Then you'd have a genuine street machine that has rumble, will turn the tyres on occasion and can pump out some tunes for cruising or trips.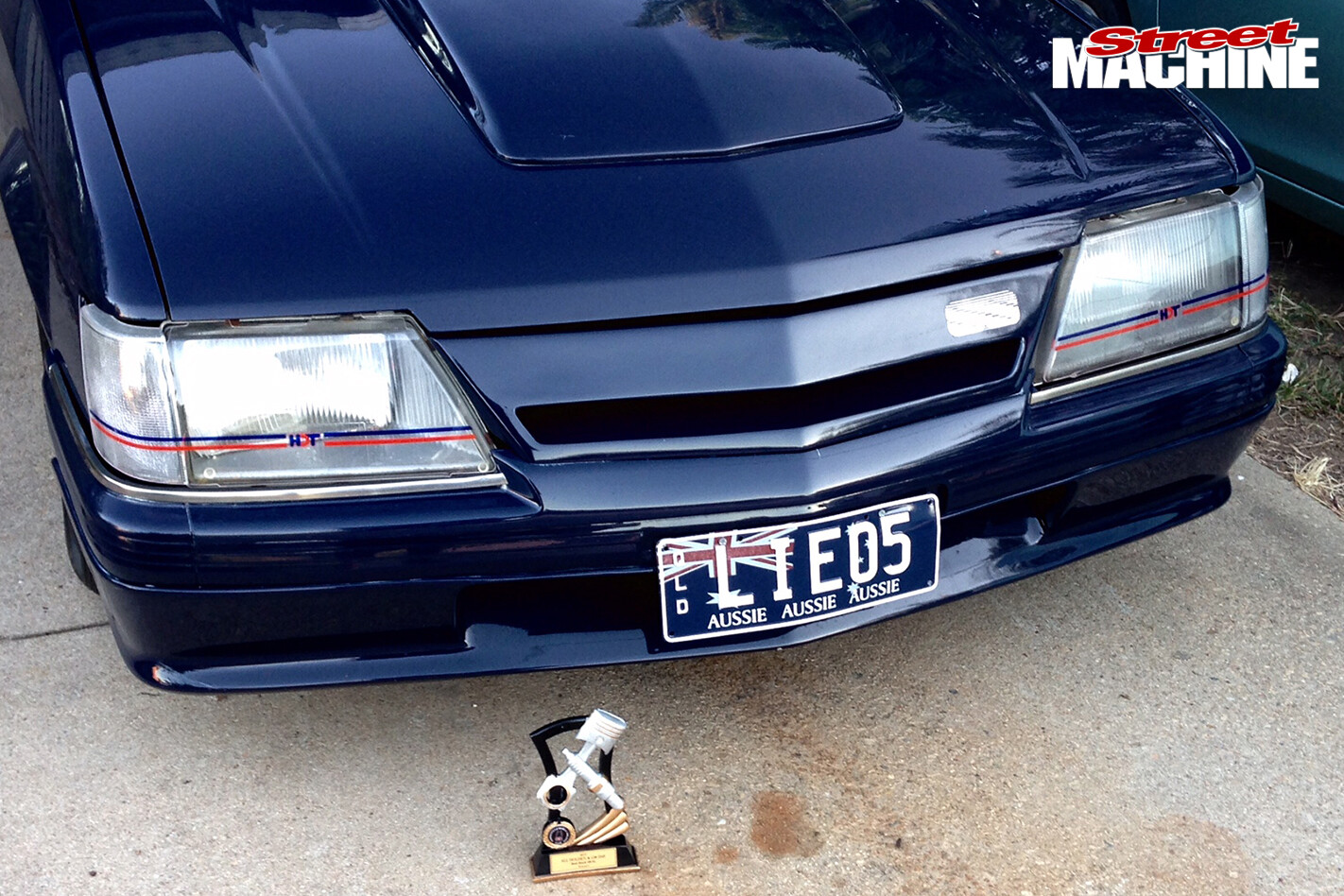 For $10K an early Commodore is doable as well, as long as the body and paint present well. Which brings me to my own $10,000 street machine project: a VK Group 3 replica.
I was looking for an unfinished project to buy, so I hit up eBay and Gumtree. I was keen for a VB-VL Commodore in particular, but really anything for $6-8K would have been fine. I looked at an HR and a VN, but the HR was too far gone rust-wise, while the VN guy clearly had been using the indoor glass barbecue, as this car was in more parts than the Challenger space shuttle.
In the end I checked out the only VK that came up locally. It had had a closed-door respray in Waltons Blue; the original colour was dark blue, so the door jambs and under the bonnet looked okay. The paint was new and good, except the roof was a little dull – from a car cover rubbing on it, according to the owner.
There was also a dint in the rear quarter, but the other panels looked good, and it had old-school 15-inch Simmons rims.
The engine was a 308, but running very rich and black out of the pipe, the front brakes were noisy and the steering wheel boss was loose. But I had a good 308 at home, complete with a decent auto, as well as a 3.56 LSD 10-bolt disc-brake rear end, so I knew I had the mechanicals to make this thing decent. My brother Robert also had a couple of VK wrecks at his place, from which we could pluck the brakes and tail-lights.
So I left $7000 lighter from old mate's and drove the car home, running on seven cylinders, with the brakes moaning out their one-note song and a big matriarchal rat standing her ground after being disturbed from her crib under the navigator seat.
I took it around to my brother's shed and started blowing off a few cobwebs. Rob replaced the noisy brakes, and then he and my nephew Bull fitted my 3.56 LSD diff. They also replaced the radiator, centre-joint bush and blinker stalk with good second-hand ones that we had from other VK projects.
I attempted to polish the marks out of the roof, but as soon as the water dried the marks come back – it looked terrible. The prior owner told me who had painted it for him, so I took it back to that same panel shop. The fella had a look and said the roof paint damage was due to the clear coat having been burnt off – not car cover rub – and he could re-spray it for $300 and have it back to me in a couple of days. He kept his word, and it looks excellent now.

Then I had a friend of a friend fix the small rear quarter dint; it came up okay.
So I drove it back to my place and sat it in the shed for about two months while I saved up a bit more coin.
All of a sudden Bull's wedding was only three weeks away and I had promised him we could use my car. I considered punching him quiet, but he's a fair friggin' size, so in the end we decided to hook in.
Rob found the choke was stuck shut, so sorting that fixed the richness. He also whacked in a good high-torque starter and made new battery cables. We then put my MSD ready-to-run dizzy in. We figured as long as it looked good and the starter and ignition all worked it would be hunky dory for the wedding.
Then, by pure chance, my wife looked inside the car. "The roof is falling and the seats are ripped – no bride will sit in that!" she declared. "Fix it!"
So I rushed it down to get a new roof lining fitted – $680. Rob had some really good seats in his shed, so in they went. I jumped on eBay and bought a full Group A decal kit for inside and outside. After fitting those, I fitted the crowning jewel to the rear windscreen: a genuine Street Machine sticker. I'm happy to fight anyone for that sticker.
Anyway, we used my car for Bull's wedding and it was great.
Then over Christmas 2014 Rob gave my good 308 a birthday. He cleaned it, replaced a noisy lifter and painted and detailed it. So I fitted that, along with my good Trimatic, into the VK. It's really made it an excellent club car. It smokes both tyres, does crazy doughnuts, has nice paint and panel (for a closed-door respray), cool old-school Simmons rims and a nice note from the pipe.
I was shocked when it won a trophy at my local car club's All GM Day, for Best Stock VB-VL – it owes me less than 10 grand! It is a very fun car and will do us until the day I buy a genuine HDT Brock. In the meantime the VK is going to get some 15x10s and Group C flares. Just need to figure out how to wring the funds from the budget!
I have to thank my brother Rob, who was always keen to help and build stuff for me and listen to my impatient ranga bellyaching. My nephew Bull has twisted lots of spanners on my cars too. Without those two my car would be silent.
Want more? Check out other Blowin' Gaskets here!