ONE of the most highly anticipated cars of Drag Challenge this year was the Holden tonner of Jarrod Wood, and it didn't disappoint. With 598 cubic inches of Dandy Engines big-block Chev and a pair of Pro Mod-spec 88mm turbos, the car had power to burn, but getting that power to the ground was always going to be the test.
"We built the car for Drag Challenge," Jarrod said. "We started building the car in March, doing the four-link. I welded it all in and then we sent it to Andy at Specialised Power Porting."
With the help of tuner and mobile mechanic Daniel Collings, and Andrew Sanders from SPP, the tonner was finished in record time. Andrew handled more of the fabrication work such as the engine plate, radiator and pipes, while Daniel took care of the wiring and tuning of the FuelTech FT500. The big-block made 920hp naturally aspirated, but what it makes with the two massive turbos is anyone's guess.
"I've got no idea," Jarrod said when we asked him to make an estimate. Based on the tonner's weight and eventual trap speed, we reckon it's in the vicinity of 2000hp.
In testing prior to Drag Challenge, the tonner went 8.3 at Heathcote; everyone seemed confident that the car would be in the sevens on Day One. Trouble was, the tonner had other plans.
Day One saw the big-block Holden go 8.83@167mph while the guys struggled for traction, and things were worse at Heathcote on Day Two, with a best of 9.15@166mph. It wasn't until Day Four at Swan Hill that they started to get a handle on things.
"We rang Mark Micke in the States," Jarrod said. Mark is from M&M Transmissions in Missouri, and his advice was that they had to let the converter slip. "We did that and we came down to 7.8s."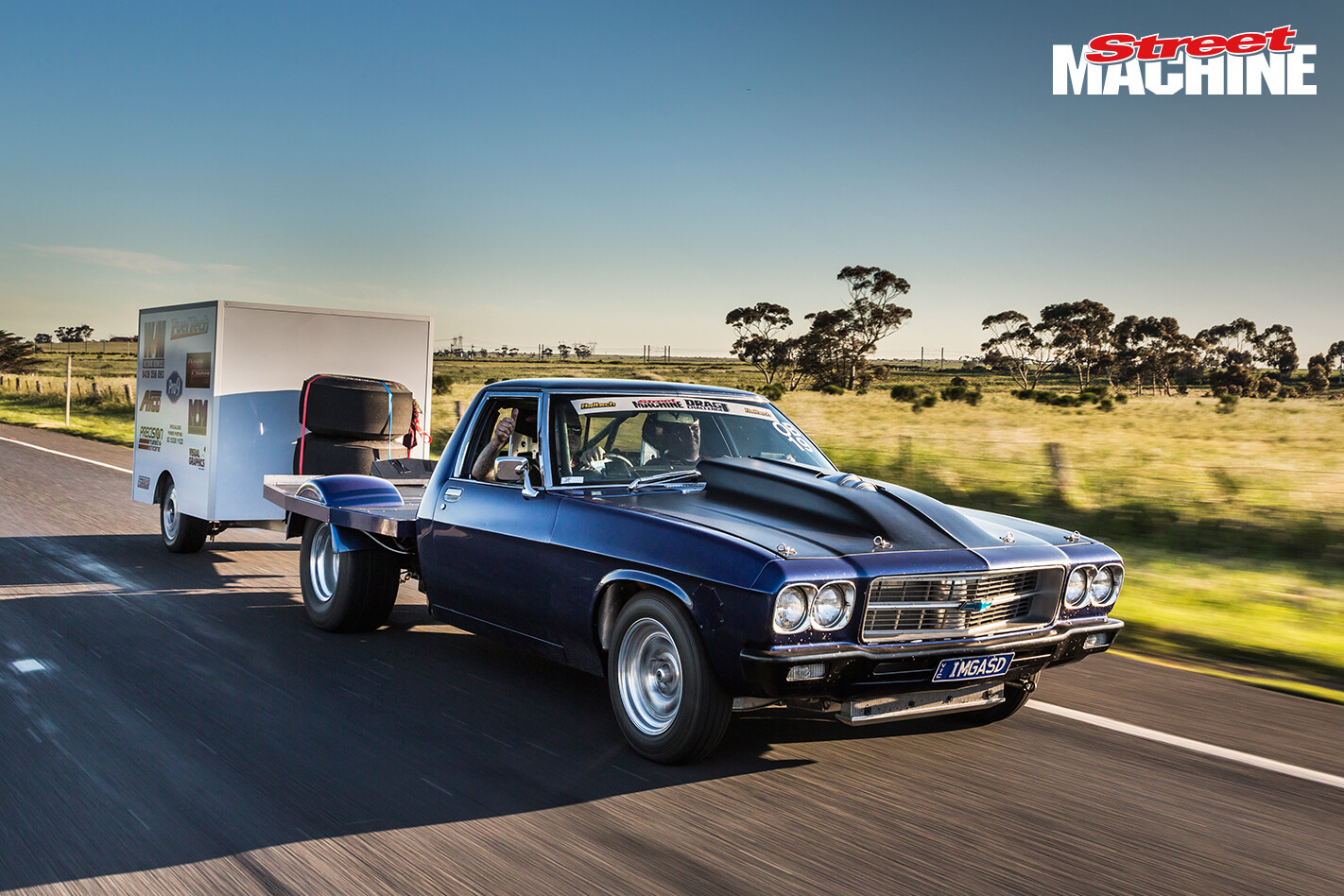 The guys were then able to get the tonner down to a 7.89 and then a 7.81@182mph – the first sevens of Drag Challenge 2016. They bettered that figure at Calder with a 7.71@184mph – the quickest and fastest pass at Drag Challenge ever, and making Jarrod the only person to join our Drag Challenge Seven-Second Club this year. He scored one of the coveted red caps at presentations, as well as Quickest Chev, Quickest ET, Fastest MPH, Fifth Place Overall and Runner-Up in the Turbosmart Outlaw Blown category.
"I'd like to go low sevens the way it is; it's 4000lb with me in the car," Jarrod said. "Then maybe take some weight out of it and go even quicker."