MY MATE Mossy, from the southern NSW town of Wagga Wagga, told me to keep my eyes open for a white XE-fronted XF Falcon ute while I was reporting on the 100-plus cars at Street Machine Drag Challenge.
"It runs 11s!" Mossy said. "And Rob basically built it in his shed!"
Sure enough, this raggedy white Falcon ute has been a whole lot of fun for owner Rob Thorpe since he bought it 16 years ago, and today the car is a real-world antidote to those venomous voices that say you can't have budget-priced fun anymore!
"I bought it for $1800 plus a Red Heeler pup!" Rob said. "It was my daily driver for 10 years. Since then, I met [Anthony] Burns [who, like Rob, was running in Dial Your Own at Drag Challenge with his red LS-powered Falcon wagon] and started having fun!"
Rob has bucked the transplant trend and retained a stock-style old-school Aussie Ford crossflow six in his Falcon ute.
"It's a tractor motor!" Rob joked. He assembled the 250-cube (4.1-litre in metric) bottom end himself using Scat H-beam rods and a set of forged Wiseco pistons that were intended for a high-performance snowmobile. The block has been grouted and is fitted with a stud kit to help keep things in place. The cam is a Surecam with solid-roller lifters, and the alloy head was prepped by Cam at Engine Engineering in Rocklea, Brisbane ("no one around here does these alloy heads," Rob explained) before being bolted down by Rob.
There's no electronic management here (although Rob uses a wide-band oxygen sensor and a crank-triggered ignition), so breathing is by three beautiful dual-throat sidedraught Weber 50 DCOE carburettors. Sure, the technology may be simple, but by building his engine tight and right, Rob has proudly managed 280 horses at the treads at 7000rpm.
Behind the gearbox is a Ford C4 auto built by Paul Rogers Performance, and there has been a bit of work to make the Falcon ute hook up. The original leaf springs are gone, replaced by a back-half chassis triangulated four-link and a set of coil-overs to control the BorgWarner diff with Strange axles, 4.11 gears and a spool.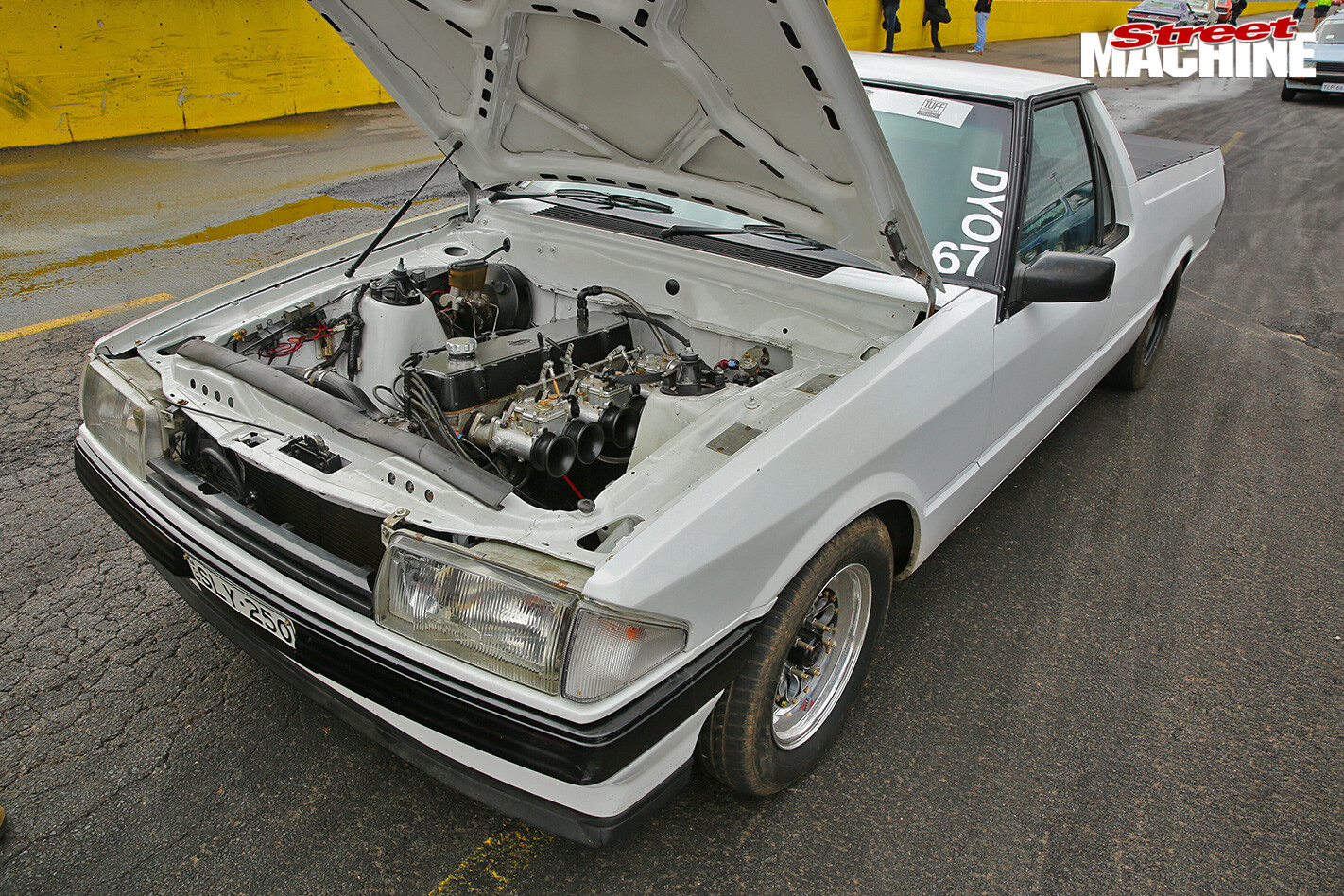 The car looks like an XE-series Falcon but is in fact a later-model XF, back-dated with earlier headlights and front sheet-metal. Like probably tens of thousands of other Falcons over the years, the driver's front door handle has been repaired with cable ties!
"The Webers and solid-roller make it tractable," Rob said of his Falcon's on-street personality. "I putter around town in it a bit and drive it to work maybe once a week."
He's run an 11.9 at Heathcote in the past, but his best effort at Drag Challenge was six 12.0s at Calder Park on the final day, putting him somewhere mid-field in the DYO class.
But the results don't matter as much as the fun Rob had. "I had a good blast all week," he enthused. "I'm already planning next year!"