THE lingering memory of Nissan's category-dominating GT-R race cars more than 25 years ago still pisses some people off. But look, rather than sook about the high-performance full-time all-wheel-drive bits under those all-conquering 'Godzilla' Nissans, why not utilise them for a quick street car build – like, maybe, something that could do well at Street Machine Drag Challenge?
That's more or less where Albury's Jason Ruby is at. He's shoved a stack of ex-GT-R bits under his Nissan Silvia, powering it with a pumped and stroked 3.2-litre twin-cam Nissan RB30 six to create an all-wheel-drive missile that's run 8.20@166mph.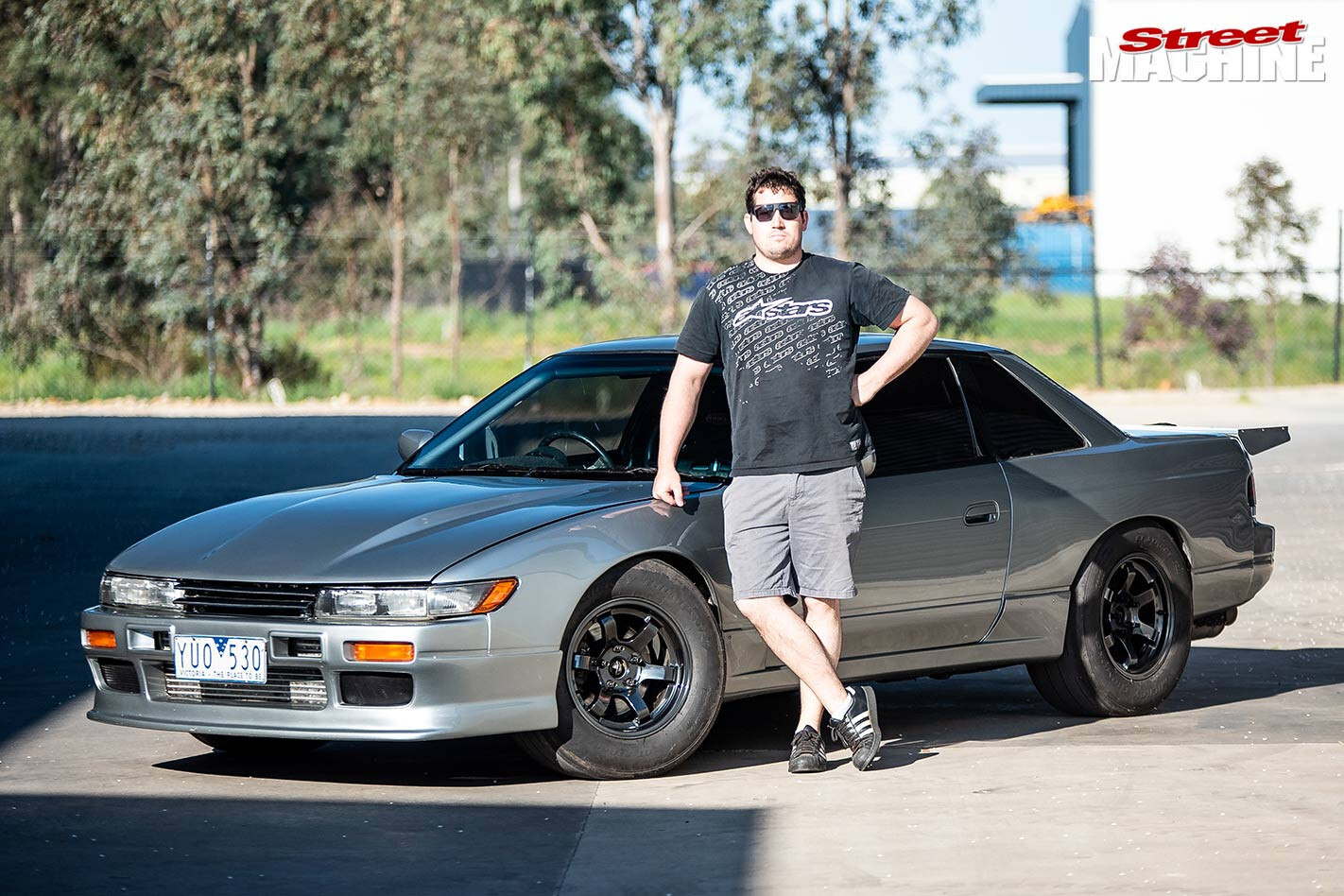 Actually, 'shoved' is selling Jason's driveline conversion – and his skills – short. He's a fitter/machinist and has done just about every aspect of the conversion – plus the general build of the car – himself over the six years he's owned it. He's put lots of research and development (read: plenty of time and money after breaking stuff) into his build. "I couldn't afford to build this if I had to pay someone else!" he says.
The beginnings of this car are in his old one: a boxy late-80s Aussie-made R31-series Nissan Skyline sedan. "The coppers put a red defect on that," Jason laughs. "So I went looking for an S13 to put my engine in. I chose an S13 as they are a popular drift car; that's what I was going to use it for. But I ended up catching the drag racing bug and straight-lining it instead."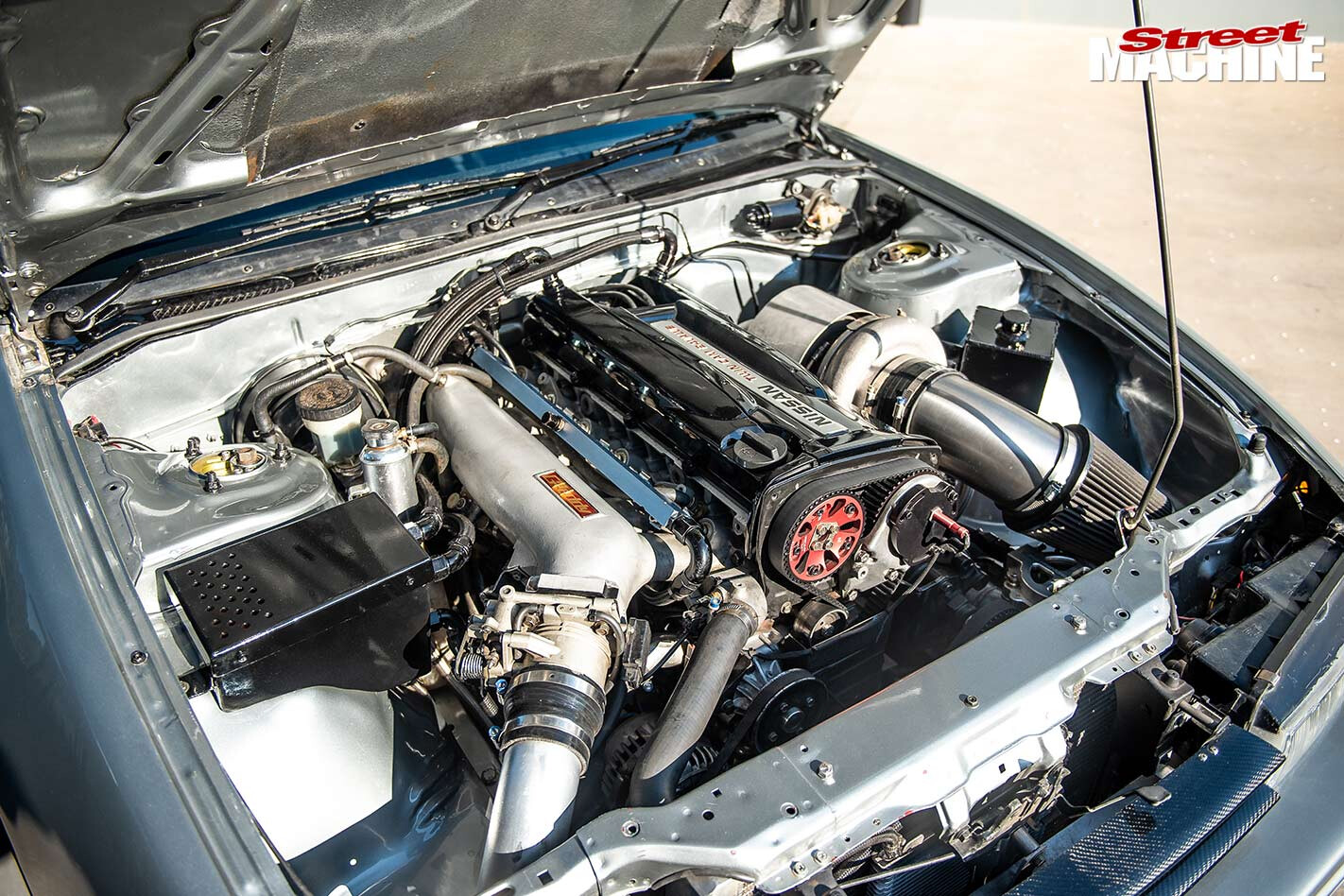 The RB30 mill, lifted from that old Skyline, was built by Matt Sims Performance, local to Jason in Lavington. The 3.0-litre block runs a Nitto stroker crank (for 3.2 litres) and same-brand pistons and rods. The RB25 head's hydraulic lash adjustment has been converted to solid over each cylinder's four valves. With 40psi of boost from the big Precision turbo, the Haltech-managed missile motor produces 1140hp on the hub dyno.
The gearbox is a beefed-up Powerglide hung from the rear of the RB30 block with an engineered adapter plate. The transfer case isn't integral to the gearbox like it would be for, say, a HiLux, so it's turned by a manufactured shaft. The forward prop-shaft is made for the job, too.
There are zero similarities between the S13 (Silvia) and R32 (Skyline/GT-R) showroom-spec platforms, so turning all four tyres rather than just the rears was a big task. "Everything had to be made to suit," says Jason. "All the mounts had to be made and the chassis modified to take the front shafts and whatnot."
To that end, the front suspension's lower control arms and drive-capable front hubs/steering knuckles are bespoke. Under a showroom-spec GT-R, the electric-over-hydraulic system automatically varied the front axle's drive bias, but Jason can change his on the fly via a standalone ETS Pro computer. It's like a volume control for the fronts' traction.
Thankfully, the ex-GT-R diff bolted straight in to the Silvia's independent rear suspension cradle. There have been a few broken driveshafts along the way, but off-the-shelf billet upgrades seem to have cured that. Pulling it up from near 270km/h – and even faster at longer-than-400m airport sprints such as Cootamundra – are big GT-R clampers within 255-wide Mickey T ET Streets all 'round.
Unlike many other Drag Challenge participants, Jason is locked into using E85 for the entirety of this year's event. "I thought about fitting flex-fuel, but I never run it on petrol so I'll spend that money on the extra fuel," he says. He's tested the Silvia on-road, towing a trailer, so he's confident of the car's capability and performance, even after hearing the horror stories of 40°C in blistering sun and 10°C in torrential rain in the one week! Being an all-wheel-drive car, the S13 will be running with the big dogs in Turbosmart Outlaw Blown
1. After breaking a few manual gearboxes – including one with an aftermarket gearset – the trans in Jason's S13 is now the racers' favourite Powerglide. "It's built for 2000hp," he says, "so it's one less thing to worry about!"
2. One minor drawback with the four-driven driveline is a lack of ratios, which restricts gearing as a factor in the car's set-up. "There's only two to choose from," Jason says. "This one has 4.11s from the GT-R."
3. These S13-series Silvias were never sold here (Australia did however get the 200SX-badged S14s from 1994), but plenty were imported from Japan.
JASON RUBY
NISSAN SILVIA S13
Engine: 3.2L Nissan RB30 stroker
Turbo: Precision 76/75
ECU: Haltech Elite 2500
Trans: Powerglide into GT-R AWD system
Converter: TCE
Diffs: GT-R, 4.11: 1 gears (f & r)